Tips to Find Campsites in Campgrounds WITHOUT reservations while traveling in the middle of the summer…
This is my "summer 2019 wrapup" along with sharing the "best of", I want to share a few things I've learned. Allow me to begin by sharing a secret… (shhhh!) – this is the first summer in my nearly 8 years of the full-time RV lifestyle that I've traveled all summer. Until this summer, from April through September, I've been working in the RV industry in sales (and a bit more.) My travel prior to this summer has been mostly Sept – Nov before settling in for the winter – in the Rocky Mountains where I teach skiing.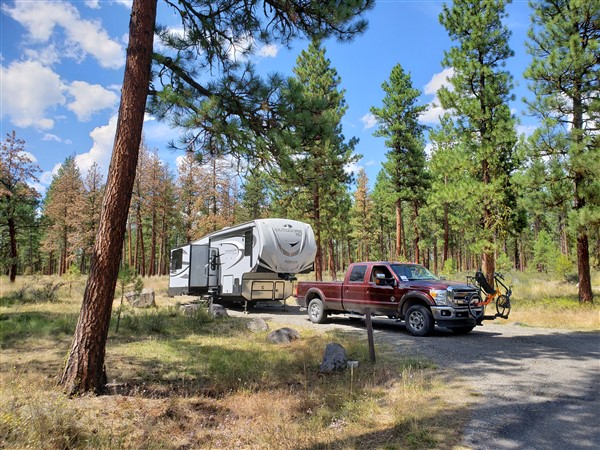 In the coming paragraphs, I hope to share what I learned, experienced and more while traveling in my RV (fifth wheel) largely through Wyoming, Utah, Nevada, and Idaho. Only 4 states, but these states have SO much to offer. Frankly, I could visit these same states over a half-dozen times and rarely visit the same place twice!
Summer RV Travel and Camping -and – how to beat the crowds (and find campgrounds with available campsites)

It's just past labor day and the weather here in the Central-West Idaho mountains (Valley County) is spectacular. But, here near the 45th Parallel, that changes "right quick" after Labor Day and this year appears to be no exception.
This region is expecting thunderstorms to roll in late tonight (update: they did last night, and with 70mph wind gusts!) and with them an abrupt end to afternoons near 90F. In short, it's about to get MUCH wetter and cooler (daytime highs will remain in the low – mid 60's by the weekend.) note: and I LOVE it!
Summer RV Travel in the Intermountain West – Specific tips to "beat the crowds" and get campsites…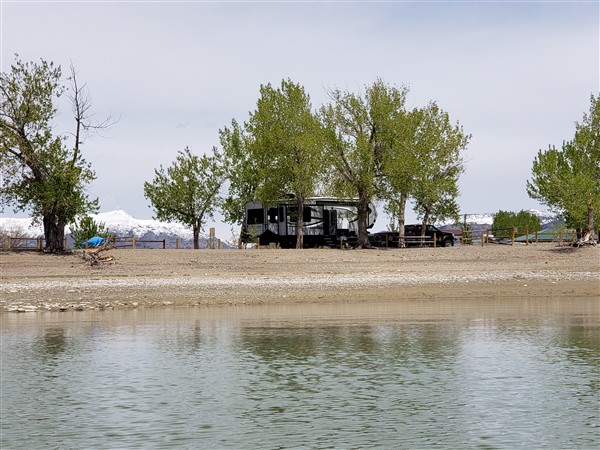 The Summer began for me at Tough Creek Campground. I arrived a few days before Memorial Day weekend and grabbed a "walk-up" (non-reservable) site – something you'll find in many state parks. The campground was EMPTY the Tuesday before! I took a waterfront site and took my time backing into it. For central Wyoming, the weather was typical – chilly and wet!
The extensive cloud cover gave me reason to try out my new Wen Generator as I knew my solar panels would be useless for much of this particular stay. Tough Creek is a dry camping area (there is water at the campground but not at each site) – in my experience, this already eliminates many campers from considering this spectacular region.
Major Summer RV Camping Tips Coming up…
My choice of Tough Creek was NOT random. First, it's near Thermopolis – a great hot springs destination. Second, Tough Creek is a dry camping area (no electric, no water at the site, no sewer) – this immediately eliminates MANY potential campers – thus increasing your odds of getting an open site with no reservations. (Look for this in my other camping choices throughout the summer.) As an additional thought (TIP!) arrive mid-week – many state parks have some walk-up only sites that can NOT be reserved in advance, thus even on a holiday weekend, you CAN get a prime spot with NO reservation!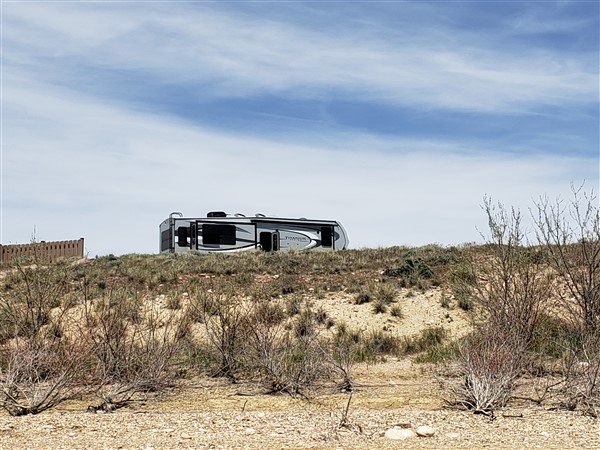 Shortly after memorial day, I departed Tough Creek and headed south to the Flaming Gorge for a few nights of (again) un-reserved camping. Arriving mid-week, I was greeted by the reservation desk with several sites to choose from – including a waterfront site (water-electric only) that had recently canceled! The Flaming Gorge is on the Wy – Ut border and is located near the town of Manila, Utah. With my "America the Beautiful discount, I was under $20/night.)
Central Utah – a RV Campers – Explorers Paradise…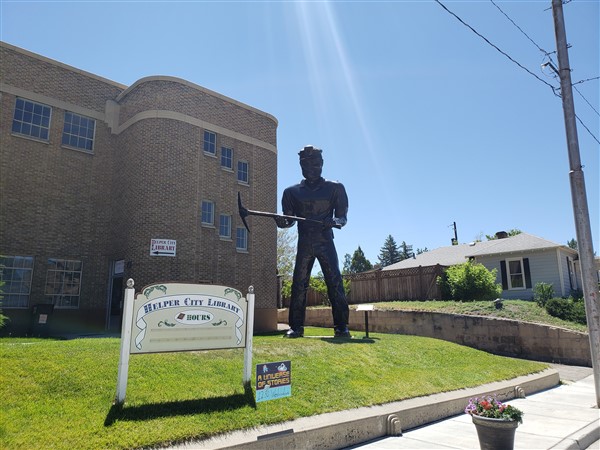 I spent much of June and early July in the Helper – Price – Wellington – Huntington, Utah region at about 6000 ft. Comfortable temperatures and SPECTACULAR scenery. Two "standouts" among many include Helper, Ut. (a town with a story to tell) and the San Rafael Swell – a region itself as big as an eastern state with spectacular scenery and more. There are more posts than the one I've linked here – if you search for it, you'll be rewarded with more info about this region!
Important note and tip: Utah is home to perhaps the greatest number of National Parks of any state in our nation. This summer, I explored regions that are (honestly) equally spectacular – and FAR LESS TRAVELED than our National Parks and never once felt like I was "missing out" by choosing these regions over the National Parks.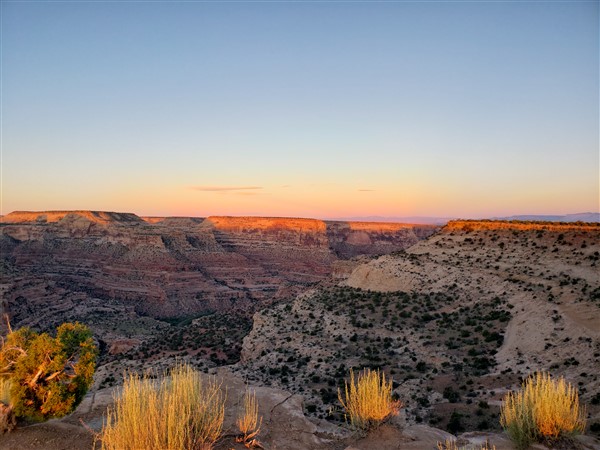 Another RV Camping tip to finding available campsites in the middle of summer…
Camping in this region was easy as I chose "second-tier" campgrounds over "resorts" – in turn, I paid less, was VERY uncrowded, and spent my time exploring the region. Again – NO reservations! The campgrounds in Wellington and Huntington to me were merely a place to sleep – not a place to hang-out. There was PLENTY to do within an hours drive of each – and my total stay was the better part of a full month.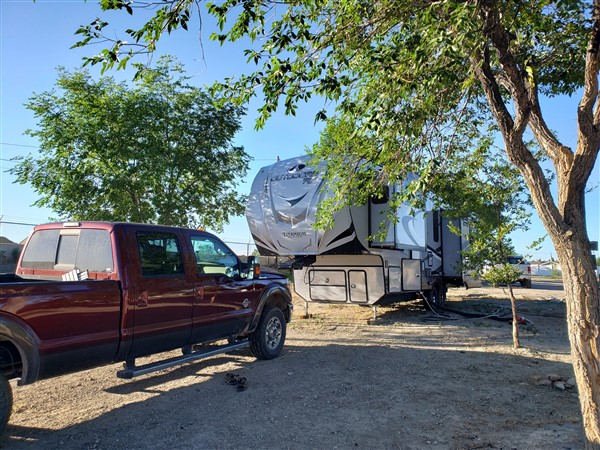 After leaving Huntington, Utah after July 4th, I hit the "mother-lode" at Forsyth Reservoir – a dry camping site at 8000 ft with VERY easy access and NO fee! Intenet here was limited, but a short trip (2 miles) up the canyon allowed me to access data and make calls.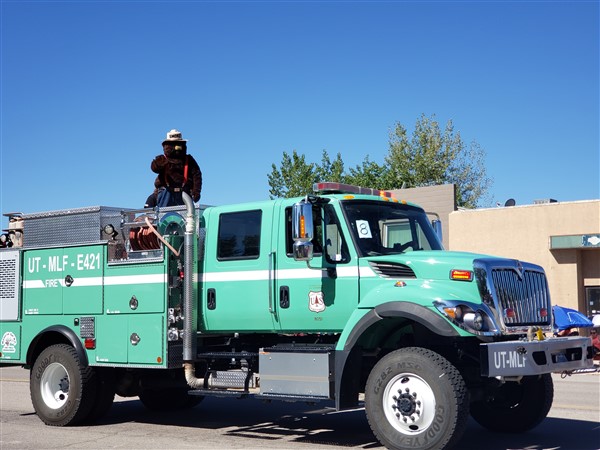 Thinking about your NEXT RV Camper – or perhaps your FIRST…
Limited connectivity at Forsyth caused me to stay only 4 nights as I now run a growing Concierge RV Buying and Selling Service. My clients count on me to remain in contact and be there for them! My service is designed to help you get the right camper at the best price – and be aware of all the potential pitfalls in the purchase process and for those selling, simply to help them get the most they can for their camper – and not fall into the traps set by dealers upon trading in.

Continuing SOUTH… in the Summer?!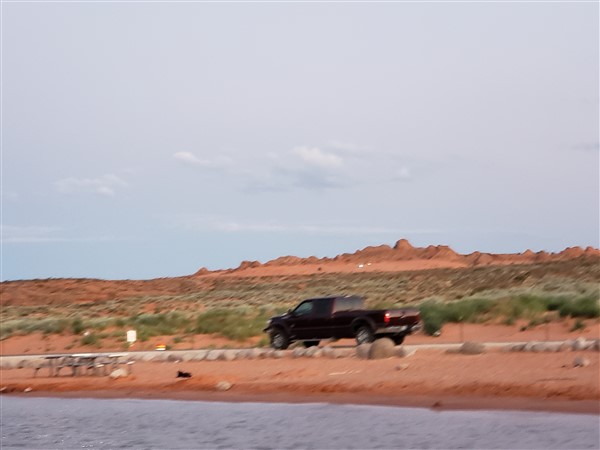 St. George and Sand Hollow State Park was my next destination as I headed south. I was not thrilled to be entering a region I knew would be 100F+ during the day, but the lake at the park is GREAT and the red sand beaches are simply spectacular. This was the first campground I paid over $25 for the night at AND the first one I made a reservation for (but only a few days in advance!) **Incidentally, the link here is to an earlier visit to the SP, I do have some updated photos and will post them in time.**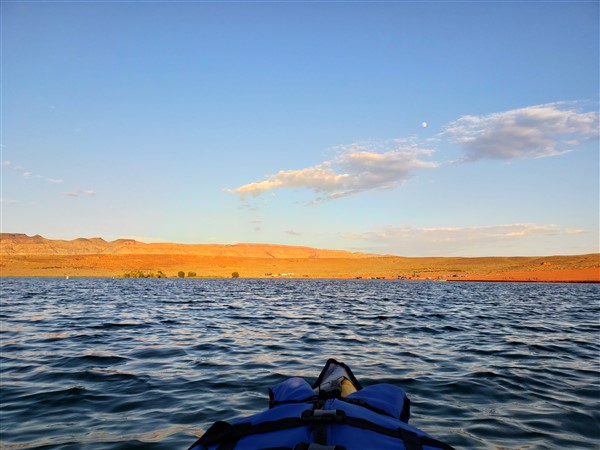 RV Camping in Las Vegas in the HEAT of the summer…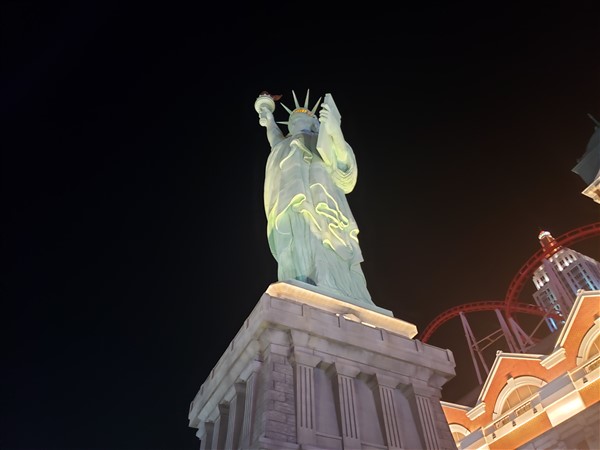 I went to Vegas for one reason only – FreedomFest – a libertarian conference I was attending as media. I stayed at Kings Row RV Park (with days at about 112F) – I highly recommend this park, and while at FreedomFest, among the many folks I interviewed and spoke with, a biotech company working on a real solution to heart disease, diabetes, parkinsons and more most definitely caught my attention. I not only reported on them HERE, but I chose to become an investor!
Leaving Vegas – returning North (and UP)…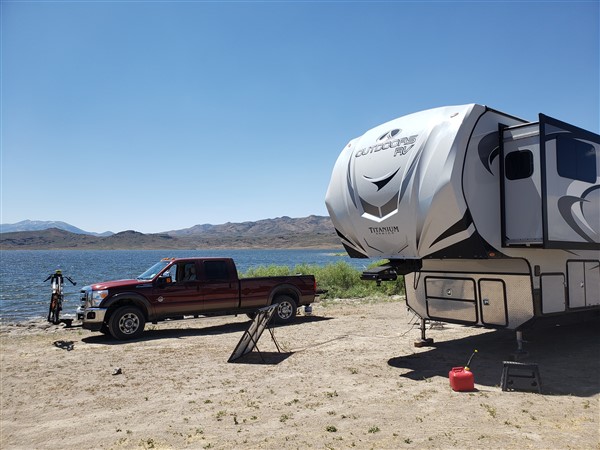 When I departed Vegas, I had a primary objective – go North and to higher elevation! This led me to Wells – Angel Lake – Elko then Shoshone-Paiute Reservation where I stayed at the Wild Horse Reservoir and Mountain View Campground.
By mid-August, I entered Idaho and with the exception of a few days at Union Creek Campground near Baker City, Oregon, I have remained in Idaho. My "home base" was Emmett, a town just north of the Treasure Valley (Boise, Nampa, etc.) that has a small municipal RV park in the center of town ($25/night for full hookups) and is a pleasure to bicycle around. Emmett is close enough to the Treasure Valley to allow easy access (and exit!)
RV Life in Valley County, Idaho
I arrived in Valley County a week or so before Labor Day and remain here through the time I'm writing this (today is Sept 6, 2019.) Valley County is about 2 hours north of Boise and about 2500 ft. higher elevation. Nights are cool (now down to about 40F) and until today, days were in the mid to high 80's. Today begins the "big change" and summer is effectively over.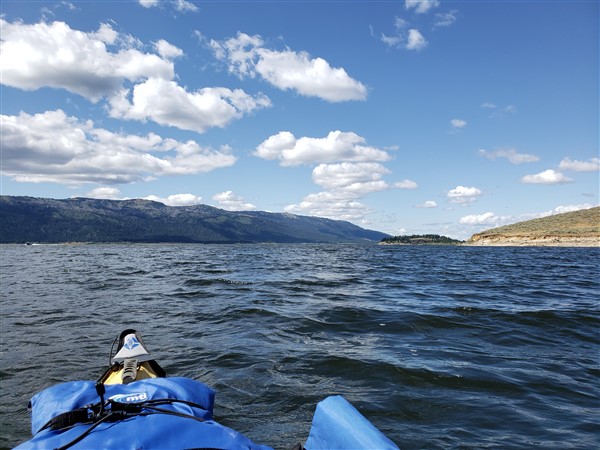 I first stayed here at Lake Cascade State Park – and I will have MUCH more for you about this park soon. It is one of the most extensive networks of campgrounds I've ever encountered with a state park.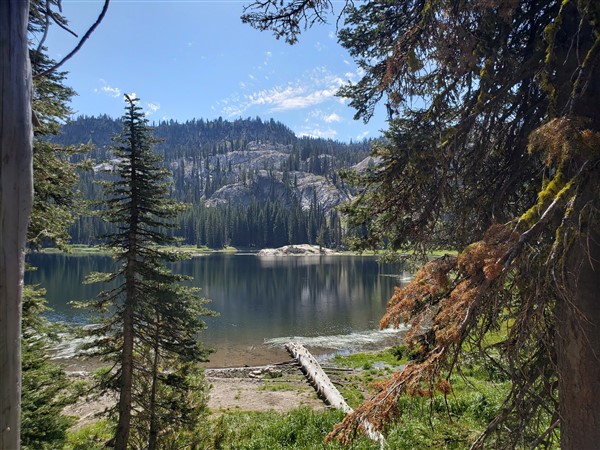 For Labor Day, I spent my first stay at a Boondockers Welcome host site in McCall. It was a great experience (3 nights) and I'll be writing about it soon. Best of all – it was FREE (you pay about a $30/year membership to BW to do this. Many BW hosts offer dry camping, this host did offer me water to refill my fresh water tank and invited me to connect to electric. As customary, I offered to cover the cost of the electric I used, but he declined and simply said "pay it forward." Incidentally, the average nightly stay in McCall for a RV Camper is over $45.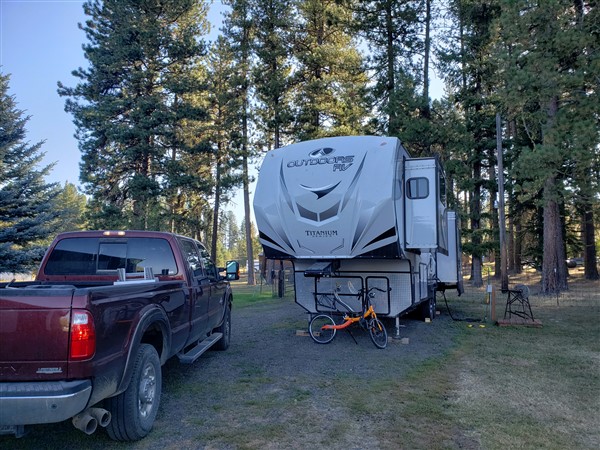 As I am sharing all this with you, I'm currently situated in Donnelly, Id. at the Donnelly "City" Campground. Donnelly is a town of 100 residents, hence my joy at seeing them refer to themselves as a "city"! The Donnelly campground is entirely dry camping, but for $10/night, I'm certainly not complaining!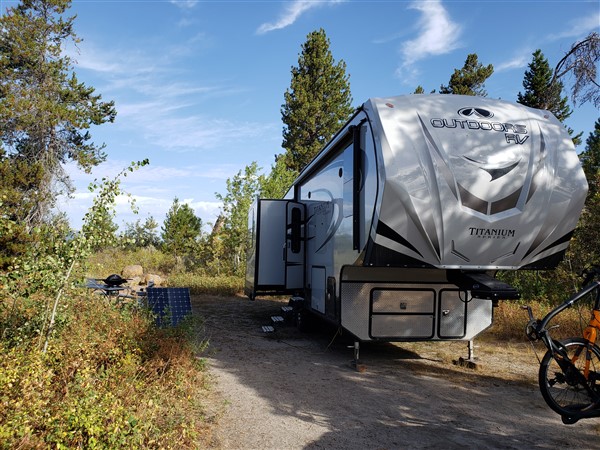 Of the three communities here in Valley County, McCall is regarded as the "premier" community, however, Cascade has MORE to offer – an aquatic center which is truly world-class is a MAJOR draw for me personally. Since joining, I've done 500 – 600 meters daily nearly every day! After completing this post, I'm heading back there for day 14 out of the past 15 days of swimming!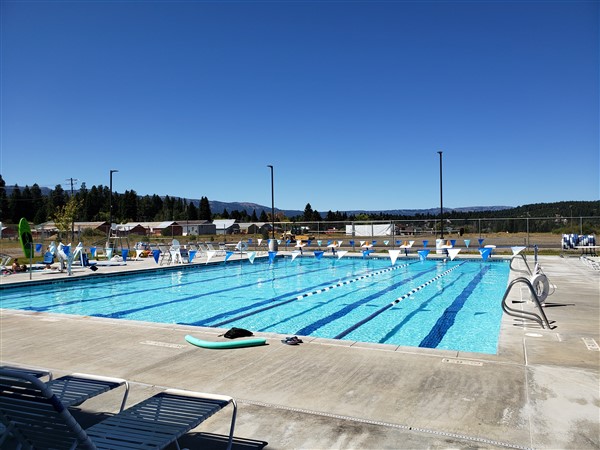 Are you a "Cold Weather RV Camper?"
With the cooler weather arriving, be sure if you are going to camp in COLD weather, you are prepared. Here is my review of an rv skirting company YOU need to know about!
In closing, as always, THANKS for reading/viewing my posts. I truly enjoy composing them for YOU. If you would like to join my newsletter to ensure you never miss a new post, you can enter your first name & email below…
#FreedomFest
#FFest19