My plan – and in an RV, you always need to be flexible was NOT the campground I ended up spending 4 nights at! As I headed South from Tough Creek Campground and a phenomenal stay over Memorial Day weekend, I had my sites set upon Sheep Creek Bay Campground near Manila, Utah.
Ultimately that plan was not to be. Years of travel have taught me to be somewhat cautious when considering campgrounds – especially those operated by the National Forest Service – and those with limited reviews.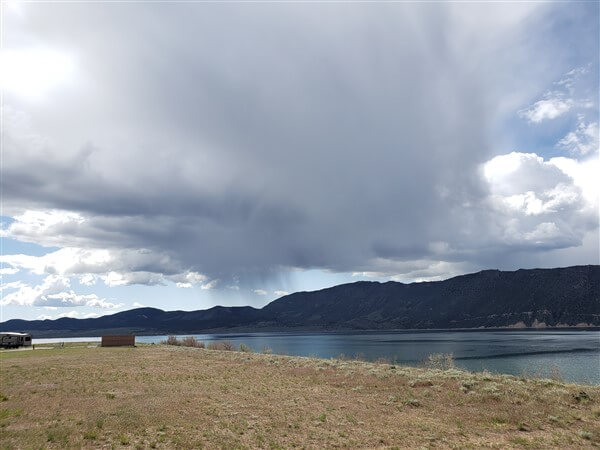 Campground Planning…
One big reason for this is the lack of reliable reviews. I typically use Campground Reviews, AllStays, and FreeCampsites.net when I research campgrounds. AllStays is fee based, but HIGHLY worth it. A new and solid resource is Boondockers Welcome (use RVAcrossAmerica15 when prompted to save 15% on their already inexpensive membership)
Some of the lesser used or less popular Forest Service campgrounds are simply not listed and that leaves you with limited (or unreliable) information about the campgrounds.
When researching a campground, there are certain basic things I like to know in advance. These include the maximum size camper that will fit in a site; any "gotchas" on the roads leading to the campground, and whether there is cell service in the campgrounds.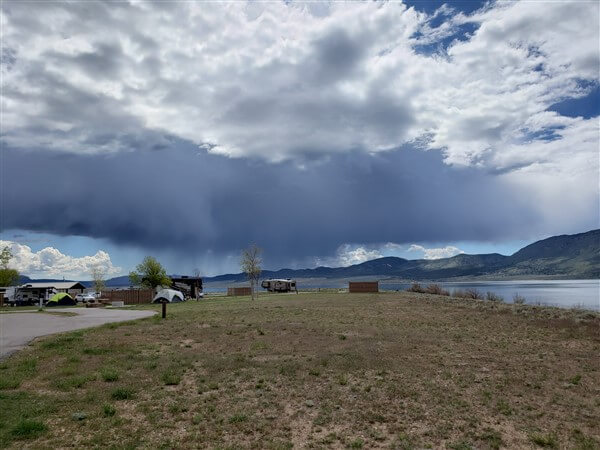 Now, you may be saying something like, "Alan, can't you just call the closest ranger station to gain this info?" Allow me to address this in the following manner: Do NOT blindly trust information received at ranger stations!!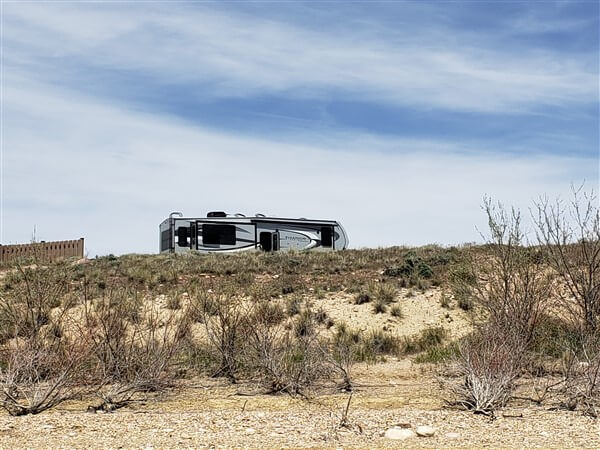 Why so emphatic? In my experience, what the ranger station provides when it comes to RV camping, is often WRONG and uninformed. The forest service increasingly seems to be hiring part-time helpers who man those phones and desks (yes, I've made personal appearances in the ranger stations as well as calling them) – these people at best don't know and at worst, give you information that can severely damage your camper!! (It happened to me about 4 years ago when I was sent to a site that "could accommodate up to 41ft", but in reality was made for trailers under 25 ft. – I had one hell of a time even negotiating the road inside the park to get to the site!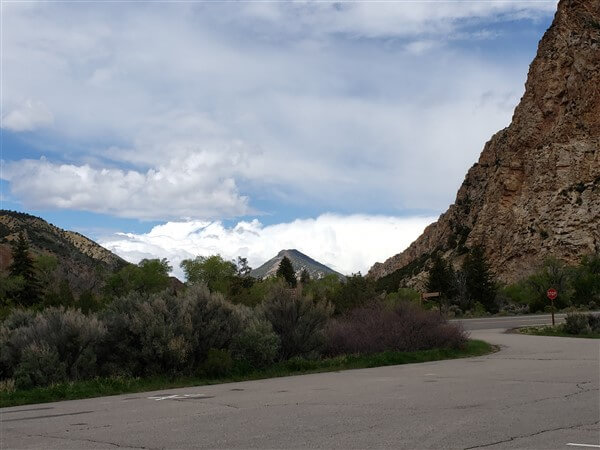 So… this time I visited the ranger station in Manila, Utah. I was greeted by two friendly employees who had virtually no information of value to me – or information I trusted. I'm glad I didn't listen to them. Instead, I decided to return to Lucerne Campground – a known GREAT spot and once I dropped the trailer, I used my truck to explore the campgrounds I spoke with the forest service employees about.
Sheep Creek Bay, Manns, and Willows National Forest Service Campgrounds…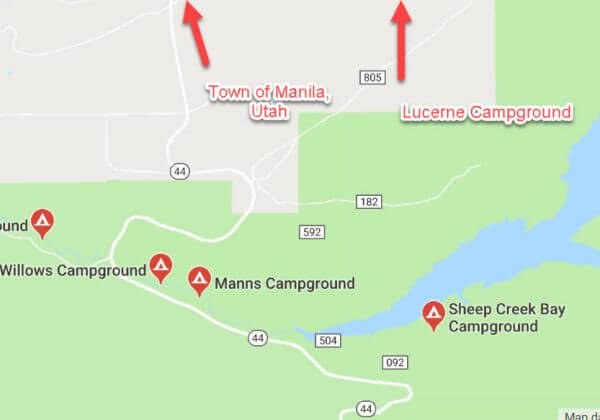 My primary interest was in Sheep Creek Bay CG, but as the other two were along the way, I decided to investigate them as well. You can see my direct thoughts in the video associated with this post.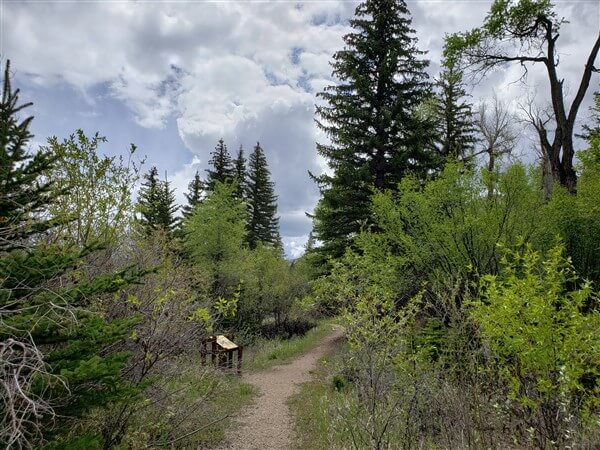 Summarizing My Findings…
Sheep Creek Bay CG is a medium-sized parking lot – period. The few review sites I found online gave it 5 stars! Really?! It's in a deep gorge, at the end of a long parking lot that separates the campground from the boat ramp.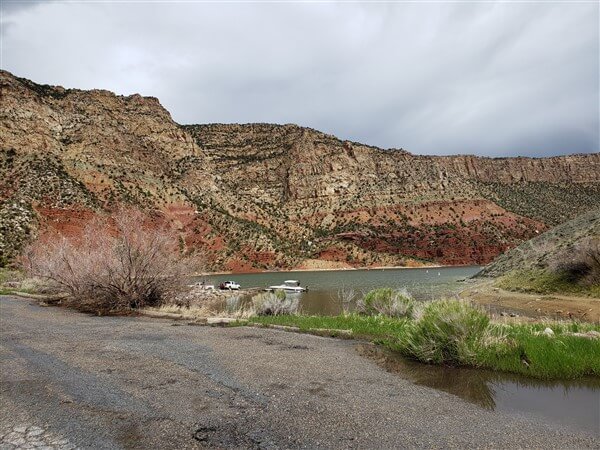 YES, the view from the boat ramp in Sheep Creek Bay is SPECTACULAR; yes, the campground is in a deep gorge. NO there's NO phone service, and no its not "sketchy" as the clerks in the rangers office (and some online reviews) offered up. It's non-existent. Due to my work, I need phone service, hence I ask when I'm considering a new location to camp.
As to the other two campgrounds – Willows had a very tight turn at the entrance. I *think* my 35 ft. trailer could do it, but if I was asked who belongs in there, I'd offer up under 30 ft. only. If you review the NFS info on Willows, they claim a 40 ft camper can get in there. THIS makes my point – don't trust their info!! If you take a 40 ft camper through that initial turn, you will likely cause damage – significant damage. And… once you're past that turn, there's only a few longer sites.
The same is true of Mann's Campground. The entrance is easy enough, but the signage is poor (there's a fork just after entering with NO indication of which way to go.) Apparently either is ok, and the campground is split into two sections. As with many campgrounds, some sites accommodate longer campers, and many don't.
There was no camphost in either campground to assist or answer questions. I'm not here to complain about these campgrounds, simply to point out you need to "know before you go."
So… 8 years of travel has taught me to be cautious and to scope out an area before trying to bring my 'home on the road' into it – especially when there's a lack of reliable information available – and yes, I trust what I read on Campground Reviews far more than information posted by the National Forest Service as these reviews are posted by actual rv'ers who have visited the site.
I have no doubt that the professional rangers who travel through these parks regularly could intelligently and accurately answer my questions, but they're not who you encounter when calling or visiting a ranger station (at least this has been my experience over the past few years.) Honestly, its truly unfortunate since WE (the American people) are PAYING for this service through our taxes and usage fees for these areas. Ok… rant over!
For more info about Lucerne, I first visited it in 2016 – click HERE to see what I had to say then.
Relaxation time… Kayaking!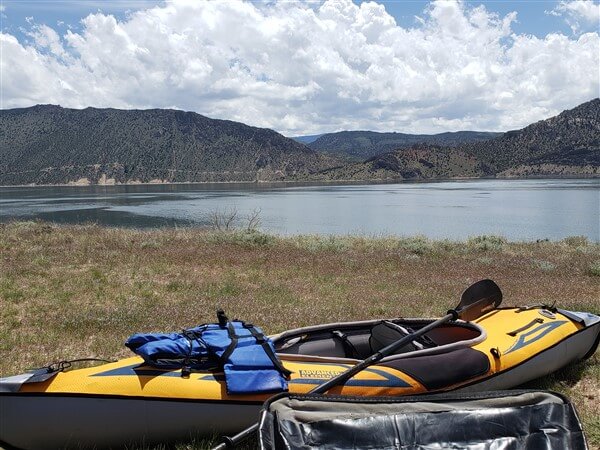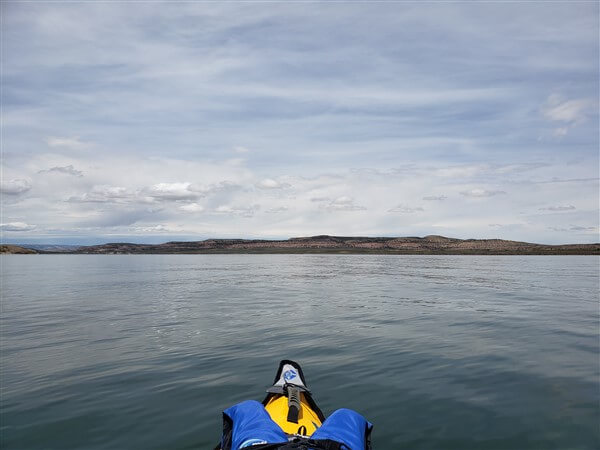 A primary form of relaxation (and exercise) for me continues to be kayaking. ESPECIALLY since my heart attack, I strive to get AT LEAST 30 minutes of exercise daily. This typically takes the form of kayaking and/or bicycling.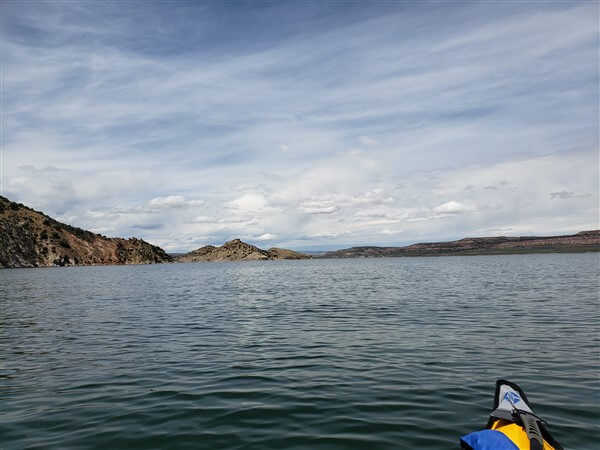 I mentioned Austin Kayaks in my video. They're good folks – and you can get the same kayak I have at a fair price (see linked text below.) My kayak is an Advanced Elements 1017. I LOVE it! Why? It paddles well, inflates easily, folds up nicely when deflated (which means EASY transportation!!) and weighs only 26 pounds. When you click the link, enter 1017 in the search field on the Austin Kayaks page that opens.
Like the content? Want notification of updates? See below…