It started last Friday. As dusk approached, the wind in Saratoga, Wy. picked up, gusts ultimately exceeded 50 miles per hour as a dark line of clouds approached. It was May 17, the previous few days had been tranquil and seasonably mild as afternoon temperatures reached the low 70's. That was all about to end – abruptly.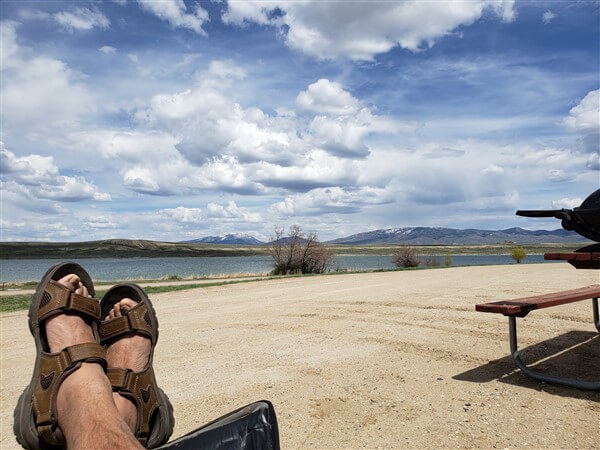 Saturday arrived with strong westerly winds, temperatures in the lower 40's and ragged, angry looking clouds crossing the skies, obliterating the sun from time to time. A few showers ensued later in the day, but at least they were RAIN showers. The mountains, easily visible between showers revealed an INCREASE in the snow cover – which had been retreating since early April.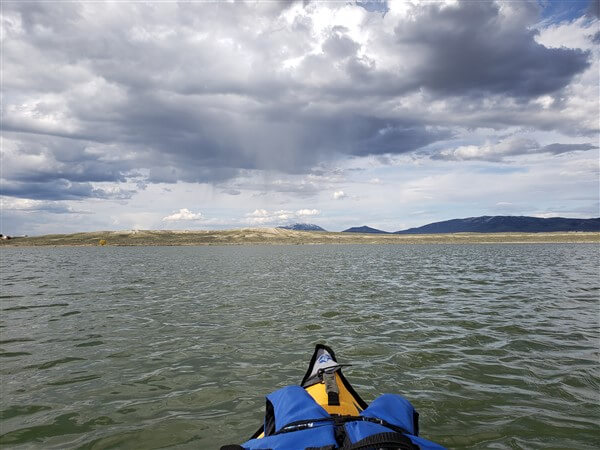 Sunday arrived and most of the morning was tranquil. Conditions were tranquil enough to allow me some kayaking time in Saratoga Lake, all the while knowing what was coming. Chilly rain showers arrived around noon as temperatures held in the mid-40's – quite cool even for 6700 ft. elevation in late May. Then the National Weather Service issued a Winter Storm Warning for all the surrounding mountains with potential snowfall totals of up to 2 feet. They freely admitted that in the plains (the flat land regions including towns like Saratoga), they had no idea of whether the snow would accumulate or not.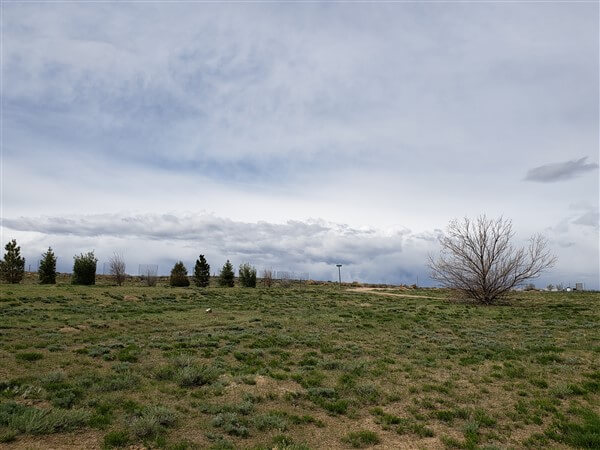 As Memorial Day was approaching and knowing that spaces in campgrounds fill up, I decided that Monday May 20th would be my travel day to Tough Creek Campground (which is where I'm writing this from.) I knew I had to cross the Continental Divide (twice) on my planned route, and while elevations along the route would not exceed 7500 ft., the stretch was in the snow warning zone. The storm was not expected to begin until Noon Monday, and was forecast to be at its peak Tuesday morning, so, I reasoned a 9am departure on Monday to make about a 4 hour drive would get me through the pass before conditions deteriorated. I can't believe I'm even having to think about this in LATE MAY!
The drive started out benign enough with some sunshine and temperatures in the low 40's in Saratoga. As I approached Rawlins, a short 40 miles from Saratoga, I a steady, chilly rain began to fall.
When you leave Rawlins on 287 and head northwest, you begin to climb, not much, but enough! Temperatures fell below 40, and then gradually approached freezing – in the mid-morning – again this is on May 20th! The rain changed to snow – at first, it was just beginning to accumulate on the grasses, but then with almost no elevation gain, the snow picked up, first, the shoulders of the road became snow covered, and then patchy snow (wet slop) covered the road! The temperature had fallen to 30F by about 11am – again – I'm NOT over 7000 ft. elevation at this point. That temperature is about 35 degrees below normal for this time of year and day! The worst of it was about when I passed through Jeffrey City (population about 58 people.)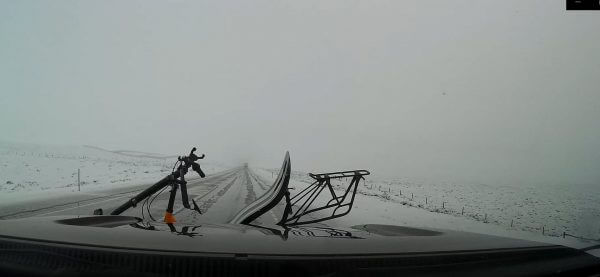 After Jeffrey City there is a steep decline until you reach Riverton. The snow persisted, and I was somewhat concerned about icing on the roadway – but I kept reminding myself "its midday and its late May"! As the elevation dropped, the accumulations diminished until there was virtually nothing on the ground in Riverton at 4800 ft. When I arrived at Tough Creek Campground, the rain had ended and the skies even (briefly) began to part. It certainly made setting up camp easier!
Was it over? Nope! Tuesday morning I had to head back to Riverton (about 30 miles west) to take care of a number of "chores." Riverton is the nearest town of any substance to Tough Creek. Shoshoni is just 7 miles from the campground, but if you've ever driven through Shoshoni, you'd know why I went to Riverton!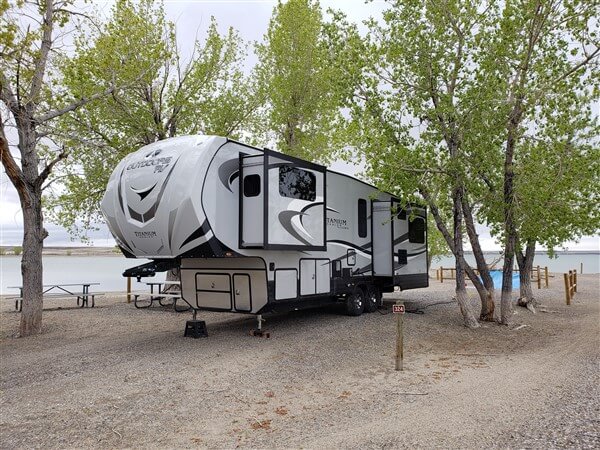 As I drove towards Riverton, the early morning rain and wind turned to snow and wind and began to accumulate in the town to the tune of upwards of 2 inches on grass and vehicles! It was another morning with temperatures holding in the low to mid 30's, and even in the afternoon, 41 was about as good as it got.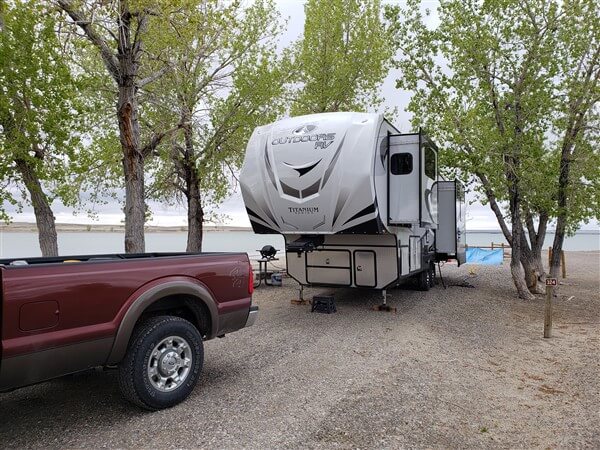 I'm writing this on Wednesday May 22 and this morning was again windy, cold (37F) and wet (at least NOT white.) There are advisories up for higher elevations, but (for now at least) the snow has turned to rain in the lower elevations. Today's high will again struggle into the 40's as is expected tomorrow as well.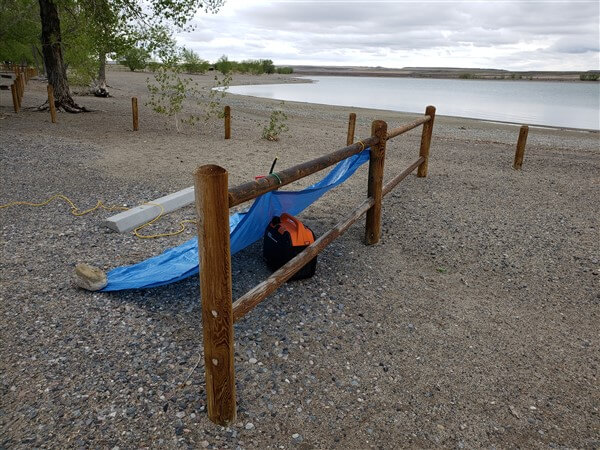 I'm writing part of this article while I wait at Bailey Tire in Riverton for an alignment on my truck. The young man working the counter noticed me working an asked me about what I do. That led to a discussion where he shared a bit about the region – he told me about Jeffrey City and Hudson – two towns just up in the hills from here. As I mentioned earlier, I drove through Jeffrey City in the snowstorm on Monday, the town has 58 residents, well as it turns out, it had 6000 as recently as about 1982, then the uranium prices collapsed, the mine closed, and by 1986, 95% of the town's population had left!
He has motivated me to re-visit Jeffrey City and swing through Hudson to see what happened to these two boom-bust towns – a story that is all too common throughout the western states.
Update – its early Wednesday evening. The campground is still deserted! I'm bbq'ing some turkey legs (slowly as the rain and wind are hampering my Weber grill's ability to do its job!) After leaving Bailey Tire (highly recommend) just before Noon, I decided to head to Jeffrey City and the Split Rock Cafe for lunch. The drive was only about 45 minutes (to cover 55 miles!) The food was ok at the Split Rock Cafe, the conversation was VERY interesting and my drive through this ghost town was fascinating – more on this in an upcoming post – with video!
Looking ahead… The Sun Returns – and maybe Spring?
FINALLY the sun is expected to return on Friday – just in time for the Memorial Day weekend and while parts of the nation simmer in 90+ heat, temperatures throughout the entire weekend here are expected to remain in the 60's – which is STILL below normal.
This is what you can and should expect when traveling in the Northern Rocky Mountains. Admittedly, this storm was unusually late in the season for the kind of low temperatures and extensive snowfall produced – but – it is not unheard of. The conditions experienced are more typical of April or perhaps (at the latest) the first week of May.
***Thinking about RV'ing? Should you RENT or PURCHASE? Click HERE for my thorough analysis on this most interesting topic.***
Longer term…
The weather that occurs over the next few weeks will determine water levels in rivers and lakes and even fire risk in this region. Right now, Wyoming is GREEN, really green! Fire danger is LOW and reservoirs (like the one I'm camping next to) are (intentionally) reduced to allow room for snowmelt. If the next 2-3 weeks see temperatures remain moderate (60's-70's), the mountain snow melt will be an "orderly" process, however if summer-like warmth sets in (90's), rapid snow melt will lead to massive flooding in rivers and other waterways. In a "best case" scenario, the warmup will be gradual – this will avert any significant flooding and keep the ground moisture levels high to delay any fire season until late Summer.
If you need accessories for your camper, following the link below by clicking on the image shows you specifically what I use and buying through that link helps me to fund this website.
In closing, Springtime travel in Wyoming is most definitely an adventure. I have somewhat more tranquil times to share as well – soon. In the interim, please do consider joining my mailing list – I never share it and only use it to share my latest posts. You can enter your email and first name below…