As I write this, it's Sunday July 21 and its 110F outside. I'm sitting inside a 72F Starbucks sipping an iced (mocha) coffee after a rare 3-hour nap during the mid-day hours. To be honest, I'm recovering from 4 VERY busy days at Freedomfest – a conference I attended and will be reporting to you about over the next few weeks. I picked up LOTS of info that is relevant to RV travelers LIKE US!
I can guarantee you ONE thing for certain – I will NOT be reporting to you from Vegas! My plan is to take advantage of the (relative) early morning moderate temperatures tomorrow and hit the road heading north (and UP to higher elevation!) It typically hits 90 here BEFORE 8am!
I'm thinking of spending a couple of days in Ely (pronounced as I understand it as "elee) Nevada, about 250 miles north of here – and about 4500 ft. higher than here! Instead of 110 in the afternoon and 80 in the morning, it will be a daily range of about 57 to 88 – MUCH more manageable!
Such extreme heat makes staying in my 5th wheel challenging during the heat of the day. Right now it's about 90 inside the camper – which is about as much as you can expect the a/c to do – that is, keeping the temperature about 20F below the outside temperature. For the record – I only have 1 a/c in my 35 ft. trailer – which outside of this week in Vegas has been just fine as it is a well-insulated trailer. My bedroom vent is pre-wired for a 2nd a/c, but since I almost never subject myself to this kind of heat, I'd rather have a vent with a fan in the bedroom than a 2nd a/c.
RV Camping in Vegas
I do have thoughts about RV camping in Vegas and will share more on this issue in my next post about Vegas (coming soon), I'm holding off here simply to keep this post relatively brief and allow you to get to the information shared below.
FreedomFest – The event that brought me to Vegas
Full disclosure – I've been here a week and my total time gambling? ZERO! None at all! My sole purpose here was to attend the Freedomfest conference – and frankly, not much else would have motivated me to come here with RV in tow into this city IN THE MIDDLE OF SUMMER!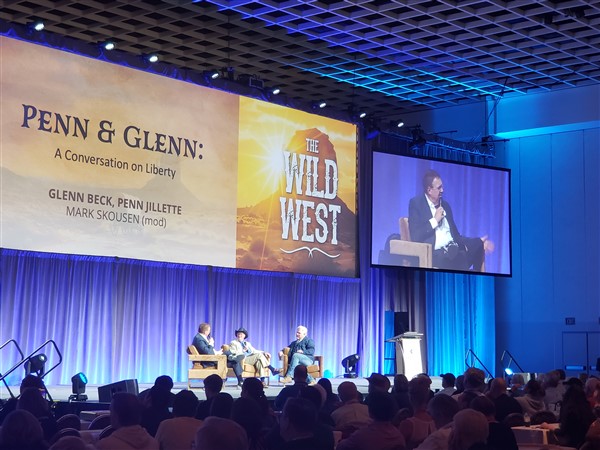 I will admit – Vegas does have some "charm"…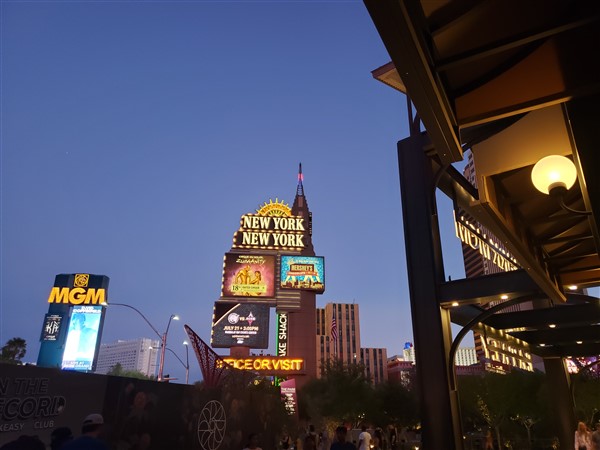 I did visit a couple of the casino hotels – mostly to see the "theme" of each. Having grown up virtually as a New Yorker, I decided to spend some time in New York, New York and found the replica of Greenwich Village to be kinda fun – especially Greenbergs, the Jewish Deli. Frankly, its been too darn long since I've had a corned beef-pastrami-turkey-slaw-russian dressing on rye – just like I used to get at the Carnegie Deli at 55th and 6th in mid-town (Manhattan.) And… I had just that the other night, all while sitting "outside" (in a climate-controlled mock-city street) while listening to the music at the pub next door and enjoying a pretty darn good sandwich! Especially considering I'm 2500 miles from NYC!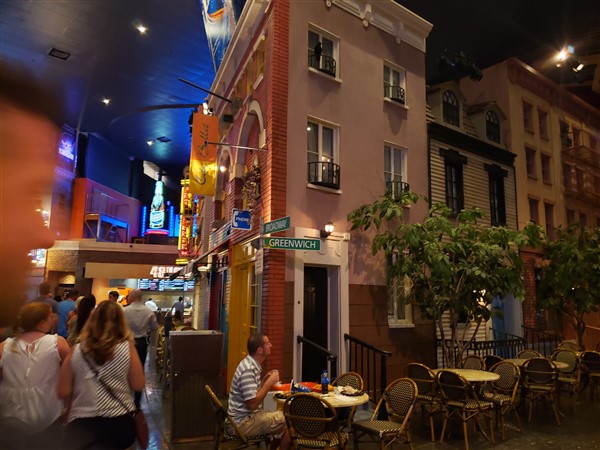 It was also nice to see the Statue of Liberty and a replica of the Brooklyn Bridge! I could probably spend more time in different casinos exploring the artificial environments they've created, but frankly, I'm more interested in getting back to rural areas where I can bike and kayak at will! Plus, my diet has gone to crap while I'm here!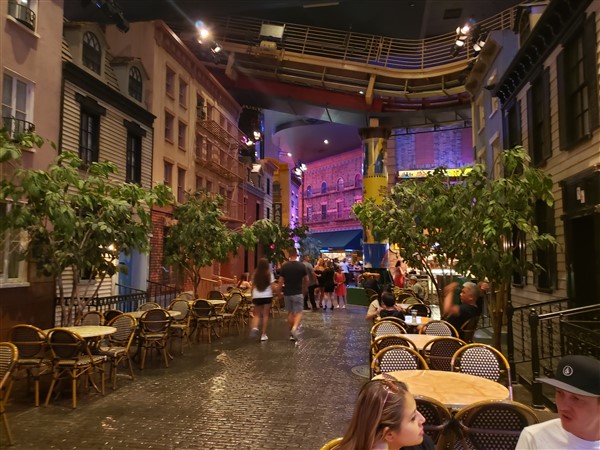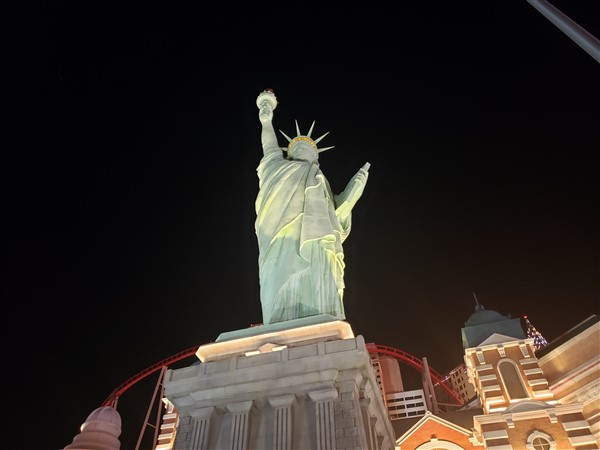 FreedomFest and RV Life
As I mentioned, I came here for the FreedomFest conference. It is a gathering (probably the world's largest) of libertarians – people who frankly span across the "conservative to liberal" spectrum, but share in common a love of liberty, freedom, independence and believe in small government.
My primary interest was to attend sessions that would be of interest to travelers – and I found several! I plan to bring those to you in interview form over the coming days (and well, likely weeks!) The interviews cover topics ranging from healthcare issues for travelers (see below); a (literal) break-through drug that is currently in Phase II trials that when it gets FDA approval will change everything; two companies that address earning income from anywhere (NOT MLM or network marketing); a company that has found a way to produce – for lack of a better term "gold dollar bills" – I'll explain more on this soon; and there's more – so, if you want to take this journey with me (and yes, I will continue to share my travels through nature as well – in fact, I'm working on some posts that will share more of the San Rafael Swell region of Utah (in fact I met Senator Mike Lee yesterday and shared my journey with him! See the photo below.)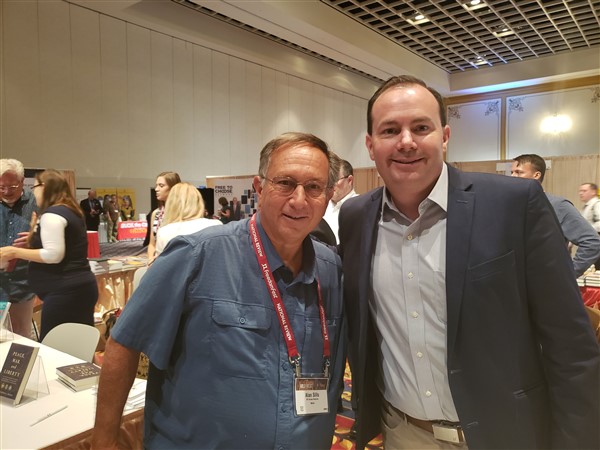 The AAPS – Healthcare – Medicare – and US
So, let me get right to it – I'd like to introduce you to Dr. Marilyn Singleton of the AAPS (Association of American Physicians and Surgeons.) Marilyn is the President of this non-profit organization. She was my first interview. It took place actually on the first morning of the conference and I'll apologize in advance for any background noise. I can assure you though, the information she shares is worth a few minutes of your time.
Our conversation is geared towards RV'ers, travelers, and those north of 50 years old. In our talk, I learned some things about medicare that many (including myself) may not know – and not knowing can COST you and cause TONS of heartache! Listen to this important interview – and heed her advice! Personally, I picked up at least two bits of info that will impact how I approach medicare when I reach the age of eligibility.
As always, I welcome your thoughts and feedback after reviewing the video below.
In closing, I hope the interview with Marilyn proved to be of value to you. (If so, please give the video a "like" on YouTube – it really does help.
Medi-SHARE – on a personal note…
I have medi-share. At age 61, I pay about $260/month for good coverage. It costs FAR less than most insurance coverages. Marilyn talks about it in the video. Here is a REFERRAL LINK for you to check it out. If you do decide to look at medi-share, thank you in advance for using my referral link!
If you would like to be notified of new posts as they appear – please enter your first name and email below. I do NOT share this info with ANYONE and ONLY send out messages related to RVAcrossAmerica.net.
#Ffest2019
FreedomFest 2019
#aaps