Here's the situation: I have a 2015 Ford F250 diesel and (at the time) I was on an Indian Reservation, over 100 miles from the nearest Ford dealer (or any auto-truck repair center) in either direction and the check engine light presents itself!
Fortunately, I had a Harman-spark (AT&T wifi OBD II) device that can diagnose codes. This is one of those little devices that plug into the OBD port (on-board diagnostics port) your car or truck has (all vehicles since the 1996 model year.)
I normally use the Harman-spark device to provide access to the AT&T cell network when I need internet access, but this time, this handy little device diagnosed my truck and returned a code leading me to my DPF (diesel particulate filter) system – which I'm told I can live without but from my research there are down-sides to removing it.
I was advised by those "in the know" that if I took 3-4 short trips (20 miles or so) at highway speeds, the system may clean itself up and the code may drop (and the check engine light would consequently go off.) I tried it while I was staying at Mountain View Campground on the reservation – and it didn't work.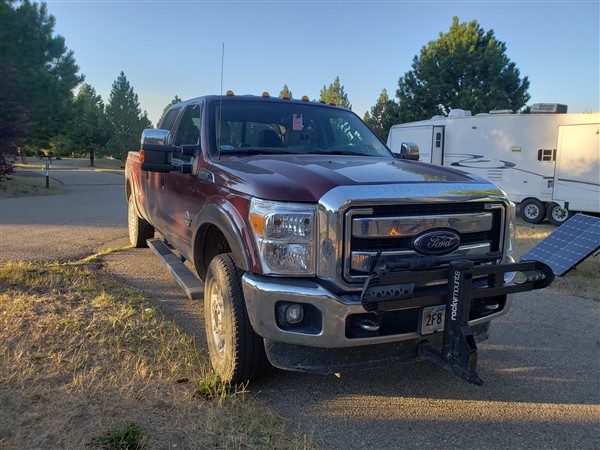 So… on the day I was set to depart Mountain View Reservoir Campground and head north into Idaho towards Mountain Home and Boise with my trailer, I was watching for any sign of trouble with the truck as the check engine light remained steadfast (on.)
One hundred and sixty miles down the road and a few hours later, I arrived in Emmett, Id (just North of Boise) to the campground I was planning to spend a few nights at. The truck was still running fine. That's when I decided to take matters into my own hands.
I reasoned the code may have been a false alarm as I'd already driven 200 – 300 miles with it and there was NO sign of abnormal behavior from the truck. I knew if I could clear the code and shut off the check engine light, I would discover whether something was really wrong (at which point the check engine light would return) or if what happened was a "one-off" (a one-time event that was not going to repeat itself.)
I tried disconnecting both batteries in an effort to reset the check engine light – and I learned that this little "trick" no longer works on the newer Ford trucks! So…
Introducing the BlueDriver OBD II Diagnostic Tool…
My solution? The BlueDriver OBD II diagnostic device. This device goes well beyond the Harman-spark as it will diagnose the code AND clear it (if desired.) From the time when it arrived (from Amazon), it took all of 5 minutes to set it up, run it and clear the code!
I selected the BlueDriver over all competitors after reading the reviews (on theirs and others) – and paying attention to the reviews coming from actual mechanics or auto-repair professionals.
Attention: Clearing the Code Repairs Nothing, but…
It is important to note that the BlueDriver doesn't fix anything – it only diagnoses, monitors and can clear codes. But when sensors on occasion "throw a code" – that code may be a sign of real trouble – or it may be a false alarm. I reasoned the only way to know is to clear the code (which mechanics often charge $100+ to do) and see if it returns.
I'm pleased to report that thus far, after about 700 miles of driving since the check engine light was shut off by the BlueDriver, it has not reappeared.
I have also discovered that the BlueDriver can monitor my vehicle in real-time while in motion! You can numerous graphical and digital gauge readouts on many systems the vehicle is monitoring! Of course, I don't understand much of the data it is capable of producing, but thanks to the Internet and YouTube videos, if (and when) issues develop, I feel confident I can use this handy little device to gather data – data I can then share with a mechanic who can then hopefully diagnose what's wrong faster (and cheaper) than otherwise!
We all know that eventually, my truck will "throw a code" and it will be a real issue that will require a mechanic to fix it. Towards that end, I plan to purchase an "extended service contract" – which I have on my 5th wheel and have talked about at length in other posts. I believe ESC's are important to have, but you MUST know how to use them AND you must get them at the right price.
Here are some RV Accessories I recommend in addition to the BlueDriver.
Coming up… my travels have taken me to Cascade, Idaho, so at some point I'll have some thoughts for you about the central west Idaho Mountains – actually the same area where I taught skiing for 3 winters, but as you'll see, summer is an entirely different beast!
Like the content? Want updates as they happen? Join my newsletter below –