I've been living with and in my new 2018 Glacier Peak 30RLS 5th Wheel now for just about 90 days. What follows is a video of the interior and an indepth analysis of this trailer manufactured by Outdoors RV.
Glacier Peak 30RLS Review
After 2 years of research, looking for a fifth (5th) wheel that is a TRUE 4 season trailer, well built, spacious and roomy BUT not over-sized, Outdoors RV Manufacturing of La Grande Oregon released and build (almost) exactly what I was looking for.
So, how are things working out in my new Glacier Peak after nearly 90 days – mostly in Idaho's central-western mountains in the winter?
Short answer… "just fine". That said, I've learned quite a bit about my Glacier Peak 30RLS and in the following video, I'll show you some of the design and engineering features that I have grown to appreciate over the past several weeks. Further, as a RV consultant myself, I know how most campers in this industry are constructed. Simply put, I wanted to find a camper that "breaks the mold" when it comes to quality construction and innovative design… I may be biased, but I believe in the Outdoors RV Glacier Peak 30RLS, I've found it!
What matters in a 4 Season Camper…
Allow me to share what I have found that matters in a trailer. Remember – having traveled full time for nearly 6 years in my (prior) Crossroads Seville and having spent each winter in the Rocky Mountains, I have seen what holds up and what doesn't – giving me a pretty good idea of what was done well by Outdoors RV when they built the 2018 Glacier Peak 30RLS.
***Looking for a RV Camper (trailer/motorhome) and want to save time, money, and aggravation? I now offer a Concierge RV Buying (and Selling) Service designed to do just that for you. I become your guide by your side – and much more. Review the info HERE.***
The Glacier Peak Kitchen
I've come to appreciate a large microwave-convection oven and a larger (double-door) refrigerator. The Glacier Peak does not disappoint in either category. The cabinetry is (frankly) exceptional from three perspectives – the finish (Knotty Alder) is real wood and actually high quality; the drawers are well built and DEEP; and the rails are top notch – 100 pound rails so weight of cargo is not even a consideration when loading the drawers.
This approach holds true throughout the camper. And… I should note, the kitchen is NOT the area that hooked me when I first inspected this model. The pantry is one of the few areas where this camper could use improvement – and if you review my video, you'll see the modification I made to remove this weakness. The photo below illustrates the sliding drawers I had installed a few weeks after taking possession.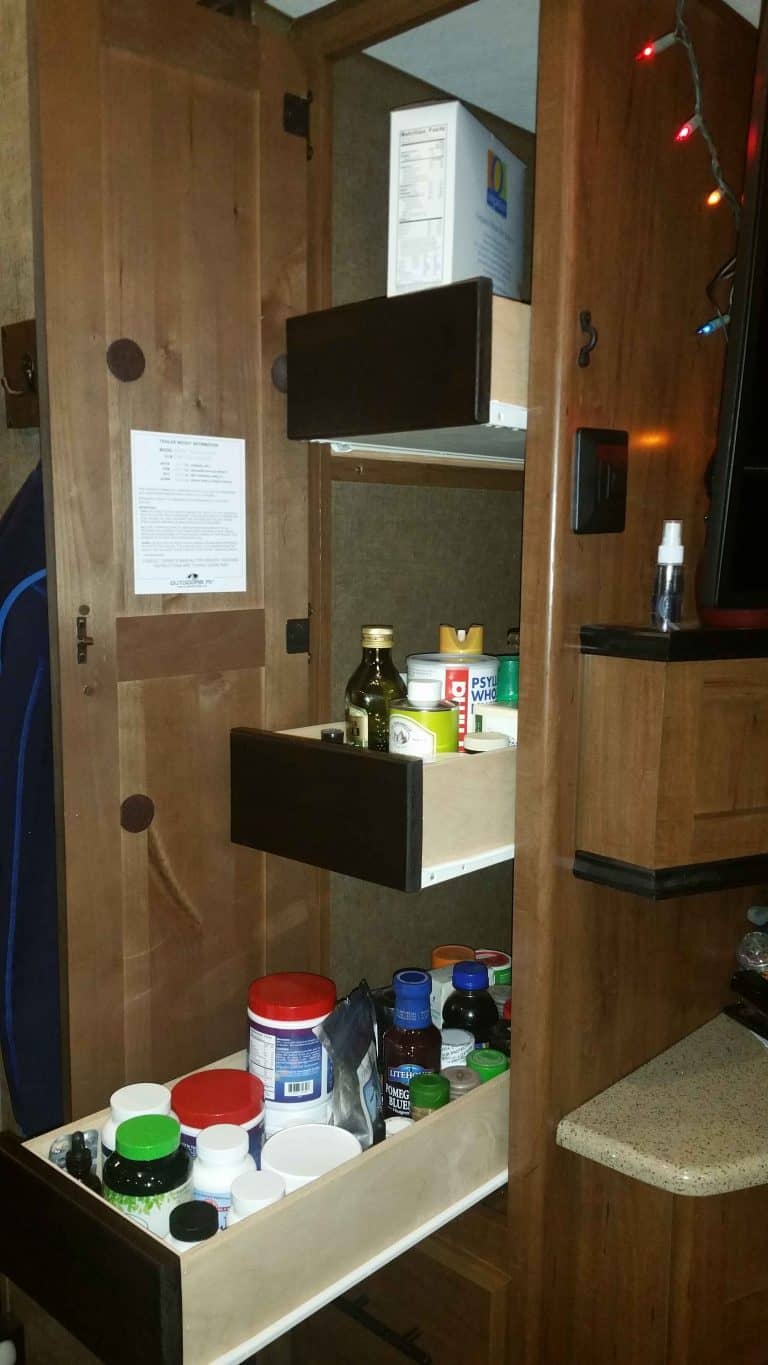 The Camper's Living Area
Leather NOT "pleather" furniture – that's what you want – and that's what you'll get in a Glacier Peak (and all Outdoors RV trailers. Storage – THAT'S another key for me! Note the cabinetry distributed throughout the living area. As detailed earlier, the cabinets are well built and provide more than ample room for storage. Again, the cabinets throughout the camper are made of Knotty Alder with brass handles and excellent quality hinges. Even with cabinets in the living area, the windows are large and allow for excellent light and views.
I should note I'm still considering replacing the dining table with a piece of matching furniture that will provide me with additional storage and still serve with seating space for two while dining. (More on this when I move forward on this project.)
The TV's size is more than adequate and is well positioned for viewing from the recliners and the couch. The stereo is bluetooth which I appreciated while listening to a recent Southside Johnny concert broadcast on Sirius – through my phone and into the campers speakers!
I must admit, the Glacier Peak 30RLS was not my first choice floor plan, but I had to be a man true to my values – I was going to buy the best built trailer with a reasonable floor plan, not the best floor plan offered by a second rate company (and there are plenty of those to choose from!) Truth be told, I'm a fan of center islands, but that said, there's plenty of counter space in the Glacier Peak kitchen and without the center island, I do appreciate the openness of the space in the living area.
Glacier Peak's Bedroom and Bathroom – the areas that truly won me over!
When I first entered the bedroom, I realized just how well the engineers had thought through all the storage space. Lets start with a full width front cap closet that locks with magnets & brass clasps (no more plastic hinges to break!!) Next, a 4 drawer dresser that is reasonably deep, a floor chest that doubles as a great place to sit and put on socks and such, two additional LARGE cabinets next to the bed (opposite the closet), and drawers UNDER the bed along with storage space when the bed is lifted up (with a well constructed bed box.)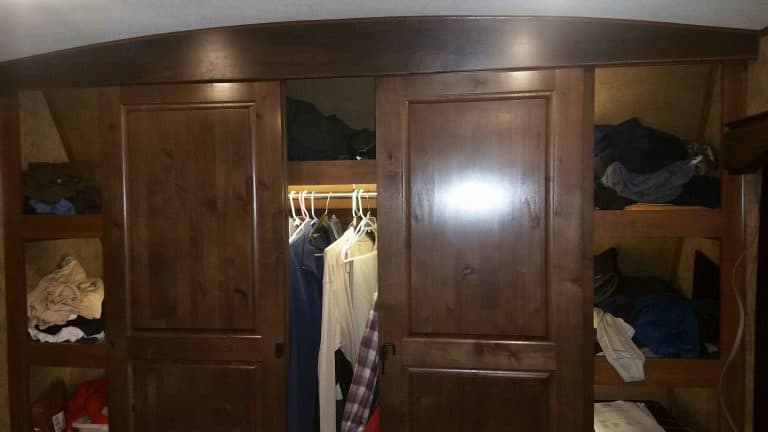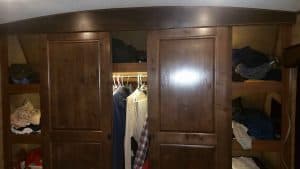 All this along with the same quality cabinetry and finish as in the living/kitchen area made this camper a nobrainer for me (along with the outside features detailed HERE.)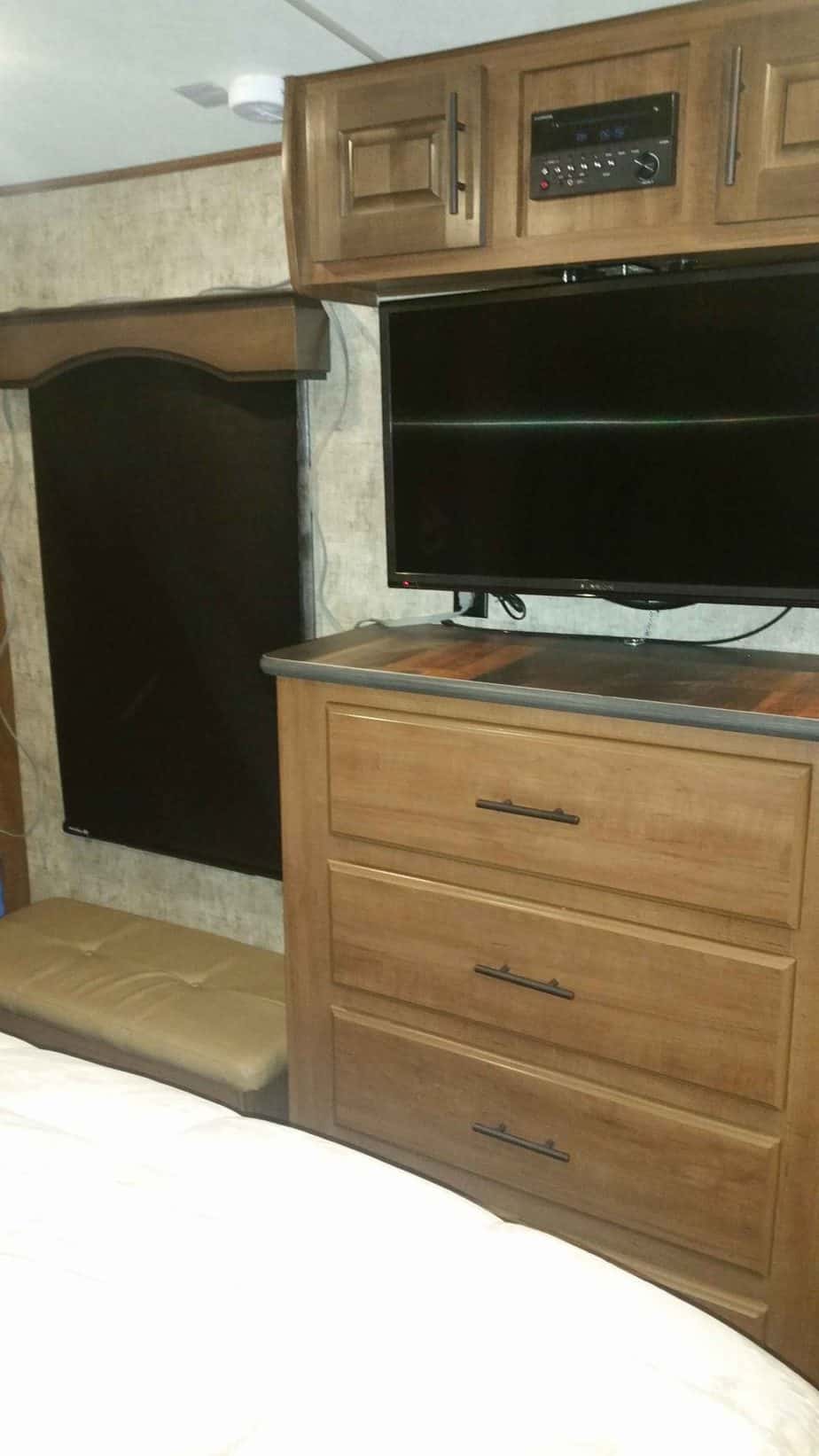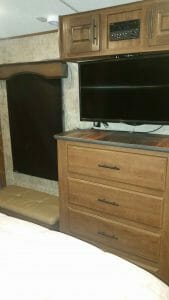 A few thoughts on the bathroom… large (very large – see photo below) vanity; high quality (brass) fixtures in the sink and the shower; more than ample storage space; a very large shower stall with easy access to towels (see the video!)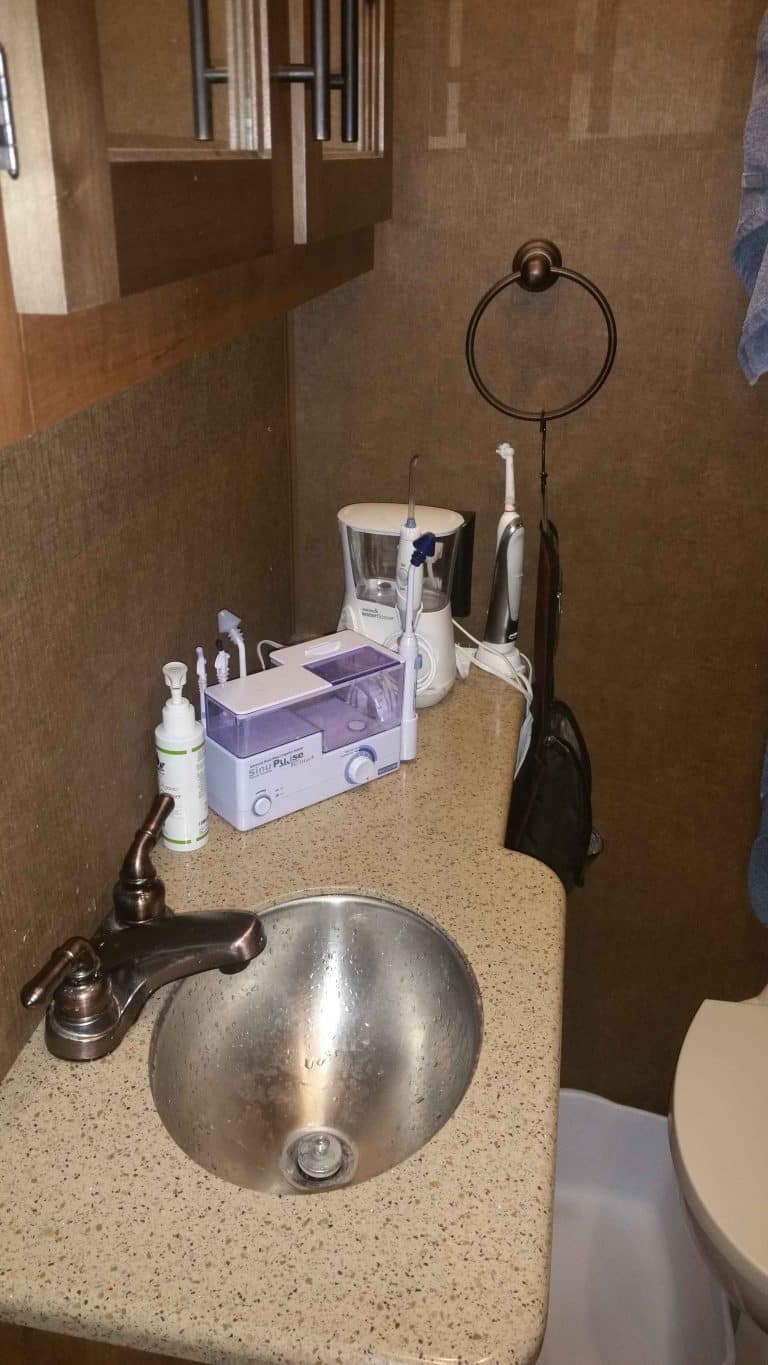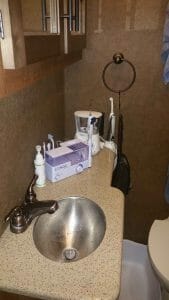 Glacier Peak – the 4 Season "stuff"
First, you need to know… calling something in the RV industry "4 season" has NO official meaning. Frankly, there are MANY campers in the RV industry whose manufacturers refer to them as "4 season" and they include virtually NONE of the design and engineering featurs I'm about to detail here.
Allow me to set the stage for where my perspective and view is coming from. I'm a full timer who winters in the Rocky Mountains where temperatures FREQUENTLY fall below zero degrees Fahrenheit. That is why I'm dead serious about critically evaluating what a manufacturer calls a "4 season camper."
Lets start with the walls – all walls including the slides and the slide ceiling have a two inch thick layer of high density foam that is sealed by layers on Luan on both sides. (All the Outdoors RV travel trailers and fifth wheels that contain a booth dinette use this material to support the cushions on the benches, so you can actually see what they're using inside the walls. It also makes for a very supportive seating area! I've found 2 inch thick insulation to be quite sufficient to separate my camper from the harsh outside environment this winter.
4 Season Campers… Whats under YOUR floors? 
The underbelly is critical to avoiding freeze-ups. This winter, I've grown to appreciate WARM floors as the furnace has a duct dedicated to forcing warm air through the underbelly. This is where your tanks and plumbing are – and in any subfreezing cold, they MUST be protected. Outdoors RV adds three layers of insulation in the underbelly – two layers of "pink panther" fiberglass and a layer of R-foil. These layers are enclosed in weather proof plastic which is NOT pulled tight against the chassis – this insures the fiberglass insulation remains soft and "fluffy", thus retaining is true insulating properties.
Lets not forget the roof when it comes to insulation
You'll note in the video, an arched ceiling inside the Glacier Peak 30RLS (and ALL Outdoors RV trailers and fifth wheels.) This is not just a cosmetic feature. There is actually several inches of open space in the heeled truss roof. This design allows the 3 layers of insulation (2 of "pink panther" and 1 R-foil) to remain uncompressed ("fluffy") from side wall to side wall. By NOT compressing the pink panther again, its full insulation ability is retained and utilized. I've also found that with a curved roof, snow more easily works its way off the roof!
Closing thoughts on the 2018 Glacier Peak 30RLS
My trailer is their second production run for this model and several issues were addressed and upgraded from the 2017 model. The next production run of these trailers will likely be for the 2019 model year – as In addition to being a proud owner of the 2018 Glacier Peak 30RLS, I am a RV consultant and feel very strongly about Outdoors RV in general – both the quality of product they produce and the value in each of their trailers. I'll invite you to contact me privately if you wish to explore options when it comes to purchasing one – my email is traveler@rvacrossamerica.net.
Considering the outside design and features addressed in this Outdoors RV fifth wheel in a prior article and the inside addressed here, this Glacier Peak trailer in my view is one of the best available today – and its price is certainly nowhere near what you could spend on a fifth wheel as some price for $100,000. or even more.
Every day that I return from the ski slopes, I appreciate the various design and engineering features in my camper and know I'll have many years of great service from this well built (and good looking) machine. If you have thoughts and questions, please post in the reply area below – or – message me privately at the email provided earlier.
If you want to see some of the accessories I've equipped my camper with, please click the image below. I also mentioned a space saving gadget for my cabinets in the video, you can see what it is below as well.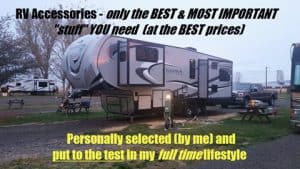 Like the content? Want updates as I create them? Then join me here…