I'm sharing this a couple of weeks AFTER I broke my winter rv camp on Feb 22 in McCall. To offer contrast, as I write this, it is 68F, I'm sitting at a cafe overlooking a canyon in shorts and slippers. Not at all a recognizable scene to the one I faced on Feb 22 as I started to break camp.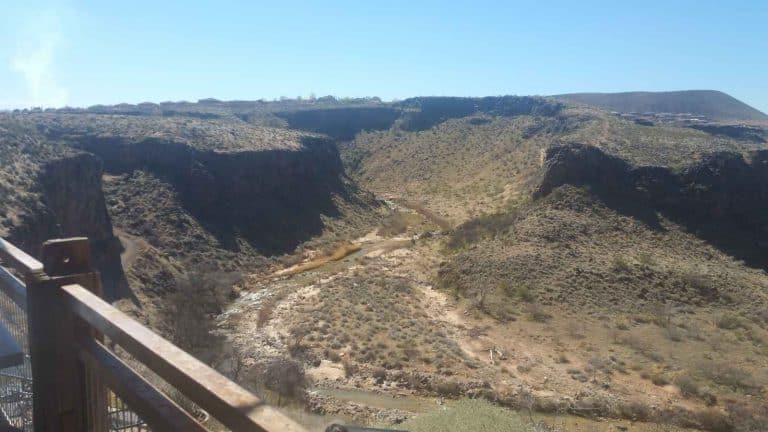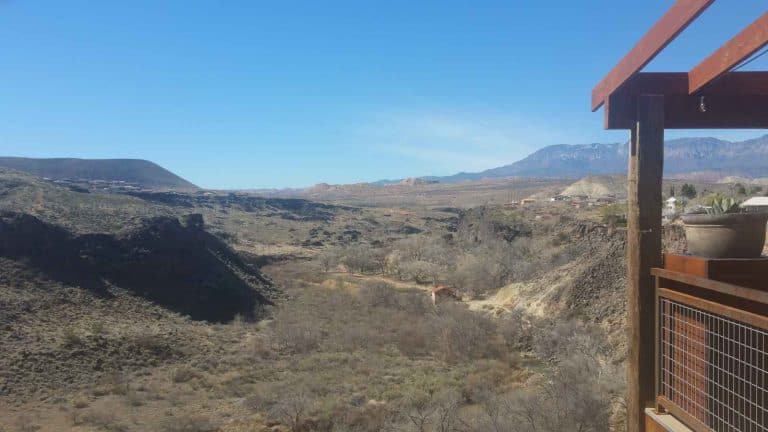 Here's my story of why I needed to break camp in the dead of winter…
I decided to make a change. And with a RV, even in the winter, you have that option! I needed to get to Snowbasin for some ski business and decided that Feb 23 would be my travel day. As it turns out, and yes, God is good, Friday Feb 23rd turned out to be about the ONLY day in a several day period either before or after where the weather and roads were clear and winds were low enough to safely travel.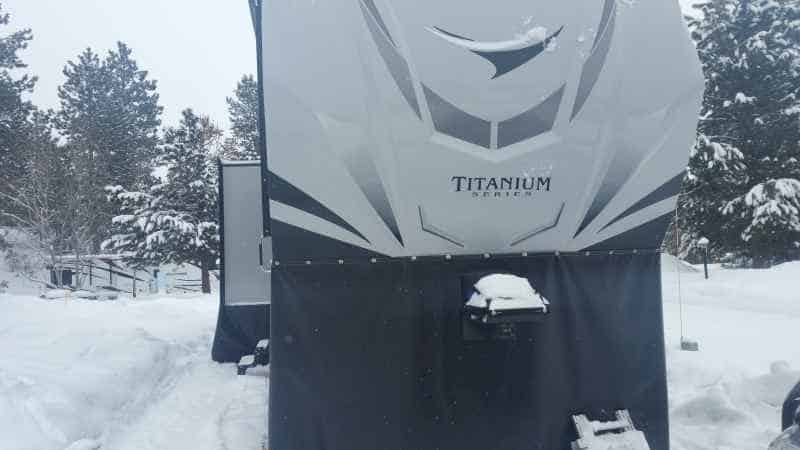 RV Winter Camping is tough enough!
It still wasn't easy to break winter rv camp. Even though much of the winter had been mild, so I wasn't surrounded by four feet (literally) of snow, the prior two weeks had been more normal – cold and snowy. Any chance of an easy "escape" was dashed by days of near zero temperatures and snowstorm after snowstorm. BUT… I was DETERMINED!
The situation on "my" ski hill had deteriorated to the point where I decided I would likely (I never say never) not return and since I had to be in Snowbasin (near Ogden Utah) at the end of February, I decided to travel with my camper.
The video below reveals a bit of what I faced…
Breaking camp typically takes me under an hour. Doing it in conditions like these (temperatures in the mid teens and snow everywhere – including melted snow that had fused the skirting to the frozen ground!
The complete process, including unfreezing the skirting from the ground, clearing snow and ice from the still exposed 1 slide out (I had previously cleared the other 2 slides of snow and closed them), storing the extra "stuff" I had accumulated inside my skirtings "spare room", and stowing the normal things inside as I would do in preparation of any travel required the balance of the afternoon – about 4 hours.
I took advantage of the "heat" of the day (a high of 18F) to help me melt back some snow and ice, and connect the truck (which I was not at all sure would behave as the hitch had not been used since October.)
Tip for removing skirting that has been "fused" to icy ground: Pull hard – but only a small portion at a time. Test skirting to insure its not ripping (mine is VERY well constructed.) If "elbow grease" does not work, then use some hot water (SPARINGLY) – the LAST thing you need is a ton of new ice (after the hot water is no longer hot!) Of course, if time allows, wait for an ABOVE FREEZING afternoon!
Tip for clearing ice off the slides: Step 1: Avoid the issue if you can. In my case, I closed my bedroom slide about 5 days before departure when it was clear of ice/snow to insure I would not have to clear it off when the time came. Step 2: Use a roof rake to get the loose stuff, then a snow broom (and your foot) to remove the stubborn ice (this requires climbing onto the roof and doing the work from above.)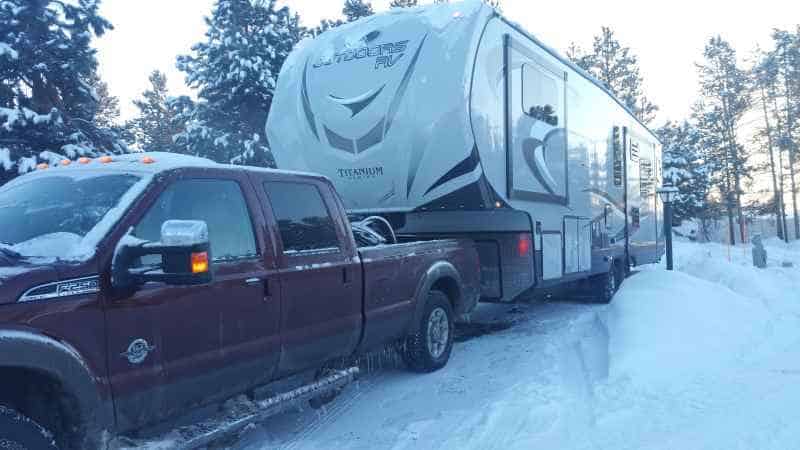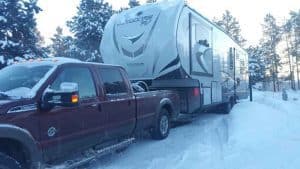 After a long and partly sleepless night, not knowing if my truck would behave as it pulled a trailer over snow and ice and up a hill to exit the campground, I awoke to discover the temperature had cratered to -10F! Not unusual at all considering where I was, but not convenient for final preparations – which due to the prior day's work, were thankfully minimal. The end result? I WAS able to "break winter rv camp" with no apparent damage or major problems.
My travel buddy arrived at 8am (we had plans to ski for a few days in Utah), and actually thanks to the extreme cold, the truck performed like a champ in 4-Lo as it climbed the hill to exit the campground. Once I was on the county roads, I felt confident that Utah would be just a matter of hours! Even the canyon heading into Boise was very manageable with a minimum of ice on the road. I still took my time as I traversed the canyon!
Breaking winter RV camp in the dead of winter
As I stated earlier, probably takes a unique brand of stupid! I say this as many things could have gone wrong – as RV's are not really made (even mine) to live in all winter, and moving them just opens up a whole new can of worms. That said, it went well and I'm now in Southern Utah, as I said earlier enjoying Springtime (almost early summer as the temperature climbs over 70F!)
In closing, stay tuned… I have more to share about my journey from Northern to Southern Utah – it will highlight going from (literally) winter to spring in about 2 hours! My next post starts in Fillmore, Utah, a small town I spent two days in and on the 3rd morning, awoke to a FOOT of new snow – and with NO help from either the onsite managers at Wagon's West Campground OR the owners, I was dismayed (at a minimum) that I had to pull out and drive the campgrounds road on a foot of snow that as of 10:30am on March 4 had NOT been plowed! (You can just imagine how NOT impressed I am with this campground.)
Thinking about camping in Fillmore? I'd pass it by, but if you stay, there IS a KOA. I bet it's run better – heck, I've never seen a campground that doesn't plow after a big snow as early in the morning as possible!
Hey, while you're here, please do check out my other posts. I even have a video HERE that helps you use my site!