And a WINTER UPDATE on RV life in Western Wyoming at 7200 ft.
According to a rvtravel.com article, used towable and motorhome prices have now reversed their up-trend first seen in Spring 2020. According to the chart below, prices for towables peaked in July and for motorhomes in November (2021.)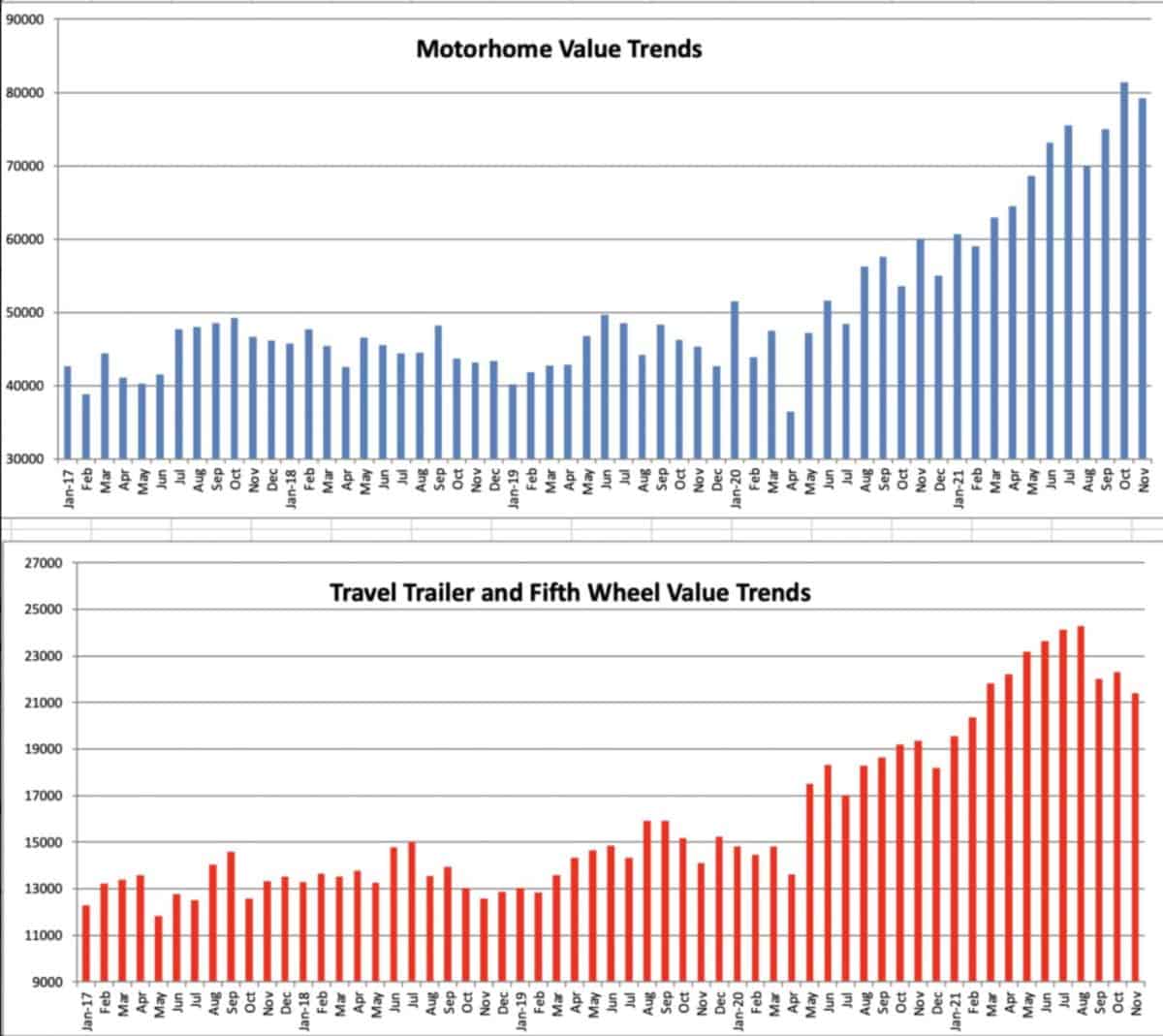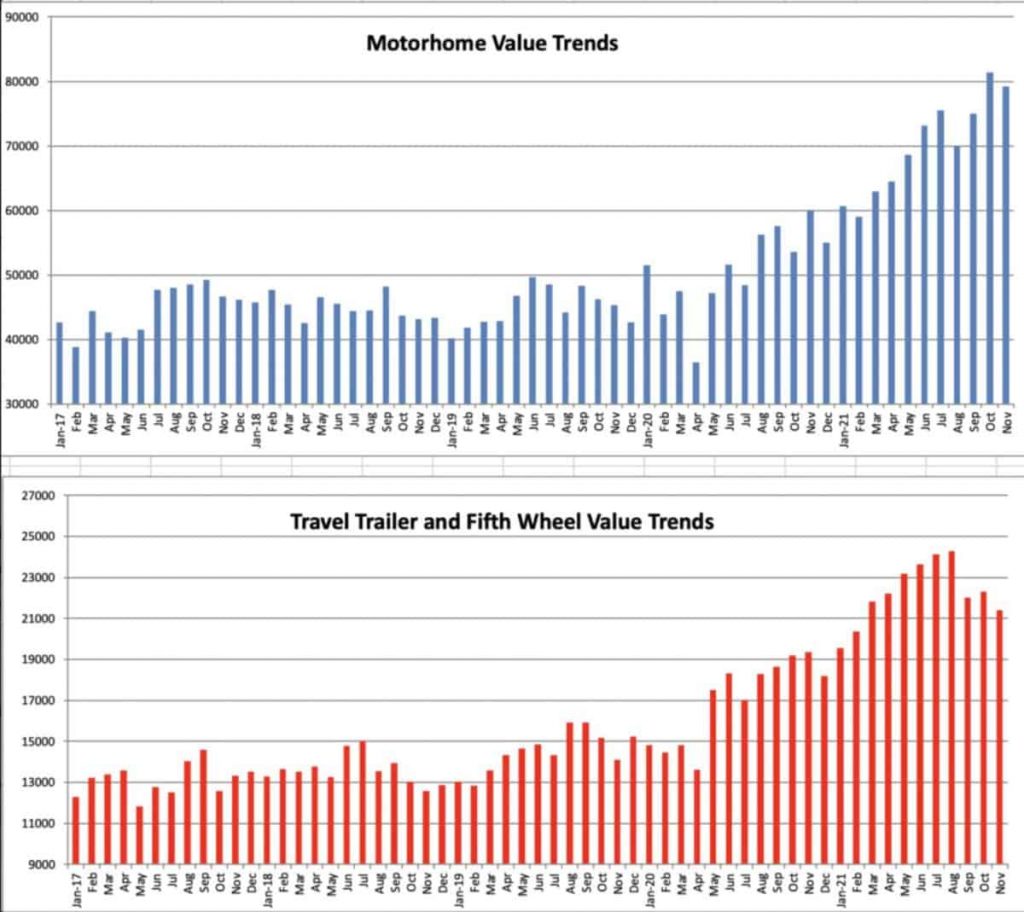 In my Concierge RV Buying and Selling business, I'm seeing signals that the slide in prices *may* be gradual. In recent conversations with selling dealers for my clients, I learned that in store sales are still strong. One dealer reported to me in December he saw over 60 campers sold through his store, where 30 is closer to normal (pre-covid) levels.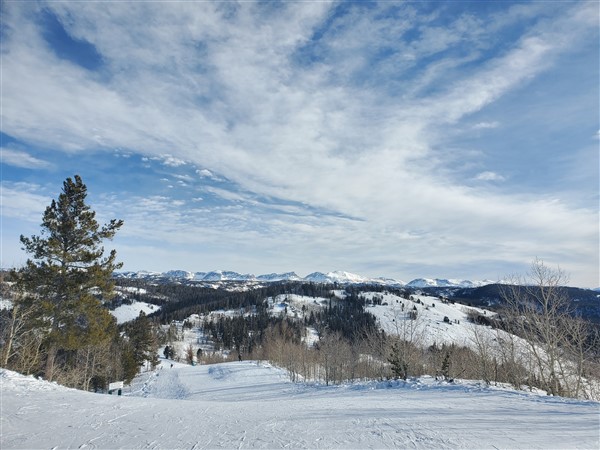 IF this strong purchasing behavior continues, any slide in used RV prices will be gradual. This however is contrary to my life experience! The up-trend in used RV prices for the past nearly two years has been a true aberration. It is my experience that when such a trend reverses, it does so abruptly.
update 3/18/22…
Please DO keep reading this post, however, I JUST posted (mid-march 2022) with my thoughts, analysis, suggestions, and tips regarding where we are at now that fuel costs (and everything else) are taking off – and we face shortages as well – HERE is this VERY important post.
There ARE however mitigating circumstances (at the moment.) These include –
Prices of new campers are skyrocketing (as is EVERYTHING ELSE.) In a recent government release, inflation is now 7% – and that is using a formula that didn't exist during the Jimmy Carter era. If the same formula were used today as was used during President Carter's inflation debacle, current inflation is closer to 12-15% (and climbing RAPIDLY.) Rising prices in the new RV market (which is almost always a poor choice for buyers!) may keep pressure up on the used market, thus slowing any declines in price.
Pressure for used camper purchases may continue as more folks can not afford their apartment rents and a camper becomes (in some ways) a more affordable form of housing.
Pressure for used camper purchases may also continue as more people seek ways to escape certain (blue) states to avoid draconian mandates and declarations.
Of course as I've noted in prior articles, the economy is supported currently by mostly smoke and mirrors. The Fed has had a "free money" policy for the longest period in history (near 0% interest rates) and even though they are currently tightening, the experts I pay attention to suggest this may be VERY temporary.
At some point, we WILL have to "pay the piper" and I'm increasingly concerned that it will be through a hyper-inflation event that will make the 1930's look like a trial run. At that time, sales (and prices) of RV's will collapse. There are things you can do to protect yourself, but that is not a topic I will share publicly here.
How long the Fed can drag out what I see as inevitable? Well, lets just say, they've already dragged it out far longer than I ever thought possible!
Based upon current RV Camper pricing trends in 2022, is now the time to buy a RV Camper (motorhome OR towable)?
Well, IF you have the means, and IF it is the "right time" for you and your family, its certainly a better time than it was 6 or 12 months ago! When I say "right time", my philosophy is that despite the unknowns in our society and economy, you have to go on with your life.
If you're a parent or head of a young family, there's only a brief time when the kids are old enough to travel with, appreciate where you take them AND still enjoy YOUR company! So, if you're at "that stage", then yes, its the right time.
Also… If you're a "seasoned citizen", who has worked much of his or her life and you're of the age where you're healthy enough for travel AND can afford it, I say go for it! If "the virus" has taught us nothing else, live for today.
As many of my readers know, I offer a Concierge RV Buying (and selling) Service, details can be found HERE. My goal through my service is to get my clients the right RV Camper for the best possible price. Many manufacturers today build a sub-standard product (and have for years), I combine my knowledge with your wants and needs to find you a camper that satisfies all the check boxes.
Additional news while I winter here in Western Wyoming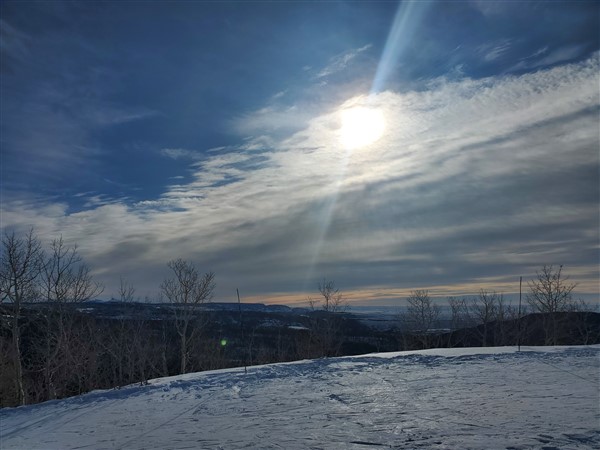 It's Jan 13 as I write this and I'm settling into my winter routine. I'm skiing (and ski teaching) at White Pine in Pinedale four days each week – from Friday through Sunday. White Pine is a relatively small ski area, but it still seems to have some "meat" to it. I say "seems to have" since we're in a snow-drought in this part of nation. This drought is impacting many ski resorts throughout the interior west from Utah to Idaho, Wyoming and Montana. The remainder of January looks dry, but hopefully (for many reasons) February and March will see several major dumps of snow.
We did have a 3 day (about 2 foot) storm from Jan 4-6, but that was just enough to open the slopes and ensure few (if any) rocks on the novice and intermediate trails. I've seen what looks like some good (great?) off-piste skiing, but until we get 2-3 ft. more snow, I won't venture into those regions.
Another BIG plus for White Pine is the fact that it is VERY UNcrowded. Even on a Saturday or Sunday, its common to ski right up to the lift (Big Spirit) that takes you to the top and once on the lift, you may be the only person riding up for a few chairs in front of and behind you! All this for a $50. lift ticket. Coming from Jackson Hole where tickets are approaching $200., and lift lines are serious, especially after a storm, this is a WELCOME change. Even after our 2 ft. storm, ending on Jan 6, we opened on Jan 7, and there was NO line to get to the top! I will shoot some video and take some photos – ideally after our next storm.
How's my Outdoors RV 5th Wheel doing this winter?
Short answer: Just fine.
Allow me to elaborate (I know, its my trademark!) – First the weather, as I noted, outside of a 3 day snowstorm, we've been snow-free. Most mornings are between 0F and -20F. I plug in my truck on the colder mornings to heat the engine (its a diesel.) Afternoon temperatures typically warm into the 10's and 20's and believe it or not, its warmer on the ski hill at 9000 ft. as cold air settles into the valley and is hard to dislodge.
I've made 2 key changes this winter. I'm using a "no freeze water hose" – designed to work to -40F. It is by FAR the best water hose I've ever owned. (Use the code "rvacrossamerica" to get the best price.) I'm also using a new, SMALL, and innovative heater in my outside compartment behind my Norcold fridge. So far, my fridge survived several mornings near -20F where my neighbors fridges failed – and a fridge failure in this weather is a big deal as the fix is NOT easy.
This heater is just 1″ thick, easily fits near the control board and cooling coils, and draws just 200 watts to produce power. I will continue to use it until daytime high temperatures exceed freezing. The reason for using it is to keep the ammonia mixture from gelling (thus causing fridge failure) in extreme (sub-zero) cold. The risk is FIRE which is why when days really start getting longer, and the sun gets higher in the sky, I will discontinue its use. This will likely be around February 15.
In the coming days/weeks, I hope to share more about White Pine along with my cell signal booster (its a life saver!), along with some other posts planned as winter draws on.