The 2024's are now being delivered – some with new "bells and whistles", but is it wise to buy one? AND are these new features actually good news?
Everyone always likes a brand new toy, right? But in the RV camper world (both trailers and motorhomes), is it wise to purchase a NEW camper?
RV Campers and Depreciation – A good starting point in our discussion is to ask "Should I even consider a NEW RV Camper?"
Before I get to the new features appearing in some 2024 RV Camper models, I'd like to share one of the first things I learned when I got started in the RV industry is the FACT that RV's (of all types) depreciate on a far steeper curve than ANY car or truck you've ever owned! Especially the poorly made campers (which comprise about 85% of the industry.)
For this reason alone, unless there's a darn good reason, when working with my Concierge RV clients who want an RV camper, I recommend a used RV over new.
Quality Control in the RV Industry and its impact upon what RV you should purchase
It's truly unfortunate that many (most) RV buyers seem resigned to the fact that most RV manufacturers have such poor quality control. If any of the big automobile manufacturers delivered cars and trucks in the same state as many RV manufacturers do, there would likely be hearings before Congress! Not that those hearings would solve anything!!
When I'm guiding / working with an RV buyer, I ensure we avoid the main "offenders" – the manufacturers that deliver campers that require LONG "punch lists" to fix all the issues in their new camper. That said, because a camper is a "rolling earthquake" with all the components found in most homes, even the better manufacturers new campers occasionally need some "tlc."
It is for these reasons buying used (if its been lightly used and well maintained/cared for) is a wise choice.
SOME RV camper buyers STILL want NEW – so… about those 2024 Models and their new features
I'm writing this in mid-August 2023. This year, 2024's are rolling out a bit later than before the nonsense our nation has faced over the past 3 years. Before the 'demic (pan, pLan, scam – you pick your prefix!), the new model year would tend to roll into dealers in June and July.
Many dealers this year won't see '24's until September or later. I'm sure part of the delay is due to the supply chain. Frankly, dealers are likely happy the new models are not in yet as they STILL can't get rid of their new '22's and '23's! And of course, there are economic reasons for this.
The New 2024 RV Campers rolling into dealer lots – there's good new and bad news…
As I alluded earlier, the overall economy is NOT strong – this means its a BUYERS market. Dealers are going to have to discount their campers to get consumers to buy them. How much they discount will depend upon the manufacturer. Some manufacturers "bloat" their retail prices to make you feel all "warm and fuzzy" when they offer you 30% or more off the MSRP. Don't fall for it! Look at the QUALITY of the campers build FIRST!!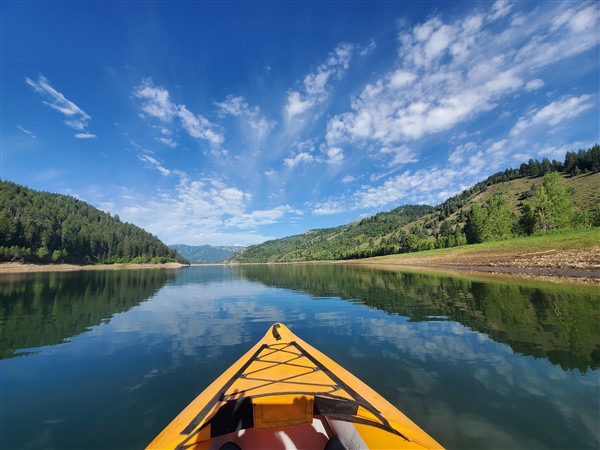 Ok, Alan, what about the NEW FEATURES you mentioned in the '24 RV models?
One last point before I get into specifics – Please do NOT equate my discussing various manufacturers below as an endorsement of that manufacturer. Some I like, some I most definitely do not. The manufacturers I mention below have reported what's new in their 24's. So why include those whom I don't respect? Simple, there's a lot of "copy cat" behavior in the industry, so if one adopts something new, others may as well. Wherever possible, I offer my thoughts and insights as to whether the new innovation is a potentially good idea or not.
News from THOR…
Let's start with Thor. Thor is not one of my favorite manufacturers (to say the least), but they do hold a lot of "market share" and there are many who end up owning a Thor or a Thor owned company (Heartland, Keystone, Crossroads, Airstream, etc…)
For 2024, Thor has added "blind spot detection" for enhanced safety, electric power cord reel's, a new style cockpit bunk, a stacking washer – dryer, soft close drawers and smart TV's. Further, they're talking about more storage, relocated water pumps, better decals and partial paint.
Now I'm sure some of these features are genuine improvements. Relocated water pumps, soft close drawers, and better decals come to mind. Some of the new features provide opportunity for more things to fail. Electric power cord reels, blind spot detection sensors, and smart TV's would fall into that category for me. Anyone over 50 will likely tell you the more complicated and electronic you make a machine, the more opportunity for failure!
I would also ask what is the cost of these new features? Does it raise the cost of the camper significantly? And if so, how important are these features for YOU?
Some manufacturers are now including Lithium batteries as "standard" in their new Class B campers. As I pointed out in a recent article about lithium batteries, having lithium is not necessarily an "ideal" for RV camping.
Thor is not the only manufacturer talking about their '24's and what's new. Northwood, of all companies is updating (at least) their truck campers. Northwood also makes some (great, well insulated, true 4 season) travel trailers and fifth wheel RV campers.
News from NORTHWOOD – 2024
In a recent Truck Camper Magazine article, Northwood revealed their (already well constructed) slide in campers will come with 8 cubic foot, 12 volt fridges, a fiberglass front cap, thermopane windows and 400 watts of solar.
For a truck camper, an 8 cubic foot fridge is incredibly spacious! But with the new 12 volt compressor technology, more space in a fridge can be dedicated to food and less to plumbing and heat sinks as was found in the (soon to be gone) gas absorption fridges.
I mention "soon to be gone" as Norcold (one of the two big rv gas absorption fridge manufacturers) is discontinuing production of this type of fridge in the USA. It still impressed me that Northwood, a very staid company would adopt the 12 volt compressor models this quickly! This may also be good news for updates in their travel trailer and 5th wheel models.
The adoption of a fiberglass front in the Northwood truck camper is also exciting as it will likely eliminate one of the few weaknesses in that product as older AF truck campers tend to have water issues in the front.
The inclusion of 400 watts of solar is consistent with my choice to get solar for my own camper – an experience I detailed HERE.
Thinking about purchasing a new or used camper? Selling your existing camper? Want a "guide by your side, who also has your back?" – Learn more about my Concierge RV Buying (and Selling) Service HERE.
GRAND DESIGN for 2024
Just a few tidbits from Transcend – no oven, more recliners, no dinette, tankless water heater, air fryer/microwave. Most of these changes are not concerning. The oven and increased recliners and lack of dinette are personal preferences (there is a portable table supplied.) The air fryer/ microwave is simply a rebranded convection microwave – so no new technology there, although convection is new to this (lower) level of travel trailer. Tankless water heaters ARE relatively new to campers, but to be honest they've been around for a few years. The implementation of tankless in THESE campers IS new and if I were a buyer, I would be inclined to wait a year to ensure Grand Design has worked through any wiring glitches. Further, I'd want to ensure the tankless can run on both propane and electric, if not, its another appliance that will draw down your batteries when dry camping.
With all these changes in the 2024 Grand Design Transcend, it will be interesting to see what they do with their higher end campers – the Imagine travel trailers, Reflection and Solitude 5th wheel campers, and the Momentum toy haulers.
Leisure Travel Vans for 2024 – A High end Canadian Class B/B+ Luxury Van Manufacturer
Leisure Travel or LTV makes a solid camper. It's not cheap (even when you find one a few years old), but they're well made and intelligently designed. As I noted earlier, there tends to be a bit of "copy-cat" behavior from manufacturer to manufacturer, so when I read in Camper Report that LTV intends to add Smart TV's, I was shocked (not!)
LTV is also moving to Lithium (from AGM) batteries. As I noted earlier, I have my concerns, not the least of which is this will raise the MSRP (sticker price) even further on an already expensive camper.
Other changes being made by LTV are less revolutionary. These include new colors and fabrics along with more USB ports (type A and C.) Can't have enough USB ports!
Do you winter in COLD weather? It's NOT too early to think about SKIRTING for your RV Camper – I'm a big fan of custom skirting and I found someone who does a GREAT job… Let's talk RV Skirting HERE.
Features I'd LOVE to see in new campers
A few issues many RV'ers face: ground clearance, cabinetry that fails to remain mounted to the walls, lack of shock absorbers. The common issue: To solve all 3 of these issues, it costs money and the camper will sell for a higher price.
Buying a camper is a lot like buying a Big Mac or a Whopper (burger) in the following sense. McDonalds and Burger King know they have to charge about the same for their "food." If one becomes significantly more expensive than the other, they know they'll lose market share. We're of course talking about the segment of consumers who purchase and consume junk food.
Junk campers (85% of the market) are no different. Keystone knows they're going head to head with Jayco and Forest River (Surveyor, etc.) If one were to implement the improvements I suggest, costs would rise.
It's important to note that there ARE companies who ALREADY offer better ground clearance, employ the use of shocks, and PROPERLY secure cabinetry to camper frames so they don't sag or break over years of use. Two manufacturers that produce towables "built right" include Northwood and Outdoors RV. Both are based in LaGrande, Oregon and combined they sell a small percentage of all towables in the RV industry.
One emerging feature to AVOID…
All electric RV's! If its a towable, you'll need a massive battery system to run the camper if you ever plan to "boondock" (dry camp) – and – you'll never be able to heat the underbelly as propane furnaces' do. This will make winter camping far more difficult.
If its a motorhome, the technology simply does not exist to produce a reasonable travel range on a full charge and charge times can take HOURS. Further, don't kid yourself that these things are environmentally friendly. Ask yourself, where does the electricity come from? (And the answer usually is from coal burning power plants!) So, I don't see "electric" (battery powered) vehicles as environmentally friendly.
For my Concierge RV Buying Clients, I often suggest a used well made camper over brand new "junk." Got questions? Contact me and we can talk.
Like my content? Want to stay in touch? Please join my newsletter below (and feel free to leave comments below…)