After an initial look, I believe Brinkley's NEW 5th Wheel RV campers have potential (but they haven't quite nailed it yet.) Or am I being too critical? You decide…
As a full time traveler myself, living in 5th wheel trailers since 2011, I've taken a keen interest in Brinkley. My current 5er is a darn good trailer to be sure but my camper is 5+ years old as I write this. Thus, I have a vested interest in this new RV manufacturer known as Brinkley as a potential replacement to my Glacier Peak.
In a world where quality RV manufacturers are truly few and far between…
Brinkley may be a welcome new addition. The management team of this new company brings years of experience to the table from other existing (and sinking) RV manufacturers. It's almost as if the developers of Brinkley jumped ship from the Titanic in order to startup a new 5th Wheel company. Their focus seems to be on innovation and quality. I can fully understand Brinkley's desire to build a better camper. There certainly is a NEED for well built 5th wheels given the selection of (mostly) absolute junk in the new trailer market currently.
So, lets see what Brinkley has accomplished to date:
The Sandy Utah RV Show and Brinkley RV debuts two models
On a personal note, I attended the Sandy Utah RV Show in part to get a good look at the new Brinkley 5th wheel trailers. As a 5th wheel owner who has camped in some of the most extreme winter conditions imaginable, I am well versed in what it takes to build a quality 5th wheel camper.
Shortly after arriving, I found the General RV section as General in Draper is a Brinkley dealer. While walking through their two prototype models, I was impressed with some (but not all) of the design and engineering.
Brinkley initially plans to release two 5th wheels: A rear living camper and a toy hauler with two distinct garage lengths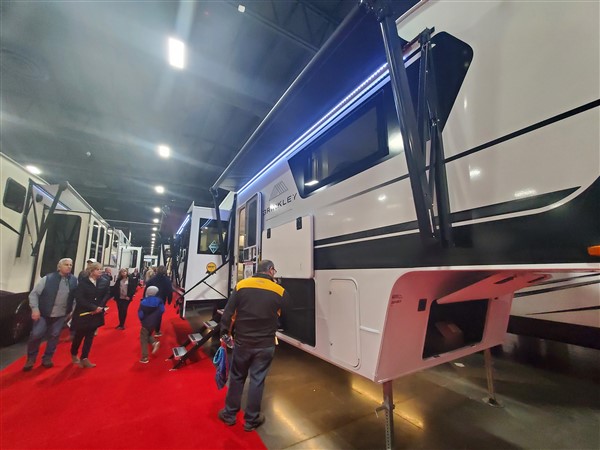 The campers I saw were prototypes. The production models due out in a few months will have some changes.
Here are my thoughts on the Brinkley trailers I saw:
Both Brinkley campers (the 5th wheel and the 5th wheel toy hauler) are well constructed with heavy duty 7k axles (the toy hauler will be a triple axle) with 8000 pound leaf springs. There appears to be good insulation "all the way around." This includes block foam in the walls, and r-foil and "pink panther" type in the floors and ceiling. Brinkley's website however is lacking on details of the type and thickness of insulation employed. This needs to be addressed. The toy hauler also has some innovative insulation applied in the garage floor solving to a great degree the "uninsulated garage" problem found in most other toy haulers.
Good tires for good trailers
Brinkley opted for high quality Cooper tires. As noted in my prior RV Show post, I hold manufacturers in higher regard when they opt for "real" tires in contrast to "china bombs."
Frameless windows – and my first concern…
The windows are square and frameless. They may be slightly larger than those in my Glacier Peak (the five star standard as far as I'm concerned!) The bottom line is: I don't see much of a difference, but they do play it up in their selling features. Once concern: I don't see any mention of dual pane or thermopane windows. From my experience, in cold (or hot) weather, these are VERY nice and frankly important to have. Update: After readers pointed out this change, I now see Brinkley offers dual pane windows as an option. I honestly believe this is a recent update on their website, however, whether the option was there all along or just added, you CAN get these campers with dual pane windows.
The overall length of the rear living model is 34'11". In my view, this is an ideal length for a 5th wheel, especially for full time travel. It also happens to be the same as my Glacier Peak (again, the standard I'm comparing it to.) The toy haulers are longer, details to follow, read on.
My Outdoors RV Glacier Peak – a side note…
Even if you wanted one, you can't get them! At least not since their last 2018 production run. After those units were built, Outdoors RV focused on constructing great quality 'mid-profile' 5th wheels. Mine is a "full profile" 5th wheel. The Brinkley rear-living 5th wheel is a mid-profile and that presents a distinct problem. Read on for the big reveal!
Brinkley: Hardwood interiors and generally an Excellent "fit and finish"
I was very impressed with the hidden and innovative storage throughout the living area of both models. The slide-out pantry is outstanding and very similar to high end motorhomes. The same can be said for the toy hauler's storage in the bathroom (similar in design to the kitchen pantry.) There is also storage under the steps leading to the bedroom, and in the rear living model, hidden storage in end tables on the back wall.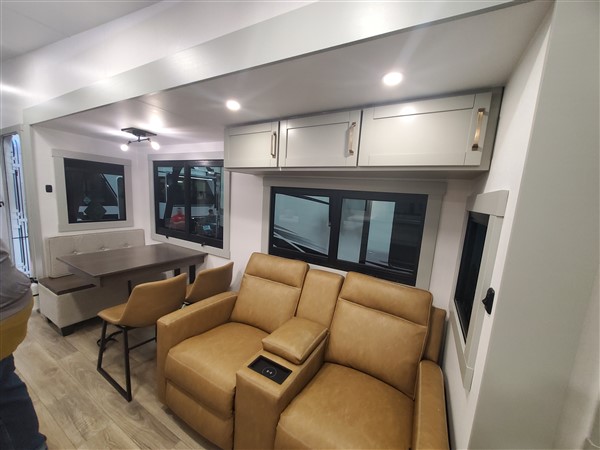 The Brinkley Kitchen
The kitchen also features a LARGE 12v compressor fridge. This is a BIG plus. Many companies are (or should be) moving away from gas absorption disasters (refrigerators) and into 12 volt compressor models. Theirs is made by Furrion – a division of Lippert.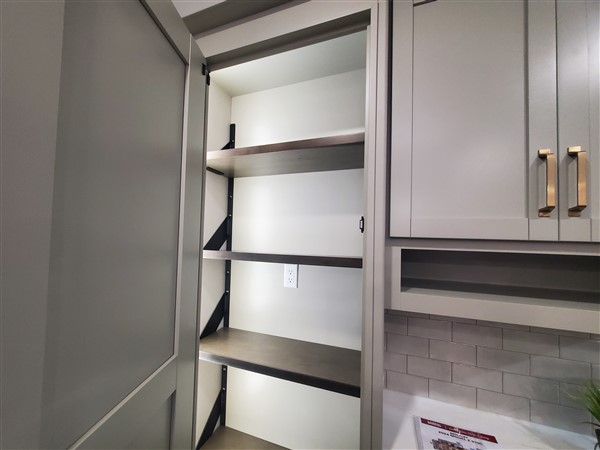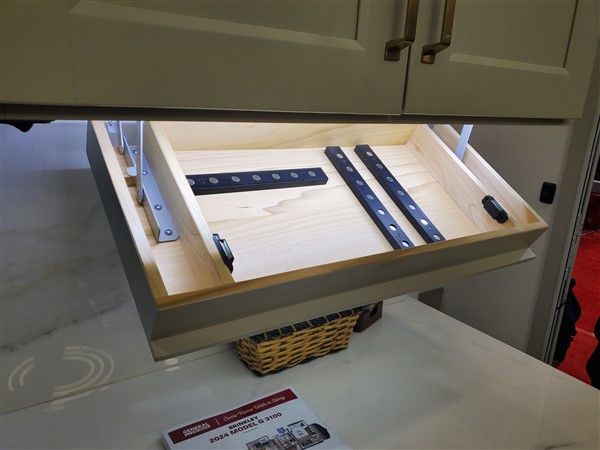 The Brinkley Bathroom and Bedroom
The bathroom in the rear living model is basic but sufficient; the toy hauler has more innovative storage with slide-out linen storage
The bedroom in both models was identical and somewhat less impressive. Brinkley dedicated more space in their 34'11" footprint to the living area and less to the bedroom – same for the toy hauler model.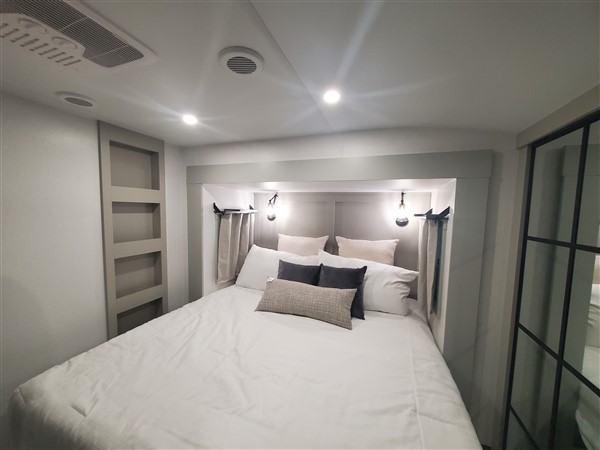 In contrast, my Glacier Peak has additional bedroom cabinets, a storage area under the bed "to die for" and a sitting area with storage inside, the Brinkley falls short in all these areas (though it DOES have under bed storage, and a dresser with hidden storage.) I have yet to see ANY quality manufacturer copy this design employed by Outdoors RV (ORV.) I mention this because I'd LOVE to see another manufacturer copy it since ORV isn't making full profile 5th wheels any longer.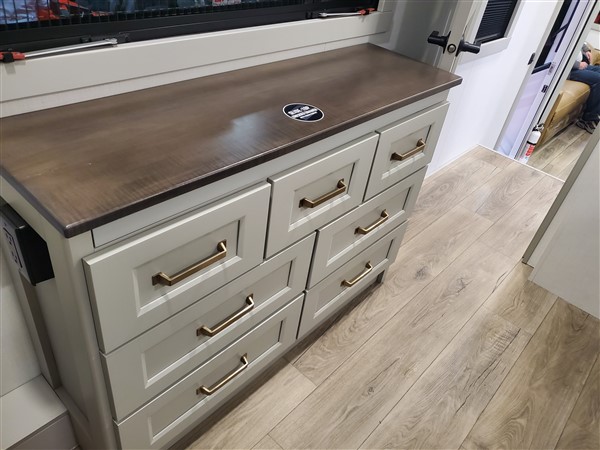 While there is more space in the living area of the rear living model, there is a large center island that some may see as crowding the living space. Center islands have trade-off's and in this camper, perhaps a smaller center island would have been warranted. Electric outlets and usb ports are well positioned and in very adequate numbers.
Exterior Storage
First, what I like – rear storage in the rear living model, and storage trays under the main storage area in the toy hauler.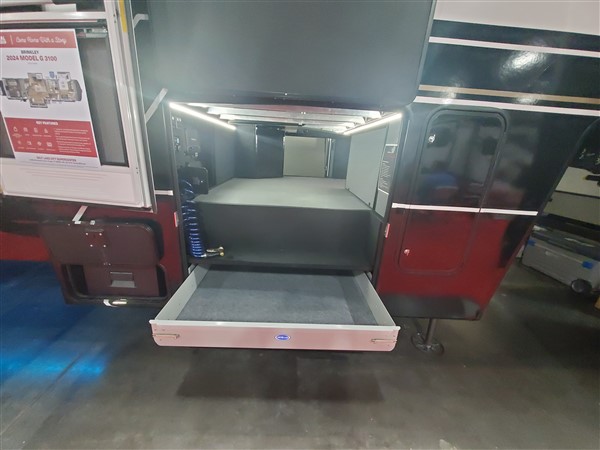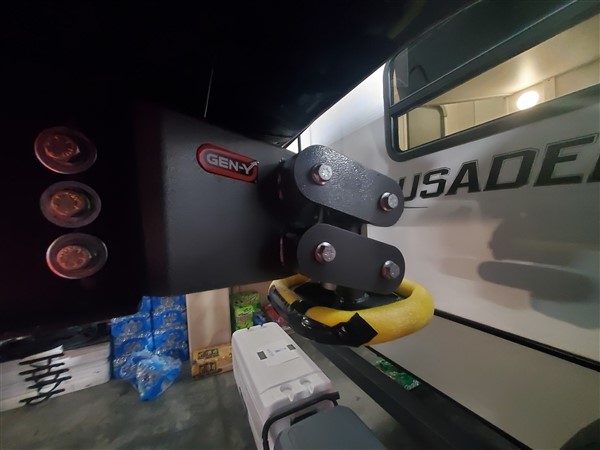 A deal breaking concern (for me)
What I DO NOT like and for me is a deal breaker is the limited storage in the main storage bay in the underbelly. The main problem? Insufficient height. Dimensions of the storage bay are 23.5″ x 54″. In my case, that's where I store my folded trike (photos are posted in this article from 2021 when I purchased it. Among others, there's of photo of how it fits in the storage bay of my 5th wheel.) In contrast, my Glacier Peak has a storage bay opening that measures 31 x 45.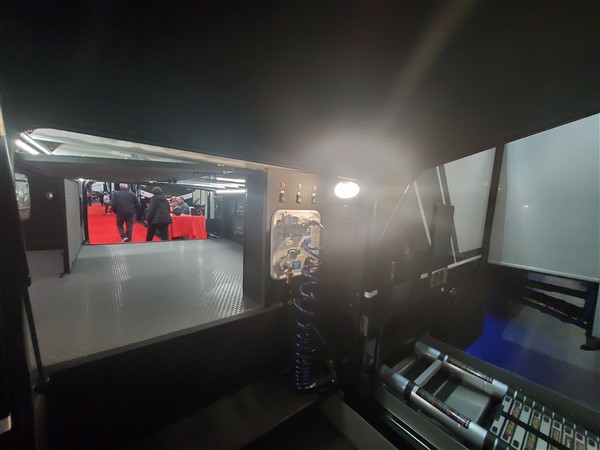 This limited height problem exists in both the rear living and toy hauler models. Personally, for storage, I use 19 gallon storage bins and I stack them two high in my Glacier Peak's storage bay, I do not believe this would work in the Brinkley. I believe this is where the 'mid-profile' design fails in the Brinkley. Yes, they save a little weight, but at nearly 12000 pounds, you need a super duty (ideally diesel) truck in any case. Another 500 pounds will not change that equation at all. I'm hoping that Brinkley as they grow as a company will HEAR this concern and address it by creating larger (taller) storage bays under the bedroom.
Interestingly, the toy hauler is a full profile camper and still has limited height in the storage bay BUT the toy hauler does have storage trays under the main storage bay, as noted in the photos earlier.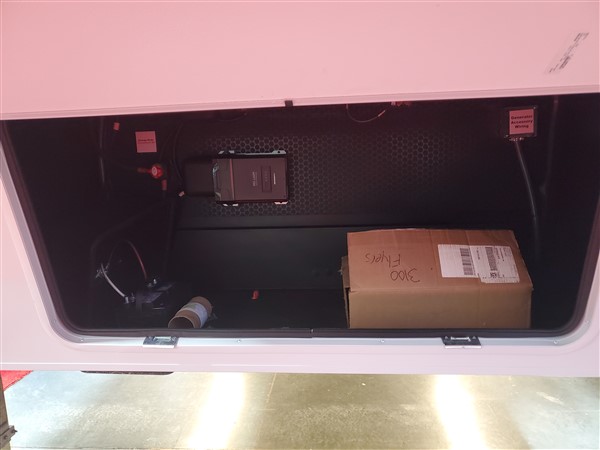 The front storage compartment in the Brinkley is also just 1 large area, in contrast, my Glacier Peak is split into two separate storage areas – one large enough for an Onan 5500 generator, if desired. The other is smaller, and has shelving. Shelving ALWAYS adds to storage flexibility!
The Brinkley toy hauler design
I liked the storage compartment in the garage floor along with the attempt to more thoroughly insulate the garage than any other manufacturer I know of. The toy hauler as I noted earlier is available in two models, identical except for garage length – 11 and 16 ft. Storage in the garage is also reversed to provide easier access. Further, the loft sleeping area found in many toy haulers is built into the garage – not the back of the living area.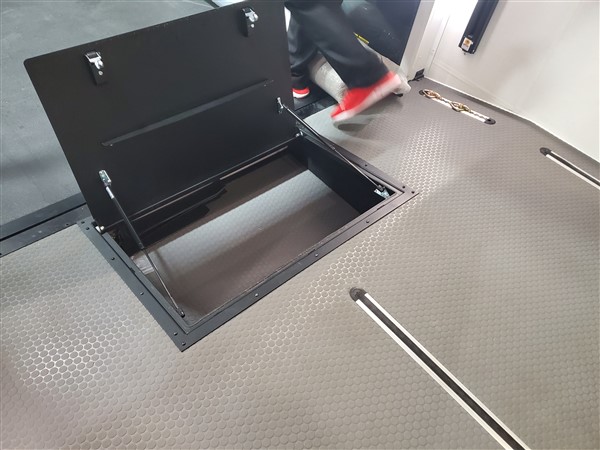 Thoughts on the Garage Length in the Brinkley Toy Haulers
To me, these are awkward choices. The 11 ft. is already over 40 ft. long and the 16 ft. will be over 45 ft! The longer option is VERY long – too long for many roads and campgrounds; and the shorter has a garage that is TOO SHORT for many ATV's. From my experience in the industry, there are far fewer buyers interested in a toy hauler with less than a 12 ft. garage so anyone who buys the shorter garage will take a BIG hit in resale value when they try to sell it. I'd love to see two garages: 12'6″ and 14'6″. Those garage lengths would appeal to more buyers and keep the overall length of the longer model in line with the larger Fuzions, Raptors and such.
Final Thoughts on Brinkley – and more…
Brinkley is moving in the right direction and I applaud their efforts to date. But, in my view, they're not there yet. Perhaps I missed it, but are there shocks on each axle? The storage space (height) as noted earlier is an issue as are the garage lengths in the toy hauler models.
Brinkley – A Premium Brand
These are premium campers, and priced as such. "Out the door" prices on a new unit will likely exceed 75k for the rear living and 140k for the smaller toy hauler. BUT these prices are preliminary. Remember, the first "consumer ready" Brinkley has not been built yet (as of March 2023.)
Buyers should also expect to own a 1 ton (preferably diesel, long bed) truck to properly tow these campers. Perhaps even a dually for the toy hauler models. While Brinkley has addressed many of the amenities that luxury buyers want, I'm still looking for a greater focus on construction and engineering.
Yes, it has a novel tank dumping system (with a manual backup), it has dimmable LED lights inside, hidden storage, and the latest "designer colors" (in contrast to the tried and true Arctic Fox campers), BUT, without addressing some (all) of the issues mentioned in this post, and devoting more time to discussing insulation (and dual pane windows) and heating of the wet-bay area, I'm happy to stick with my 5.5 year old Glacier Peak (for now at least.)
If I were in the market for a toy hauler, I'd give the Brinkley serious consideration. To fifth wheel buyers (non-toyhauler), if you're part time, I'd say, sure, its worth considering, but there are good units available that are a few years old and in this market can be purchased for tens of thousands less. As a full timer, I'd consider other manufacturers (especially used units) until Brinkley addresses the few areas I've noted in this report.
Looking for a camper? Want a guide by your side who also has your back? Check my reviews and my Concierge RV Buying Service HERE and give me a call – 307 269 2546.
RV Travel Season is RAPIDLY APPROACHING! Here are my "tested and proven" RV Accessories I personally use…
Like my content? Want to be notified of upcoming posts and more? Please join my newsletter by signing up below…