After 6+ years "on the road", you'd think I'd have this "winter camping thing" with RV Skirting down, right?
You see… I'm a full timer AND a skier and I work at ski areas (instructing) for the winter to help fund my addiction! As a full time traveler in a 5th wheel (and now a REALLY GOOD fifth wheel!) I KNEW from the first winter in Steamboat in 2012 I'd need skirting as a way to keep my plumbing (and entire underbelly!) from freezing up and my propane budget from going through the roof!
My initial solution (with my 2011 Crossroads Seville) was blue-board (insulation board). Effective and inexpensive BUT bulky, VERY labor intensive (see my old videos/posts when I talk about this approach) and virtually impossible to transport once you break it down in the spring.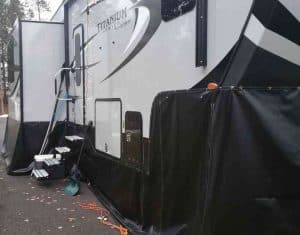 With a new trailer came a desire to do RV Skirting right
This led me to a search of companies that provide custom RV skirts as well as "do it yourself" kits. Acknowledging that I am "mechanically challenged", I rejected all the do-it-yourself options for a variety of reasons – starting with the challenge of ordering the right amount of material and connectors. Significant mistakes at the outset of a do-it-yourself project will quickly erase any savings of time and money over a custom skirting company. I was also reasonably concerned about damaging my RV if I were to attempt screw-in snaps, and had real concerns about the effectiveness of suction cup strategies touted by some do-it-yourself companies.
Even among custom RV Skirting companies, there's a wide disparity over how they do it
While costs are fairly uniform; I received quotes ranging from 1900. to 2500. for my trailer, the approach among custom RV skirting companies varies. Some use just snaps, some use a combination of turn buckles & snaps (the videos I share below help to explain this) and some use a channel (or rail) system.
Channel or rail systems are not widely used and I know of some rv'ers having problems with them, so I passed on this approach. As to snaps vs. snaps and turn-buckles, I learned in my research that the turn-buckles, when used strategically (at high stress points) are better than just snaps – which when over-stressed can (and will) fail.
Ok, enough commentary! Allow me to share a few videos that were created largely as my rv skirting was being constructed. This first video illustrates the process of measuring and planning out the two day project. The technician's name is Zach, and the business I used is Extreme Covers.
Considering RV Skirting for YOUR Camper?
If you decide to get RV skirting for your camper and you like the approach you see in the videos below, contact me and I'll get you a very competitive quote. I've negotiated a discount with the owner for all my readers! Use the contact (reply) box below – or – email me directly at traveler@rvacrossamerica.net.
Zach worked diligently through the balance of the first day and this second video shows continued progress…
Late on the 2nd day, Zach's work is nearly done. In this next video, he is instructing me on various aspects of the skirting. Take note of the features built into the rv skirt and in particular how small it is when it is folded up.
Video 4 below introduces you to Dave – owner of Extreme Covers. As you'll see, he's quite a character, and the demo he has me do with the skirting was neither planned nor staged!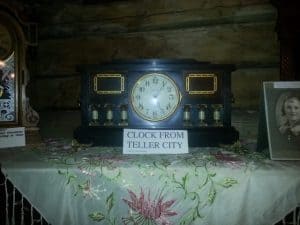 If you find value in the content and wish to subscribe to RV Across America (.net), look for the box that says "Want Regular Updates?" – enter your first name & email. You'll receive updates of any new posts or news I post here! You can also join in on the discussion in my Facebook RV Lifestyle group.
The only thing really left to show you is the finished product – which can be seen in the 5th and final video in this post.
Summary of my experience
Extreme Covers does a first rate job creating & installing RV skirting. The work required 2 full days (and Dave tells me that some trailers / motorhomes require 3 days) – you CAN stay in your RV while the work is being done, and they will do the work onsite in Boise, Idaho OR anywhere in parts of the adjoining states. They will charge a travel fee if you opt to have the skirting done off-site. For me, I opted to come to them and save the travel fee. I found it easy to get in/out of Boise (they're less than a mile off the "Connector" (Interstate 184) and their lot is easy to navigate and is secured. While there I took a couple of bike rides along the Boise bike path that runs adjacent to their property.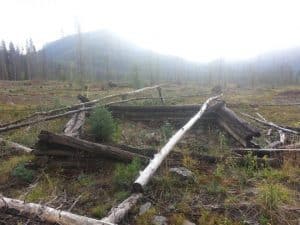 As I mentioned earlier, if you're looking for a RV skirt for your camper, contact me and I'll be glad to get you a quote – as one of my readers, you're going to receive a discounted rate.
While you're here, there are a number of posts where I talk about preparing for the winter months (if you camp in colder weather). You can find an index to my winter in a RV posts HERE.
May I suggest… Looking for a great navigating and trip planning tool?
I use something called AllStays – how I use AllStays is illustrated in this post about camping in the Helena Montana region. When I start my planning process, I always start with AllStays to see what campgrounds are in the region I'm considering. The database is interactive so I can learn more about the campgrounds AND other aspects about the region I'm planning to visit.