This is the high desert (East Idaho). Rigby sits at about 4700ft. elevation in the upper Snake River plain. The region relies heavily upon spring snowmelt for agriculture and irrigation, but this spring has been truly exceptional!
On the heels of a winter with record snowfall, the moisture has continued in the form of showers and thunderstorms. Now well into June, there are no signs of this pattern changing anytime soon. There's even a chance of high elevation SNOW as we enter the last week of June!
Start of the Kayak Season
The weather pattern has most definitely slowed the start of my kayaking season. Now that Rigby Lake has enough water to paddle in, a kayak session will likely be a part of my "morning ritual" as I'm less than a mile from this really nice community park that offers a very affordable ($30) season pass.
Read on to learn about a 15% discount I've secured for YOU on any Aquaglide kayak…
Now in my 2nd Season… Thoughts on the Aquaglide Deschutes 110 INFLATABLE kayak
This may be the IDEAL kayak for an RV'er who values their storage space!!
Kayaking and Bicycling (now on my ICE Trike) are my two main forms of exercise (and entertainment, and relaxation) I enjoy in between ski seasons (in other words during the summer.)
After reliability issues with my first inflatable kayak (from a different manufacturer), I invested in the Aquaglide Deschutes 110 kayak last autumn (2022), and I am pleased to share, I'm 100% satisfied.
The Deschutes 110, made by Aquaglide, a company built by outdoors enthusiasts based in the Pacific Northwest. Before selecting an Aquaglide and then the right model for me, I did my research, read reviews, and compared different companies products.
Aquaglide came out on top as verified owners praised their inflatable kayaks on several levels: stability, ease of inflation, durability, comfort, lightweight and… truly SUPERIOR CUSTOMER SERVICE. After purchasing and enjoying my new kayak, I 100% concur!
The photos below illustrate the unfolding process for the Aquaglide Deschutes 110 inflatable kayak…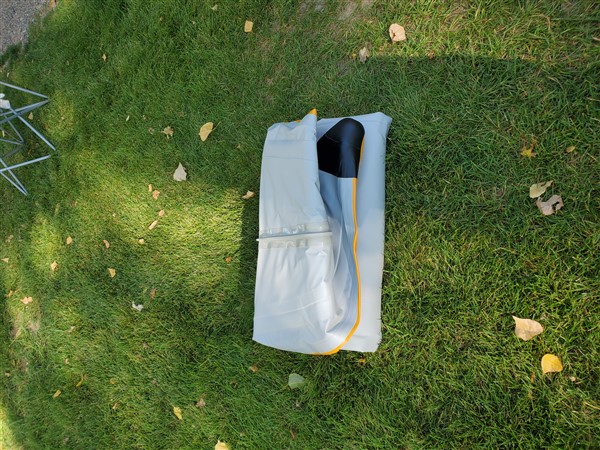 This inflatable kayak is truly lots of fun
It is easy to paddle, tracks very well, and can even rival the performance of a hard-shell. It is forgiving, stable, and COMFORTABLE. I can easily be on the water for over an hour without any back fatigue or other issues.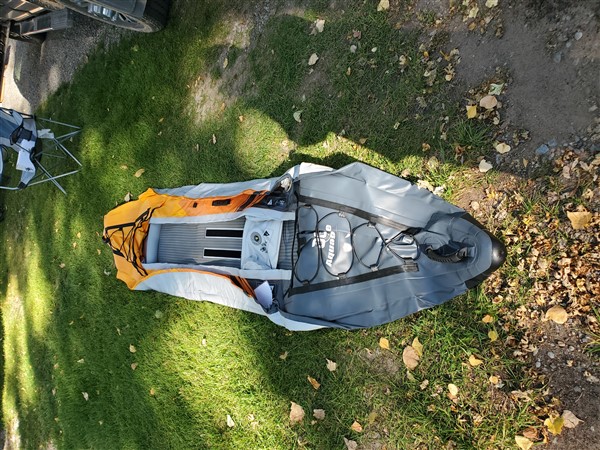 I'm into my 2nd season with my Deschutes 110
I've had the kayak in various water bodies now for 20+ sessions and each time I grow more comfortable with it. I also enjoy the physical benefits I gain from this gentle, aerobic exercise.
The Deschutes 110 Aquaglide IS stable, IS comfortable, IS easy to inflate, and IS made of very durable Dura-Tex material (looks like the same stuff as what you see on whitewater rafts), and IS easy to carry to the water. I find that paddling this kayak requires LESS effort than my prior kayak and it glides more quickly across the lake surface. (AND… it remains inflated!)
Quick Tip: Use a pump with a gauge when filling any inflatable kayak
When properly inflated, the Deschutes 110 IS quite rigid and tracks well. It has an attachable skeg which helps to increase its tracking ability. Further, because they do NOT use "inner bladders" (or main tubes as the "other guys" use.) This kayak weighs in at just about 20 pounds – talk about easy to transport!
Quick Tip: Set the seat (which attaches with velcro) to a position just behind the kayak's center of mass. Take note of the ideal position for you once you decide upon it – a marking pen works great on the kayaks floor.
Inflatable Kayaks are GREAT for RV Travelers
This kayak is VERY compact when folded up. It comes with its own (surprisingly high quality) backpack. The backpack can be used to transport the kayak, a pump and all relevant accessories. AND, yes, you CAN get the kayak back in the backpack after the first time you unfold and inflate it!
You CAN use a 12 volt pump to inflate this kayak (with the manufacturers blessing), but using a "dual action" handpump does not require a super-human effort to inflate the Deschutes 110 either.
In general, inflatable kayaks are FAR more practical for a RV'er or really ANY traveler as they take up so little space when deflated. As noted earlier, performance with my Deschutes 110 approaches that of a hard shell kayak without all the drawbacks of a hardshell.
I reached out to Aquaglide and secured a special deal for you…
I was so impressed with the performance of this kayak, I reached out to the company and secured a discount code for you to obtain any one of their kayaks – and they make several series. The coupon code is RVACROSSAMERICA15 and it will get you a 15% discount by linking to the AquaGlide website and entering this code where space is provided for a coupon code.
I chose the Deschutes 110 as it is a solo kayak (they also make tandems), it is LIGHTWEIGHT, and moderately priced (the retail as I write this is 679.99.) That said, I may splurge for a Chelan 120 in the future as it has a drop-stitch (really rigid, high pressure) floor and a few other great features that make it attractive to me.
Got questions? Feel free to contact me to see how my "relationship" with my Aquaglide Deschutes 110 is going (or post a comment or question in the space provided below) and/or call Aquaglide's customer service team for more in-depth technical questions.
Last thought: Kayaking is GREAT exercise and is easy on the body
I'm about to turn 65… wow! I even signed up for Medicare (and will share how THAT went in an upcoming post.) Kayaking, as I noted earlier, is a great (and gentle) form of exercise. As Ferris Bueller might say "I highly recommend it!"
When I paddle, I typically do so for about an hour. Depending upon how I paddle and how breezy it is, I notice my heart rate increase, and can maintain an increased rate for as long as I like as I control the pace. The movement is very easy on my body, and it serves to stretch my muscles all through my back from the lumbar to those near the cervical vertebrae thus reducing my need for trips to the chiropractor!
In conclusion, during the warm weather months, part of my "key" to renewed health (since my heart attack) has been daily exercise with about an hour of paddling and/or bicycling and occasionally swimming each an every day.
**RV Season is upon us – IF you're looking to BUY (or SELL) an RV, I offer a Concierge Service where you'll have a "Guide by your side who also has your back" You can learn more HERE.
Early Summer 2023 RV Industry Update
As I noted in my video, May was a VERY busy month for me, mostly helping RV owners SELL their RV's – some of which are still up for sale as I write this in mid-June. Bottom line: There's lots of sellers and few buyers and there's lots of good reasons for this. Interest rates are now solidly over 8% for a recreational (RV) loan; the nationwide economy is not exactly inspiring major purchases at this time, and so on.
That said, some categories of campers – Class B vans (sprinter vans), toy haulers, and larger less expensive travel trailers and even some 5th wheels do have buyers searching for them. And of course, iconic brands such as Air Stream, Outdoors RV, and Arctic Fox always have someone looking for their ideal camper!
I will bring you more updates as they warrant. For now, look for a post on medicare soon and my travel across Wyoming (during the rainy season!), and be sure to check out my thoughts on RV batteries – especially lithium in my recent post.
Like my content? Want to be notified of new posts as I produce them? Please consider joining my newsletter below. Additionally, I always respond to comments left in the space provided below.