The Town of Dubois Wyoming – Gateway to Yellowstone & Teton National Parks and the town of Jackson…
A small town (about 1000 folks) situated about 70 miles east of Jackson and Yellowstone, but without the congestion of Jackson (or the expense.) Since West Yellowstone (also expensive – rv sites in excess of $70/night) is the only town right near an entrance to Yellowstone National Park, it is not unreasonable to consider staying here and traveling to Yellowstone, Teton National Park, Jackson and other points from here. Downtown Dubois has several restaurants, a well stocked grocery store, a very complete hardware store, a coffee shop and a nice stretch to walk along the downtown retail district.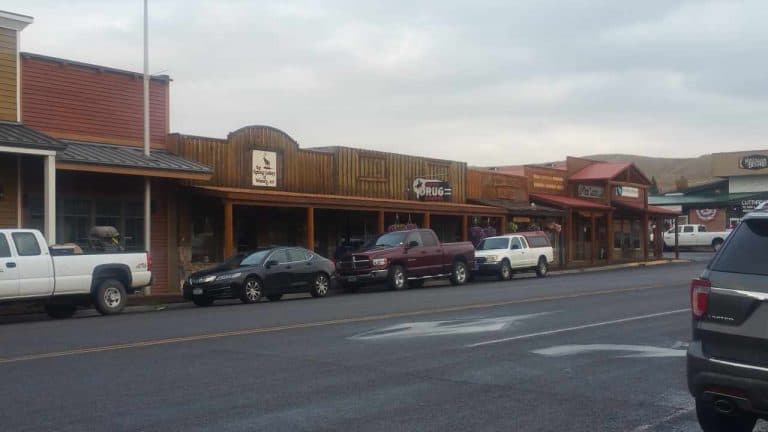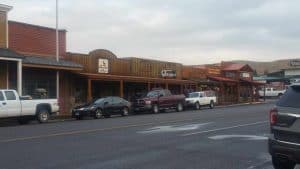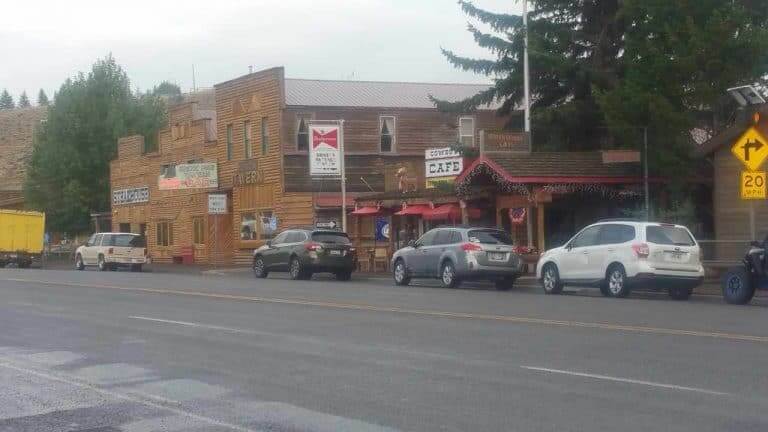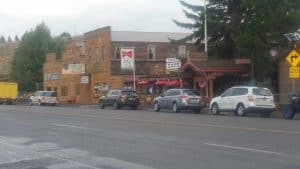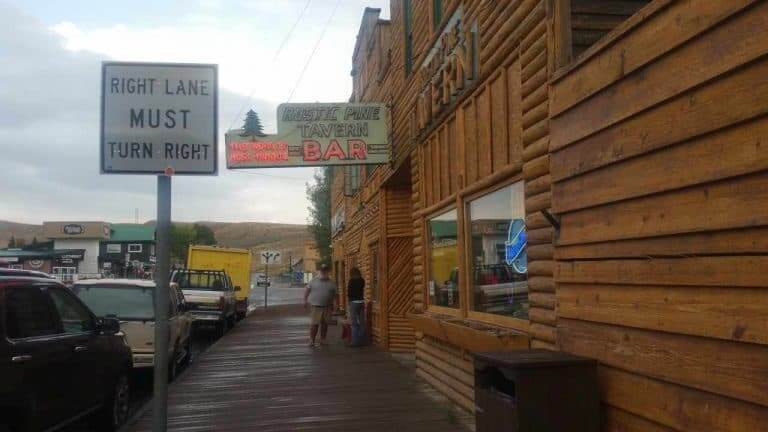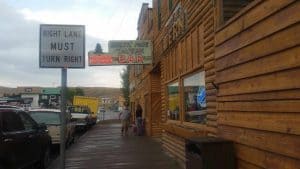 In my three days here, I had a chance to visit 3 restaurants. The Village Inn, The Cowboy Bar and the Nostalgia Bistro. The Village Inn has comfort food. Basic hot sandwiches of every variety from grilled cheese to chicken, ham, etc. – all accompanied by good fries. The Cowboy Bar was highly rated for breakfast – well… I guess. Prices were good, but portions were limited. I had 2 eggs – bacon – pancakes. I guess the fail in my view was the pancakes. They looked more like "dollar" pancakes at IHOP than the giant pancakes I've grown used to here in Wyoming. I guess my gut was happier they were looking out for me, but I would have preferred the over sized ones I've grown used to!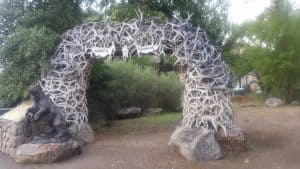 The Nostalgia Cafe is a definite win! Well reviewed and deservedly so. Great service, nice atmosphere, and clearly preferred by many visitors and locals. I'm actually writing this here at about 7:15pm on a Monday evening – and its packed! Food ranges from burgers to entrees with meals running from $10 -15 for burgers to $20-30 for entrees with a fresh salad and bread. I opted for the mussels (I'm trying to go light on red meat) and the dish was extremely well prepared with great ingredients.
Here is an interesting store I found in Dubois – the photos say it all…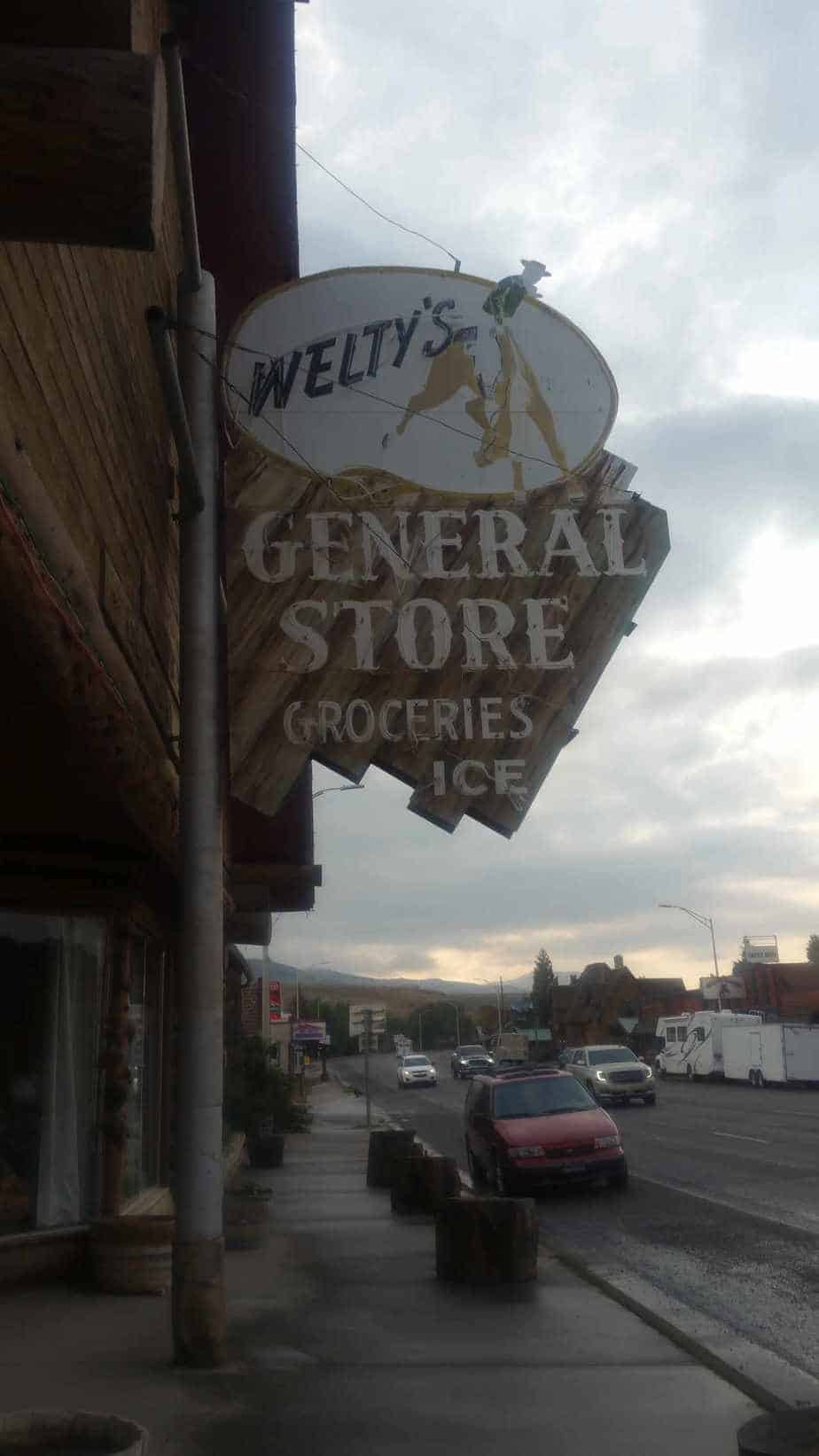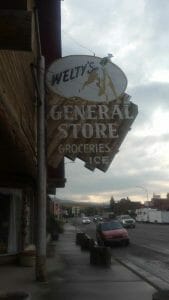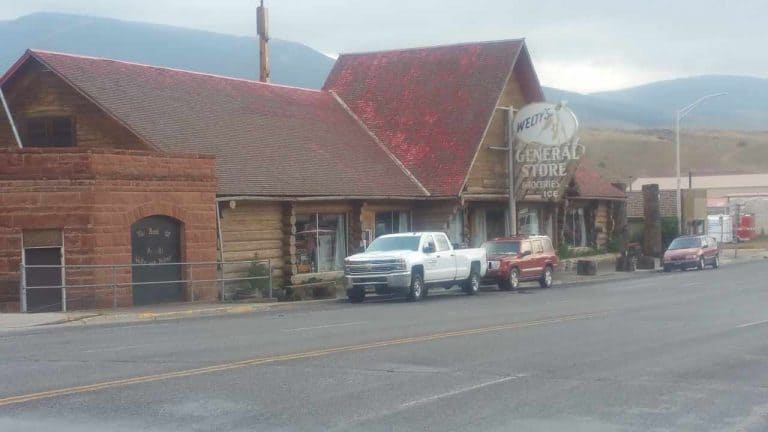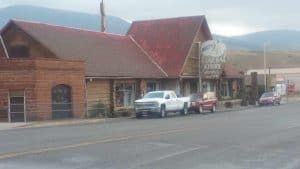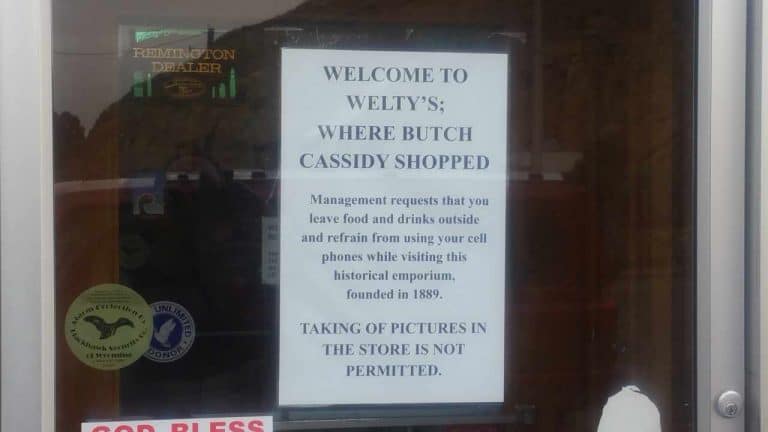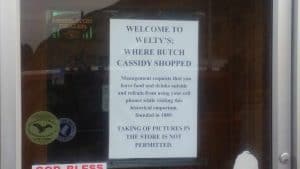 RV PARKS in and around Dubois, Wyoming
Solitude – across from where I stayed, but I drove through Solitude. It is very appropriately named, sites are widely dispersed. It almost looks like rather than build a housing development, they created RV campsites. Situated about 1 mile east of "center city" Dubois, you turn north up a gravel road and at first, there is no sign of an RV park. This is NOT your typical RV park. There is no welcome center/office at the main entrance. There were signs to call a specific number if you want a site – and there were plenty to be had. Remember, I was there Aug 20/21 – so its still "in season" and this place was EMPTY. I would say, I'd stay there is others were full, but I wasn't crazy about the road to get in/out. It was interesting how they dispersed the campsites – typically 3 or 4 at each turnoff the main road which proceeds uphill for a half-mile or so to a private home (presumably the owners home?) I welcome comments on this campground below if you know something more about it.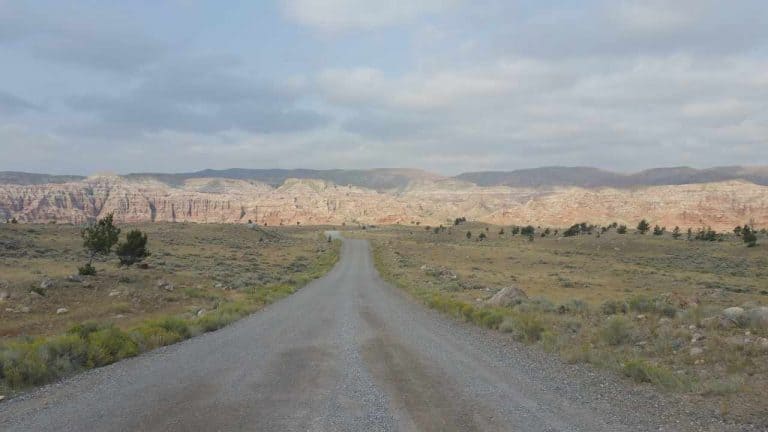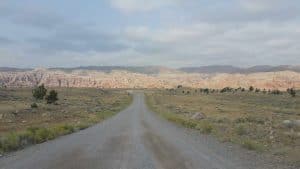 Longhorn Ranch and RV Resort – looks like a nice place. Its a couple of miles farther east of town than Solitude. This is a traditional RV park. Wide open roads that wind through the campground, lots of trees, was nearly full when I drove through (on a Monday afternoon.) Looks like they offer trail rides from the campground and there is a motel on site as well.
Windhaven RV Resort – I stayed here. Overall good to very good, but I need to start here – its NOT a resort! What it is is a small park (basically a large gravel lot with marked spaces for your camper. What I did like about it is the fact that have true river front sites. These are NOT found at the other two campgrounds I commented upon earlier. Further, their rates are a few bucks less than the others. Know that this is the gateway to Jackson & Yellowstone so discount rv camping is not on the menu (unless you stay where near Ring Lake – read on to learn more.)
The management at Windhaven goes above and beyond. Cookies each evening, fire pits at each site, easy in/out at your site, and primarily level sites. They were more than willing to accept a package on my behalf which I had previously arranged to have delivered during my stay (as a full timer, I've gotten pretty good at timing where I'll be so packages arrive for me where I'm staying!)
On my last morning, I met the owners, nice folks. They are planning to add a laundry room & bathrooms, and add to the landscaping. All nice additions (still not a resort!)
The location is also excellent. Its on the south side of the highway, almost directly across from Solitude, about 1 mile east of town. This is also a new park and as such, they are anxious to go out of their way to assist you.
Dubois KOA – need I say more? Great location (right in town), but the most expensive option of all in the area.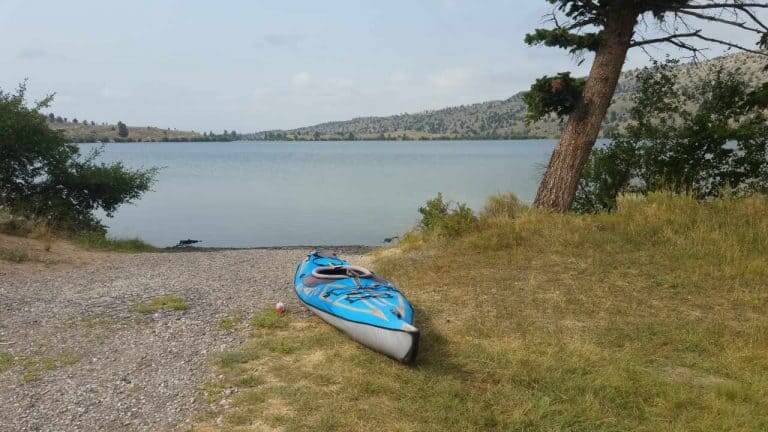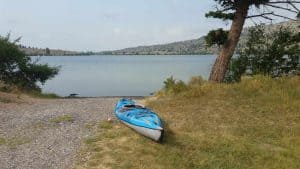 Kayaking near Dubois at Ring Lake
About 5 miles east of Dubois, turn right (go south) on Lake Trail Road (also marked "433" with a washed out sign just prior to the right turn. After turning onto Lake Trail Rd., immediately fork left, then follow gravel/washboarded road for about 5 miles. You'll pass Torrey Lake (rumor has it there's a boat ramp, but most of the land around Torrey is private, and I didn't see any signs to public access.)
The first lake I came to with easy access is Ring Lake. The parking area is wide open and there were even 3 sets of folks camping there – one in a big Class A motorhome, one in a 22 ft. (or so) travel trailer, and one in a tent.  The camping there is free and the only facility is a pit bathroom. The lake is nice, I did a loop around it in my kayak. It took me just over 30 minutes to paddle the perimeter of the lake. No, its not a real big lake! But the water was CLEAR – no algae or pollen or anything. Nice!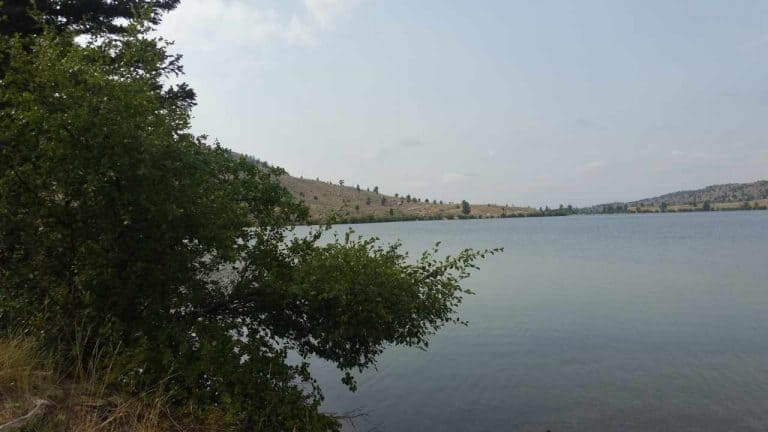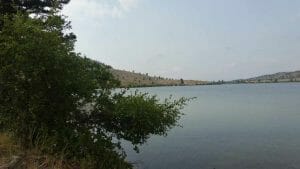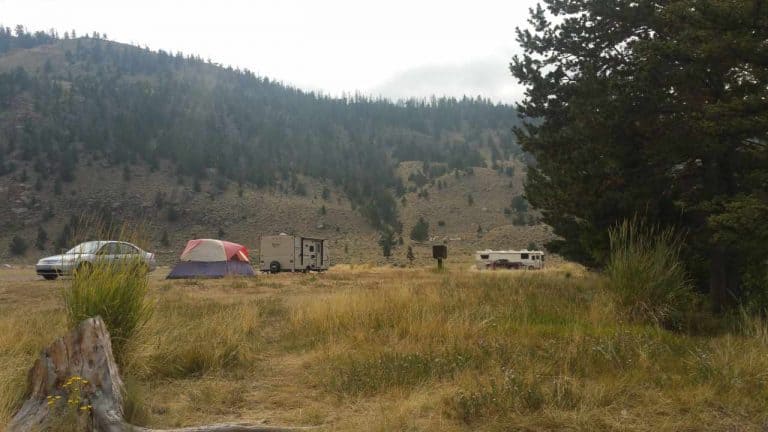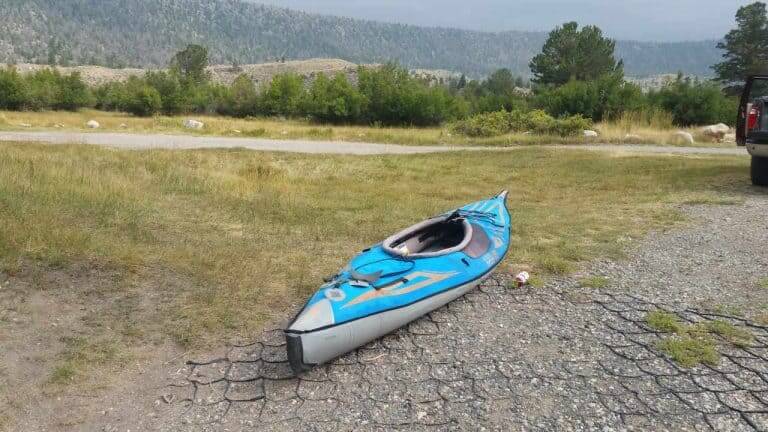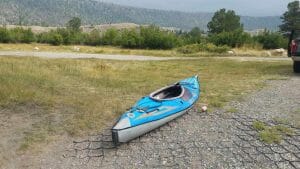 The scenery was beautiful, massive rock cliffs (layers of sedimentary rock from an ancient ocean and subsequent uplift of the land), and tree lined hills. Note the checkerboard appearance of live and dead trees in the area of Ring Lake – this is due to damage caused by the pine beetle. When I look at a ridge like that, I see a just fire waiting to happen.
***Thinking of the coming winter while its still warm… do you need a GREAT RV skirt? Read on HERE***
Heading to Idaho then Montana in the coming days…
Tomorrow I plan to leave Dubois, my next goal? To get THROUGH the tourist trap called Jackson, and then to cross the pass to Idaho. Once I clear Victor & Driggs (a real nice town, excellent market, and many great restaurants), I plan to reach Island Park and Buttermilk Campground.
It is at Buttermilk where I plan to put my new solar suitcase from Renogy to use! I've had solar before, but this system features 200 watts and a weather proof solar controller. I will do a more extensive review on what I expect will be a fine product when I break it out and put it to work!
Additional locations on my itinerary include Lonesomehurst Campground – a return visit from a few years back. Lonesomehurst is a primitive National Forest Service campground near West Yellowstone that stood out and provides great access to kayaking.  I may even take a spin into Yellowstone as I have a National Parks Pass and can easily enjoy something like Mammoth Hot Springs and Obsidian Cliffs!
I also plan to return to Boulder Creek Lodge. A private campground with cabins and a few new surprises! Patrick is the owner – with a great story to tell. Near Phillipsburg, Montana, I recall a couple of ghost towns just above Phillipsburg (see my post linked above), and a nice coffee shop to visit (more on this coming soon!)
*****Join in the conversation HERE in my Facebook group for RV'ers*****
UPDATE – I left Dubois yesterday, knowing I was going to have to reset my lippert auto-leveling as it hyper-extended the rear legs in trying to level when I set up camp. It was "on my list" of things to address (my webcam was also acting up and has not been recording – turns out it was a bad micro-sd card – unreliable little buggers!)
The drive, which included crossing two mountain passes, Togwotee Pass is 9659 ft, and Teton is 8430 – both represent 2000 – 3000 ft. climbs from the valley you start in. Between the two, Teton is far more gnarly – both climbs and descents have 10% grades! (Mental note – avoid anything over 8%) Climbing Teton genuinely stressed the truck with trailer in tow, and going down was strictly a 1st gear operation and I still need to use the air brake to keep things under control. The fact that it was raining pretty much all the way to Victor, Idaho, didn't help. Temperatures were also in the mid 40's – kinda chilly for mid-August, but hey, better a travel day than a kayaking day! Togwotee Pass separates Dubois, Wy from Jackson, Wy and Teton Pass separates Jackson from Victor, Idaho.
When I reached the "Island Park" region, I headed for Buttermilk, which for me turned out to be a bust. Its a heavily wooded campground, which is fine, but has no waterfront camping. At the last minute, around 4pm, I made the decision to head on and took a site at Henry's Lake State Park (nice place) for the night, in part to beat out an approaching strong thunderstorm. I've been playing around with something new… see photo below (and yes, I'm going to keep you in suspense until the next post where I will reveal whats in the case.)
*****P.S. – My NEW solar panels arrived and are a DEFINITE WIN…see what I got HERE.
I'll have a full report to you soon!*****
Oh, and here's a secret photo of my new surprise! (details to come…soon)