RV'ing in Washington from East to West – in September
As I approach my 7th year "on the road", after leaving my summer RV sales gig early this year (on Aug. 4th), I decided to expand my horizons and push farther westward than I had in my previous journeys. I decided it was time to explore the state of Washington.
What follows is a brief overview of my experiences in this most diverse state. I will in the coming weeks and months delve more deeply into some of the places I explored and share experiences along the way. (As additional posts are made that relate to the places I describe, I will add links in this post.)
Today, Sept. 30, I was motivated to "recap" my September travel now that I've left Washington, so here is my brief video report from Cannon Beach, Oregon…
A brief video from Cannon Beach, Oregon – detailing my time in Washington…
Washington RV'ing from Sept. 1 until  Sept. 29…
I-90 is a direct conduit from Montana, where I visited Patrick at Boulder Creek Lodge through the narrow northern stretch of Idaho to eastern Washington where I camped in the "border town" of Liberty Lake for about a week, beginning just before Labor Day. The biggest highlight of Liberty Lake is a great bike path, some good nearby lakes for kayaking, including Lake Coeur D'Alene. Proximity to shopping, including NW Recumbents was a major draw for me to spend some time there.
Northeastern Washington – Winona Beach Resort
As I planned my next move (I use AllStays), I noted a region north of Spokane, not far from the Canadian border that had LOTS of potential for great camping, kayaking, and exploration. Decision made… head North!
My first stop was the Winona Beach Resort – much more on this place soon. It deserves (and will receive) its own post! I spent a total of 5 nights at Winona and enjoyed every moment there. As you can see in the photo below – it is truly waterfront camping! Update: Because of certain actions by the owner of this campground and his revealing his business practices, I can no longer recommend this campground in good conscience.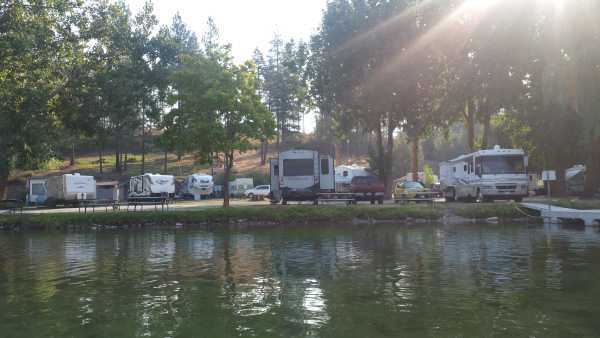 ***Quick note about a new service I'm offering… I've served over a dozen folks so far with my new Concierge RV Buying and Selling Service – for those with a RV, I help them sell it for top dollar and for those buying, I help them get the best possible price along with advice and guidance on all aspects of the purchase. Contact me if you're looking to sell your camper OR buy a camper and we can discuss how my service works. traveler@rvacrossamerica.net ***
Colville and the Roosevelt National Recreation Area
Just northeast of Winona, there is a large "lake", really the dammed up Columbia River that winds its way from near Rossland, B.C. to the Grand Cooley Dam to the SW of this region. I used Colville as my "base camp" for a few days to explore several campgrounds along the Roosevelt National Recreation Area. There is a campground at the fairgrounds with very reasonable rates – and its a great location.
Much of this region is far enough east to no longer be in the "rain shadow" of the Cascades and mature pine forests are common. Knowing this and the age of the campgrounds, I wanted to visit each to assess whether my 35 ft. camper would fit. Reviews by previous campers made me wonder whether I would have many options.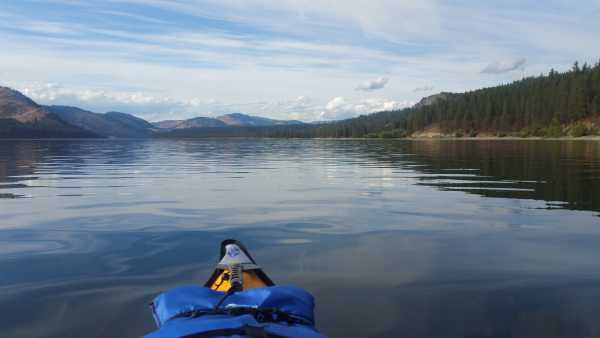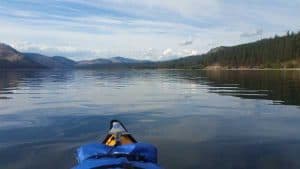 As it turns out, there are a few, and I will dedicate a post to detailing each of the campgrounds I visited – and the THREE that could realistically accommodate a "medium" length 5th wheel. For most of these campgrounds, you're optimal camper size is UNDER 30 ft. One, Evans Campground does accommodate longer campers and served as home to me for 5 nights – and a chance to test out my new solar panels – again, this will be the subject of a complete report in a future post. Briefly, they performed well and served their purpose, however after 6 days of dry camping at Evans, I was in need of a full charge, so I re-traced my steps to Colville, then one last night at Winona before pushing onto Grand Coulee and new adventures.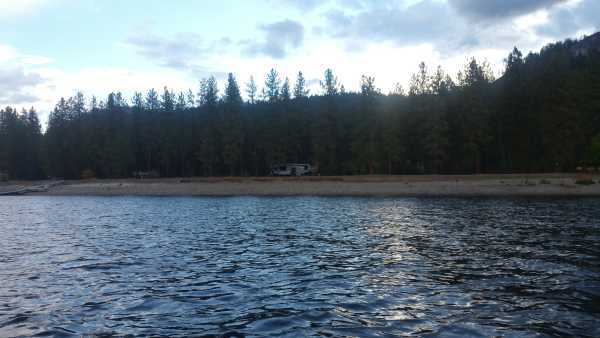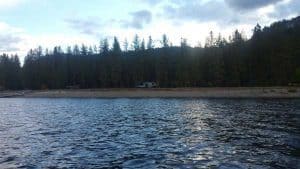 Grand Coulee Dam
All I can say is WOW. This man-made structure is impressive. My visit was enhanced by having recently read "The Boys in the Boat" (highly recommended) – one of whom worked on building the dam in the summer of 1934, so I read his account of working with a jack-hammer before visiting the dam. It was almost like I was reliving his account as I explored the region.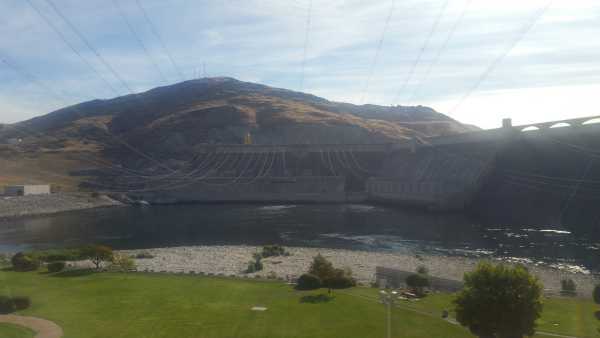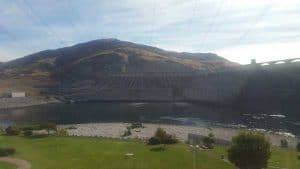 The campground I stayed at was a bust, but I found a GREAT spot for RV camping I'll share in a full report on the Grand Coulee.
Steamboat Rock State Park and Soap Lake
After leaving Grand Coulee, I traveled south for an hour or two and stayed in Soap Lake for 2 nights. Soap Lake is an alkali lake with water as alkaline as ammonia water! Natural minerals cause it and many say the waters are healing waters. Some recommend a mud-bath – see below, I tried it! I was fortunate even though it was getting into the latter part of September, days were still mild and some beach time on the lake was warranted.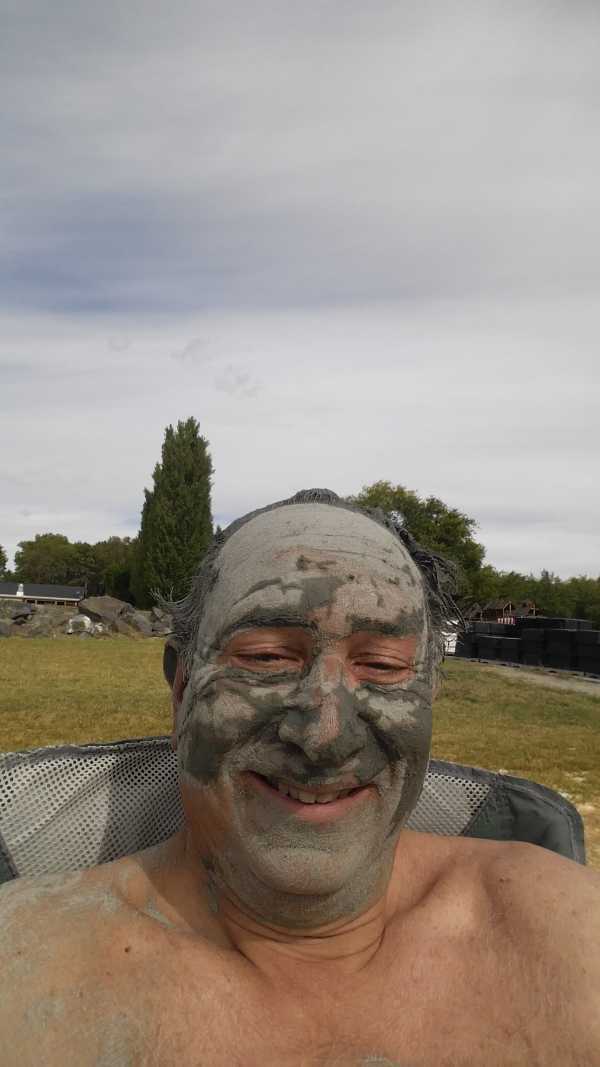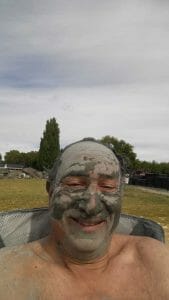 I visited Steamboat Rock State Park, its a beautiful remote location in a significant canyon between Grand Coulee and Soap Lake, but as there was no phone service, I opted to stay down by Soap Lake – about 40 miles to the south. I was planning to explore the Potholes Reservoir south of Moses Lake next, but noted the weather forecast for western Washington had changed for the better – so with the promise of sunshine, on Saturday September 22, I crossed Snoqualmie Pass, drove THROUGH Tacoma Washington and entered the Olympic Peninsula.
***Winter is coming… do you camp in cold weather? You may want to visit my RV Skirting experience?***
Port Townsend then Salt Creek Recreation Area
The drive from east to west was challenging. The road to Tacoma is quite hilly and heavily trafficked. I-5 through Tacoma is a necessary route to use to get to the Olympic Peninsula. After Tacoma, traffic begins to quiet down and the drive became more of a pleasure.
Salt Creek has 15 "waterfront" sites that are first-come, first-served, so on advice from a local, I opted to get close to Salt Creek on Saturday evening, staying in Port Townsend, then headed to Salt Creek first thing Sunday morning. His advice was solid and by about 10am, I was in a site right along the cliff that overlooks the Juan de Fuca Straight and Canada just a few miles across the straight that someone had just pulled out of.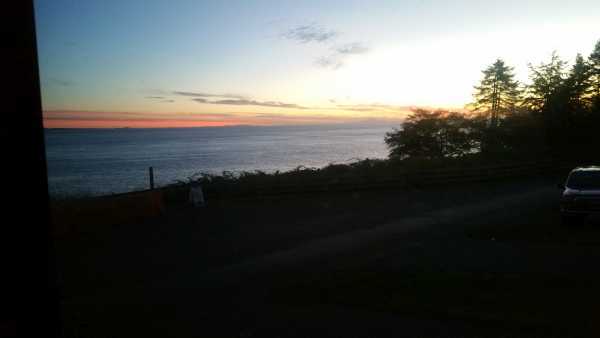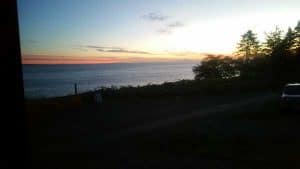 From my campsite, you could see ships coming and going from Seattle on their way to exotic destinations. Cell service is spotty and the best place to access a tower gets you connected with a Canadian tower! (Yes, Canada is THAT close.) Thanks to Verizon, my new plan allows some Canadian use – I'll detail more about what they've done recently…soon.
***Need RV Supplies? Here are some of my favorite products***
https://rvacrossamerica.net/best-rv-accessories
Salt Creek again deserves its own post as this site became a base-camp for me to explore the northern coast of the Olympic Peninsula, including Port Townsend, Port Angeles, Sequim, and to the west, Sekiu and Neah Bay. My full report will detail how the road changes west of Salt Creek and how RV'ers can best enjoy that region – including the most northwesterly corner of the Continental 48 – Cape Flattery.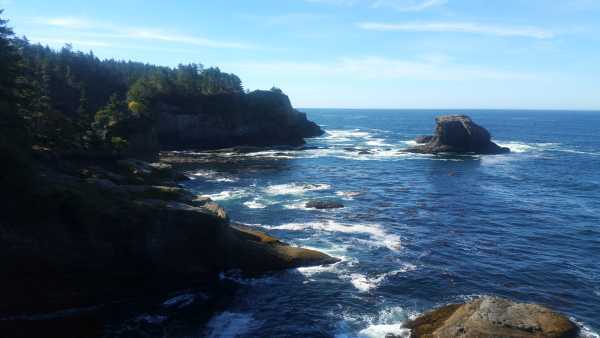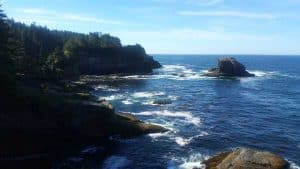 Heading South and WEST (for the last time on this adventure)
Leaving Salt Creek, I took 101 West which winds around ALOT, ending up along the Pacific Coast for part of the drive (so after that, there's no more "west"!) I saw a campground I had not read about on the Pacific Coast and it may be the site for a future adventure – more on this in a future post. My day ended up on Hoquaim Washington near Aberdeen and Ocean Shores – a beach resort you can drive onto the beach at! So… a good fish dinner, then sunset at the beach with my truck in 4×4 to insure it didn't get "beached" on the beach!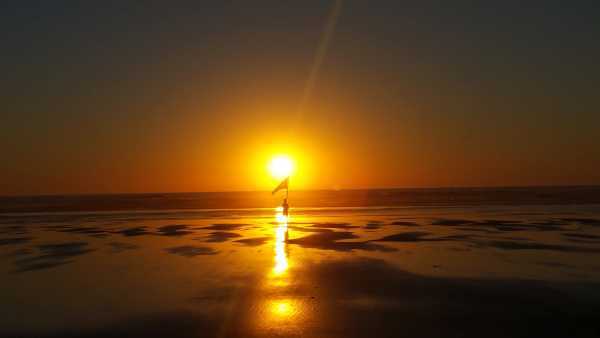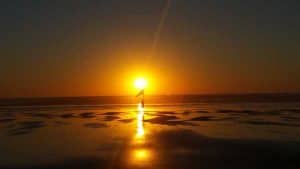 South to Seaside & Cannon Beach, OREGON…
Sept. 29 dawned and I drove from Aberdeen south to Astoria, Oregon, crossing a massive bridge (I have some great video to share when I detail this region for you.) After entering Oregon, the beach resorts of Seaside & Cannon Beach are less than 30 minutes into Oregon. Tomorrow I plan to cover about 1/2 the Oregon coast before calling it a day, my goal is to reach Brookings, Oregon at the SW corner of Oregon and spend a week ON the beach at a municipal RV park called "Beachfront."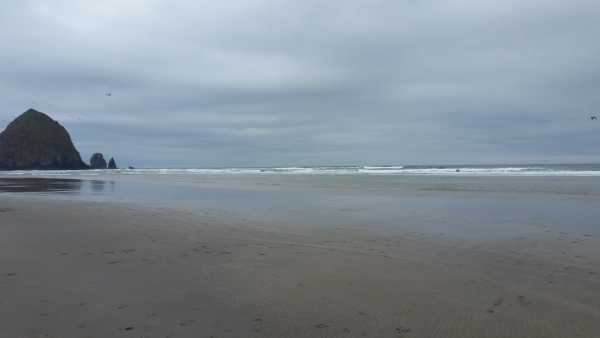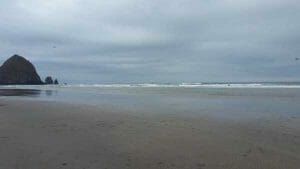 So… my goal here was to simply provide an OVERVIEW of my month in Washington. As you can see, it will take several individual posts to highlight the regions/areas I visited and explored. If you want to track with me, then feel free to enter your name/email below and I will update you as new posts get published.