Winter is (finally) showing SOME signs of yielding to a new season here in the Salt Lake Valley. The last sub-freezing nights may be past us (as of about March 20th) and the mountains (typically 15 to 20 degrees colder) are also warming significantly. Of course, as I write this, the Wasatch are receiving about a foot of new snow (perhaps 18 inches) by tomorrow morning, then after a BRIEF break, ANOTHER 2 FEET will fall on Wednesday! Naturally, I plan to ski on Tuesday and Thursday to ADD to my POWDER days!!
When I leave Draper at the end of this month (March 2023), I will have spent the past 5 months RV'ing in an urban region, SKIING, and enjoying other various activities. In this post I will attempt to share what RV Life is like here in the Salt Lake Valley, reflect upon an unbelievable ski season, and review the IKON pass and how it all worked out.
As Spring approaches, hopefully the warmup will occur gradually as there is a MASSIVE snowpack throughout much of the western United States. When the snow does melt, it will fill the reservoirs and lakes here in Utah along with points south and west. Should a rapid warmup occur, widespread flooding may result. As of the writing of this post, all the major Cottonwood ski resorts (Solitude, Brighton, Alta and Snowbird) are well over 600 inches of snowfall for the season and may cross 700 inches by this weekend. Snow base depths are about 12 feet!
RV Life: RV Campgrounds Open All Winter in the Salt Lake Region
Considering a stay here in the Salt Lake City region? The RV parks highlighted below are open all winter AND offer reasonable (for a metro region) monthly winter rates. Winter here is the slow season. For example, when May arrives, Mountain Shadows in Draper will move to a weekly and daily business model for the majority of their sites. My site was $1050. monthly (including unlimited electric) for the winter. Starting May 1, a monthly rate is not offered and the cost of a monthly stay will increase significantly.
Since winter temperatures along I-15 are "moderate" and I live in a TRUE 4 season camper, I used VERY LITTLE propane all winter! In prior winters, propane became a significant monthly expense, so with the savings on propane, I didn't mind paying a bit extra for the rv site – especially considering its proximity to the ski slopes!
Incidentally, propane is normally needed in winter in cold climates to keep your campers underbelly from freezing up. The underbelly is often where the plumbing and tanks are.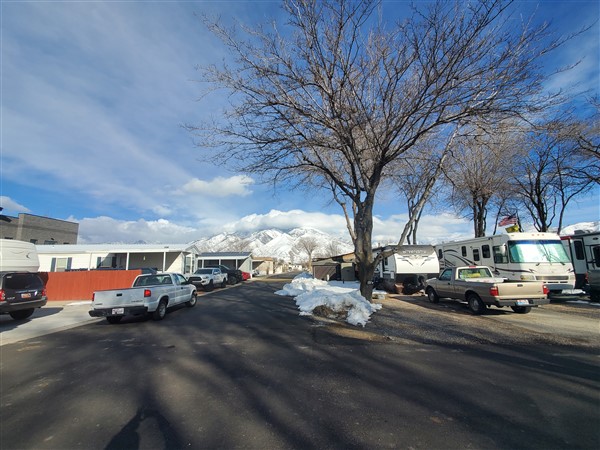 North Salt Lake (Sun Outdoors) , Layton (Circle L), Ogden (Century RV Park) all serve the northern Wasatch area. They provide the best access to Powder Mtn and Snowbasin.
Draper (Mountain Shadows) is probably the best central location, near "the Cottonwoods" with still reasonably good access to Deer Valley and Snowbasin.
There is also a campground in Heber City with good access to Deer Valley, but other IKON ski resorts are a 1+ hour drive.
The Climate and the region
As winter goes, winters in the Salt Lake valley are quite moderate. Most of the snow falls in the Wasatch Mountains and NOT in the valley. That said, this winter there were still 3 or 4 storms of significance in Draper, the most dropping 18 inches in one day!
The valley is not real good about snow removal. I almost feel that the political powers believe that if God put it here, He will take it away! This results in lost lanes on the roads. Further, poor salting policies (resulting in icy roads), and drivers who drive poorly (on a good day!) I must note, the drivers around here are bad enough on dry roads!
The coldest mornings were still above zero. In fact, I don't believe it dropped below +10F at any time this winter in the Salt Lake valley. You should still skirt your camper and prep for winter, though I did not do my most extreme preps. I have an entire section of my website dedicated to winter RV camping.
Little Cottonwood Canyon – Challenges in getting to Alta and Snowbird
This winter, there appears to be a political battle shaping up about Little Cottonwood canyon. This is where Alta and Snowbird are located. Both honor the IKON pass The canyon road has had 30+ VERY delayed openings this winter due to snow and avalanche mitigation. I'm all for safety, but its interesting the openings to the canyon are occurring later than ever – producing epic traffic jams. Just at the same time that certain forces are pushing for a gondola to take skiers up the canyon. If it ever gets built, it will be the worlds longest ski gondola. I have it on good authority, that there are many environmental challenges to getting this project completed EVER.
I should also note that when "Little" is closed (or delayed), there is extra pressure on the Big Cottonwood ski areas to absorb the folks who would have headed to Alta and Snowbird.
Perhaps as part of the same political battle, UTA (Utah Transit Authority) cut the buses running into both canyons (Big & Little Cottonwood) by 50% before the season ever began. The excuse was difficulty of getting drivers. From my own investigation, UTA drivers must have a CDL license and even with this and preexisting experience with UTA, they're paid just slightly more than a McDonalds employee! No wonder there's a shortage of drivers!
I elected to use the buses most of the time as driving up the canyons is hazardous at best. Its not me or my 4×4 truck I really worry about. My thinking is the tourist, sometimes with minimal winter driving experience. These folks rent a front wheel drive, ignore the local traction laws, and head up the canyons anyway. When they start slipping and sliding, at best traffic is held up (sometimes for hours) or several vehicles get involved in an accident. Further, the IKON pass enables me FREE transport by bus from the valley to the ski slopes.
The best and easiest solution to the Little Cottonwood mess (to me) seems simple: Severely limit the number of private passenger vehicles heading up the canyon (actually BOTH canyons) and offer a massive increase in bus runs. The bus drivers from my experience are all EXCELLENT and can travel quickly and efficiently to and from the ski areas.
Typical Transit Times to the IKON Ski Resorts from Draper
I realize my comments above may set the wrong expectation. On a typical day (without fresh snow in the valley), I can leave my campsite at 6:15am, drive to the park and ride lot where the bus is and be at Solitude or Brighton by 7:35am. Add time when it snows – for several reasons!
Why so early? Solitude opens some of its lifts (for much of the ski season) at 8am. In December, this makes for quite an experience as sunrise is just a few minutes before the lifts open!
If you're heading to Brighton (or anywhere else) expect lifts to open at (or about) 9am. Solitude is a 'major attraction' as it is the ski area (of the four) that allows for unlimited skiing on the Ikon pass. It is truly equivalent to holding a Solitude season pass – with additional benefits.
The other ski areas give you 7 days each (on the full IKON, and its 7 days combined at "Alta-Bird".) Bus service is good to Alta and Snowbird, when Little Cottonwood canyon is open. On a good travel day, travel times are even somewhat less than what you can expect to Solitude and Brighton.
From Mountain Shadows RV Park, Deer Valley and Snowbasin are best reached by car. About 43 and 60 miles respectively. With most of that travel on highways, travel times are just under and just over one hour.
Salt Lake County – A Few Stats and Highlights
Salt Lake County is home to just over 1 million residents. About 1/5th live in Salt Lake City itself, the remainder in the greater (and rapidly growing) region. As metro areas go, it is quite safe and generally easy to get around, but there appears to be lots of (continuing) growth that is degrading the quality of life for all who live within and visit this region.
Air Pollution
The air pollution here is legendary. Fortunately winter storm systems break up the inversion that traps the smog and this winter there were plenty of those! In a normal winter, after 2-3 days of calm weather, the mountains "disappear" in a shroud of toxic smog that rivals the smog found in Lost Angeles. (not a typo) This winter, air pollution was almost non-existent as the storms occurred so frequently.
Recreation and health
The region has many parks. They're good for cross country skiing but it's not common in the valley as snow does not last. There are bike trails, more practical in warmer months. There is a great network of "rec centers" throughout the county. As a senior, a monthly pass is $25. Each facility has an indoor lap pool, many have resistance rivers to walk in, and a cardio room with lots of equipment.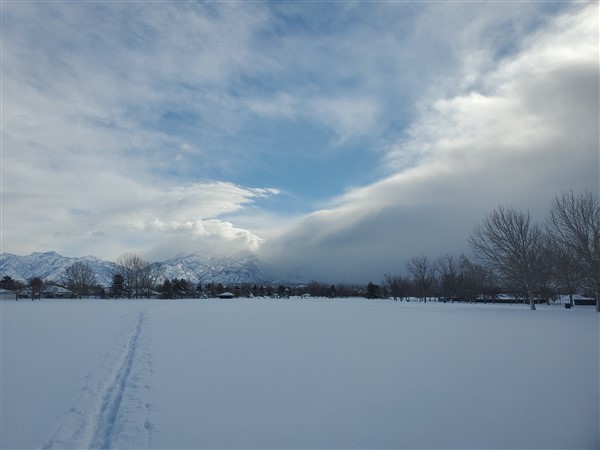 One of the issues I was able to address this winter was persistent sinus issues. I took a membership to a business that offers halo-therapy (salt cave.) For $55. monthly, I was able to visit Synchronicities in Sandy as often as I liked for salt cave sessions. I highly recommend them to anyone visiting either for one or two sessions or a monthly membership – and yes, it DOES help!
Shopping
All major retail chains are in Salt Lake County. There is also a Duluth Trading, a GIANT Scheels, and I'm sure quite a bit more. Amazon has a warehouse nearby so their deliveries are often within a day or so. Of note, Utah Trikes is about 30 minutes south. They are a great place to test ride recumbent trikes! Lastly, Brookers Founding is an ice cream chain not to be missed!
This winter's IKON skiing experience
As you know, I spent the winter in Draper to ski. And ski I did! The Wasatch Mountains are a region known for having the best and most consistent snow in the nation. If you're a traveler and wish to plan a ski trip (or a ski season) months in advance, THIS is the region MOST likely to have good snow for skiing!
From my "home base" in Draper, there is relatively easy access to Big Cottonwood (Solitude and Brighton) and Little Cottonwood (Alta and Snowbird) – with the exceptions as noted earlier for Little Cottonwood.
Please refer to the map above, you'll note the CLOSE proximity of Snowbird, Alta, Brighton and Solitude. As the crow flies, its less than about 5 miles distance from one to the next. Driving from Alta-Snowbird to Solitude and Brighton is a bit more involved.
Little Cottonwood is accessed via 190 and the buses running the canyon start in the town of Sandy. Big Cottonwood is accessed via 210. Buses for Big Cottonwood start in Midvale. Draper is 1 town south of Sandy (not pictured on the above map.) From Midvale to Solitude, the bus takes 45 minutes (dry roads, no traffic.)
Note that Deer Valley, another IKON resort member, accessible via Parleys Canyon is just north and east of Solitude. The base elevations of all the Cottonwood resorts is about 8000 ft. (with peaks of up to 11000 ft.), while Deer Valleys base is about 1000 ft. lower. This elevation difference DOES make a difference as snowfall totals are about 20-30% LESS in Deer Valley, and when it warms up (like its doing as I write this), wet snow is falling on the Cottonwood resorts and RAIN is falling in Deer Valley.
Snowbasin (not pictured on the above map) is located a bit farther north and near Ogden. It's base elevation is even lower (about 6400 ft.) and as such has a lower seasonal snowfall total and is more prone to rain than the Cottonwood resorts.
Skiing Highlights From this Winter (now in its final weeks)
As I'm preparing this post, I've skied well over 40 days and fully 16 of those have been legendary powder days! This has NOT by any measure been a normal winter! I can recall getting caught in a 2 hour delay on I-15 to the ski bus on a morning when two feet of fresh powder had fallen on the Cottonwoods. The cause? Yep, the road crews FAILED to salt the road when it was obvious that black ice was going to occur. So an accident closed the highway (on what is normally a 12 – 15 minute drive.)
Was I upset? Well, I wasn't thrilled, but knowing that ANOTHER two feet was coming in a day or so tempered my view to know that powder days were becoming VERY common this winter!
Although things are winding down, I may yet hit 50 days for the season – and perhaps two of those will be at Jackson Hole in Wyoming when I re-locate to Rigby Idaho in a few weeks!
Memorable trails and mountains
If you ever visit and ski the Wasatch, here are a few highlights…
Solitude – Honeycomb Canyon is exceptional. The canyon is an entire "ski area" unto itself! Open only when conditions allow, but this winter, its been open on a consistent basis. Honeycomb Canyon is "gated access" advising you you'd better be ready for what awaits you. This includes off-piste conditions, deep powder, steep canyon walls, narrow stretches in the canyon floor, glades and more. Any way you enter, its a long run and one of many great spots Solitude has to offer. One highlight for me was entering Honeycomb via the Memorial Chutes (consult a trail map to see what I'm talking about.) This brings you into a steep, gladed section.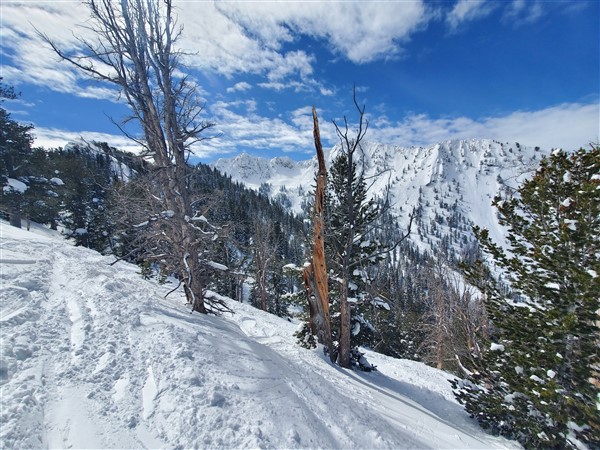 Other trails of note at Solitude include Roller Coaster under the Sunrise lift and Paradise accessible via the Powderhorn lift. There are also many hidden "stashes" that I'll share with my friends when they ask!
Tip: Want the MOST ACCURATE temperatures and up to date hourly snowfall totals from the 4 Cottonwood ski resorts? (Alta, Snowbird, Solitude, Brighton) Visit the alta.com website and check the current conditions. I've found it to be the best way to get a handle on what is REALLY going on at all 4 resorts. Note: All are at similar elevations and are VERY close to each other.
Brighton – A blast from the past! This place takes me back. The infrastructure is more reminiscent of the 1970's, and somehow it works! I've only made it to Brighton 3 times this winter, but have learned that the 'sweet spots' for advanced skiers who prefer challenging terrain are off the Great Western and Milly Express lifts. As you ride up either lift, you'll see tons of steeps, glades, and yes even some cliffs (that CAN be avoided) to ski as long as your legs hold up!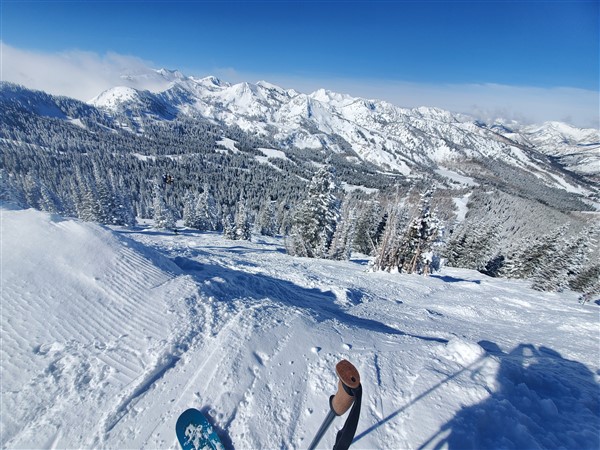 Brighton tends to get a younger crowd and more snowboarders than Solitude. Milly gets morning sun and Great Western brightens up towards noon. The food is not quite as overpriced as at Solitude. I must admit, I've become a bit of a skell this winter as I carry my own food bars rather than blow $20+ on lunch at any of the ski resorts.
Alta-Bird – believe it or not, even though these two resorts are WORLD CLASS and people travel from all corners of the planet to come here, and its a 35 minute bus ride for me, I've only visited these two TWICE (thus far) this winter. Why? The delays in getting up Little Cottonwood Canyon. MANY mornings saw late openings of the canyon and skiers waiting in LONG lines just to arrive by 10am. In contrast, at Solitude, I could easily arrive before 8am, ski 4 hours or so and then call it a day (which at that point, I would typically ski 16,000+ vertical feet and be fully ready for lunch (in the valley) and other activities (like swimming or a salt cave session!)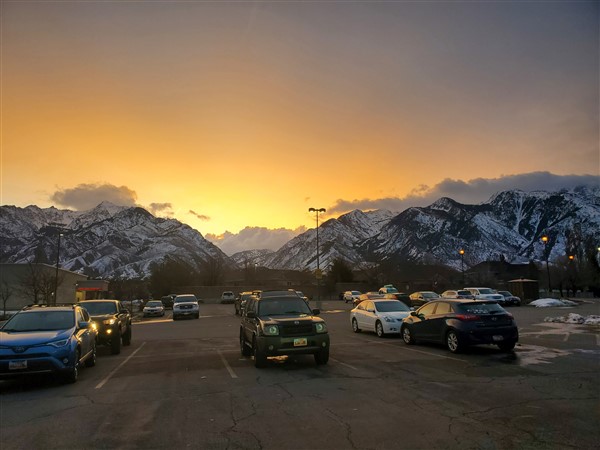 Deer Valley – best known for its groomers, so I avoided them! Deer Valley also has some EXCELLENT challenging terrain. My favorites include Morning Star and Paradise on Bald Mountain. These steep bump runs offer a consistent pitch from top to bottom! Flagstaff Mtn has Hawkeye, an intermediate bump and glades run that most of the skiers avoid – hence I like it!
Don't miss the Anchor Trees (an evergreen forest) and Zebra Trees (a birch forest) on Empire Peak, and be sure to explore Centennial off the Lady Morgan Express – one of the most gnarly glades I've ever attempted! To me, these are the REAL highlights of Deer Valley, NOT the food (which IS good) or groomed trails.
Snowbasin – Even though Snowbasin is slightly farther north, don't miss it! It does tend to get windy (and very cold there), but there are two gondolas that serve great ski terrain to help take the bite out of riding up the hill.
Strawberry, one of the two gondolas serves Sisters Bowl (a very steep bowl) and White Lightning (a deep, natural half-pipe shaped valley) on one edge of the ski resort; at the other edge, there is the John Paul Express (chairlift.) John Paul serves almost exclusively black and double black terrain. My favorites include The Jungle, The Burn, and the Lower Pyramids (double black, chutes and some cliffs to avoid!)
Parking is free at all ski areas except for Snowbird (some free spots), Solitude, and soon Deer Valley. Even with free parking, I still prefer buses to the Cottonwoods for two reasons – the IKON pass gets you FREE passage up the Cottonwoods, so I save the wear and tear and fuel AND its not MY vehicle at risk as I climb up the canyon.
Overall Review of the IKON Ski Experience – AND – Will I return next winter?
The IKON pass offers skiers the opportunity to ski many different ski resorts for a very reasonable fee. Further, discounts on food and travel are part of the program. In my case, as I noted earlier, I was able to travel up and down the Cottonwood Canyons for free by just showing my IKON pass.
The pass is convenient as well as it is recognized by each ski areas RFID system. This means you glide up to the ski lift and get checked the same as that mountains own season pass holders. The only exception in this region is Snowbasin who doesn't have RFID scanners, so you simply show your pass each time you ride the lower mountain lifts.
For next season, I'm most likely not returning to the Salt Lake valley. I'm also considering returning to ski instruction, so I will personally not need the IKON pass. As for the general public, it was a positive experience BUT the IKON pass has caused significant crowding at many of its participating resorts and this includes making the slopes and trails more risky than they were prior to the IKON.
The IKON has caused an infusion of new money into the ski industry from skiers who may otherwise ski less or not at all. Since ski areas have a history of going bankrupt, I believe that the IKON is a net benefit to the ski industry.
As the days get longer and the last subfreezing nights end
I'm starting my preparations to move on from Draper, Utah. The skirt will be coming off my camper in a few days, I will begin to stow gear and may even switch seasonal wardrobes – pack up the winter stuff and replace it with summer clothing.
Additionally, I've had several new Concierge RV Clients come on board – a few are even looking to purchase a camper. If you're considering a camper purchase, NOW is a very good time to act as there are MANY sellers. I was just able to negotiate a brand new toy hauler for one client at just about dealer cost.
I am also growing increasingly optimistic about Zhittya Genesis Medicine. Zhittya is a company I invested in a few years back that is doing cutting edge research on a molecule that shows great potential in curing many increasingly common conditions. In a recent release from Dan Montano, the CEO of Zhittya, he states in looking forward towards the upcoming 12 months,
"What Zhittya has accomplished in the last 12 months, amazes me. I believe we now have a possible pathway to treat Parkinson's disease, stroke victims, multiple systems atrophy, multiple sclerosis, traumatic brain injuries, PTSD, CTE, dementia, Alzheimer's disease, and more brain disorders. If FGF-1 is safe in the brain, why would we not try it on a CTE sufferer and study if we can reverse the damaged blood vessels in the brain of a football player? They would have nothing to lose but their disease."
I've read the reports on reversing Parkinson's in actual human test subjects, and remain confident in the path this company is taking. As an investor, I follow their YouTube channel, and wrote up my impressions in this report I posted here in 2019. After reviewing the information, if you have an interest in learning more about becoming an investor, I can get you directly in touch with the CEO. Please contact me at 307 269 2546.
Recent and Upcoming Posts
Did you catch my thoughts on the recent RV Shows? On the new Brinkley 5th Wheel Trailers being produced by this emerging manufacturer? Or… on the revelations that have led to a real, significant improvement in my overall health?
I'm looking towards a post on RV Life and Staying Safe, Visiting SE Idaho for a spell, an update to my new kayak, and more…
Like my content? Please join my newsletter below to be notified of recently released posts…