As the ULTIMATE ski season comes to a close, let's talk RV travel to SE Idaho AND a visit to Jackson Hole's "Teton Village"…
It's been one heck of a winter! I skied Jackson Hole April 4-5 – see the video. The morning of the 5th (of APRIL) saw the temperature drop to 2 degrees F! Even by late morning, the air still had a "bite" to it due to the unusual cold. These turned out to be my last 2 ski days, ending with a total of 51 days! I think I got my money out of the IKON pass (click link to see my report on the pass and my views in general about skiing '22-23.)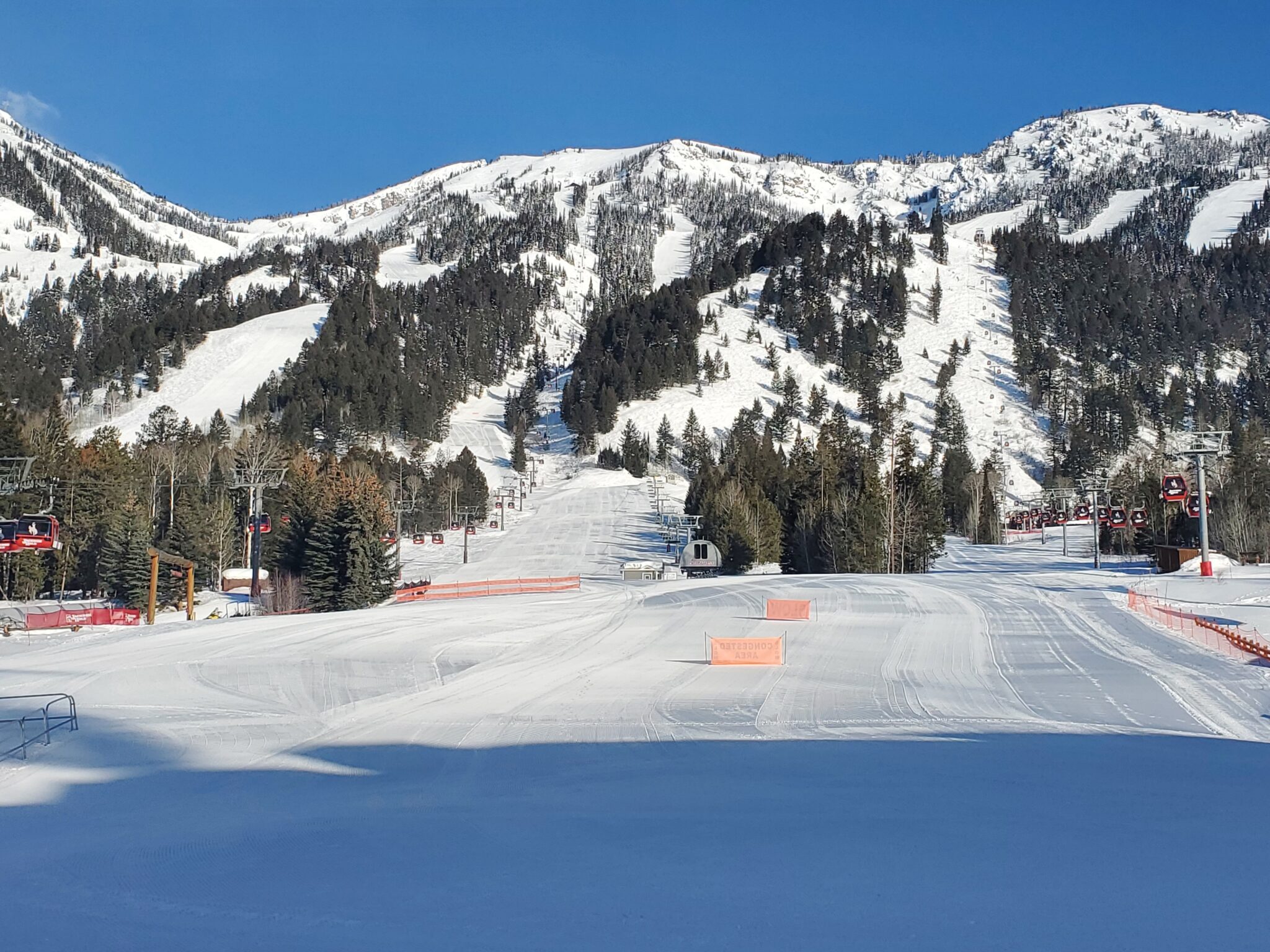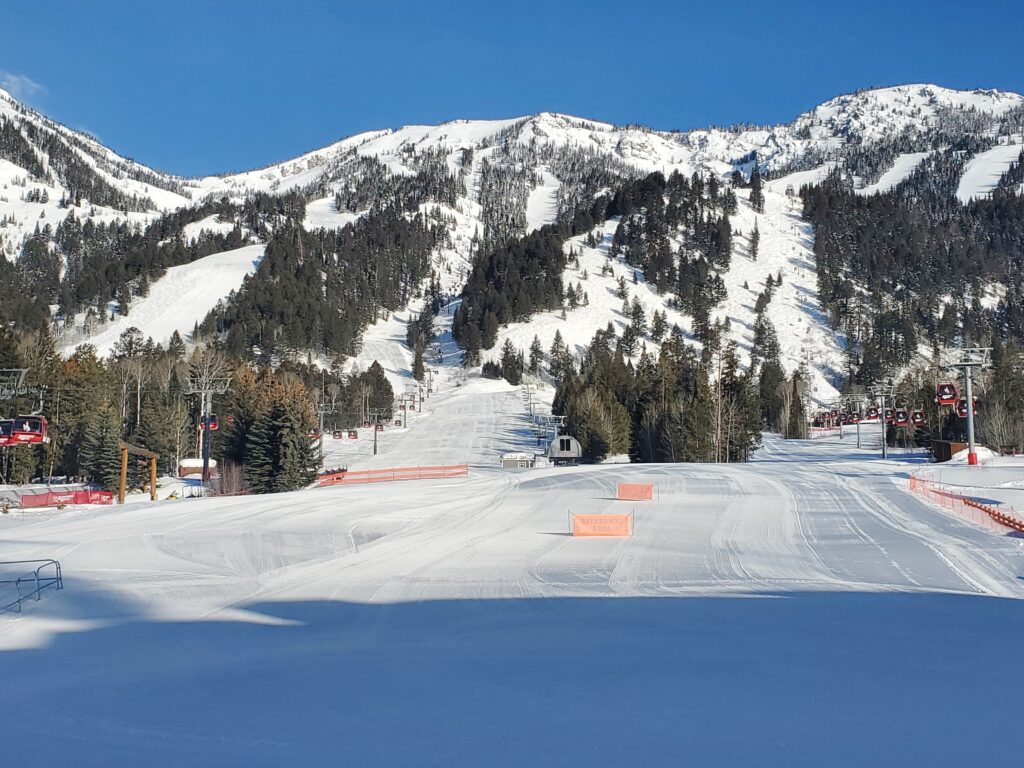 Skiing at Teton Village (JHMR) was quite winterlike for the time of year. The chill lasted all day and the snow never really "turned" to "corn" or spring conditions – either day. I was even able to do some Off Piste skiing in Grizzly Glade and Bird in the Hand. These are black diamond, gladed trails, some of the more challenging terrain found at any ski area.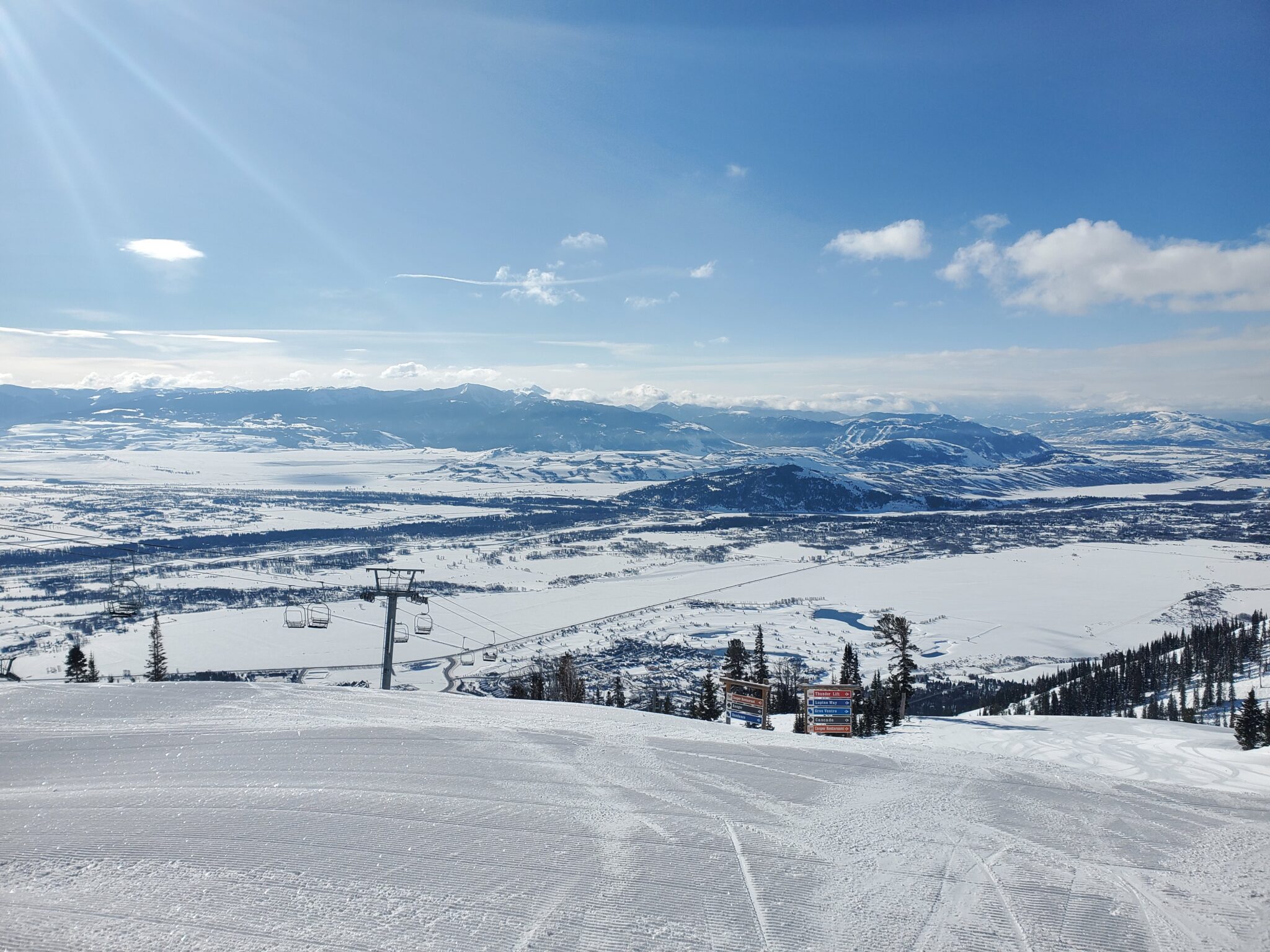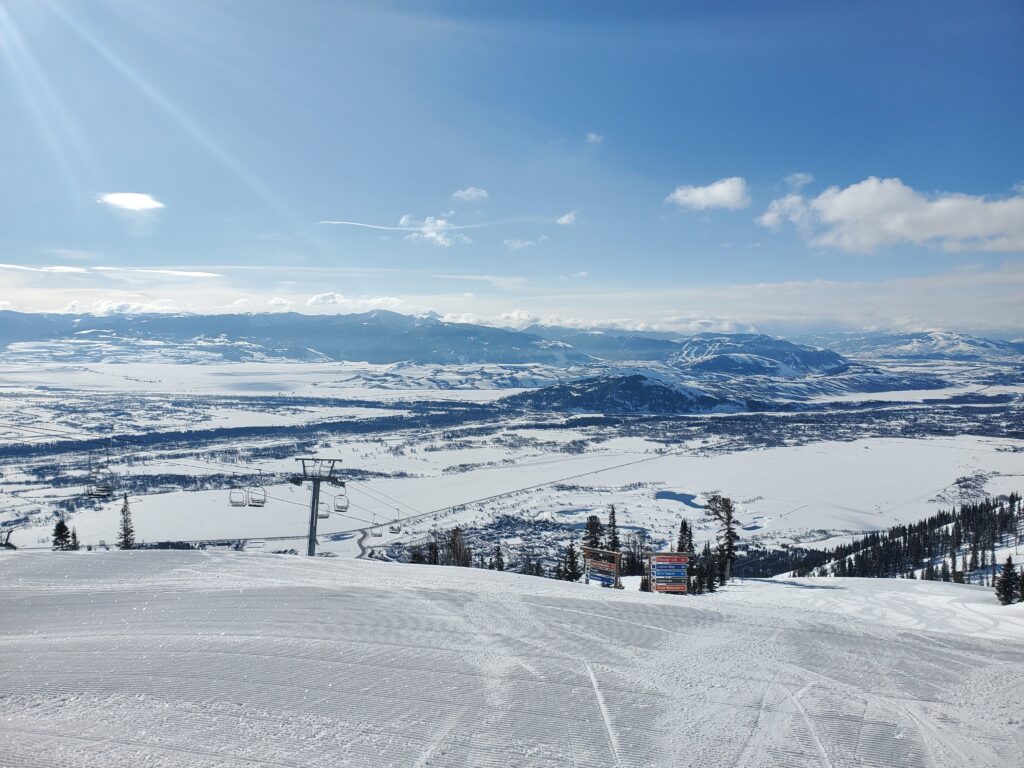 I'm now in SE Idaho, relocating to a small town (Rigby) that has a population of 5000. Given what seems to be heading our way across our nation, I'm glad to be situated in a small, rural town. I may just stay here through what's coming. In upcoming posts I will share my concerns as they relate to RV'ers and why I believe that living in a small town, or even a more rural region than Rigby is something worth serious consideration.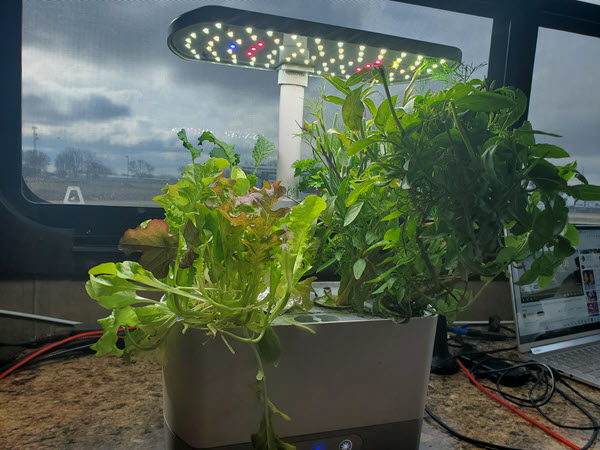 Rigby Idaho
The weather is beginning to warm up – gradually. Its in the low 40's as I write this (on April 19.) I'm near a county park with a small lake. They will be opening in the coming weeks and I plan on lots of kayaking. The region is also pancake flat, perfect for biking! We've had two "tastes" of Spring, but each time the mercury aims for 60, a cold front moves through and it SNOWS!! (At this point I'm OVER it.)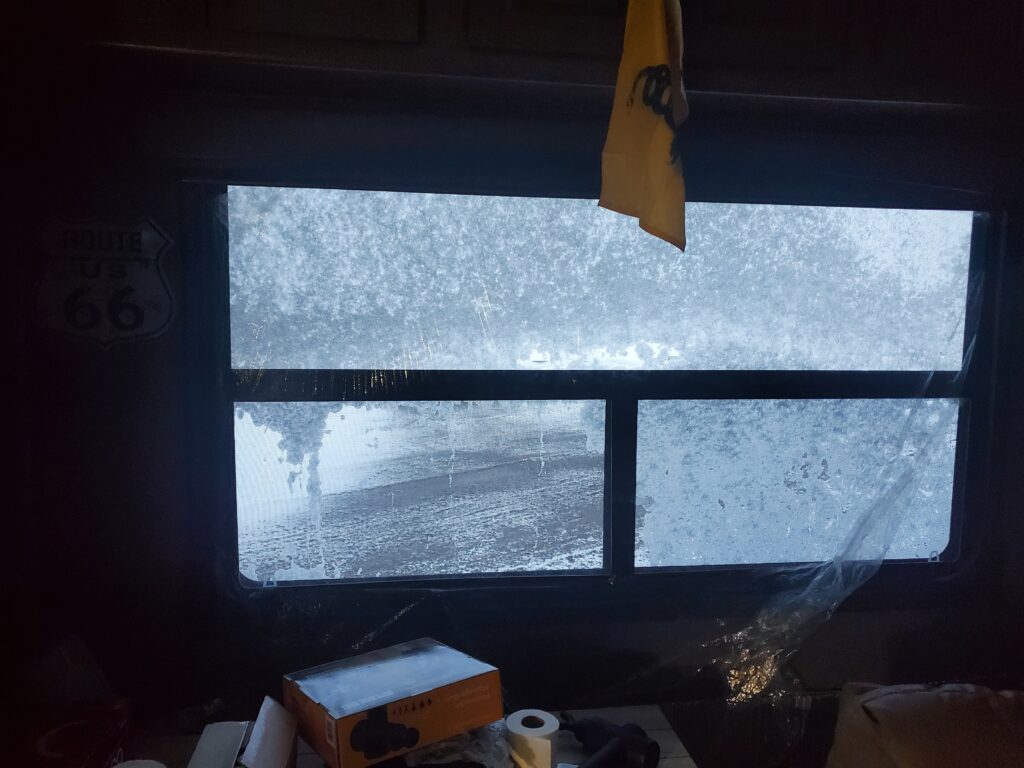 Some ski areas were open until April 16. I *may* get another day or two in, but honestly after so many days on the slopes, I'm ready for a break! There is still PLENTY of snow, and a few ski areas will remain open until Memorial Day – and probably even July 4th!
As the weather warms, local residents here in SE Idaho and in Northern Utah are both anticipating it breaking the back of the long term drought AND they're concerned about flooding if the warmup is too quick. So far, it looks like the warmup will be gradual – and the snowpack may even BUILD in some regions during April.
I will share much more about Rigby and the surrounding region in future posts that are now "in the works."
Time to leave the Salt Lake Valley
As April arrived, I knew it was time to move on. I'd been in Draper Utah at Mountain Shadows RV Park since November 1st. The region has over 1 million people, and I saw signs of increasing crime, homelessness, and other indicators that Salt Lake County was becoming entirely too urban. I should note that as urban areas go, this one is FAR more "livable" than the larger urban cities that are located across our nation.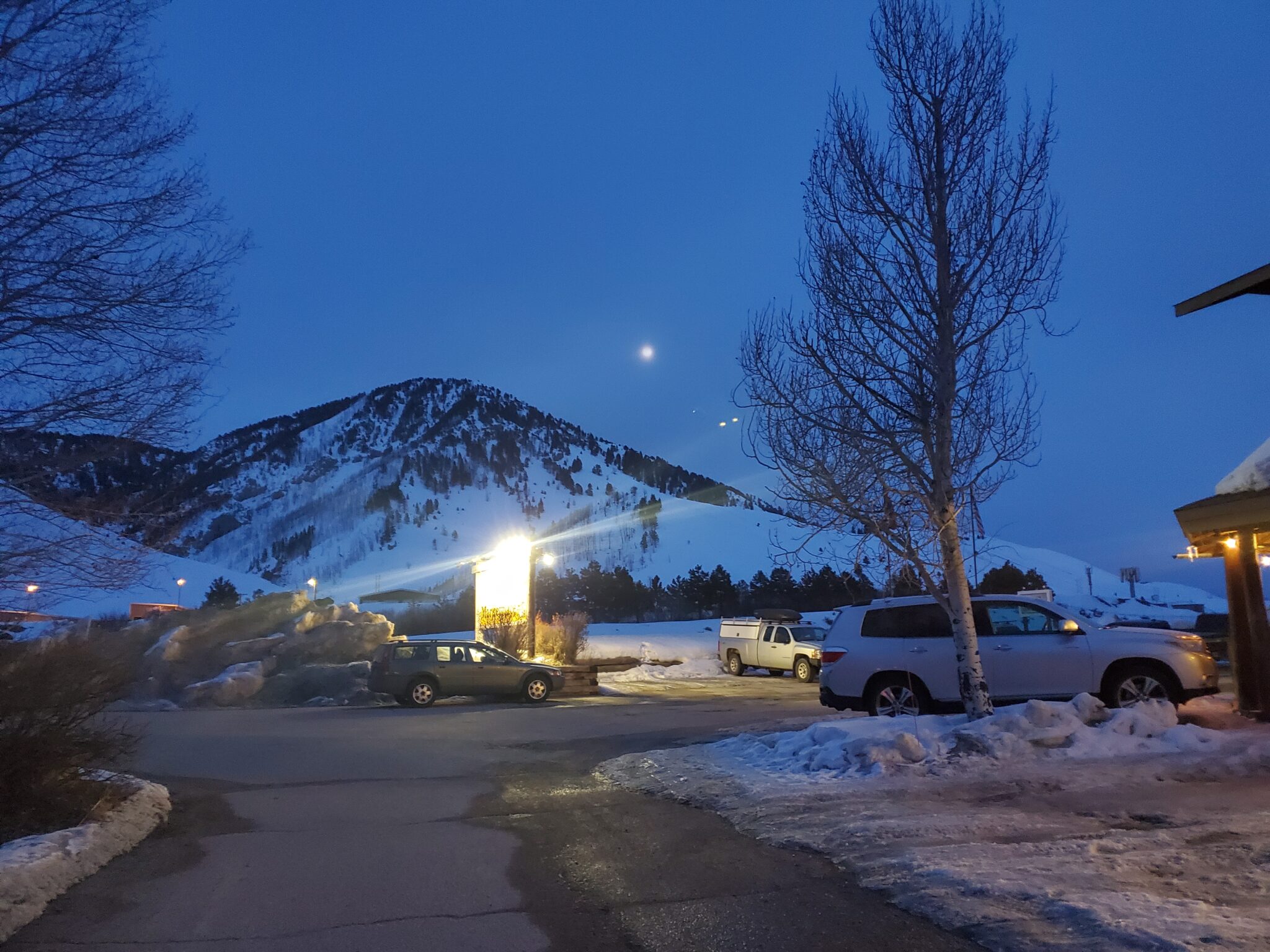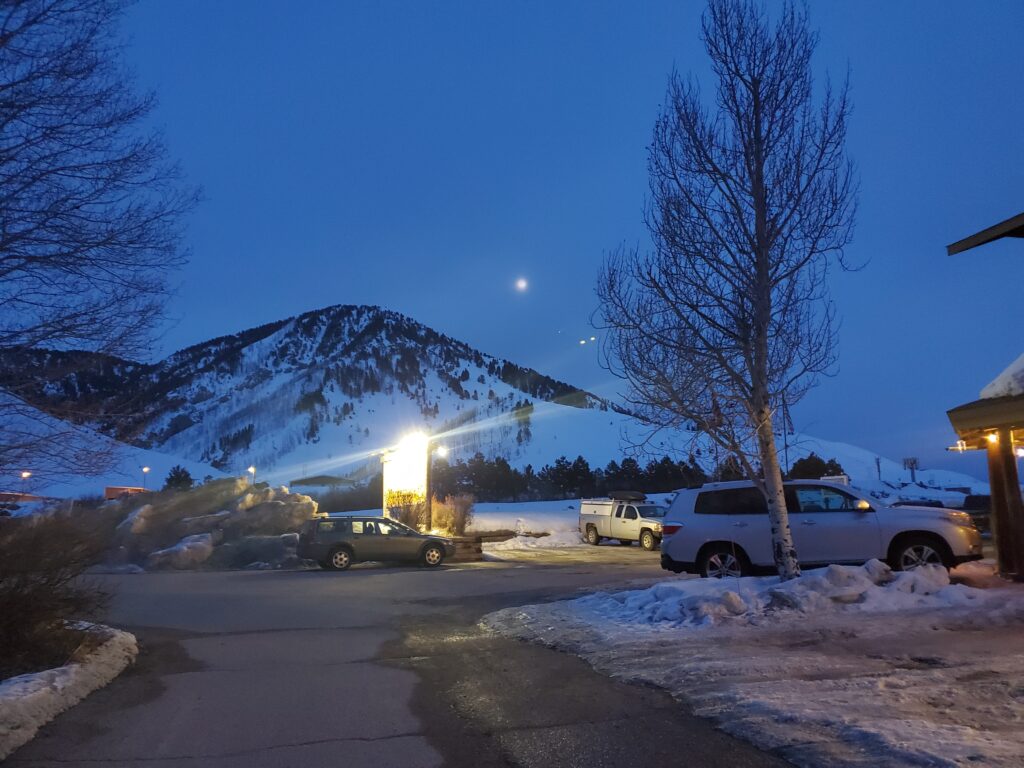 My 250 mile drive to Rigby was relatively uneventful. I did burn nearly $125. in fuel which is why I will do more travel without the camper for the next few months. Any trips I take, like my recent journey to Jackson Hole, will be done with my truck and the trailer will sit quietly in a safe RV park.
Spring Arrives…. Wait! Not so fast…
As you review my video above, you'll see snow that whitened the ground (and even made spots on the roads dangerous) on April 13 and 14. As usual, I write these posts in stages, I started this post on April 7, it is now the 15th (and again on the 19th.) While there were a few days of warmer weather, and I actually got in 3 days of bike riding, it turned COLD again (lows in the teens) and on the 13th, the temperature barely cracked freezing later in the day!
As I wrap up this post on 4/21, there are *finally* signs that towards the last days of April, Spring will arrive. I went to Heise Hot Springs on 4/20 and there was still lots of snow in the region! It appears that the spring runoff has not yet begun in earnest. Even with minimal runoff, there has been some flooding reported, largely in unpopulated regions.
A quick update on my health AND on the RV industry
I had more bloodwork done on March 24. Triglycerides are down to 91 (from 197 just 6 months before. My triglyceride to HDL ratio is now about 2.2. Six months before it was over 6! All other parameters are "in line" and MUCH better than when I started my new diet. I'm now planning to let 6 months pass before my next blood tests.
Heading into RV Travel and Buying Season
It's funny how things work out! My Concierge RV Buying and Selling Service has been available all winter long I experienced a steady, but slow flow of clients. This past couple of weeks however, just as skiing ended and I submitted my taxes, BAM, several new clients contacted me and Thank God, I now have the time to attend to them without getting sidetracked by skiing double black and gladed tree runs! (Those opportunities will return soon enough – after all, ski season starts in just 7 months!)
I can tell you that the RV buying boom during the past two years is done, OVER, fini! There is little indication that with warmer weather the buyers will return. That's not to say there's no buyers, I currently have 3 active clients looking to buy – but – I'm negotiating hard for them and will not accept deals anywhere near "book value" (in most cases.)
I recently received some info from Dr. Joe Mercola that caused me to take immediate action – and I'm glad I did as I'm detecting immediate impacts! The subject: Glycine. In his newsletter, Dr. Mercola shared this video. It details the benefits of Glycine AND recommends how much you need to take.
When I saw the recommended daily dose, I decided to purchase this product for a variety of reasons. If you elect to purchase it as well, let me know how it works for you!
There are also RV Sellers – and plenty of them…
With my sellers, I encourage them to be realistic in their pricing expectations if they expect to sell their camper and advise them that time is NOT on their side! I will have more details on the RV industry in an upcoming post and an analysis of the practicality of living in an RV given what may be coming soon.
All for now – but, I do expect to have the time freedom to increase my post frequency again, so… stay tuned!
Need some accessories for your RV camper as you begin travel this Spring?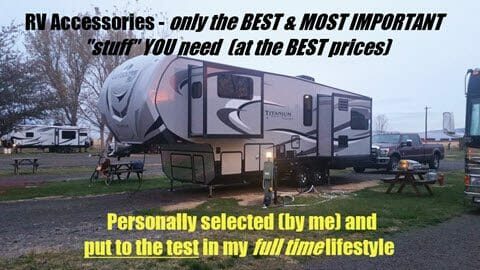 Like my content? Want to know about future posts as I create them? Please consider joining my newsletter below…