Subtitle: When you look over a camper, much of what you see will NOT reveal whether its well constructed or not – BUT – there ARE clues
I have ALOT to share in this post. I recently attended the RV show in Sandy, Utah (2/16/23) and made a number of observations and took lots of photos – but – not of what you'd expect! My goal is to make you a more savvy buyer – just what I do for my own clients. Read on, and if you wish to contact me, you can do so here.
Should you ever buy at an RV show?
Short answer: NO! (Emphatic!!) When visiting the RV show, my first thought and impression is "smoke and mirrors." Lots of RV campers with discounts that make you think you HAVE to buy RIGHT NOW to get "the deal" and RV's shined up to look all nice and spiffy. The dealers at the show are ready (and salivating) for you to plunk down your hard earned money AND sign away on a loan that fyou will likely carry for a decade (or more) and could EASILY double your purchase price on a camper that will be worth VIRTUALLY NOTHING when the loan is fully paid off. The long loan terms in the RV industry are increasingly common to get the monthly payments to a range where the buyer can handle them. From experience, many buyers shop monthly payment, NOT the actual cost of the camper.
FACT: 99% of the time "they" can do the SAME deal offered at the RV Show any day of the week – and the deal they're offering is NOT worth it, here's why…
The RV's at the show are pulled from dealer inventory. The dealer owns them, They paid for them (or they are loaned money by a bank to keep them in inventory, its called "flooring".) The simple fact is, the dealer has to make a profit and has a fixed cost for any given trailer. There's no magic that "allows" the dealer to offer a better deal at the RV show.
Frankly, you may be able to negotiate a BETTER price with the dealer AFTER the RV show! Rarely is it the case that the dealer given "incentives" from the manufacturer to give a better "show price" and then its only offered on the REAL dogs that are just not selling.
All the campers at the RV show are brand new (there are exceptions on occasion.) Once purchased, virtually all new campers undergo a STEEP depreciation curve for the first two years. For this reason alone, I advise all my RV clients to purchase used campers to avoid the depreciation in new camper values. Due to the nature of how most folks use RV's, there's plenty of used campers that are virtually unused when the original owner decides to sell or trade them.
The above advice must be tempered with the following: Used campers are only worth purchasing IF they are in excellent condition – you have to ask of the seller the right questions and when looking, KNOW what to look for! Further, if buying a used camper from a dealer, just as with used cars, this is where they try to make the big profits! Know the real value of the camper you're buying. The book value only tells you one piece of the puzzle to assessing the value of a camper.
The buying public often focuses on ALL the wrong things!
As I wandered in and out of a few campers at the show, I overheard comments from visitors to the RV show related to the size of the kitchen sink, the height of the fridge (sometimes its mounted above the floor), and the spiffy colors inside the camper.
Ok, I get it, there are aesthetic factors that buyers like – BUT – did I ONCE (just ONCE) hear a consumer express or make comments about build quality or construction design? NO! And that is why the RV industry is the way it is (with 90% of the manufacturers.) Its all about color and floor plan. And the "quality" (or lack thereof) seen from the biggest manufacturers reflects this.
Many attendees were studying the discount being offered by the dealer – not aware that profit margins widely vary. In fact, many of the worst campers (ahem – Forest River) have the greatest profit margins – thus allowing the dealer to offer a fat discount on a camper I would not wish my worst enemy to own! Bottom line – the greatest discount does NOT reflect the best deal – especially if quality of construction is your #1 priority (as it should be.)
IF an RV is built poorly and is barely road worthy does the color or floor plan really matter?
Telltale signs of a camper that is NOT worthy of your hard earned dollars
Much of what is wrong with most campers is hidden behind the pretty façade or under the body of the RV. You have to really dig to find out what kind of insulation (if any) exists in the walls, the kind of glass used in the windows, the matching of the floor plan to the chassis (if any), the quality of the axles, the method employed in affixing the cabinetry to the walls etc. That said, while at the show, there ARE tell-tale signs to look for. I took photos that (I believe) are quite revealing, in many cases showing campers that are worth passing on.
What follows is a photo essay of what I observed and why it matters. After this section, there ARE a few POSITIVE highlights, thoughts and insights I will share about a couple of manufacturers brands.
**Thinking about buying a RV camper? Would you like a "guide by your side, who also has your back?" I offer a Concierge RV Buying (and Selling) Service – details HERE. The entire goal? To get you the RIGHT camper at the BEST POSSIBLE price.** (When I say "I" here, its me, Alan, the author of this post AND creator of this website – RV Across America (.net)
Thinking of buying an RV Camper? Here's some tips on what to look for…
Lets start with TIRES –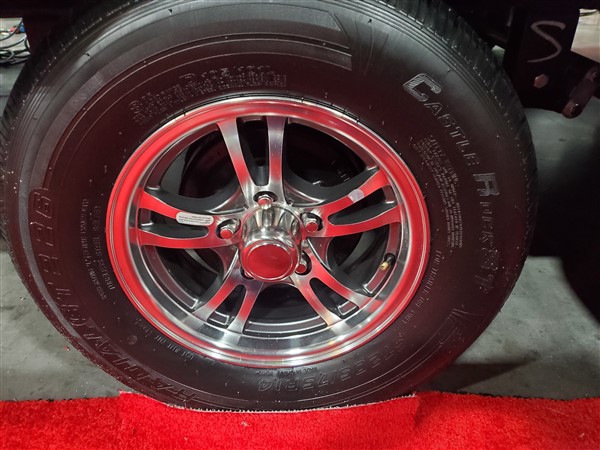 UNSAFE at any speed! These are tires that I'd recommend if you did buy the trailer attached to them, your first stop should be at a tire store to purchase tires that are road-worthy! Look up the term "china bomb" – its used in the RV industry to refer to tires that explode while you drive down the road, and yes, many are cheaply made in China. Full disclosure: I own tires made in China – so, NO, not everything made there is junk – just many of the cheaper brands and that's exactly what you'll find on many (most?) RV campers as supplied by the manufacturer before the camper ever reaches the dealer.
Brilliant Engineering (NOT!)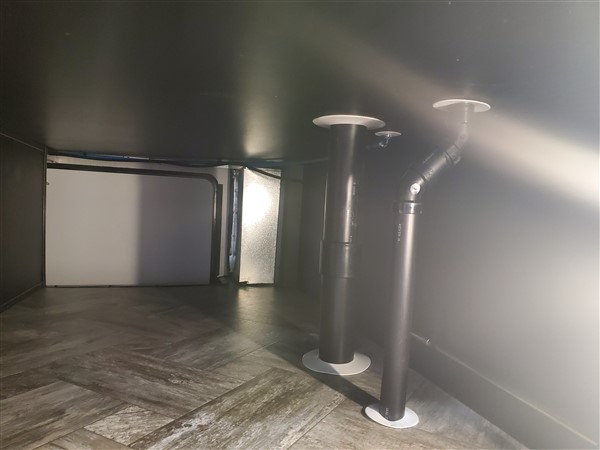 Two "fine" examples (from "premium" brands) – On the left, plumbing is intruding into the storage compartment in the "basement" of a 5th wheel trailer. With some fore-thought and pre-planning, the tanks under the floor could have been re-aligned and the plumbing could be moved so you get the entire storage area for well… errrr… ummm… STORAGE!!
On the right, you see SEVERAL FEET of exposed plumbing that I can assure you belongs to a camper that is marketed as a "true four season" model ALL DAY LONG! Exposed plumbing like this is just asking for trouble if you winter camp (or live in the thing during cold weather.)
The sad FACT is that there are virtually NO regulations on the RV industry so the manufacturer (and dealer) can make virtually ANY claim they wish and their feet will NOT be held to the fire. For example, I've seen MANY campers that claim to be "true 4 season" that I would NEVER recommend to one of my clients who intends to camp in cold weather!
While the exposed plumbing is a clear, visible red flag; what you can't see is what's in the walls that passes for insulation, and often how the windows are designed, for example are they dual-pane?
Note: Don't think that four season campers are just for cold weather! They also remain cooler in hot weather and save you on the electric bill when you're running the air conditioning in the summer heat.
Your camper may POISON you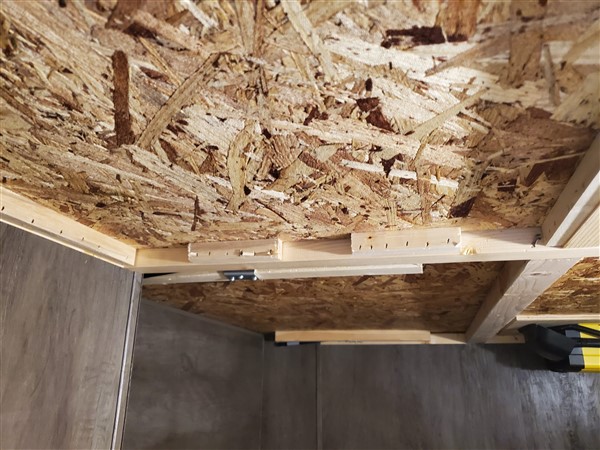 You're looking inside storage compartments in travel trailers at the floor of the camper's living area above. The material? PARTICLE BOARD. The cheapest junk the manufacturer can find. Guaranteed to flake, get soft and warp when exposed to water. AND – it is manufactured with solvents designed to hold this artificial material together that include FORMALDEHYDE.
Yes, this is the same stuff you smelled when you dissected a frog in high school biology. In a camper, when the weather warms, these POISONS "out gas" into the living area of the camper. It was so bad when I was in RV sales and a customer wanted to see one of these "beauties" that we had on our sales lot, I would stand at the door to avoid my eyes watering and damaging my sinuses by spending time inside these "luxury RV lifestyle travel vehicles."
Planning to RV Camp in Sub-Freezing Weather?
Many RV'ers these days are camping year-round. Some camp in sub-freezing weather, often for extended periods of time. One of the most significant issues a cold weather camper will encounter is a water freeze-up. There are many places between the campgrounds water hydrant (the point where you connect to city water) and your inside water faucets for a freezeup to occur. The MOST vulnerable point however is illustrated below.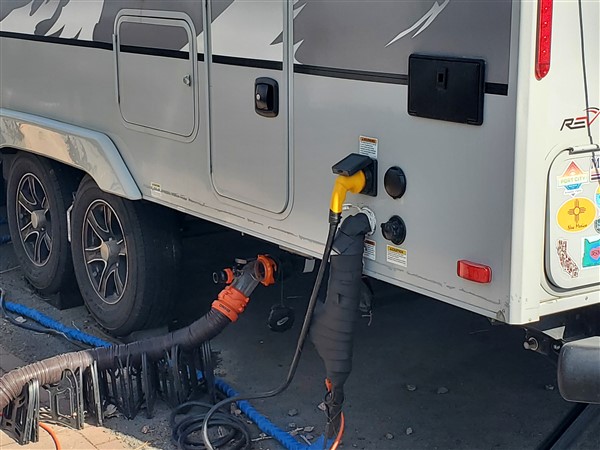 For the water freezeup issue I went to two "real world" examples. On the left, you see a heated hose and a well protected water connection on the outside of the camper. This is typical of most travel trailers and some 5th wheels. The point where the hose connects is the MOST likely spot for a freezeup to occur. The owners of this travel trailer have done their best to minimize the chance of a freezeup.
My camper's wet bay is illustrated on the right, and as noted in the caption under the images the entire bay is behind an insulated door and is heated. The chance of a freezeup is virtually nil. Look for this when buying a camper of any type!
The heat duct in my wet bay compartment is also evidence of hidden feature to look for: a heated underbelly. A heated underbelly protects your water tanks and plumbing – unless the manufacturer runs excess plumbing outside of the enclosed underbelly, as illustrated earlier in this post!
Slideout Construction
How are the sides and underside of your slideout constructed? Slides are often a point of entry where water can enter AND DAMAGE your camper. Are the sides and underside made of some type of cheap laminate (common) as illustrated on the left, or of fiberglass (best) as illustrated on the right?
Workmanship – Exterior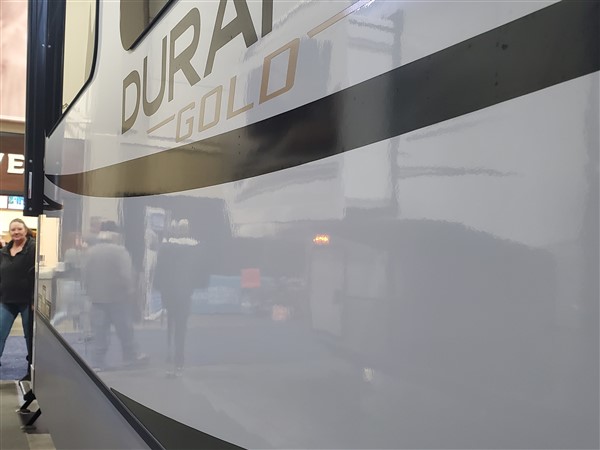 It may be hard to see in this photo, but the exterior of this fiberglass sided camper is "uneven." I've seen how good companies go to great lengths to create a "fiberglass – luan – insulation – luan sandwich" and to ENSURE that the fiberglass does NOT peel off the the luan layer immediately under it. IF and when that happens, you have a VERY expensive issue to repair and an issue that will cause many potential buyers to walk away when you go to sell your camper. This BRAND NEW camper is ALREADY showing signs of an uneven surface and from experience, I've seen several of these campers in the field with serious delamination issues.
Workmanship – Interior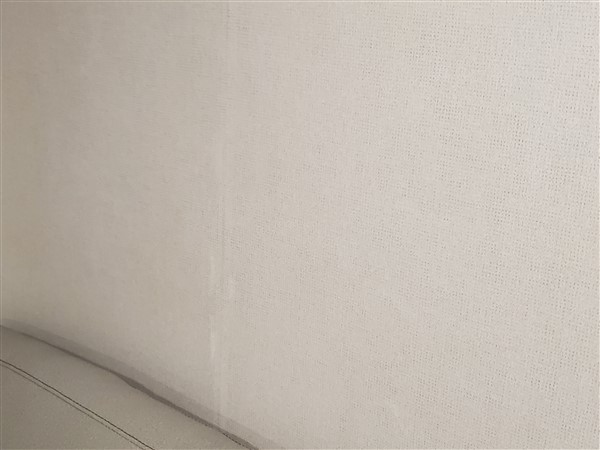 Seam tape visible on the left – and likely to peel over time. Walls that are not square and visible gaps on the right. This passes for a "glamping camper" by one of the well known manufacturers. My view? If this is what you CAN see, what's going on where you CAN'T see?
Outside Kitchens
Often, I'll have a client express interest in an outside kitchen. While I get the convenience, I want my clients to understand what they're getting and what they're giving up. Virtually all outside kitchens have a fridge, but there's a catch: It runs only on 120volt electric. This means that typically unless you're connected to "shore power" (household current) at a campground OR you're running a generator, the outside fridge is an expensive paper weight!
Further, the entire outside kitchen is taking up space that may otherwise serve as additional storage or living space. In my case, I greatly prefer the Weber 1200 bbq grill to the stove supplied in most outside kitchens. As to a place to chill the beer, perhaps a cooler? If you need water, most campers have an outside water hookup or you can improvise in other ways.
RV Construction – It's NOT all bad news
Even though there are two corporate giants in the RV industry causing the majority of new RV campers to be substandard (and I'm being REALLY kind here!), there is occasionally a new RV manufacturer who appears and tries to "raise the bar." Brinkley RV is one such company.
The Sandy, Utah RV Show gave me an opportunity to really take a close look at two prototype campers built by Brinkley and to speak directly with one of the designers of these campers. While I have my concerns, it DOES appear to me that Brinkley is trying to make a better quality RV camper and with a few modifications, I believe they may succeed.
I'm hedging my bets here, and I am planning to take a close look at Brinkley's two campers soon to be in production in an upcoming post. I'll tell you now they don't have my endorsement yet, but I do believe they're moving in the right direction. Stay tuned for an in-depth look!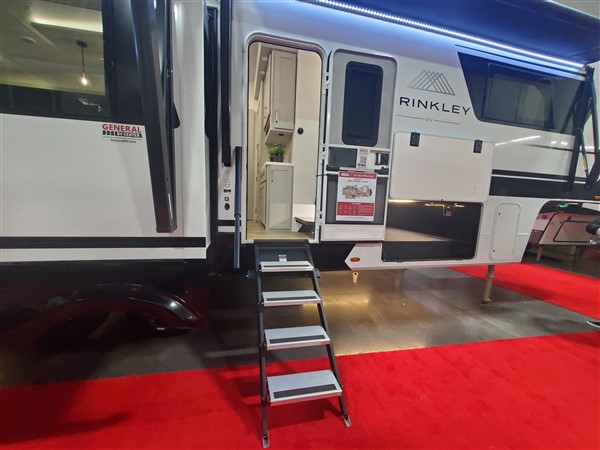 Outdoors RV
I'm pleased to report that I ran into a few "ORV" (Outdoors RV) trailers at the RV show. There appears to be little change since my model was built in late 2017. That's good news! ORV makes a truly SUPERIOR travel trailer, especially for anyone camps in cold (or HOT) weather. I stand by every word written in this report on my (then) new camper built by Outdoors RV.
So, yes, on occasion you'll find a couple of superior products at the RV show!
As RV'ing season approaches, what follows are the accessories I've tried, tested, and use regularly. I have no hesitation in recommending them…
Like my content? Find interest and value in what I share? Please consider subscribing to my newsletter below. I will update you when new posts are completed…