How to Buy an RV – First of a series, When to purchase
NOTE: I originally wrote this "How to buy" series in Jan. 2016, I'm updating it (the written narrative ONLY, not the videos) in November 2020. When I created the videos (in 2016), I was working in sales for an RV dealer in Casper, Wy. and some comments may refer to my position at that time. I'm now out on my own, offer my own Concierge RV Buying Service and I'm fully independent of any RV dealer. Enjoy…
I'm starting this post on the last day of January 2016. Where I am the snow is about 3 feet deep in town – and deeper on the ski slopes nearby! Yes, I'm an RV'er, yes, I live in my RV all winter (lots of videos on my channel about RV living in the winter!), and yes, I love it!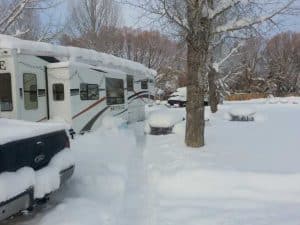 My goal here in this series of articles is to inform, offer insights, provide you with unbiased advice as I am not tied in with any individual RV dealer. I used to work with an RV Dealer and the great temptation is to match a buyer to one of the RV's on that dealer's sales lot. No more for me, when my Concierge RV Clients hire me to work with them, my ONLY goal is to assess their needs, recommend the right campers for those needs (within their budget), and then proceed to negotiate the best price for them within the distance from their home they're ok with.
How to Buy an RV…
With that out of the way, I'm going to "build" this post over the next few weeks (it ended up being a total of 5 posts) by adding short "how to" videos – each designed to address some aspect of How to Buy an RV (of any type – towable or motorized.)
I'd like to start with timing… because RV prices can vary by thousands (or more for expensive units) from the "high season" to the "low season". Join me in my video below to get my thoughts on WHEN is the best time to buy a camper.
Summary – and a few additional thoughts…
Timing can impact pricing on RV's by thousands of dollars

In the north, the slow season is November through February/March

When RV's can be had near cost in the winter, your trade-in

is also valued lower (and LESS inventory is available) Here also is some sage advice on trading in your camper.
Dealers are motivated to move "old" inventory – right now that is the 2020's (and in a few months, believe it or not, the 2021's!) – note: because of covid, few (if any) 2020's remain in stock

The new model year units typically arrive in June and July from many vendors

(Note: covid has caused '21's to trickle in)
The corona Virus has upended timing for '20-'21 as dealer inventories are depleted and good campers are often hard to find – BUT – deals ARE there to be found. I personally believe that as we head into 2021, more campers will "appear" and better pricing can be negotiated (at least during the winter months ending in March. What happens after then will depend upon the virus, the state of our economy, and frankly the stability of our nation. (Nov. 2020 update)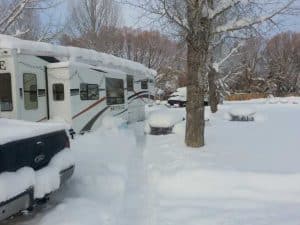 How to buy a camper Series
There is much more to share on the topic of "How to buy an RV" – and additional videos with tips and insights linked below. Topics to be presented include – buying a new vs. used RV, selecting the type of RV that is best for you, where to buy (and why), what to look for when selecting a unit (eg – features, design/engineering, manufacturer reputation), what to expect after you purchase, what kind of vehicle you need for your towable RV, negotiating to get the best price – and being realistic.
Got thoughts? Care to share? Please use the space provided below!
Also, while you're here you may wish to visit our RV Across America home page and see what else is new. Our home page is organized by "tiles" – each dedicated to a topic of interest to RV'ers. As a full time RV'er for 4 years now, I've been steadily adding content! Feel free to contact me if you wish to contribute content to our site, or discuss how I earn a living while traveling (another hot topic!)
Want a "guide by your side" as you move towards RV ownership?
A few years ago, I started a Concierge RV Buying (and Selling) Service designed to provide you with unbiased advice and ensure you get the RIGHT camper for your needs and budget at the BEST possible price. When you visit my page, please do take note of the exceptional reviews my service has received.
Click HERE to access Part 2: How to Buy a RV – New vs. Used
Like the content? Want updates as I create them? Join me here…