How to Buy a RV: New vs. Used
Welcome to Part 2 in our How to buy a RV Series. (UPDATED Nov. 2020) This post explores the merits of buying a NEW vs. a USED RV. If you missed part 1, click HERE to access the first post in this series which discusses WHEN to buy an RV.
Most folks love the smell of a new vehicle – and RV's are no different. Getting a nice, shiny, new RV is a real treat. But – is it worth the extra bucks over what you'll pay for a "like new" used RV? Watch my video below and then see if you agree with my "summary points" – and by all means, feel free to chime in to the discussion by using the reply section at the bottom of the post! 
How to Buy a RV – New vs. Used
Greatest depreciation of a new RV occurs during the first 2 years

– 40% for virtually ALL trailers

RV's over 10 years old are tough to sell – so when buying used, look for something between 2 – 5 model years old

GET AN EXTENDED SERVICE CONTRACT!! Click

HERE 

to learn more, see why, and get a quote – and this is NOT just for used RV's, though it is VITAL for used RV's!!

Buying from a dealer is often safer than buying from a private party – in the video I explain why

Never buy a used RV "sight unseen"

– and don't hesitate to hire a local tech to inspect it – especially if buying from a private seller.
If you purchase a used camper at the right price, you won't take nearly as big a hit when you go to sell it
***Looking for the RIGHT camper at the BEST possible price? Help is here!
Check out our Concierge RV Camper Buying (and Selling) Service***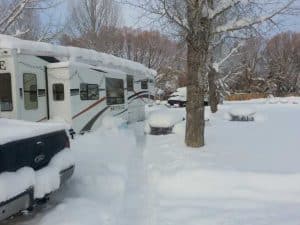 Thanks for visiting here today. While you're on my site, please do visit the home page and see other topics that may be of interest to all RV'ers. Let's connect! Why not consider joining our RV Across America groups on Facebook, MeWe and USA.Life.
Once you have your camper, you're going to want to visit campgrounds – here's an article I wrote on some DISCOUNT CAMPGROUND programs I like.
Visit PART 3: Selecting the RIGHT TYPE OF RV for YOUR needs… Click HERE
Lastly, if you like the content, please subscribe below to be notified of new posts and articles –