Shopping for a camper (RV, trailer, etc.)? Read & Learn from this…
I was curious… real curious. I was approached by a client with whom I was working to find the right fifth wheel for their family. They called me to report they saw the same model at "the big camper store" (I will not name the retailer, but safe to say, its a big RV Camping store and has MANY retail stores nationwide.) The big camping store quoted them $34,999 for the SAME camper we had been discussing and I had offered them for $37,500.
Naturally, my client was VERY excited to take the 7 hour drive to save what they thought would be LOTS of money over the best price I could offer them. You see, I could not match their price as it was BELOW my cost! So… naturally, knowing what I pay for a camper is about what the big RV camping store pays, and knowing that freight (the fee for delivering the camper to the dealership) is about the same to my dealers location as theirs, I was VERY curious as to "what the catch was."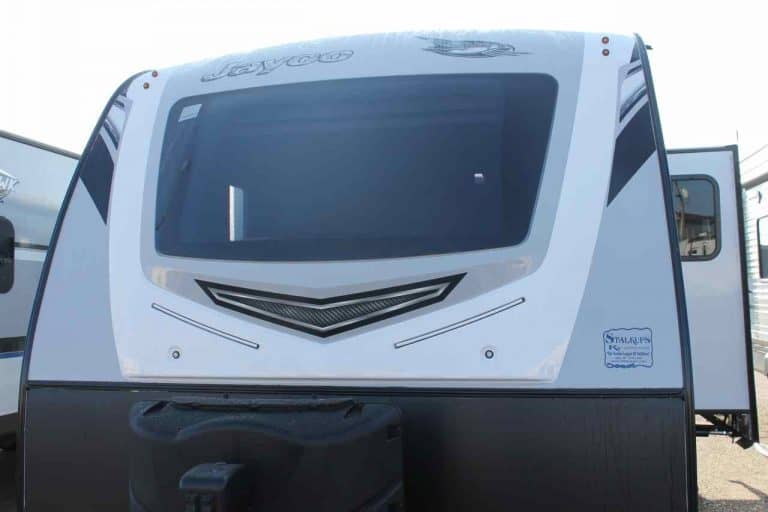 Wow… did I find out what the "catch" is when shopping for a camper at the big camper store –
Before I proceed, allow me to share a bit about myself. I'm a full time traveler AND I serve my clients as a RV consultant. I have clients all across the nation who turn to me for advice and assistance getting the best price for the camper that best suits their needs. And… while I strongly believe that a RV dealer is entitled to make a profit as they have overhead, people working there who are trying to earn a living, and provide value (ideally) to their clients – deception (hidden fees) on the part of a dealer is NEVER a good practice.
As a consumer, I believe STRONGLY that we are entitled to HONEST and INFORMED advice and a fair shake at getting a reasonable deal at whatever dealer we choose to do business with. What I'm about to share addresses the hidden fees you should check at every dealership you consider buying from, but this large nationwide camping store seems to take it to an entirely different level!
In an effort to discover what the "catch" was, I decided to go "undercover" and inquire with the "big camping store" about the very same trailer I was discussing with my client – I wanted to find out what the camper was REALLY going to cost them – here are my findings (and its not pretty!)…
What follows is a series of emails where I discovered how the big camping store "works" their customers – and its NOT pretty…
You can click on each of the following email communications  to see a full screen (readable) version. I have redacted the account names to protect their employees as I am certain they are simply acting in accordance of what management expects of them.
In the first message below, you'll note the communication started off straight forward enough – the sales rep told me the trailer I inquired about was available and asked if I planned to visit the store.


In the next two communications detailed in the image below, I tell the sales rep I want a CASH, "out the door" price (typically this includes all dealer fees, but not sales tax, tags or registration.) Note where she replied a CASH price is $36,999. a FULL TWO THOUSAND DOLLARS ($2000.) over the originally quoted price of $34,999 – a price that would REQUIRE me to use the camping stores financing offers ONLY! Incidentally, the web price at the time on this trailer was $35,499., with an invite to get their best price by inquiring. I inquired and they quoted me $34,999., the same figure given to me by my client.
Seeing them jack the price $2000. for paying cash over using their financing confirmed the rumors I've heard previously that they engage in such practices! I don't know about you, but as a consumer, I wouldn't want to hear about the $2000. surcharge for cash, BUT WAIT, it gets even better! Wait until you hear about their ADDITIONAL dealer fees on this trailer!!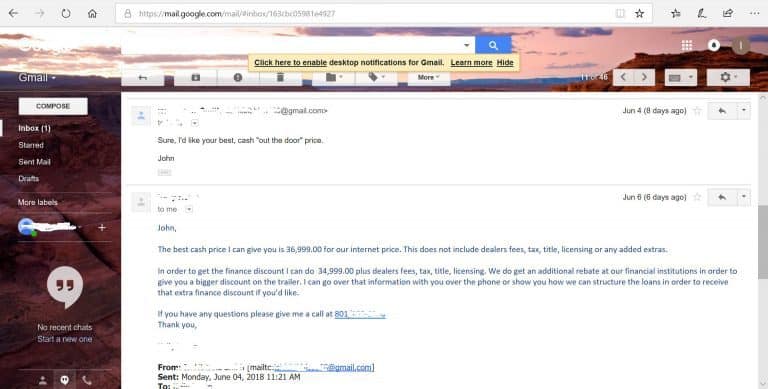 Note in the above message, the sales person indicates there are "dealer fees" above and beyond the $2000. surcharge for not using their financing. Naturally, in my next reply, I inquired about said "dealer fees." I wanted a detailing of the additional fees I would be facing if I decided to accept their offer. Here is her reply… (or)
Here's how this big camping retailer handles a SLIGHTLY probing question…
Reminder, click on the image to see the full message(s)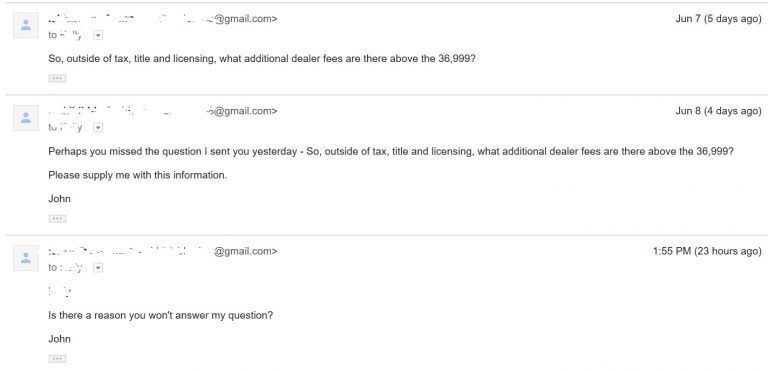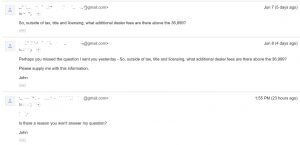 As you can see from the above series of messages, I (naturally) inquired about the "dealer fees" mentioned by their salesperson – and her reply? Crickets… silence… dead air!
I waited 24 hours between asking my question and sending a 2nd email to ask if she received my request for clarification on dealer fees and another couple of days before asking why she would not answer my question. What follows sheds light on why (in all likelihood) she was directed to ignore my inquiry…
Another attempt at deception…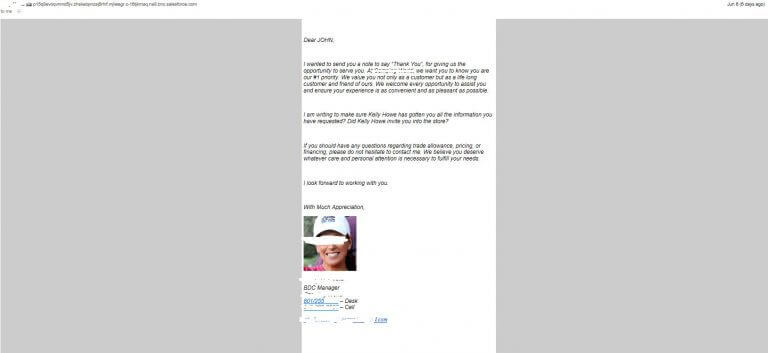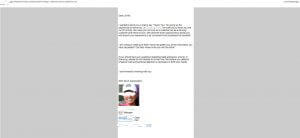 Shortly after receiving an initial response from the salesperson at the camping store, I received a letter from a manager who wanted to insure my satisfaction in my dealings with the salesperson. While the email appeared to be written by a manager, the reply button led directly back to the SAME salesperson ONLY whom I had been corresponding with! Hmmm… If I were to reach that manager and only hit reply, my message would NEVER land in the managers email inbox. The body of the letter however DID give me the managers email so I took the initiative to copy the managers email and paste it into the "cc" box in the next email I sent to "the big camping store" to insure she received it (along with the salesperson.)
What follows is the managers reply… (read carefully as you won't believe this!)
Can you imagine driving HUNDREDS of miles only to discover THIS NEWS when you arrive at this camping store??
BUYER BEWARE!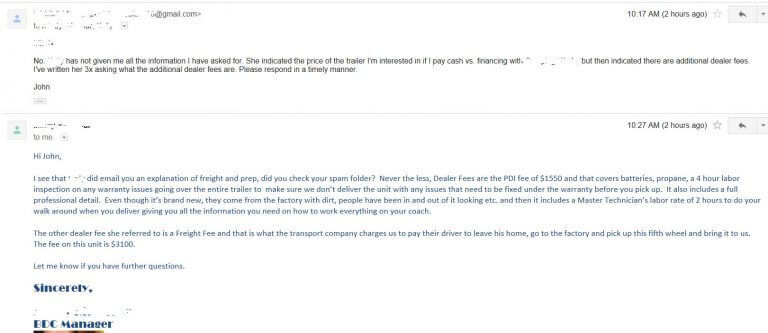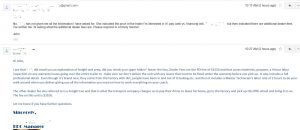 To the managers credit, she DID answer my question and as you can see in her email.
A buyer at this massive camping retailer faces a $1550. "dealer fee" along with a $3100. freight fee! So, the original price ($34,999) has now BALLOONED to $34999 + $2000 (if I don't use their own financing) + $1550 + $3100 to make a GRAND TOTAL of $41,469. which is WELL ABOVE the average price the trailer investigated is selling for at most dealers (actually $3000 – $4000 ABOVE what most dealers were willing to sell it for!)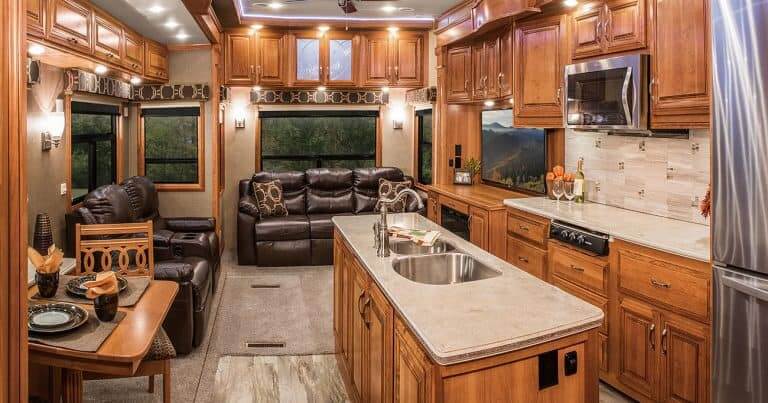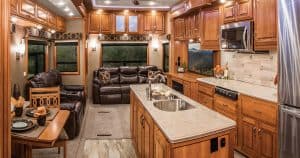 Now… can you imagine traveling a great distance to discover this news?? And worse yet, traveling with a trade-in and finding out you owe THOUSANDS more than you planned to spend!?
Incidentally, I DID check my spam folder and NO messages were ever received from the original salesperson regarding the dealers fees. Gee, I wonder why?
As a point of information – most dealers add the freight fees to the price of their RV, so when quoting the consumer a price, they're quoting a fee that reflects the selling price of that trailer INCLUDING the freight charge. Many dealers do have a "documents fee" which serves as a dealers fee, but it typically is $400. or less.
In closing, I'm sharing this information to advise you, my readers, what is going on at some RV dealers – including the massive nationwide one at this time. I have all the original unredacted emails to verify what I've stated here is FACT and not opinion or anything else. As I stated earlier, anyone in RV consulting and sales should be able to make a profit and earn a living, BUT, it should be done in an open fashion which allows the consumer to compare offers. I must also note that there is more to purchasing a RV than just the bottom line price and in my series "How to Buy a RV", you'll find other factors to consider – not the least of which is the ability to get the RV serviced after purchase.
If you are in the market for a RV – motorhome or towable and want a "concierge buying service" – contact me and we can discuss specifics.
In closing, connect with me and join the conversation in my Facebook group dedicated to RV'ing, RV'ers, the RV lifestyle and earning an income "on the road."