Summer makes a BRIEF return to Western Wyoming and Eastern Idaho, but… Autumn is due to return very soon – well…actually "pre-autumn"!
RV Life in the Wind River Mountains – near Pinedale
I'm back "on the road." For how long, I'm not quite sure. I left Rigby, Idaho a few days ago (8/15/23) and made the 165 mile trek to Soda Lake. I'm now about 3000 ft. higher than I was in Rigby. Its still too warm! But, the warmth truly is temporary. I "declared" summer to be over on August 2nd, only to see summer return by about the 10th, now a week or so later, the region is due to turn cooler and wetter. This time the heat of summer is leaving for good and the weather is showing signs of heading towards autumn!
RV Life at Soda Lake
Soda Lake is less than a 30 minute drive from the town of Pinedale. It is about 400 ft. "above" Pinedale and features spectacular views of the Wind River Mountains (The "Wind Rivers".) Some of the protected canyons STILL have patchy snow leftover from last season. I have not checked the weather computer models, however, we're not far off from seeing the first dustings of snow at elevations above 10,000 ft. I'm staying at 7600 ft.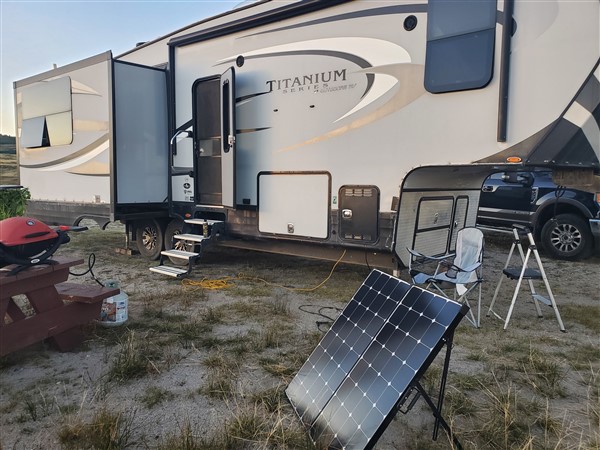 Good health and more…
I can still recall before my heart attack, staying at this elevation was problematic. My body simply wasn't transporting enough blood and oxygen as a result of blocked arteries. Two stents later, in February 2019, and 45 pounds lighter (with more to go), I was able to swim 500 meters this morning in the town's aquatic center (elevation 7200 ft.) and then walk 30 minutes in the leisure pool which has a "lazy river" in which you can walk against the current. I'm taking a "work break" now and plan to get back outside to do some paddling in my kayak (it really IS a great travel kayak and performs well in the water as well) before calling it a day.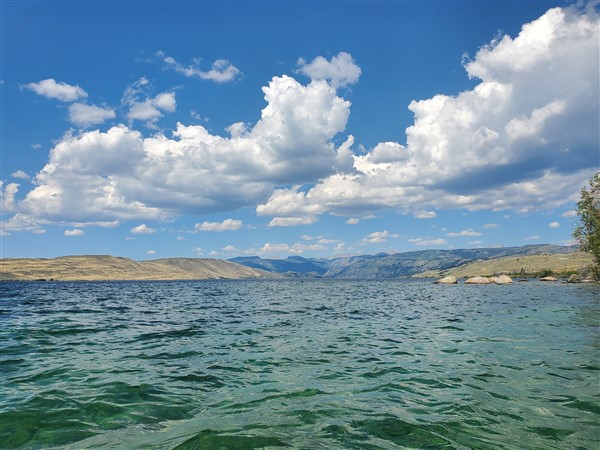 Good nutrition and regular activity leads to good health – here's a bit more on that topic. Since the writing of that article in February 2023, my weight has leveled off at 190 pounds and I have not had bloodwork since March 2023. At that time, my bloodwork surprised even my nutritionist! My triglycerides were down (from 197) to 91 and my HDL had risen from 31 to 41. The Trig:HDL ratio dropped from over 6 to about 2 in just 6 months!
Life in Pinedale and the Wind Rivers
I was concerned before arriving at Soda Lake about finding a campsite. As it turns out, I was worried about nothing – there were only 4 other campers surrounding the entire lake! There are approximately 25 designated sites surrounding Soda Lake to choose from.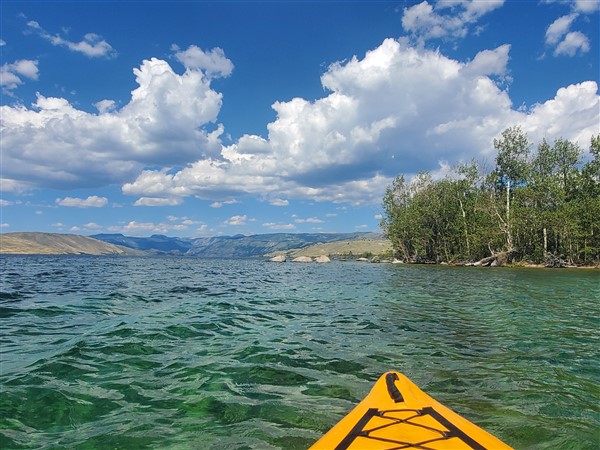 Camping at Soda Lake is free (Wyoming Fish and Game Lands), but there are no services other than a few pit toilets scattered around the lake. Soda Lake is relatively small, but it IS within cell service range – and for me and my Concierge RV Buying/Selling Service, that is import. I do have good service with the help of a Hi-Boost cell signal booster.
The water is clean – and appears free of toxic blooms. Toxic blooms have become an increasing issue and nuisance in many western lakes – particularly lower elevation lakes over the past few years. Soda Lake and the other lakes in the region appear to be high enough elevation to avert this issue. You can get a thorough detailing of all the lakes (and RV camping options) in this region HERE.
Pinedale itself hasn't changed much since my last visit. I'm writing this as I enjoy coffee and brunch (yes I'm still intermittent fasting) at the Heart and Soul Cafe – right in the center of town. I am looking forward towards the Pinedale Farmers Market to replenish "provisions" tomorrow. I've grown fond of buying from farmers and ranchers for the freshest and least "treated" produce and meat. The farmers market in Pinedale is a weekly event through the entire summer.
After Pinedale and the Wind River Mountains
When I leave Soda Lake and Pinedale in a couple of weeks, my schedule is truly cloudy. My travels may find me visiting Saratoga (but THAT lake does have toxic algae!!), Of course, Saratoga has their world famous hot springs AND is near the Snowy Range which have some high altitude lakes that are spectacular and very much worth visiting (and paddling in!)
I may also visit Vernal, Utah (Steinaker Lake also has toxic algae), or I may head north towards Idaho and Montana. A lot will depend upon where I plan to teach skiing this winter – and that is still fairly wide open. The bigger problem I am running into is finding a campground near the ski area that has space at an affordable rate.
Well, all for now! If you're out there RV'ing, shoot me a note (in the comments section below) and let me know where you are and how its going. Also, if you need accessories, here are some "tried and true" RV accessories I've found and use myself…
If you enjoy my content, please consider joining my newsletter below to be notified of new posts as they "arrive." Also, please leave comments below, I LOVE to hear from my readers…