Situated at 7200 ft. elevation in a very high valley, Pinedale is on the west side of the Wind River Mountains or just the "Wind Rivers" as locals refer to them. On this, the west side, the Wind Rivers are rugged mountains reaching to well over 13000 ft. From Lander, on the east side, the slopes are far more gentle (more on Lander and Sinks Canyon soon!)
Allstays made part of the video above possible – check them out HERE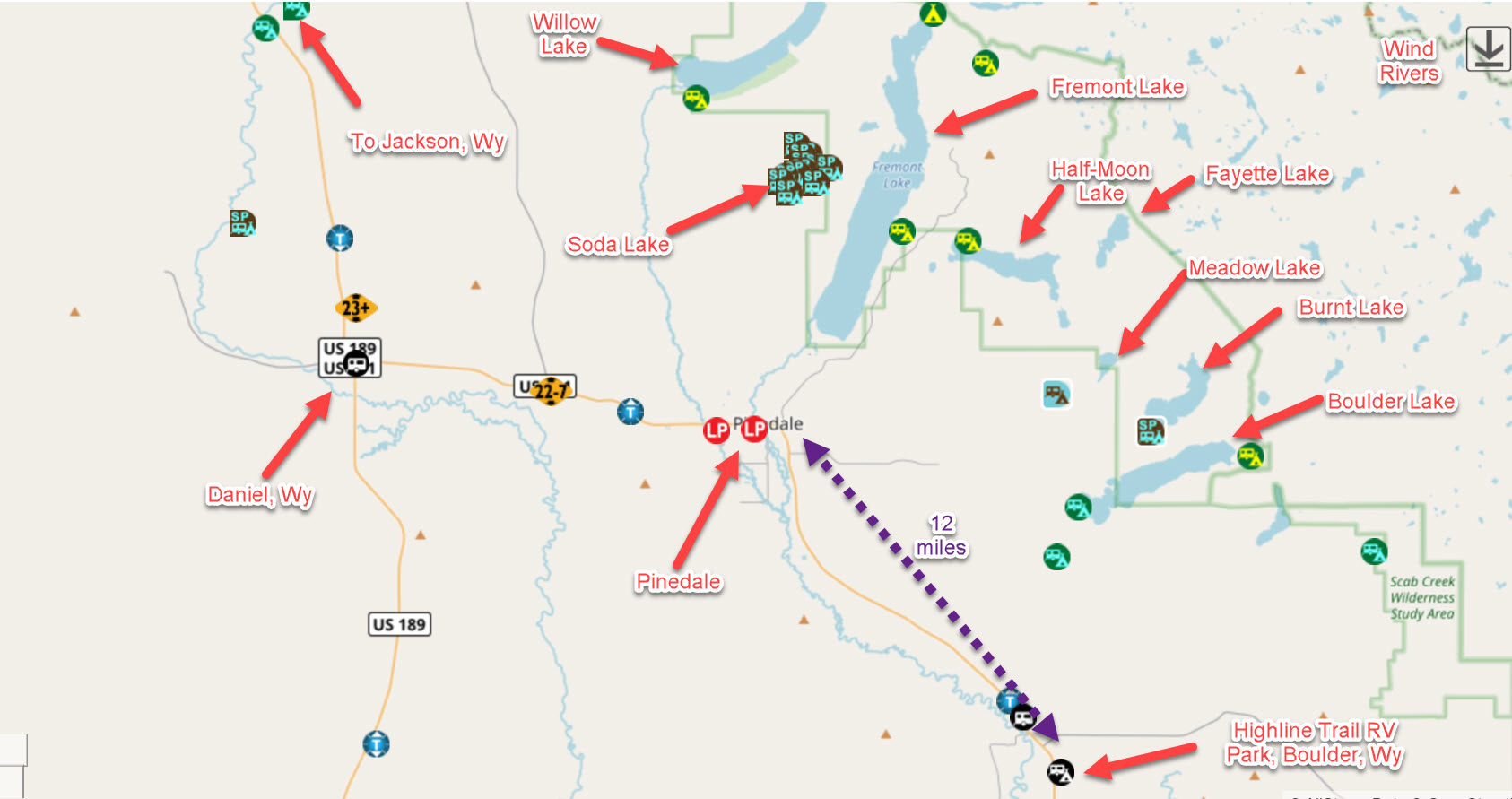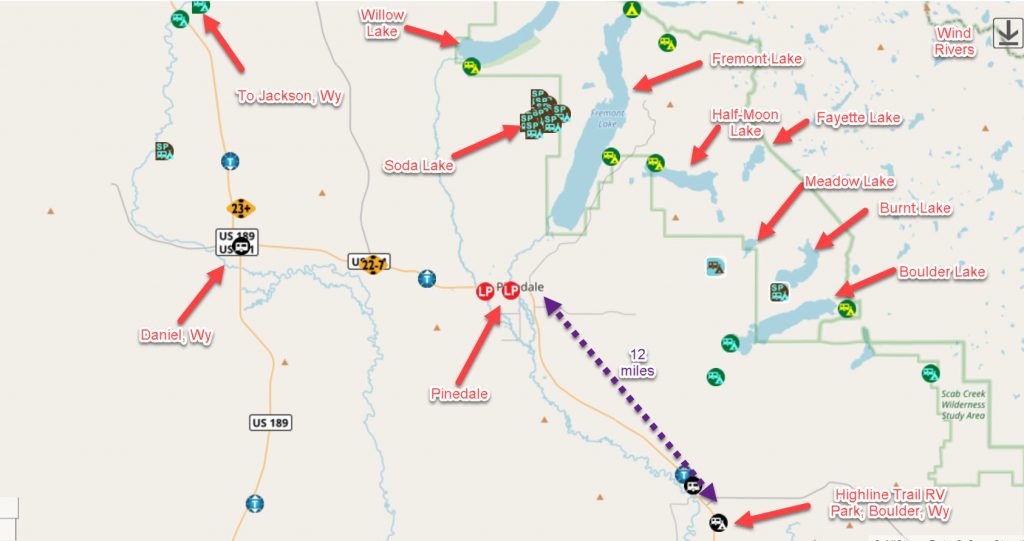 Sublette County, Wyoming – Land of MANY lakes
Check my video above for an overview of the lakes in this region. I "landed" here, in a region about 90 minutes outside of Jackson, Wy. over a week ago. As you'll see, in MANY ways this region is INFINITELY better than visiting Jackson. I'm in my second week here. During the first week I stayed in Highline Trail RV Park in Boulder (Wyoming – NOT Colorado!), a full hookup rv park. For a private park, its a good choice, well spaced sites, very well maintained. My goal during this first week was simple: To scout out the lakes in this region for their camping potential AND for kayaking. I'm pleased to report, my mission was a success!
Highline Trail RV Park is about a 10 minute drive from Pinedale, which with a population of about 2000 is a very "livable" community – and I believe the locals know it and appreciate it.
Enter Week 2… I found "my" lake –
Imagine being in the wilderness, alongside a pristine lake in a "dispersed camping" region (no designated campsites), maintained by the Bureau of Land Management (BLM), and NO CHARGE for camping there for up to 14 days. The Wind River Mountains loom to the east – still partially snow-covered under the mid-June sun. In fact, after some rain today, there may just be some SNOW tonight – even at lake level (about 7600 ft.) Of all the lakes in the region, I chose Soda Lake to spend the next several days at. Read on to learn why.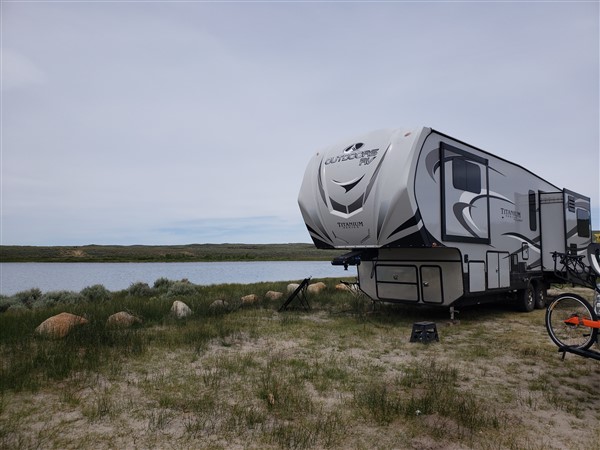 In addition to being at a lake where I can "at-will" choose to go kayaking, I'm relatively close to town (you'll hear about the town's aquatic center shortly!) and… I have CELL access. This has become very important over the past several weeks, as along with the RV industry in general, my Concierge RV Buying and Selling Service has been booming! I recently sold a travel trailer and a 5th wheel within 24 hours of posting the ads! And despite the recent"feeding frenzy" among RV buyers, I've still managed to negotiate several great deals for clients – including saving a Grand Design mid-bunk buyer over $5000. from the dealer's initial offer!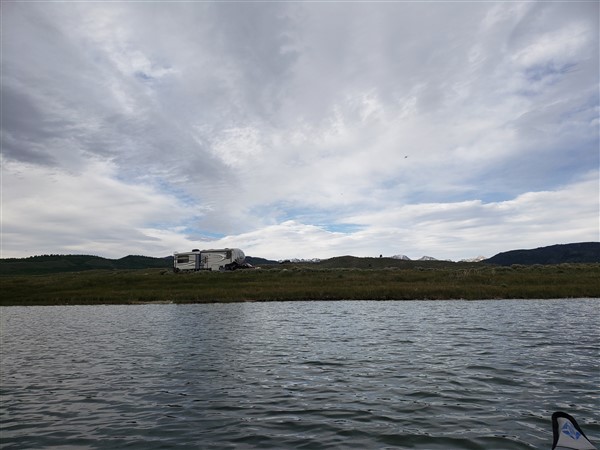 An overview of each lake in the Pinedale region…
Some have easy access, some not so much. Some are "big rig" friendly, others, not so much. Some offer cell access, others not so much. The video above will give you far more perspective and an understanding of where each lake is, but here's a summary of what I discovered as I visited each lake:
Fremont Lake – Roads leading to the campground along this lake are mostly paved. Definitely big rig friendly. The campground is a National Forest Service (NFS) campground. Cost is 12/night unless you're on the golden pass – at which point you pay 1/2 price. There are some "double sites." Verizon cell service was generally strong throughout. "Waterfront" sites are still a ways above the water AND there is THICK forest between the sites and the water. Don't plan upon walking from your site to the water! The water here is CRYSTAL CLEAR and COLD! There is a boat ramp in the campground as well as at the south end of the lake – along with a swim beach. I chose NOT to camp here.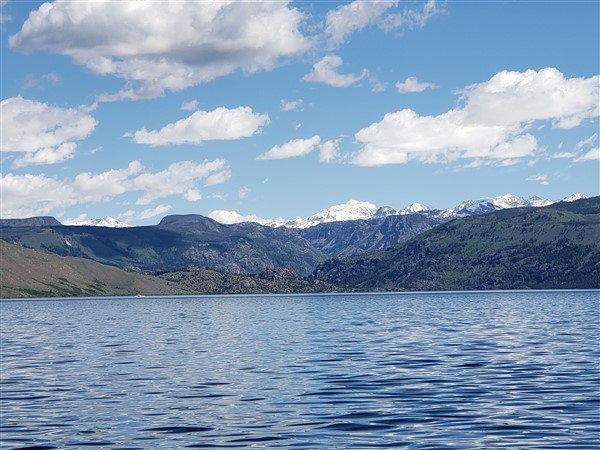 Boulder Lake – Rugged. Mostly dirt road to the campground, washboarded and rutted. There are a few pull-offs before reaching the campground that lead down to the lake where a larger camper (that has been rattled alot!) can camp lakeside – with NO cell service. The campground is VERY rough with small wooded sites (likely 23 ft. max trailer length.) NO camping fee IF you camp in the dispersed area; otherwise campground is NFS or BLM managed.
Half-moon Lake – Just past Fremont Lake, over a hill so again – NO CELL SERVICE in most of this lakes region. Also very rugged getting in/out of the lake area. Campground is waterfront, but sites are small and heavily wooded. Don't bring over 23 ft. trailer into this campground! (Campground is $10/night)
Willow Lake – Located beyond Soda Lake (you drive right past Soda Lake). There's a STEEP climb (on dirt / gravel roads) to get to the lake, and then you drop into it – almost like you're dropping into a crater! If your gut allows you to get up / down the entrance road (with steep dropoffs), you're rewarded with waterfront sites, plenty of room for big rigs, but NO cell service at lake level. Dispersed camping along this lake has NO charge.
Soda Lake – So far my favorite! Its small – I can kayak the perimeter in an hour or less, and LOTS of mosquitoes, but reasonable cell service (Verizon) at most locations. Also NO charge for camping here. This lake and the others have a 14 day stay limit. From my site (yep, I'm here now for my 2nd (and 3rd?) week in the Pinedale region) I can reach Pinedale in about 20 minutes!
There's MUCH MORE posted at a follow-up post to this one – click HERE.
Pinedale Wyoming Highlights
As I noted earlier, Pinedale is a town of 2000 residents – the largest within about a 75 mile radius! Yet, Pinedale has a FIRST CLASS aquatic complex – olympic pool, another pool with an active current to walk/swim against, rock climbing wall, cardio equipment, and a hot tub! Senior (60+) memberships are $23 for an entire month! So far I've been there every day they're open (closed on Sundays.)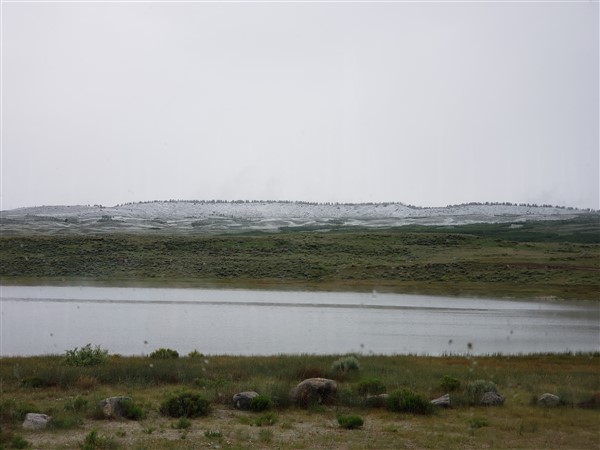 I joined last Wednesday and have been every day since! I've resumed swimming 500+ yards daily along with enjoying some additional exercise options in the facility each visit. The town is also GREAT for recreational bicycling. Roads are wide, not busy, relatively flat, and there's even some bike trails!
The aquatic complex has also helped me to minimize my water usage while out at Soda Lake as I can shower here daily.
An interesting side-note about my health – and perhaps something for you to consider…
Pinedale as I've noted is up around 7200 ft. elevation. I've been biking, swimming and getting around with absolutely NO fatigue or limitations (remember I had a heart attack in Feb 2019 and 2 stents inserted.) I recall several months before the heart attack, I was visiting a region in Utah where I was over 6500 ft. elevation and I did NOT feel well – and my only solution was to return to a lower (5000 ft.) elevation. I'm thinking that was an early warning sign of what was going on in my arteries – and now I have the energy of a 20 yr. old as I go about my days here at 7000+ ft. elevation!
Pinedale FOOD
Pine Coffee Supply – a great little coffee shop! Cody owns and runs it. Highly recommend! Heart and Soul Cafe – indoor/outdoor seating, eclectic restaurant, order at counter, then they bring food to you; EXCELLENT food, very good coffee, open for breakfast & lunch. I've eaten at Heart & Soul several times now, their oatmeal pancakes are the BEST; lunch is solid as well – you'll find offerings there you won't find in most eating establishments… AND they work!
The Wrangler Cafe is the closet thing to a diner in town. Open for B/L/D, dinner was "ok" (nothing to write home about), but I'd bet breakfast is pretty good – but they'll have a hard time beating Heart and Soul! There's also a Chinese place on the main drag, and a couple of Mexican restaurants. I may check them out before leaving town.
Pinedale Shopping
Hanks Hardware, Ace Hardware (both VERY friendly and helpful), Ridleys (actually this is a decent Ridleys), Outdoors Store (I've yet to check it out) and a bunch of gift/souvenir shops. There's also a "mailbox etc. type place called "Mooseley" – they agreed to allow me to ship an Amazon order to them and their fee for this service is quite reasonable.
Thoroughly enjoying my stay here
I'm almost inclined to spend the rest of June (its June 16 as I'm writing this) and all of July here! The aquatic center alone is worth it! I do have 2-3 more lakes to explore and I'll add to this post when I'm done swimming, kayaking, shopping and doing business! For now, take care – and – if you've just discovered by site, why not join my newsletter – you can enroll below and you know what to do!