SKIING AND RV'ing – PERFECT TOGETHER!
Important: I am working on a significant update to this post and the information within – please DO check back in SOON for this NEW info. I will remove this notice after the update is complete. 
It was a deal breaker. Yep, I had to know if I bought a RV that there would be a place to "camp" (aka – park it) at or near great skiing out west. And… YES THERE IS! In fact, there are MANY campgrounds that are OPEN ALL WINTER in the mountains, located within about 15 miles (or less) of PHENOMENAL SKI RESORTS and this is key…
Winter 2017-18 UPDATE… 
I'm planning to add MORE info to this post SOON (likely by Dec 10, 2017). Already you'll find below a link to my "Recommended RV Accessories" – including some IMPORTANT winter equipment to have with your RV.
RV Parks that Provide FULL SERVICE (full hookups) all Winter – Near Phenomenal (I'm not kidding!) Ski Resorts
My focus in this article is ski areas in the western states – specifically ski areas with RV parks near enough to make it realistic to live in the park (or stay for a few days) and travel to and from the mountain daily. I chose western ski areas because well, let's be honest, while some eastern mountains offer good size and challenge, the weather simply does not support good skiing on a consistent basis, hence the Rockies (and neighboring ranges) it is!
Idaho, one region in California, and one in Washington is as far west as I'm covering as the snow quality is generally regarded as better as you approach Utah, Wyoming and parts of Colorado. Areas farther west, particularly in central and southern Idaho have their days, your best bet for great snow is in the 3 regions I just named.
Unless otherwise noted, you can expect each of the following RV Parks (linked throughout the article) to provide running water to your site. Whether YOU keep it running from the hydrant into your rig is up to you! – and I have posts that advise you on what you'll need to insure this IS the case. At all campgrounds, you'll have full sewer, water, trash, snow plowing (you have to clear the immediate area around your rig), and typically cable and wifi (though this can vary.)
If you plan to spend the winter at any of these campgrounds, I strongly recommend renting a 120 gallon propane tank (contact me privately for recommendations as to who to rent from) over using your 30 pound (7 gallon) tanks in your RV. A 7 gallon tank can run dry in as little as 1-2 days in very cold weather AND you'll pay top dollar to fill it. When you fill a 120 gallon, you qualify for a quantity discount.
As stated above, I wanted to see which RV parks are truly NEAR great skiing, so unless otherwise noted, your site will be within 15  miles of the slopes – and often less – and in some cases, the town or mountain provide mass transit between the campground (or near it) and the ski hill. In each case, I try to provide a summary of each park/ski area and have stayed at several or at least visited each of those listed below. I have also created links to most of the ski areas from within this article to open a new page.
The parks/ski towns are in no particular order and if I have left out an important park/ski area, please DO let me know and I'll be glad to include it – and perhaps spend a winter (or several) at it!
This is my current winter playground. McCall is home to 

Brundage Ski Mountain

.

I ski and teach here (for the past 2 seasons). More of a "less developed" resort than some of those that follow, it has a loyal following here in the Central Idaho Mountains.  update: I've left McCall. I'll say this much – I'm not likely to return to Brundage in the future. I never say never, but… I'll just say 'highly unlikely'. Further, the campground here has raised their rates significantly – from 475 to 550/month during the winter. Lastly, there is another ski area I can recommend in this region – Tamarack Resort – they make snow, and their grooming is first class.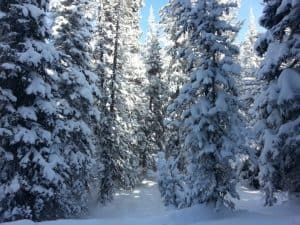 Idaho is an interesting state as Southern Idaho (Sun Valley, Grand Targhee) has "drier" snow than northern Idaho (Schweitzer). Brundage is in the middle and gets a good blend of dry and wet snow. As such, it has the ambiance of the Pacific Northwest without the "wet cement" often found in Washington and Oregon.

On Brundage Mountain, looking towards McCall and Payette Lake

A real benefit to this RV park is the indoor pool, hot tub, steam room, workout equipment! Monthly rates are reasonable, staff is great! The park is about 10 miles from the slopes and on weekends the mountain runs a free shuttle from town (about 1 mile from the park) to the mountain. The mountain road is well maintained.

Brundage itself has no slopeside lodging, but costs (lifts, lodging, lessons, rentals) here run about HALF of what you'll pay at the "big name" resorts (like some below!!)

I should also point out that you CAN "tailgate" in the Brundage Mountain parking lot with your RV, BUT, there are NO hookups (not even electric!!) This is also true of several – BUT NOT ALL in the list below. Call the mountain if your interest is to "dry camp" (boondock) in the ski areas parking lot – and be prepared for some VERY COLD nights.
**

Regardless of where you travel, don't leave home without this… (a failed water hose is one of the top "issues" winter campers encounter) – I personally use the hose below. It comes in 15, 25 and 50 ft. lengths and has a 3 year warranty (unprecedented!)
Steamboat Ski Resort

speaks for itself! Its a GREAT resort and a great town with over 12000 full time residents, it has all the amenities (good restaurants, services) that you'd expect. Steamboat is famous for "champagne powder" and yes, it often gets dumped on when most of the rest of the state misses out.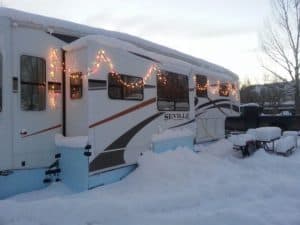 One of the premier KOA companies recently took over this somewhat run down RV park and I am certain they are busy upgrading it (and unfortunately raising the prices!) It does have a PREMIER location on the west end of town and you can literally park your vehicle and ride the Steamboat bus transit to get to town and the mountain (and its free – and runs often – and into the evening!) The park is only 6 miles from the slopes, but the buses are easy to run and it can take as little as 20 minutes from Steamboat KOA to the ski area (and no more than 30 minutes).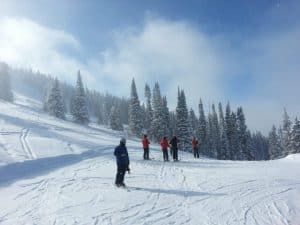 I personally spent 3 winters teaching and skiing at Steamboat and may return someday in the future. I have generally fond memories of the ski area and its people. I will say, I highly recommend Steamboat for the intermediate or advanced skier. As a beginner, there is limited terrain and other choices may prove better (notably Brundage above).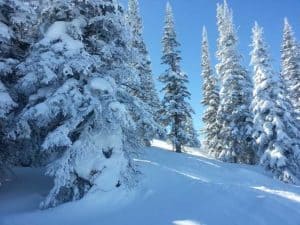 **Like Winter RV'ing? If so, I highly recommend you have an Extended Service Contract on your RV!! Let's just say I'm glad I have mine! Feel free to contact me for a quote that will likely be the BEST you'll see on a plan that IS reputable (I personally have it).**
Caution: This IS high altitude camping – about 9500 ft!! It is COLD and WINDY in this region. You'll burn through PLENTY of propane in order to keep warm (and keep the plumbing warm). Tiger Run is a PREMIUM campground located less than 10 miles from the slopes – and they DO charge accordingly!!

Breckenridge

itself is a MASSIVE ski resort and amazingly, it is just MINUTES from several others (Keystone, A-Basin, Copper, and even Vail). All offer high altitude skiing (lifts up to about 12500 ft). Summit County is only about 2 hours (or less) from Denver so expect holiday and weekend crowds!! Snow quality at this altitude is both consistent and quite dry. Due to the proximity of GREAT skiing in this region, it is a definite WIN if you want variety. DO however expect to pay top dollar if you ski one day passes at each area unless you've sought out a deal – often available pre-season, especially in the Denver area ski shops.

Sunrise at Breckenridge

Breckenridge Colorado itself is a very touristy town (in contrast to Steamboat which existed as a town BEFORE the ski area opened), but it does have a wealth of restaurants and shops.
Taos Ski Resort

is definitely on my bucket list! The rv park is about 20 miles from the slopes – just over my comfort limit, but, hey, sometimes you gotta compromise! I have not visited this park, but Taos the ski area is known for tough slopes and lots of sun. If you visit it, let me know your thoughts!
To locate, learn more about these parks and ski towns and study the region – I recommend "AllStays" – available to be viewed on your tablet/laptop and/or as an app on your smart phone.

This post

illustrates how I use AllStays to plan my travel and my stays.
Located about 1/2 way (6 miles) from the AMAZING

Jackson Hole Ski Resort

and the town of Jackson, this park DOES NOT provide full water hookup to your site during the winter. So, show up with a full fresh water tank – or be prepared to move your rig to the water access near the campground office (or so I'm told by CG staff). Opening in the winter is new to the Jackson Hole Campground, so changes may occur after my writing this – if so, let me know and I'll update.

BE AWARE: Jackson is a MASSIVE and TOUGH ski resort. It takes LOTS of snow to get it fully operational, so early season is NOT the time to show up. Personally, I'd wait until January or February. Speaking of January, Jackson is well EAST of the Continental Divide and since it is fairly far north, it can get VERY COLD there – especially in January!!

I have personally skied Jackson on several occasions. It was a favorite for my ski club to fly to back in the late 80's and early 90's. Fond memories, great skiing and a first class resort are some of the top thoughts that come to mind.

The town of Jackson is worth a visit but for this traveler/RV'er, its a bit touristy for my taste. If you go there though, be sure to visit the "Million Dollar Bar" (hey, once is ok).

Grand Targhee is about an hours drive (over a mountain pass) and is a powder hound haven and is much less visited than the world renowned Jackson Hole. There is a RV park on "that side" of the pass, but its close to 25 miles from Grand Targhee (in the town of Victor) and I don't believe they have full services either during the winter. For anyone who wants to spend more than a week, not having access to water hydrants at your site is a real issue.
**
As a traveler, I have come to believe in having a good dashcam – for MANY reasons. I have a review coming out on this dashcam very soon. I just purchased it and find it to be a well built device with EXCELLENT audio and video recording – and it comes with a 2nd rear-facing camera! I personally gave it a 5 star review on Amazon and posted my first video recorded with it just a day or two after receiving it!
Personally I'd LOVE to spend a winter (or several) at Sun Valley Ski Resort, BUT this is another park where water is NOT available at your site! And, the true shame is the park is just about 4 miles from Sun Valley's slopes!! It is honestly amazing to me that the owner does not update, but that's how they run their business.

Sun Valley is a world renowned ski resort with typically great snow quality (though not as much as is received by Brundage to its north or Grand Targhee/Jackson Hole to the east).

If you're traveling to ski country for just a few days, this may be a great destination and a rv park to consider.
Kellogg Idaho – Silver Mountain –  
Gold Mine RV Park
 (attached to gold mine attraction)
The park and its location are nothing too exciting, but its proximity to

Silver Mountain

is great – less than 5 miles to the parking lot and the lift to the mountain. Rates are VERY reasonable (last time I checked in 2015, it was $325 per month.)

Silver Mountain (like Brundage above) is (in my view) a "tier 2" resort. Not as big as Steamboat, Jackson Hole or Sun Valley, but potentially a great value with exceptional skiing on uncrowded slopes. Silver is unique in the sense that from the town of Kellogg (not far from Coeur D'Alene, Idaho) you take a lift up to the ski trails and then (typically) ride the lift down. In the "base village" is an indoor park featuring a full water park experience AND an opportunity to learn skiing indoors! (Look into this when you visit the Silver Mountain Website).
Edgewater RV Park is one of two in town (Sandpoint, Id.) that can serve as a launch point for Schweitzer Ski Resort. Edgewater is frankly a small park, next to the town lake and is VERY pricey for what it is. That said, it IS walking distance from "downtown" Sandpoint (look for a great Mexican restaurant there!) and is not far (less than 10 miles) from the ski hill (less from the parking lot at the base of the access road that is serviced by a bus running up to the hill.
Schweitzer is a fairly large mountain with good terrain BUT it is in the moist flow from the Pacific and often is foggy or experiences very wet snow (or even rain). There is also a substantial climb from town to the ski hill (perhaps 2000 ft). Personally, I prefer to live at about the same altitude as the ski area base. This is the case for most of the rv parks listed here EXCEPT for those in Utah – all of which are in towns or cities and you must climb (in some cases 4000 ft) the mountain base.

That said, Sandpoint has character and while I've never personally skied Schweitzer, I've heard lots of good about it – if you're willing to deal with the fog. Sandpoint is also within "striking distance" of a few GREAT ski resorts across the border in British Columbia, Canada (perhaps the subject of a future post?!)
There is another park just north of Edgewater (which is associated with the Best Western). I recall you cross the bridge and its next to a RV repair center. Perhaps Lake RV in Ponderay. Either way, they'll know if any rv parks are in the immediate area, are open all winter, and have better rates than Edgewater! For my money, I'd rather ski Silver Mtn or Brundage anyway!
 Note: I'm still looking for a good rv park near (5-15 miles) Aspen (any of their 4 mountains), Telluride, Purgatory – let me know if you know of any!!
Continuing with more parks…
Skiing the Salt Lake City Region (deserves its own heading!)
There are several parks in, around or just north of Salt Lake City (SLC). SLC is a major city (and airport hub). Located at about 4500 ft elevation, you will need to climb to the ski areas. Most have base elevations of 6000 – 8500 ft. In 2011-12, I stayed at Mountain Shadows RV Park (highlighted below).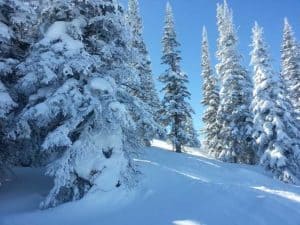 If you opt to stay in the SLC region, you'll be in a MUCH more moderate climate than staying at a RV park which is at a similar altitude to the mountain you're skiing. The bad news? You're going to have to climb between 2000 – 4000 ft to get to the slopes and at best it's a 30-45 minute drive – and if there's a storm, it can be much longer than that to get to the slopes.
To get situated, the nearest ski resorts to SLC are located in 3 canyons – Empire (Park City, Canyons Resort, and Deer Valley – no snowboarding!!); Big Cottonwood (Solitude (aptly named) and Brighton; and Little Cottonwood (Alta, Snowbird – these 2 are the most challenging of all!)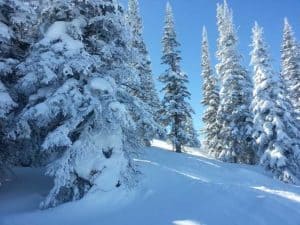 Park City has its own RV Park (see notes below). Pony Express RV Park is the closest RV park in SLC to ski areas in the Empire Canyon; Mountain Shadows RV Park is closest Little and Big Cottonwood Canyons.
Farther north (less than 1 hour), the city of Ogden serves as the gateway to Snowbasin and Powder Mountain Ski Resorts. Ogden has at least 2 rv parks providing full services, again at lower altitudes so it's not as tough to set up camp in the winter – and keep your RV in good working order. You STILL need to know nights get cold and you must make preparations! You can find a series of articles I've written that will help you prepare for winter camping in your RV HERE.
Layton, Utah is about 1/2 way between Ogden and SLC. If your intent is to spend some time skiing the "Ogden resorts" (Snowbasin, Powder Mtn) and then the SLC resorts, Layton may be a great middle ground.
Pony Express is a large urban park with many sites. It is centrally located in Salt Lake City and is near to much shopping (including Sams Club). You can reach all the SLC ski resorts within an hour or so from Pony Express.
I have personally spent a winter here. Mountain Shadows is located in Draper, about 15 minutes south of downtown SLC. Draper is somewhat suburban and has much retail and coffee shops. There is a diner nearby with great breakfast food and Camping World is just 1/4 mile north on the same access road the rv park is along (just east of I-15). There is an indoor hot tub in the park and a small playground area.
The Park City RV Resort is literally minutes from Park City Ski Resort, Canyons and Deer Valley. You're nearly at the same elevation as the ski resorts. It is definitely colder here than in the Salt Lake valley rv parks. Because of the nature of the canyons in this region, getting to Big and Little Cottonwood requires traveling back towards SLC before turning into either canyon. It will take well over an hour to reach any of the ski areas in those canyons.
Wasatch View is the closest RV park in Ogden that provides access to Powder Mtn. and Snowbasin. It is near Ogden Canyon Rd. which leads to the ski areas about 20-25 miles and 2000 – 3000 ft. away. Ogden is not as big a city as Salt Lake City, but it still has access to all the services and amenities you'd expect from a reasonably large urban city.
Layton is about 1/2 way between Ogden and SLC. While it is not "near" any particular ski area, it is a central location and none of the ski areas are too far. It is again in the Salt Lake valley so winters are much more moderate than staying in the mountains. I've personally stayed here. This rv park is actually a real community and has many families living in it full time. Rates are reasonable and the managers on site are very friendly and accommodating.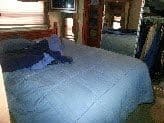 Leaving the Salt Lake City / Utah ski resorts. A few more to share in Montana and California.
Whitefish Ski Resort

,

formerly known as "The Big Mountain" is a large ski resort with a wide variety of terrain. The town of Whitefish is a medium sized town with lots of good restaurants, retail stores and more. The ski area is in a similar climatic zone as Schweitzer in Idaho, winters are typically not too cold (due to their location west of the Continental Divide). This is a stark contrast to the much colder and drier resorts of Big Sky and Bridger Bowl near Bozeman east of the Divide.

The big downside to this region is the frequency of fog and wet snow (compared to dry powder east of the Divide at resorts like those in Summit County, Steamboat, and Jackson Hole). Dry powder is also found in Utah in Little and Big Cottonwood Canyons – courtesy of their high altitude.
Coachland RV Park is a large park situated just outside the town of Truckee. Just off I-80 and on the north side of Lake Tahoe, this is an ideal location to setup "basecamp" to ski Squaw Valley, Northstar at Tahoe, Sugar Bowl, Alpine Meadows, Mt. Rose (high altitude, 25 min from Reno), Donner Ski Ranch (smaller, family oriented resort), and Boreal Mtn. Resort.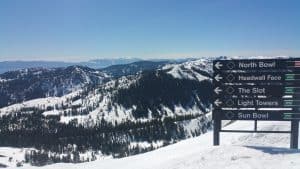 Skiing in this region can be quite variable – sometimes great powder, sometimes real thick "Sierra cement", and other times nice, groomed to hard pack trails. I last skied this region in April 2016 and hit 70F weather (and spring conditions), it was amazing!

My personal favorites in this region are Squaw Valley and Sugar Bowl. Between the two, Sugar Bowl is definitely a better value with more affordable lift tickets and still plenty of terrain and variety to keep you going for days!

Coachland itself is your basic RV park with location being its number one feature, and Truckee is a bit touristy as a town but the ski shops are helpful and there is a good diner with some interesting history to it in the downtown area. Look for the free parking otherwise it can get pricey just to park your car, but hey it IS California!
 One thought about Washington skiing…
After meeting with a couple of journalists from the west coast, I decided to include Crystal Mountain. Crystal is within 2 hours of the Seattle metro area and can expect in a typical year tons of snow – but much of it of a very wet or thick variety. This is likely just fine on the groomers (groomed runs), but very challenging for any un-groomed (off piste) terrain.

Crystal has RV Parking on-site with electric available. There is a 14 day limit, but heck, you can't beat the location! Here is the link to their RV Parking page – https://crystalmountainresort.com/arriving/rv-parking/

The ski area itself is quite large – over 3000 ft. vertical rise from base to peak and 2600 skiable acres. I'm sure Crystal attracts a local crowd from all over western Washington and even Northern Oregon.
**Like reading about skiing history? Here is a GREAT article about Mt. Hood, Oregon Written by Vicki Hoefling Andersen, I had the privilege of skiing with her earlier this winter at Brundage!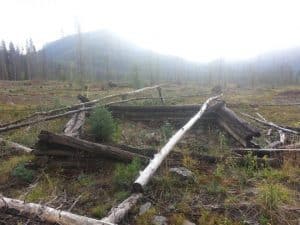 In closing, RV camping and skiing in the mountains can be a VERY rewarding and fun family experience – but planning and preparation are KEY. Be sure you review my posts on how to prepare your rig for winter living (particularly extended winter living) – my site RVAcrossAmerica.net has an entire section dedicated to what I do and what I've learned in my 5 winters in the mountains. Go prepared!! Take note of the heated hose and dashcam I shared earlier. If you stay for an extended period, you may also need a skirt. Further, a good road service provider is ESSENTIAL – refer to my banner for Coachnet above (with a special offer who go through my banner). Lastly, I encourage you to subscribe to my periodic messages (enter your email in the space provided – likely above this post) and please do leave me feedback below to what is becoming a 4000 word message in this mega-post!
Like the content? Want to receive updates as they're created? Join me here…