UPDATE (Spring 2021): Recently Thor bought out Tiffin and Vanleigh RV. Thor's track record with companies they take over is very POOR. I personally saw what happened with Jayco when this happened a few years back. I no longer recommend Jayco because they're NOT the company they were prior to Thor's takeover. While I HOPE this doesn't happen with Vanleigh, I am NOT optimistic. As I write this, VERY FEW 5th wheel manufacturers remain who are NOT owned by Thor (or Forest River.) About the ONLY companies I can think of (for a reasonable cost) are Outdoors RV, Arctic Fox and Alliance. Contact me if you're looking for a 5er and you want solid, unbiased advice AND a guide by your side. Here's a link to my Concierge RV Buying Service. Thanks! Alan
I wrote this post after a long conversation with one of Vanleigh's top engineers. Vanleigh (pronounced "van lee") is a division of Tiffin – one of the most well-respected motorhome builders in the industry. In fact, the Van in Vanleigh is the son of Bob Tiffin, owner of Tiffin Motorhomes and Leigh is his grandson!
Please allow me some latitude as you read the first few paragraphs as I am setting the stage for WHY I'm talking about Vanleigh, so with that, allow me to begin by sharing my story…
Prior to purchasing my Outdoors RV Glacier Peak, I spent TWO YEARS researching well-insulated 5th wheel trailer options. You see, not only am I a full-time traveler (since Autumn 2011), I am also a ski instructor in the Rocky Mountains all winter – AND – I live in my trailer where temperatures sink as low as -35oF during the long, cold winters. So, what I chose as my full-time HOME mattered!
I also have about 5 years' experience in the RV industry in sales, service and warranty. I've seen companies that care about building a quality camper and companies that slap together a trailer and count the hours until the warranty runs out.
Incidentally, a well-insulated camper is ALSO important to those who live in very HOT regions as good insulation works both ways. In addition to exceptional insulation and solid construction, I knew my next trailer (which I purchased in 2018) would HAVE to be spacious yet not too long.
I learned that trailer length is NOT your friend as I've traveled the intermountain west over the previous 5 years and found many camping areas friendly to campers generally UNDER 35 ft. – and not much over.
Note my use of the term "camping areas" as I'm NOT your "KOA" or "Good Sam" camper, I LIKE dry camping (boondocking) and that often means getting "off the beaten path" to areas where camper length is NOT your friend. PS – two great discount campground memberships can be found HERE.
I also absolutely needed a "full profile" 5th wheel. These 5th wheels are the type that allow for deeper slides, "east-west" beds (see the floorplan below for clarification), larger refrigerators and convection/microwave ovens and more storage (than a mid-profile 5th wheel.)
I was thrilled to learn in 2016 that in the following year, Outdoors RV (ORV) would be building a full profile 5th wheel that would blow away anything else in its class – and two years after purchasing in the fall of 2017, I can affirm that ORV hit a homerun! My ORV was built in October 2017, monikered as a 2018 and as things turned out, was the LAST full profile 5th wheel built by ORV at least for the foreseeable future.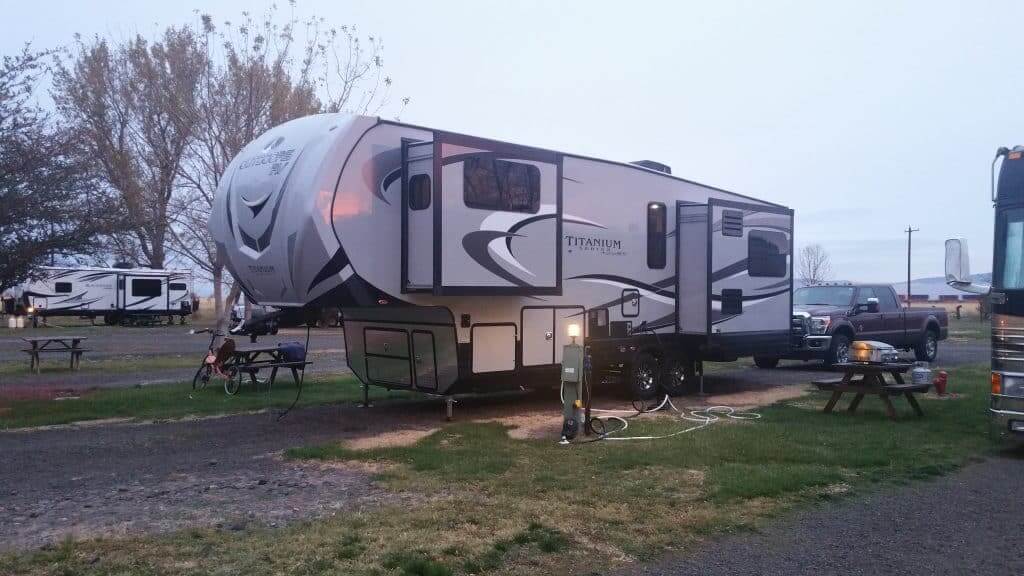 ORV ceased production of their full profile 5th wheels for one simple reason. As a small manufacturer, they have to produce what they know they can sell and knowing the 5th wheel market IS much smaller than the travel trailer market, their current offering in 5th wheels is limited to two "mid-profile" models (great campers – BUT – not for full-time use in my humble opinion!) I'll close this section with the following definitive statement: When it comes to travel trailers, ORV is just about the BEST IN THE INDUSTRY with a full selection of couples trailers, bunk models and toy haulers.
This is where Vanleigh comes into the picture…
As a full-time traveler and as a Concierge who provides a service to RV buyers, when ORV abandoned their full profile 5th wheel models, I wanted (NEEDED) to find another quality manufacturer of 5th wheels that offers a quality full profile camper and is not priced in the stratosphere like New Horizons or Spacecraft and, well frankly could offer real competition to the ONLY other quality 5th wheel manufacturer I can really recommend to my clients – the Arctic Fox by Northwood.
I've been aware of Vanleigh since 2016, but was reticent to recommend them – until…
There are a few immediate deal-breakers when I look at campers – one is the fresh-water tank size. As a full-timer who dry camps fairly often, I will ONLY consider and recommend campers with a LARGE fresh-water tank. It's a basic thing, but if you've ever dry camped, there's nothing more frustrating than running out of water! My ORV 5th wheel has an 82-gallon tank. When I first looked at a Vilano (one of the Vanleigh model series), it had a 54-gallon fresh-water tank – to me that was a deal killer.
I'm pleased to report the newer Vanleigh 5th wheels have been outfitted with a 70-gallon water tank – to me that is MUCH more appropriate for the type of camper they are. Combined with the design and engineering features I'm about to discuss, I can honestly recommend these campers as a top choice for anyone looking for a high quality, 4-season, full-time living 5th wheel camper.
Vanleigh – they GET it!
Another deal-breaker in my view is the camper length. For anyone who appreciates "boondocking" – getting off the beaten path and finding the BEST campsites – buying over 35 – 36 ft. (real total length) is NOT an option. Vanleigh has TWO models at 34′ 11″ (true length bumper to hitch.) One is on the Vilano line (luxury) and Beacon line (ultimate.)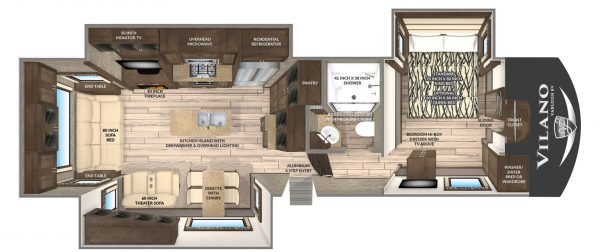 As I mention in the caption above, Vanleigh has two high-end 5th wheel camper lines – the Vilano and the Beacon. Later in this article, I will detail the differences between the two.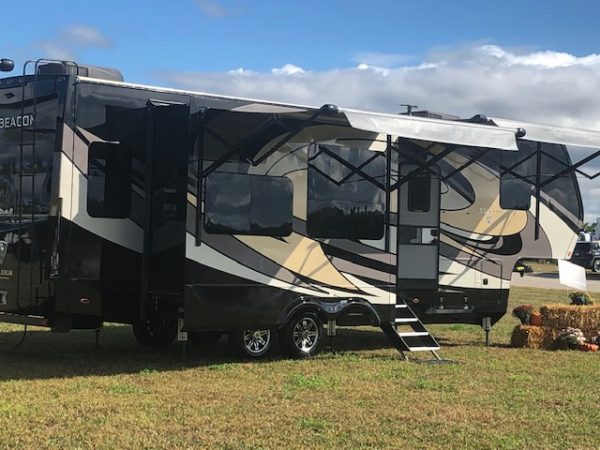 Specific issues I focused upon during my interview with the Vanleigh engineer…
When we spoke, I had a series of questions for him about the camper. Each was inevitably comparing it to mine (which for the record I consider to be the standard to beat!) – and – based upon years of experience traveling and being in the industry, I've learned what truly matters when selecting a 5th wheel camper.
Shocks on Axles?
This was my first question – and it was a fail for Vanleigh. No shocks on the axles. BUT – to Vanleighs credit, they're considering implementing this. For the record, ORV and Arctic Fox (who DOES make full profile 5th wheel trailers) offer this – and few (if any) others do.
Important: There were enough POSITIVES about Vanleigh in my view that it's worth continuing your read about these campers…
Any protection above the tires?
This is such a SIMPLE thing, yet MANY manufacturers, including Grand Design, earn a FAIL in this important area. I learned the hard way what happens when you have both inferior tires AND nothing of substance above them to protect the interior of the camper. Vanleigh uses a 14 mil Aluminum plate – at least as good as the best I've seen (Jayco, ORV, and Arctic Fox should all be credited with using this approach as well.) This plate protects the interior of the camper should a blowout and shredding occur. When this happened to my old Crossroads trailer in 2012, it caused $3000. damage AND several weeks in the repair shop as they had to repair the wiring AND plumbing under my RV fridge (and more.)
Tire Quality
Good tires are CRITICAL to avoiding the kind of disaster I just described. MOST manufacturers equip their campers with truly cheap tires that are referred to as "china bombs" in the industry. Vanleigh uses Westlake as its standard equipment. In my view, the jury is still out on Westlake, but to Vanleigh's credit, they DO offer an upgrade to Goodyear G or even H rated tires.
What material is under the slides (the slide-ski)?
I've seen several BIG fails in this industry underneath the slideout. Most notably Keystone and Forest River. When the underside of the slide fails, water will inevitably enter the interior of your slide – wood rot (and black mold) is sure to follow.
Vanleigh has a BIG win in this area as the material that's used under the slide box is called Haircell. It's an acrylic/plastic sheet that's pressed to a 1" subfloor. Which in return makes the bottom of the slide box impervious to water.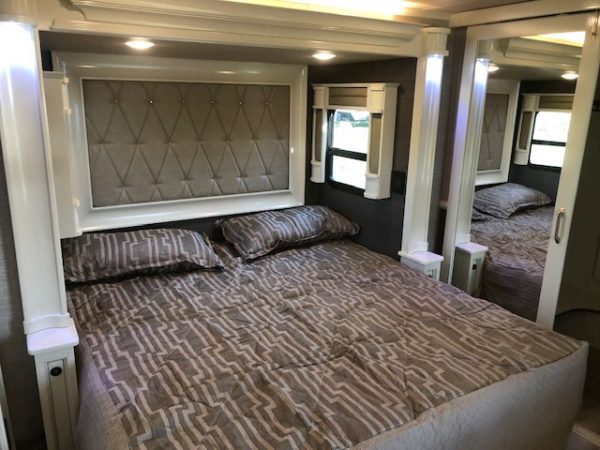 What's in the walls?
This is an area where many manufacturers cut corners and make all kinds of ridiculous claims. Know this: There is NO formal or legal definition to the phrase "Four Season Camper." That is, ANY company can make ANY claim they like about their campers "four-season prowess" and no one – neither the industry nor the government will hold them to it.
Rather than paying attention to often phony R-factor claims, I look at the walls and floors and ask – "what's inside them?"
All the best manufacturers use high-density foam board. It retains its insulating ability under all conditions, and can't "sag" the way "pink panther" (fiberglass sheets) do.
Vanleigh uses a laminated wall and 1.75″ thick block foam. The sidewalls are finished with Noble T60 high-gloss fiberglass, which is said to be four times thicker than most fiberglass panels and provides an attractive surface. Another well thought out design by these folks from Mississippi (which is where they're produced.)
Let's talk about the ROOF, FLOOR and the insulation therein…
The roof and floor joists are spaced on 16-inch centers and stuffed with fiberglass batt insulation, rather than foam board; this yields an impressive R-45 insulation value, which is at the top of the industry. Each area has 3 layers including r foil (flexible), 2 layers of batt insulation. Further, the roof is a heel-truss design – this prevents the fiberglass insulation from becoming compressed towards the outside edges of the ceiling.
Vanleigh's engineering of the roof and floor is equivalent to that done by ORV and Arctic Fox, a design which I consider to be the best in the industry – so – Vanleigh joins these companies as offering the best of the best. As I noted early on, I've truly "field-tested" this design and can certify it WILL get you through the coldest of winter weather!
How secure is the cabinetry? (Will it actually "stay put"?)
Believe it or not, some manufacturers use such flimsy construction methods so that as you travel down the road the vibrations literally rattle the cabinets loose and they FALL off the wall! (If you're wondering which manufacturers, yep, it's the USUAL suspects!) So… how about Vanleigh?
From the engineer: "All of our cabinetry is handcrafted hardwood, built inhouse in our 70,000 sq.ft cabinet shop. This includes all our doors, drawers, face frames, styles, facia legs, facia headers, valances, light boxes, and island. We use a 22-gauge steel backer to secure all cabinets, dressers, and valances to the walls. This results in VERY secured cabinetry, in fact, you can literally hang from the cabinet – the cabinet won't come off the wall! However, please don't try this in a dealer showroom!
Vanleighs approach here is different from what Arctic Fox and ORV do, but it sounds just as good to me!
We then talked about design features unique to Vanleigh… (I was impressed)
Vanleigh uses a water manifold. This makes Vanleigh one of two manufacturers using a copper water manifold. The essence of a water manifold is everything has its own separate water line, this helps to maintain pressure to each faucet. For example, in most campers when you're showering, if someone turns on the kitchen faucet, your pressure drops; not so in a Vanleigh! Further, if there is a leak, it can only occur at two points: the entry to the camper or the faucet – nowhere in between. No more tracing hidden leaks!
12-volt electric dump valve – all in one convenient center – no cable, it's wired. There is a cable on the override. This system has been with the Tiffin motorhomes for 4 years now and no issues!
Inside the coach – every wire is labeled.
Vanleigh uses an LCI (lippert) chassis, but it is custom-built to Vanleigh's spec AND it is designed to match the floor plan – hence their ability to include a large fresh water tank!

Multiplex system – control the entire coach – The Spyder Multiplex system is exclusive to Tiffian and Vanleigh. This a fiber optic system designed to control your entire coach. Each coach has a 9" digital control panel which displays all your functions, from lights, tank monitors, A/C temps, slide and awning controls and your voltage reading. They also provide 3 smaller touchpads that are backlit throughout the coach for easy accessibility. By using a multiplex system, it helps to cut down on the amount of weight carried using your traditional wiring. For every 10 wires, they're replaced by just one wire in the multiplex application. Further – ALL WIRES ARE LABELED!
A note about furniture quality & "pleather"…
I have to commend the industry in general as they move towards better quality furniture – both in terms of comfort and quality. Many of us have seen "pleather" furniture that looks good – for a while, but after a couple of years is deteriorating (badly.)
Vanleigh takes the move towards better furniture to a whole new level as they have an exclusive contract with Franklin Furniture, who's the 3rd largest residential furniture manufactory in the United States. Their trailers are equipped with TRUE residential theater seating and an 80" sofa. The cushions are made using a cool gel foam which contours to your bottom to give you that perfect snug fit. This is by far the most comfortable furniture in the 5th Wheel world!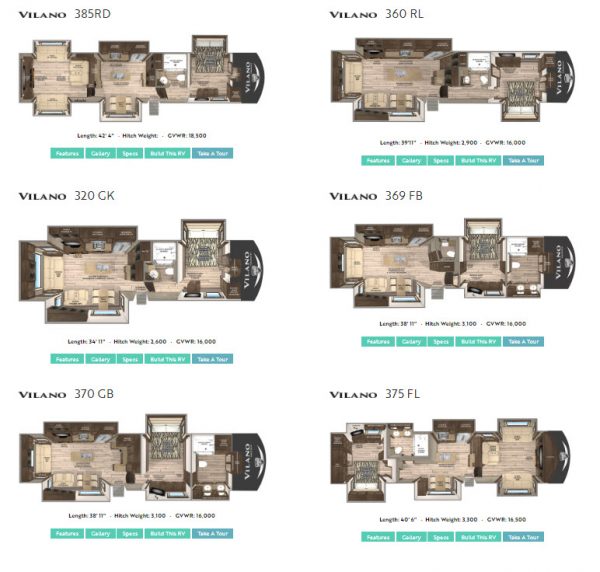 Final Thoughts on Vanleigh…
Final thoughts – when RV'ers enlist my services to help them get a new camper, Vanleigh is high on my list in the full-profile, full-time camping universe – and if (and when) I am ready for a new 5er – Vanleigh will be in my top two choices. With a "moderate" price tag for a new trailer, just like Arctic Fox campers, they ARE affordable. Further, their dry weight, the 35 ft. models are about 12400 – 13000 pounds. This is low enough that you won't need to go to anything more than a 1-ton truck (F350 or 3500) – and perhaps even a well equipped 3/4 ton will do the job for the shortest Vanleigh model. This is in contrast to Luxe, Spacecraft and New Horizon where dry weights are generally OVER 16000 pounds – a level at which I'd seriously consider something beefier than a 1-ton truck.
Lastly, 5th wheel trailers vs. other designs – I touch briefly upon this in my "5th wheel buying guide". You'll find, in my view, especially for full-timers, the 5th wheel is the most effective design for most folks, with a small number finding the Class A, Class C or even Class B motorhome as a viable option.
Vanleigh Buying Guide
The Vilano as noted above is a "luxury" series and the Beacon is an "ultimate" series. For 2020, MSRP's (retail prices) on the Vilano 320GK runs within a few thousand of $95,000. (depending upon options and transport fees) while the MSRP on a Beacon 34RLB runs within a few thousand of $127,000. Naturally, their larger (longer) models are somewhat more costly.
For those with a genuine interest in either series – Vilano or Beacon, feel free to contact me (traveler@rvacrossamerica.net) and I will get you a comparison sheet that details what differentiates the Beacon from the Vilano. There ARE some structural improvements in the Beacon that are not available (or are optional) on the Vilano. For those who wish to work with me as a client with my RV Buying Service, I will go through the differences in great detail AND help you to compare these campers to Arctic Fox – and any other camper that may present itself as being as well built.
Like my content? Want to be notified of new posts are they are released? You may wish to consider joining my newsletter list below…