All About 5th Wheels – The good (even great), the bad, and the downright ugly…
Or…Why are so many 5th wheel trailers built SO poorly?
AND… which manufacturers DO build a quality camper INCLUDING a relatively NEW 5th wheel manufacturer who is building an excellent camper.
About me… I've been full-timing for nearly 8 years now and I've been an "insider" in the RV industry for about 5 years. I live the RV life! I'm a full-time traveler in a 5th wheel trailer and I even spend my winters in the Rocky Mountains where sub-zero temperatures are common! I teach skiing at Jackson Hole Mountain Resort – and if you're in the area, I'd love to hear from you.
I truly enjoy the 5th wheel RV trailer I own. When considering all the various types of RV's (fifth wheel, travel trailer, motorhome, etc…) for a full-time traveler, the fifth wheel makes the most sense (in my humble opinion!)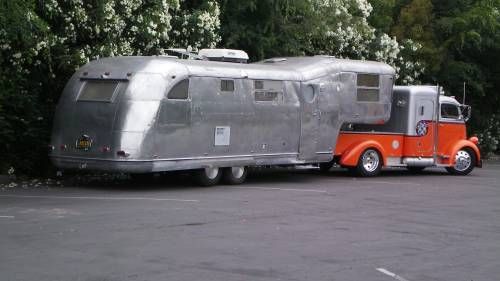 Here's Why – In a 5th wheel, you get lots of space (AND storage) even with a modest length trailer (mine is under 35 ft.) Towing a 5th wheel is far more stable than a travel trailer. Further, once you set up camp, you have a good, solid truck to travel around with.
One thing I've learned as I travel across our amazing nation, in many areas you're only a couple of turns from dirt and gravel roads – and many of the best hot springs and waterfalls are miles up a washboarded and pitted unpaved roads. A truck is clearly the best mode of travel (or a 4×4) into such regions.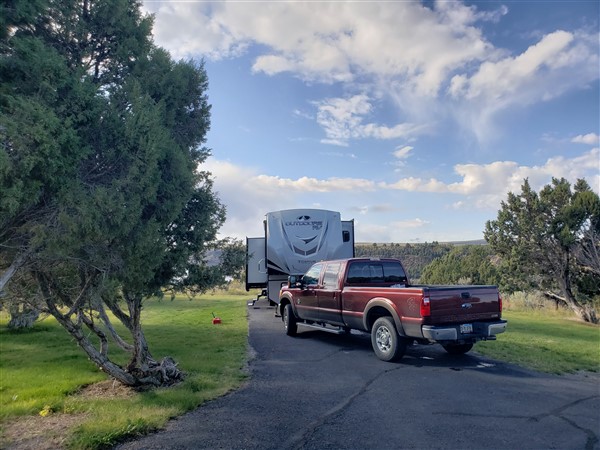 Think of what follows as a Fifth (5th) Wheel RV Buying Guide
As an industry insider, I have arrived at two important conclusions.
Far too many RV manufacturers simply "slap together" a trailer, put some "lipstick" on it (bells and whistles) and ask people to spend hard-earned money on something that will be nothing but trouble down the road.
Far too many consumers are focused upon the "lipstick" and not upon the actual construction, quality of materials, and engineering of the camper they're considering. This is what allows the RV manufacturers to CONTINUE to get away with building inferior products. "We" consumers keep buying them!
Solid Advice: Do your research BEFORE plunking down your hard-earned money on any RV camper!
Before purchasing my current 5th wheel trailer, I spent two YEARS looking (hard) at the current crop of 5th wheels (new and used) before replacing my first 5th wheel. I was (at the time) working for an RV dealer in Wyoming – an experience that served to open my eyes to what MOST manufacturers are building today that they think "passes for" an acceptable 5th wheel – and – I was privy to seeing just how each manufacturer handled the multitude of warranty issues that arose.
When it comes to trailer build quality and warranty service, what I found was VERY disturbing. Unfortunately, the norm in the RV industry is performance WELL BELOW the expectations of MOST consumers.
At least when it comes to MOST products. For example, I know of very few people who would put up with the kinds of issues they mostly tolerate in their RV if similar issues were to occur in their car or truck.
Like to talk RV'ing? Join us HERE on Facebook OR HERE on MeWe OR HERE on usa.life
Before you get too depressed – I MUST point out – its not all bad news – but FIRST a little more of the ugly (bear with me – you NEED to know this)…
When it comes to 5th wheels (and travel trailers) I've seen more campers than I'd ever want that leaked (even when BRAND NEW), had slides fail due to underpowered slide motors (within months of purchase), had the underside of slides crack only to expose the interior wooden interior that MUST remain dry, had awnings fall off (due to poor construction – or downright lousy engineering), had the underbelly cover fall down, had the entire freshwater tank fall out, and more.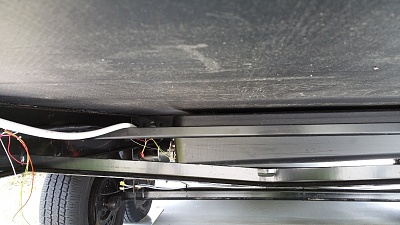 I've seen "four-season" trailers that claim superior insulation – and when we removed the front cap (because the frame failed), all there was were 4 thin strips of "pink panther" batten insulation and the manufacturer passes it off as a "0 degrees F ready!"
Another all-to-common issue occurs when the manufacturer uses sub-standard tires, destined to fail within weeks or months after purchase and provides virtually NO protection of the interior of the camper so that when the inevitable blow-out occurs, thousands of dollars of damage occurs inside the camper resulting in weeks (or LONGER) in the RV repair shop.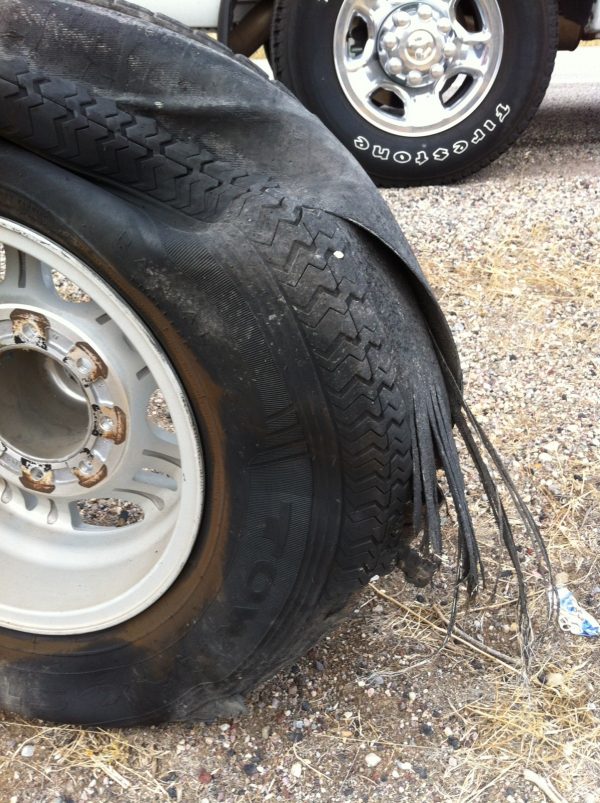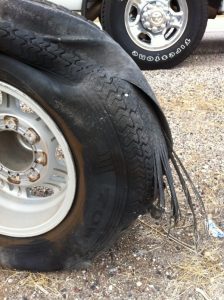 I've seen new campers arrive at the dealership that smelled (badly) from formaldehyde! Not only is this NOT good for your health, but its a tell-tale sign that the manufacturer is NOT using real wood in the construction – instead of marine-grade plywood designed to withstand heat, cold and moisture; the manufacturer substitutes cheap particleboard (press-board) which is far less durable, warps when exposed to moisture, AND contains FORMALDEHYDE!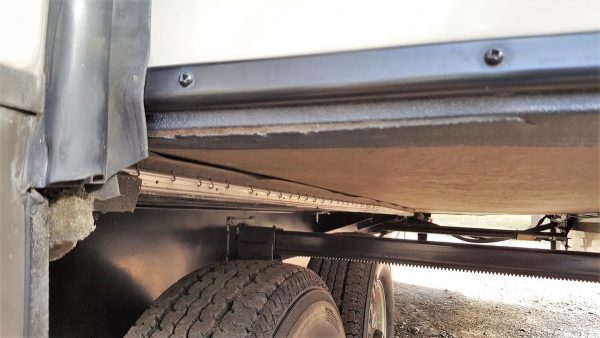 And yet, many consumers continue to purchase these campers because the manufacturers have "innovative floor plans" or a variety of bells and whistles (eg – over-priced fireplaces) to allure the naive buyer.
These same consumers are then frustrated when one (or more) of the above events detailed here occurs – and wonder then why their camper spends WEEKS or MONTHS in the RV service center.
How is ALL THIS MEDIOCRITY EVEN POSSIBLE?
The RV industry is largely UNregulated – lemon laws are NOT in place in most states and claims such as "4 season camper" have NO formal meaning.
This is ALL "by intent" as the RV industry has powerful lobbyists controlling you-know-who (the lawmakers.) It's with that thought in mind, that Forest River (one of the two big "holding companies" that owns dozens of the most POPULAR manufacturers) wins the true booby-prize… Forest River garnered over $250,000. in fines from OSHA as detailed in this ABC News report. Incidentally, Keystone (of Thor – the other big holding company) came in second place with 15,000. in fines.
Help is Here…
I started a buying service designed to help folks get the right camper – and avoid all the potential pitfalls when buying an RV – at the best possible price. In general, when someone comes to me as a client of my Concierge RV Buying Service, I work with them to assess their wants, needs, and budget for a camper, my ultimate recommendation is almost NEVER to consider one of the many RV companies under the umbrella of either of the two big holding companies.
Do your research…
A word to the wise – many of the manufacturers under the "umbrella" of either Forest River or Thor do not "advertise" or promote their connection to Forest River or Thor. You have to do some real research online to find the relationship. I urge you – take the few minutes and search for who the owner of a particular rv manufacturer is before you seriously consider their camper for purchase.
When it comes to claims about RV campers – again for emphasis…
Since the industry is unregulated, KNOW that claims like "true 4 season" or "ready for full time living" mean NOTHING from most manufacturers. In fact, one of the absolute worst manufacturers advertises their 5th wheels to be the "best-insulated ultra-light 5th wheels."
And, why "ultra-light" (as in "super light trailer") is a good thing is beyond me! If you're going to get a fifth-wheel trailer, get the RIGHT truck for your needs. To me that generally means a 3/4 ton diesel truck (or better.)
Do ANY 5th wheel RV trailers pass my admittedly stringent standards?
Short answer: YES
Before I get into specific manufacturers I recommend, allow me to address two issues: AFFORDABILITY and WHAT TO LOOK FOR…
When it comes to buying a camper, I live by a simple credo – IF you're on a budget (and who isn't), I'd rather see you get a well built, gently used camper than a "slapped together" brand new one.
In the world of RV's and RV'ing, there are 2 "laws" to live by…
All RV's (ESPECIALLY towables) depreciate FASTER than a rock sinking in water, particularly in their first 2 years.
Often people buy RVs with all kinds of grand plans for how they'll use it – only to find that it turns into a giant paperweight on the side of their home. The end result, YOU can get a minimally used, "nearly new" camper for FAR less than the original owner paid!
Applying these two "laws", and getting quite specific, if you have less than $50,000. to spend on a 5th wheel trailer, it's quite likely you're far better off with a used 5th wheel trailer than a new one. When we get to "Alan, which specific manufacturers do you recommend?" I'm about to go there! And… if the manufacturers' new models that I recommend are beyond what your budget allows, then considering a used one that is just three or four years old is likely a very wise move. Even 10 years old in a few cases makes a lot of sense.
What matters MOST in a 5th wheel (or any RV Camper)?
Hint: It's NOT the floor plan! Allow me to be quite direct here – if the floor plan is perfect and the camper is poorly made, what are you really buying?! What IS important is the quality of construction – how it's built, the materials used to build it and more. Consider the following…
Specifics to look for when considering an RV Camper
Shortly after purchasing my Glacier Peak 5th wheel, I created two posts looking critically at my camper and explaining what I valued most about its design, engineering, and construction. I started with an analysis of the outside of my camper as that is where the game is won (or lost.) Here are a few things I looked for:
What kind of tires did the manufacturer use? Are they "china bombs" or a decent tire – eg: Goodyear Endurance, Maxxis 8008 are two brands I trust
What is above the tires to protect the camper from a blowout? (look for a metal plate, if not, you're at great risk of damage in the interior
Are there shock absorbers on each axle?
How is the underside of the slide constructed? Fiberglass is a good choice and used by very few manufacturers.
Is the furnace installed with a 4 screw full-size plate? If not, if the furnace fails, you'll be taking apart the interior of your camper to access the furnace for repair.
What's inside the walls? Are they laminated? (this is good) Is there high-density foam block – at least 1.5 inches thick – for insulation? The alternative is rolled fiberglass and that is problematic on multiple levels.
Is the chassis built to custom match the floor plan? This aids in weight distribution and makes for a better tow. AND often allows for a large fresh water tank
How large is the fresh water tank? If you plan on any significant amount of dry camping, 70+ gallons is HIGHLY recommended.
How much plumbing is exposed outside of the underbelly – and the underbelly should be heated!! I look to see virtually NO exposed plumbing as in sub-freezing weather, its a big issue.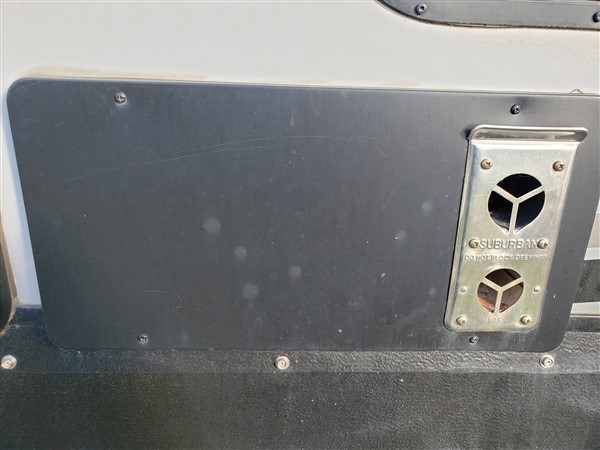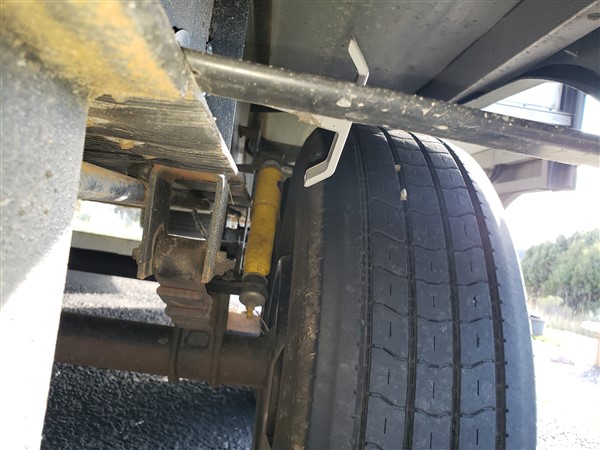 You can see how much you can assess before you ever walk into a camper! And there's more, both regarding the exterior and interior, but in the interest of brevity, I'll leave it to you to contact me if you're in the market and want more tips.
A quick note about ORV and my camper –
Clearly I was (and still am) a fan of Outdoors RV (ORV) as I own one and continue to be thrilled with its abilities and quality of construction. The only problem is ORV has abandoned their project to build full profile 5th wheels well suited for full time living. They still make two "mid-profile" models that are great quality but are best used for weekend / week-long camping. These models simply lack the storage space (particularly in the bedroom) and refrigerator size to be seriously considered for full time living.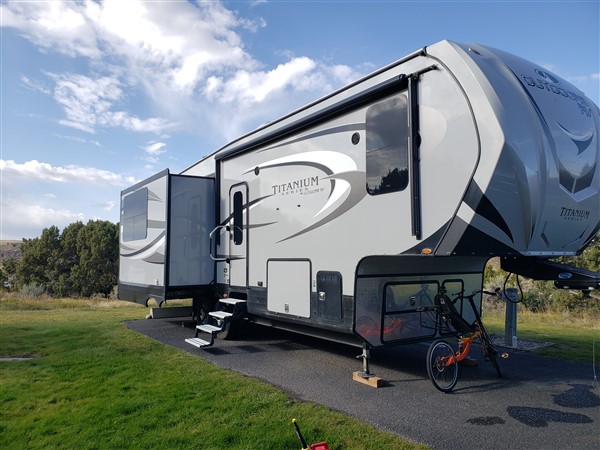 Ok, Alan, since ORV isn't making a full profile, full-time living, true 4-season 5th wheel at this time – got any other suggestions?
Yep, my "go-to" has been Arctic Fox who is owned by Northwood, the same parent company as ORV. Their 5th wheels have been around for years (a good thing as I often suggest buying a "gently used" camper as they cost FAR less than a new one.) Their construction is very consistent and they share many of the same construction and engineering attributes as are found in my camper. (Rather than rehash all the aspects of my camper that I view as important – you can click on the words "my camper" in the previous sentence and see what Arctic Fox is doing that impresses me.)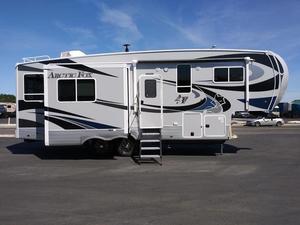 A note about Arctic Fox – and most of the others I'm about to recommend – you may have to travel to find a dealer. These are typically smaller companies and do not attempt to get into every dealer from coast to coast.
Vanleigh – a newcomer into the 5th wheel market is ALSO making a TRULY superior product (and they're not the only one)…
I recently had a very enlightening discussion with an insider at Vanleigh – a relatively new 5th wheel builder, but a builder who is NOT new to the RV world. Vanleigh has its roots in Tiffin – a Class A motorhome manufacturer with a Class A reputation. I will (very soon) be sharing the complete results of my in-depth conversation.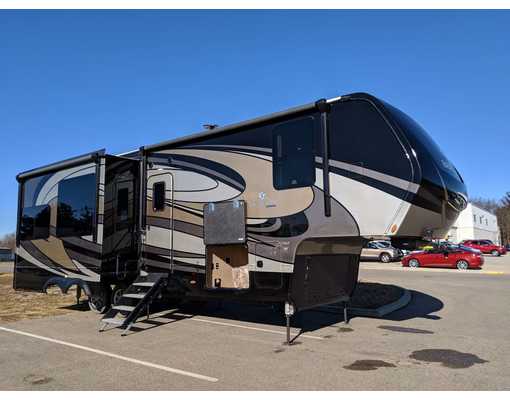 When it comes to high quality, well made 5th wheel trailers, I feel very comfortable with Arctic Fox, ORV, and Vanleigh. I know that each of these manufacturers also inspects EVERY trailer before it leaves their facility – this is FAR beyond the industry norm!
Keep an eye out for Alliance RV – due out in January. They are currently designing a prototype and appear to be on the right track! Stay tuned for more news on this company.
A quick note about SKIRTING – IF you plan to spend a significant amount of time camping in cold weather, an RV SKIRT will help you save money on propane AND avoid a costly freeze-up. If you want to see who I went to for a superior RV Skirt – Click HERE.
I would love to be able to continue to recommend DRV – Mobile Suites and Jayco, however, both have been acquired by Thor and I'm concerned about each manufacturers quality control. I can definitely recommend earlier models from both of these companies (primarily 2017 and earlier.)
Other companies who are no longer in business – but made outstanding trailers include Teton, Carriage, Nu-Wa, and Excel are worth considering. Although these models are in many cases now over 10 years old, if they've been well cared for, they're worth owning – and of course, can be bought for a fraction of what the original owner paid.
I'd be remiss if I didn't at least mention Spacecraft and New Horizons – both build truly exceptional custom fifth-wheel trailers – but that comes at a premium. Its not hard to exceed $200,000. on a custom build from either AND the truck needed to pull it is not your "everyday" 3/4 or 1 ton diesel!
In closing, I truly hope this information has proven to be of value to you. If you're in the market for an RV camper and want someone "who has your back", my Concierge RV Buying (and Selling) Service is designed to protect you along with saving you time, money, and aggravation.
If you like the content and wish to be notified of new posts as I create them, please enter your first name and email in the form below and click the button that says "I'm in!" AND… Thanks!
Lastly, I've updated my RV Accessories Page to make it easier to locate the BEST RV Accessories that I personally use and recommend.