Winter (Heated) Water Hose
You have TWO options here – a "no freeze hose" (PREFERRED – PREMIUM – "THE BEST") or a Camco – a distant second choice. With the No Freeze Hose, I have talked with the owners of the company, I have one, and believe it to be the clear leader in this category (the company also makes a few other truly superior products.)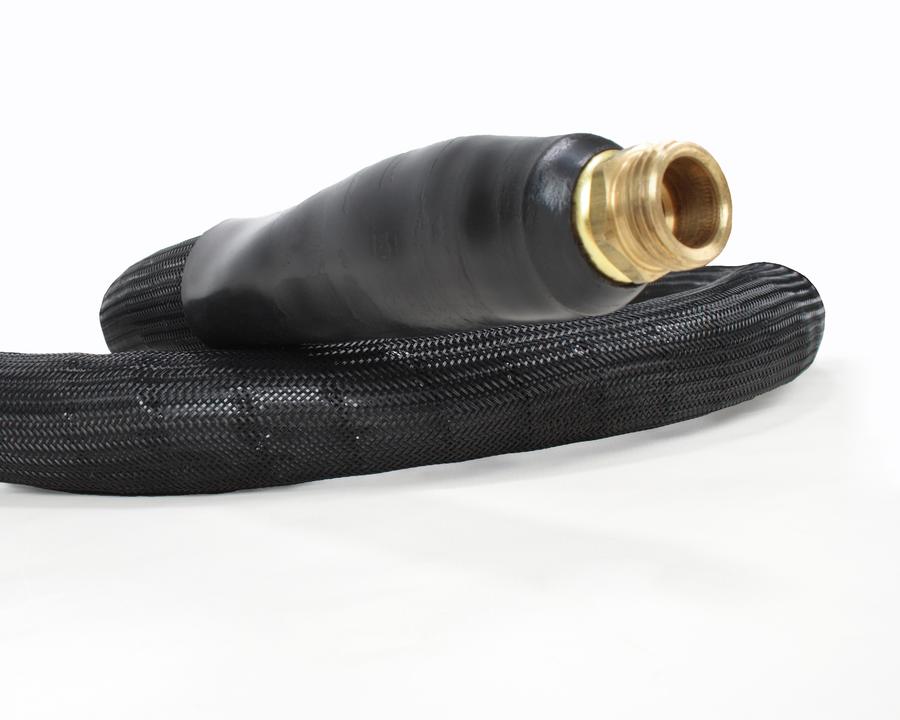 Again – click HERE to get all the info on the No Freeze Water Hose – and use code rvacrossamerica to get the best price when ordering.
Now for the Camco…
If you camp in cold weather in the winter, this hose is an invaluable tool! I've had mine for 3 seasons now. Camco places a 3-year warranty on it and guarantees its use to -40F. Since I got it, I can only verify its effectiveness to -30F (hasn't got below that in the past 3 winters where I am.) They make this hose in 3 lengths – 15, 25 and 50 ft. Recent changes in its design have improved it further. I just completed a review of the Camco heated hoses HERE.
Camco does make another series of heated hoses that cost less than 1/2 of the series linked above. You will see them on the same page that you land on using the image above. This other series has a 1 year warranty and is guaranteed to -20F.
Another Winter Camping Option – Heat Tape
Prevent your sewer hose from freezing up! I use this product as it is easy to wrap the tape around the sewer hose. Can also be used for water hose (if you don't have the PREFERRED solution detailed above – a heated hose.) This comes in various lengths – but – I've always found 15 ft to be sufficient. Note: Wrapping your sewer hose too tightly may result in melting the sewer hose – this can result in a real mess!
Insulation
For your VENTS inside your camper (in my case I use this in the bathroom & bedroom)…
You know how you lose the most heat from your body via your head? As the old saying goes, "heat rises", hence the need for this INEXPENSIVE device that INSULATES your vent openings…
Direct link to a Camco Insulating Vent Cover HERE
For your WINDOWS…
If you stay for prolonged periods in cold weather, this bubble wrap will significantly increase the degree of insulation you have with your windows – and light can still enter your camper! I've seen other approaches with (perhaps) better insulators, but the tradeoff is your camper becomes a dark cave.
This year, I am using some reflectix material for additional protection against the cold. Here's what I purchased –
To affix the reflectix, I used this double-sided tape – which seems to hold up well against the cold and is easily removable…

Note: The above Amazon links are tied to an associate account that I have with them. By using my links, you're helping me to fund RV Across America and the costs associated with maintaining a website like this. There is NO additional cost to you by using any of these links. You are (of course) free to purchase from any vendor using any link of your choice. I often suggest Amazon whenever possible simply because they are reliable and often offer the best price – and shipping is free if you have Amazon Prime.