I'm taking a few days to "decompress" after Vegas and Freedomfest. I'll have more from that event for you soon – I focused upon topics relevant to RV travelers, and I STILL have much more to come from Utah, including the San Rafael Swell… but, I ran across a place the other day I'd like to share with you. (I keep getting sidetracked… a bit of adhd perhaps?! 😉
Ok, Let me start here…
The Open Road from Vegas north…
I left Vegas on July 22, and headed (as planned) north and "up"! When I departed Monday at about 10am, it was already about 100F. Right outside of Vegas, I started climbing from about 2000 ft. to 6400 ft. and when I reached Ely, Nevada (pronounced Elee!) the temperature was in the low 90's and it was mid-afternoon. MUCH more livable!
What I did observe was about 250 miles of NOTHING between Vegas and Ely! Just a wide valley with gently sloping hills on both sides a few miles away from the highway heading north.
And I thought Utah was remote!! From Ely to Wells, its another 140 miles of virtually pure wilderness! In the video below, I condensed HOURS of driving into just a few minutes AND introduce you to 3 RV parks – including one at Angle Lake (near Wells) at about 8400 ft.
Love the RV Lifestyle? Want an RV but not sure what to get or what to pay? You can have a "guide by your side" who HAS YOUR BACK and will work with you to insure you get the RIGHT camper at the BEST price. Check out my Concierge RV Buying Service – click HERE.
Hours of Wilderness Driving in Nevada condensed to a few minutes (with great music!)…and…The Drive to Angel Lake
Two nights in Ely – and some kayaking at Comins Lake just outside of town (I have some great photos below – including some of the ducks with their babies, some in tow!)I
Did you see the photo of the Humboldt Mountains (just outside of Ely) with SNOW on the slopes? This photo was taken on July 25!
After leaving Ely, I headed further north to Wells. Wells is not much of a town – even the RV Park I stayed at in Wells – Welcome Station RV Park is about 8 miles outside of town! I stayed the max 2 nights that the Passport America discount afforded me (it's 50% off about thirty bucks a night for full hookups and a really nice campground) and then headed west to Elko – which is where I'm sharing all this with you now (on the 27th of July.) By the way – Welcome Station is a NICE RV Park!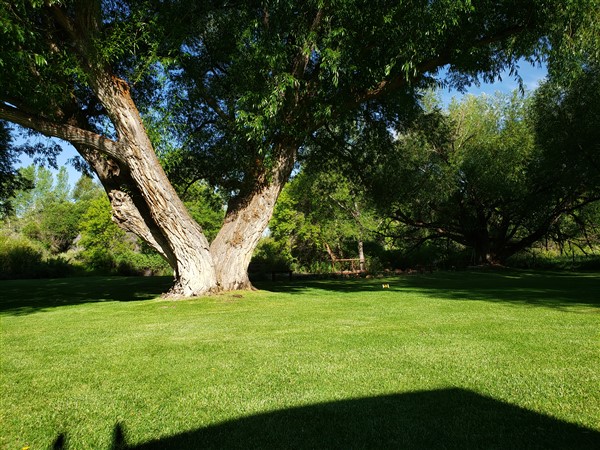 On my layover day, I did find some redeeming value in what appeared to be an otherwise dusty highway intersection of a town! Allow me to explain – Wells has no "downtown", it basically exists where US Highway 93 crosses Interstate 80 and that enabled someone to build a bunch of overpriced gas stations, a few fast food joints (though Bellas IS really good), a brothel (yep), and a few casinos (it IS Nevada!)
Wells – So why even bring this fleabag town…errr…small Nevada hamlet to you?
Well, it's not the community indoor pool (which IS nice), the quiet streets that enabled me to do a bike ride (also nice), it's actually Angel Lake. About 20 minutes outside of town and 3000 ft. ABOVE it. The video below shows you all you need to know! There is a campground up there, but, I would NOT bring anything over about 23 ft. up the road and into it. So, a Class B, SMALL Class C or a small travel trailer. I did see a few truck campers in the park (no hookups – but minimal costs.)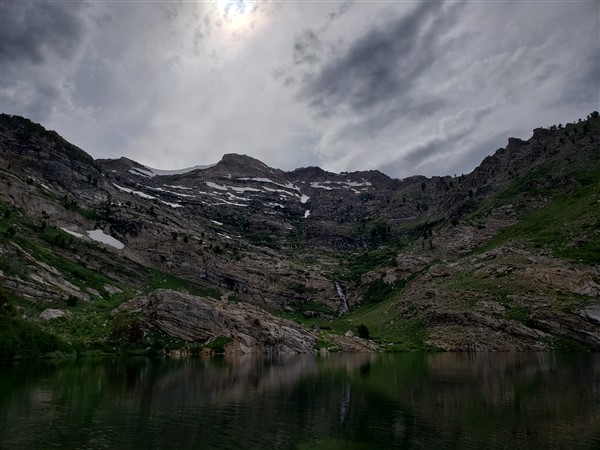 Frankly, I think the video says it all. Perhaps it was just the timing – at the end of a pretty darn good day – a day for which I set real low expectations! Or perhaps it was seeing snow "up close" in July – FAR more snow that is normal for that area this late in the Summer. Or perhaps its a sign that I'm getting ready to get back IN the snow – soon, when ski season inevitably approaches!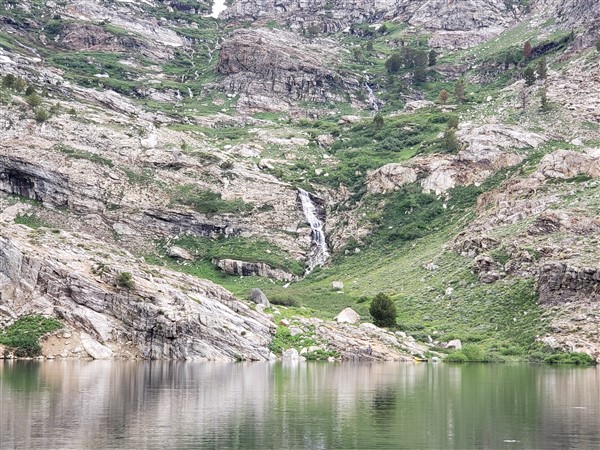 So…. enjoy Angel Lake, Wells, Nevada – an unexpected Gem
[embedyt] https://www.youtube.com/watch?v=5kg13wy09PU[/embedyt]
Hey, as you travel, you may find that discount rv campground programs can help you save some significant money – here's a recent post I did that details two I would not be caught without!
Like the info? Want to be on my mailing list to get the "next post"? See below…