Upon departing Liberty Lake Regional Park in early September, I headed north with the expectation of spectacular weather for the coming days (weeks?) and to explore unknown regions – well, unknown to me at least! This is my 2nd installment of my journey and adventure across the Pacific Northwest – look for more soon and find the first in the link above to Liberty Lake.
My first stop was Waitts Lake, located just southwest of Chewelah, Washington. Waitts is a small lake (I can actually kayak the perimeter of the lake in less than 1 hour) and has 2 campgrounds along it. This was actually an unplanned stop – I saw signs to it as I headed north, it did not pop up on my "radar" as I was looking over northeastern Washington. After visiting this lake, I honestly can recommend neither campground – especially knowing the spectacular region located just to the north!
Chewelah, Washington however does have a great Mexican restaurant (I LOVE Mexican food!) El Ranchito, located in the center of town has excellent food at a very reasonable cost. I highly recommend it as you proceed north towards Colville and Roosevelt National Recreation Area. El Ranchito is right on the route you're heading along that takes you to Colville and much of the Roosevelt National Recreation Area region.
Did you know that in addition to being your author and tour guide, I offer a Concierge RV Buying (and Selling) Service? After years in the industry, I found that too many folks either buy poor quality campers (motorhomes and trailers) and/or over-pay (often by THOUSANDS of dollars) for them – CLICK HERE to learn more about my service.
Colville, Washington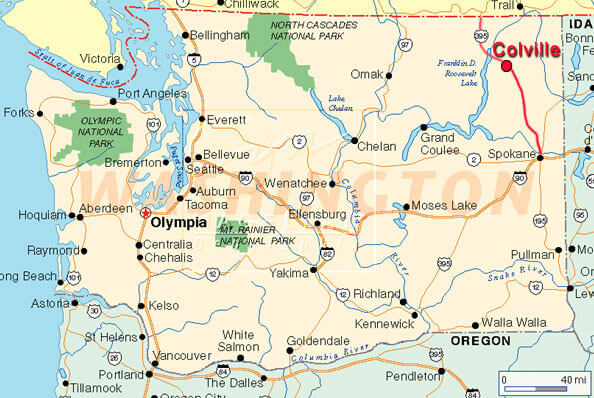 Colville is a medium sized town, easily navigable by RV. More importantly, it is the largest town for miles in any direction. It has a small RV park on its fairgrounds in walking distance to the center of town. The rv park is VERY affordable (I believe it was $15/night for electric only and yes, they do have full hookup sites as well which I think are $25/night.) There is a clean bathroom / shower complex that is centrally located in the park. I stayed at this RV park for a few nights as I "scoped out" the various campgrounds associated with Roosevelt National Recreation Area (NRA). I also received valuable "intel" from the camphosts who were there (and stayed at their post until late September.)
I opted to survey the available Roosevelt campgrounds before taking my trailer there as I knew the campgrounds were built many years ago (as CCC/WPA projects?) and as a result, they were likely not designed with larger campers in mind. So… before I pulled my 35 ft. long and 13 ft tall camper into any Roosevelt NRA campground, I wanted to visit first.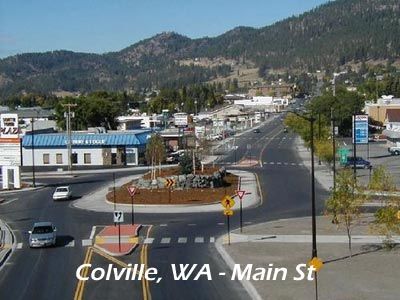 Colville also has several restaurants, two large grocery markets (Safeway and Super 1) and other services not found any farther north (including tire stores/service centers, outdoor sports store.) To give you an idea of proximity, the Canadian Border is just over an hours drive north of Colville.
Roosevelt National Recreation Area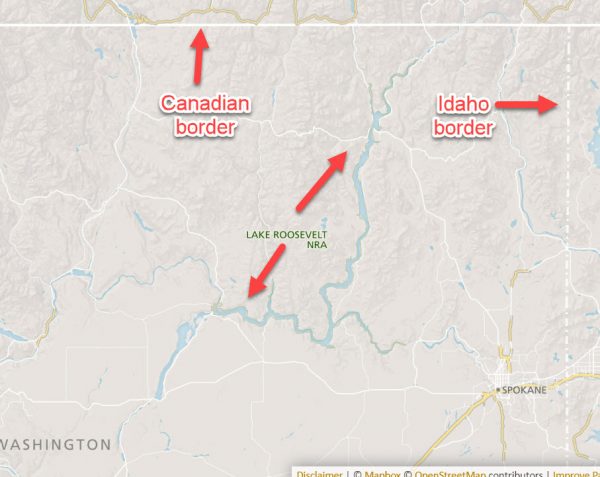 Roosevelt NRA is a long (30+ miles), narrow region that was created by the damming of the Columbia River at Grand Coulee in 1941. There are several National Forest Service camping areas, all of which are along Roosevelt Lake which stretches for miles to the NE and SW of Kettle Falls. One common feature of all the campgrounds is the fact that they are all dry "off the grid" camping. That is, there are no hookups of any kind at the campsites. Also being part of the National Forest Service, fees are quite reasonable and discounts are available if you have the right pass.
**CLICK HERE for my solutions for camping where no electric is available at the campsite. In other words, how to power your camper when its not plugged into shore power – with specific recommendations!**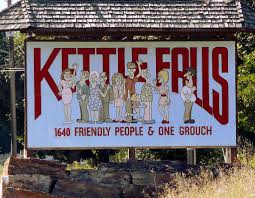 Kettle Falls, Washington
Kettle Falls is located about 15 minutes to the northwest of Colville. Smaller than Colville, Kettle Falls does have a couple of restaurants and a small grocery store of its own (refer to my video below about Kettle Falls & Kettle Falls Campground.)
The town of Kettle Falls, Wa. is fairly central to many of the Roosevelt NRA campgrounds. Several are located to the NE and NW of Kettle Falls, as well as a few being located to the SW – and again, virtually all are along the river turned lake when the Columbia River turned into Roosevelt Lake upon completion of the Grand Coulee Dam.

Kettle Falls is also home to the Kettle Falls Campground. Located about 4 miles from "downtown", its an easy drive if you forget any provisions!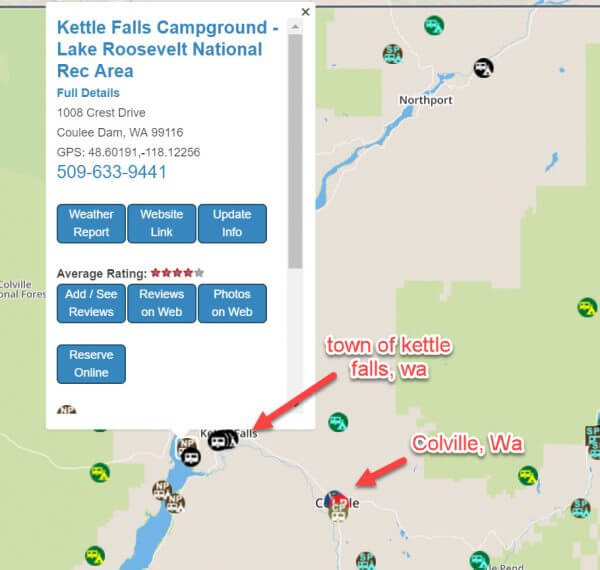 As you'll see in the Kettle Falls video, Kettle Falls Campground has three loops, one of which may accommodate larger campers (35 ft +.) The other two loops are best suited to campers under about 30 ft. length. There is an outstanding view from the waterfront sites, but access to the water is limited by a steep decline from the sites. In my "world" the ideal site enables me to put my kayak in right from my site! So… farther north I went to explore additional campsites.
Phone service was excellent in the Kettle Falls Campground (and neighboring marina where you CAN put a kayak in easily!)
North to Marcus Island Campground and beyond…
My next stop as I proceed north and east along Roosevelt Lake was Marcus Island. This campground is a beautiful spot. The following video details my exploration of Marcus Island.
As you can see, Marcus Island is a beautiful and isolated spot. Not far from Kettle Falls (or for that matter the Canadian Border), but quiet enough to make you feel like you're in the middle of nowhere. If you camp at Marcus Island, Kettle Falls (and Colville) will be your nearest services (fuel, grocery stores, hardware stores, restaurants, etc.)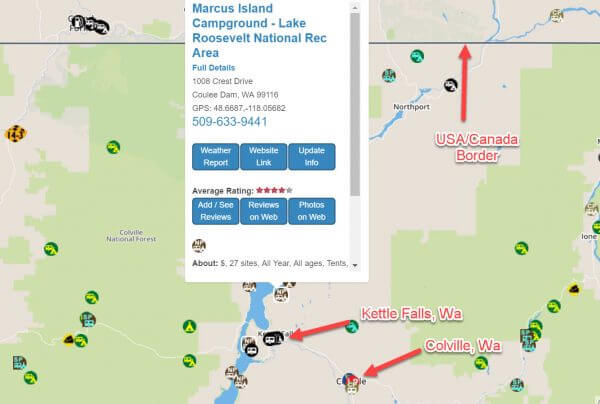 The north end campsites at Marcus Island offer excellent access to the water and a true waterfront camping experience, but you do need to travel a one-lane entry road for a half-mile or more and once at the north end, turn around space is limited.
At the south end, there are a few waterfront campsites, but access to the water is via a stairwell which may prove challenging to transport kayaks and other gear to the water. Verizon signal throughout the campground was very good and all sites (as in virtually all of Roosevelt NRA campgrounds) are dry camping only.
All in all, I can definitely see Marcus Island as a great camping spot – provided you understand the nature of one lane roads and are able to navigate through the campground. For me, I proceeded farther north in search of the ideal campground… more on this in an upcoming post.
In closing, if you found this information to be of value and would like to hear about new adventures, please join my newsletter below…