Reliability & Longevity – in a CAMPER??!!
Reliability and longevity are two terms RARELY used to describe RV Campers (of any type!) But… I've got to say – I'm honestly impressed – and this is coming from a hypercritical wise-guy from Jersey… THAT says something!
My Glacier Peak 5th Wheel at the ripe age of 4 years old… OR – Living FULL TIME in a RV Camper for YEARS – what can YOU expect?
Today's topic: MY OWN CAMPER – an Outdoors RV (ORV) Glacier Peak 5th wheel, its a 2018, picked up in October 2017, making it just about 4 years old as I write this post – and I've lived in it virtually every day since I took possession of it.
The KEY question: HOW has it performed – and – HOW is it holding up?
Temperatures are dropping! If you're in a camper and need a skirt – you've got to see what I've employed as my solution…
FOUR Years of full timing in ANY RV Camper can take a real toll on it
Honestly, very few travel trailers or fifth wheel trailers made in the past several years will hold up to four years of continuous use. I can literally count on ONE HAND the manufacturers whom I trust to produce a trailer that can do that. Among the best, Outdoors RV and Arctic Fox are not near, they ARE at the top of my list.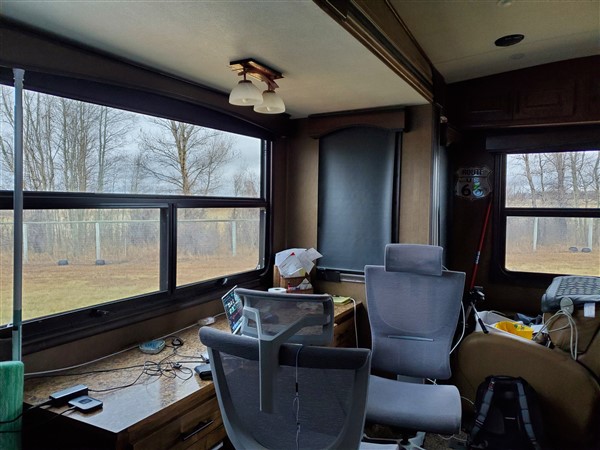 To expand on this point, and at the risk of being too direct (who me??) – most campers of ALL types made in the past few years are truly poorly built – this is a major focus of my efforts with my Concierge RV Buying Clients, to ensure they get a quality built camper that is right for them and at the right price.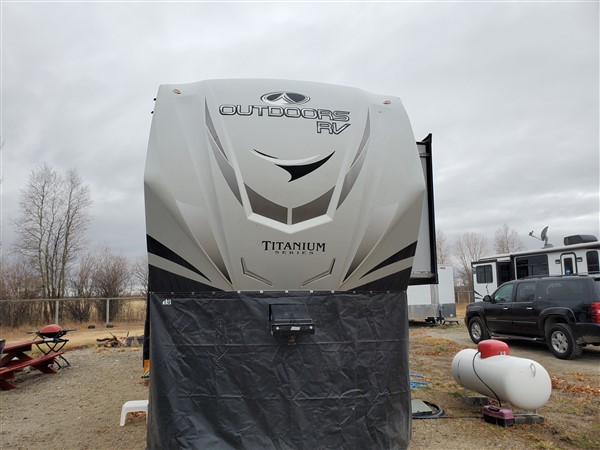 Reflecting back upon my purchase
At the time, I was looking for a camper (in my case a 5th wheel trailer) that could stand both "the test of time" and extreme cold. You see, I'm a ski instructor and that necessitates staying in regions where temperatures are regularly well below zero. The coldest I've experienced is -35F – and that was not a momentary temperature drop, the region I was in endured a week of these temperatures! (This winter I'm told by locals that I can expect -40F for a week or so – here's its NORMAL to see that kind of weather!)
Keeping a RV camper functioning in these conditions requires lots of propane and preparation – and I've made several posts about winter living in a camper HERE. I will also have a new post soon on my preparations for winter here in the Pinedale, Wyoming area (at 7200 ft. elevation!)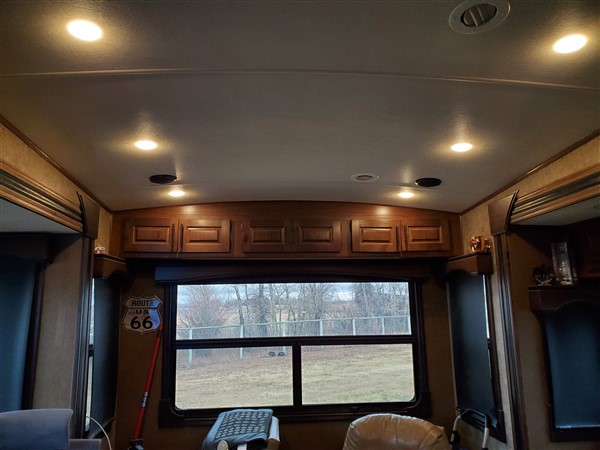 To the point, in these posts (I link you to the first of two posts detailing the exterior and interior of my camper – what's in it and WHY IT MATTERS!) I detailed what I looked for and value in a camper. I wrote these posts in late '17 shortly after picking up my Outdoors RV Glacier Peak. My view has NOT changed since. On a more general level, these two posts serve to illustrate what I believe is important to look for in a camper.
So… what troubles have I had with my camper?
Truth be told, while I've had some work done on my Glacier Peak, virtually nothing related to the core camper built by Outdoors RV. Allow me to explain…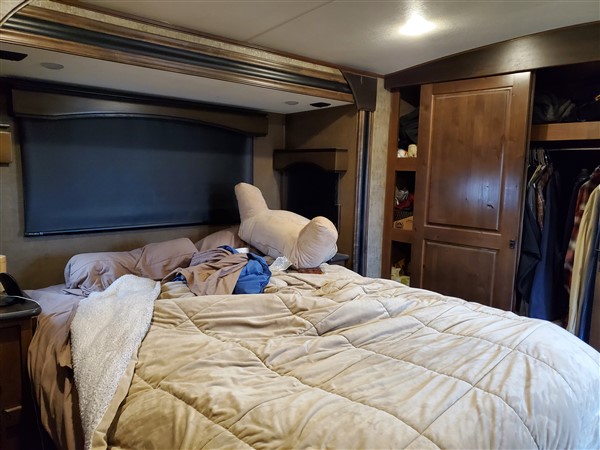 Components have the greatest challenges with continuous usage
Here's the list of things I've replaced/repaired:
The toilet (it needed a "re-conditioning" after 3.5 years – cost $100.) due to sediment in water clogging the fresh water flow into the bowl.
The water pump – same issue as above (3.75 years) – cost $125. including labor (its hard for me to get into where the pump is, that said, ORV (Outdoors RV) did make a good choice of where to put it and how to access it – I'm just THAT non-mechanical!
The refrigerator – Norcolds are a pain in the a** – see my post HERE to understand the issue (cost including troubleshooting and more fans about $350.) Note: Issues are ONGOING with this **** refrigerator. I'm encouraged ONLY by the growth of a new class of fridges – 12 volt compressor fridges. More on this topic in the near future!
The roof (I caused this!) – here's the backstory (cost after insurance about 500.)
The converter (again MY fault) – I threw a blanket into storage and accidentally covered the converters vents causing it to overheat (cost $400.)
Blame the RV manufacturer?
NOPE. NONE of the above mishaps had ANYTHING to do with Outdoors RV (ORV). In fact, they were complemented by an RV mobile tech on how well the fridge was installed (many manufacturers mess this up causing frustration for the RV owner down the road.) The roof was originally done so well, the decking could be preserved when the new roof was installed. The converter and water pump were each installed so a tech (not me) could gain easy access.
What COULD you hold the RV manufacturer accountable for?
Frankly, alot of things! The plumbing, wiring, insulation, fiberglass siding (is it delaminating?), the chassis, axles, bearings, and more. In short, is it well built or not?
It boils down to this: the RV manufacturer is responsible for the quality of materials chosen to construct their camper; the workmanship; and the warranty support. MANY (most) RV manufacturers fall WELL SHORT of most folks expectations in this category – but A FEW rise above the rest.
Well, in my view, my ORV Glacier Peak is just about the BEST build 5er on the market – and I only wish they still made this model, as I would recommend it to EVERY client of mine looking for a 5th wheel via my Concierge RV Buying (and Selling) Service.
Look at my video (above) – the outside (to a great degree) still looks NEW. There's NO fading or cracking, NO delamination, and it HAS performed 100% in TRULY extreme conditions (nights regularly dropping to super low temperatures for weeks on end due to where I stay in the winter.)
The storage is top notch – and the big thing? NO PLUMBING in the storage area to act as an obstacle! Another "feature" (among several) that impresses me (especially at this time of year) is the fact that virtually ALL plumbing is enclosed in the heated underbelly.
What does a "heated underbelly" mean?
The BEST design a camper manufacturer can employ is to take 1 furnace port and direct it to the campers fully sealed underbelly. This causes warm air to blow into the underbelly. Naturally the underbelly MUST be sealed AND insulated (mine has 2 layers of pink panther fiberglass and 1 layer of r-foil in the underbelly) and this combination protects me when temperatures fall well below 0F.
Just as my camper is aging, I hope to age gracefully along with it. I need to share with you an interview I held with the CEO of a company who is working on a new approach towards extending both life and the QUALITY of life. While this medical approach is not yet available (outside of Phase 3 human trials), it will likely provide help for those suffering from Parkinsons, MS, heart disease, stroke and more. You can see my interview HERE. Frankly, they're working on what will potentially be a massive breakthrough in regenerative medicine.
How many years can you expect from a camper?
It all depends upon how you care for it. Water is a campers worst enemy. Keep the interior dry by treating/replacing slide seals and treating/maintaining the roof (or drive periodically under a low tree!) and you can readily expect 15-20+ years of solid service. Will things break? Sure.
At some point, I fully expect to need a furnace repair (I keep core parts on hand "just in case"), a new slide motor, wheel bearings (routine maintenance) and a landing gear motor (though ORV doesn't use underpowered junk motors like the "name brand" companies most dealers offer.
Concluding Thoughts on the graceful aging of my Outdoors RV 5th Wheel Trailer…
On a scale of 0 to 100, I'd rate my camper as a 95. Honestly, if my Norcold fridge decided to burn itself (and the camper) with it, I would be hard pressed to find as good a camper to replace it with. Most likely, I'd opt for an Arctic Fox (ORV no longer makes 5th wheel trailers that work well for full timers) – feel free to contact me (307 269 2546) for further explanation of that statement.
Like my content? Lets keep in touch! Want to be notified of articles as they are posted? Please join my newsletter below (and if you visit my youtube site, I encourage you to "like and subscribe"