AND… I'd like to introduce you to MY NEW KAYAK that is PERFECT any traveler…
Vernal… an aquatic paradise? Well, actually yeah! What follows is an overview of where you can paddle or recreate in the Vernal region AND then I'd like to introduce you to my new favorite kayak – particularly great for all RV'ers and travelers.
My thoughts on my new kayak appear in the 2nd half of this post – along with a special offer I secured from the manufacturer, just for you, my reader – incase you happen to want one for yourself after reading my review and seeing video of my kayak in action!
Kayaking and Boating Opportunities WITHIN MINUTES of Vernal
Fast fact: There are SEVERAL lakes within 30 minutes of the Vernal and this makes Vernal a GREAT region for Kayaking and Boating!
Not to mention… INSPIRING SCENERY
Vernal is known for being "dinosaurland" as Dinosaur National Monument is nearby and there are many other natural sites to explore where these incredible beasts once roamed. Me? I'd rather go paddling in a kayak – particularly in my NEW kayak! Here's what I've found in the region surrounding Vernal that presents "aquatic opportunities"…
Red Fleet – Steinaker – Flaming Gorge
Just north of Vernal, as you approach the Uinta Mountains, you'll find Steinaker and Red Fleet State Parks. About another half-hour north of Red Fleet, on the north side of the Unitas, you'll encounter the Flaming Gorge. Steinaker and Red Fleet both offer great paddling and the Utah State Parks annual pass is a great deal.
Interesting side note – I RV camped in Vernal twice this year. My first visit began in late March when the ice was just breaking on Steinaker Lake. The weather was unusually mild (upper 60's) for March, and in 3 days, the lake went from 95% frozen over to nearly entirely melted!
Temperatures throughout the Spring – Summer – and Autumn are generally moderate, though Summer heatwaves can push daytime temperatures over 100F a few days each year.
RV Camping Options in this region
Steinaker and Red Fleet both have campgrounds within their state parks. Of the two, Steinaker is far nicer with actual campsites for RV'ers; Red Fleet's RV "campsites" amount to parking spaces with electric pedestals on a paved parking lot. I believe the state park authorities are planning to revamp Red Fleets camping area – a much needed update!
The Flaming Gorge has MANY camping options. I've stayed at the Lucerne Campground in the Flaming Gorge. Lucerne is detailed in my recent post about the Flaming Gorge region. Additionally, there are several National Forest Service campgrounds in the Flaming Gorge region that I detail HERE.
RV Camping in Vernal
As I've noted in earlier posts, when I'm in Vernal, I choose to stay at Fossil Valley RV park – located in the center of Vernal's commercial district. Blake is the owner and manager and he runs a great, full hookup and full service RV park. It is also centrally located to all these lakes!
Pelican Lake
Pelican Lake is managed by the BLM (Bureau of Land Management.) It is located just to the southwest of Vernal in a high desert region featuring a flatter more agricultural landscape than either Red Fleet or Steinaker. The lake itself actually serves as a wetlands region in the desert and is home to many species of birds.
RV Camping at Pelican
There is a primitive campground that is located right next to Pelican Lake on the SW side. Your best entry point is to circle around the west side of the lake if you're coming from Vernal to enjoy this region. In all my visits to Pelican Lake, I find it to be nearly deserted each time I visit. The only fee to use this area is an optional user fee for day use and minimal charges for overnight camping – and – since it's federal land, your "America the Beautiful" Senior Pass will get you half-price. Note: This Senior pass is available at all National Park entry gates for a lifetime $80. fee.
Brough Reservoir
On the way to Pelican, you'll note a small, rather non-descript sign that points to the Brough Reservoir. It is a small water body that is just a few miles off the main road, but the access roads, especially when you first begin your travel towards the reservoir is VERY rough!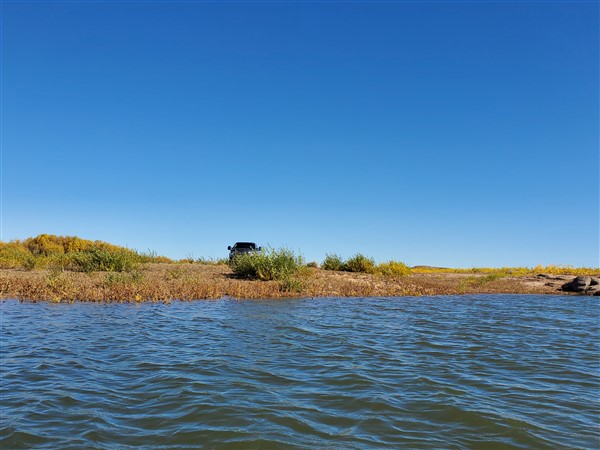 Google maps will help you locate the reservoir, but you'll need to explore the area a bit to actually find it and to find a spot where you can easily put in your boat. When I found the best spot to do this, google maps had me situated IN the northern section of the lake, however I can ASSURE you, I was on dry land! There is no fee to visit this area.
There appears to be no RV camping at Brough Reservoir.
Cottonwood Reservoir
The Cottonwood Reservoir and the nearby Bullock Reservoir are in a remote region between the towns of Vernal and Roosevelt. The drive is easy and the region is relatively deserted. Each reservoir / lake discussed here is unique and Cottonwood is no different. Situated in a "bowl" and surrounded by "mud-rock" hills, the water is muddy and the entrance road to the reservoir (depending upon water levels) can be steep. When approaching the reservoir, you may wish to park at the top of the slope if you don't have a 4×4 as you may not get out from the parking area right next to the water!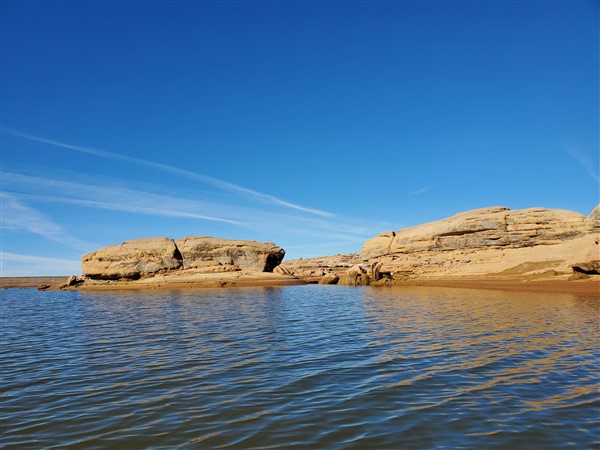 Cottonwood is not a large water body, and from what I saw, Bullock is even smaller. Both water bodies (and frankly all these water bodies) are at best at 60% full due to below normal precipitation, draining due to agricultural use, and the time of year (early autumn.)
The low water levels also present a potential bio-hazard issue in the form of toxic algae. This is most prevalent in late summer/early autumn when water temperatures reach their peak. Fortunately, the DEQ (Department of Environmental Quality) does regular monitoring and reports their findings HERE. Simply select the waterbody you're interested in visiting and you'll access the latest DEQ report.
Lastly, there appears to be no RV camping at either Cottonwood or Bullock Reservoirs.
Bottle Hollow Reservoir
There are both camping and kayaking opportunities at Bottle Hollow Reservoir. Be aware that the reservoir and campground are on Indian land. As such, you'll need a Ute tribal permit to either paddle or camp along the reservoir. I believe a paddling permit (day use) is $15. I did not opt to paddle in this waterbody as all other options were free or covered with a State Parks annual pass.
My NEW Kayak and why I ABSOLUTELY LOVE it…
An Introduction to and review of the Deschutes 110…
First – some background on my kayaking over the past several years
If you've been a reader of my posts for the past few years, you know two things – Kayaking is one of the recreational activities that I love to do AND I've owned two different Advanced Elements Expedition (inflatable) kayaks and thoroughly enjoyed paddling with them. BUT…
My Advanced Elements kayaks have had SEVERAL (more than four) inflatable main tube (inner bladder) FAILURES over the years. This of course is very disconcerting when it's the inflatable tube that is keeping you afloat!
Unfortunately the frequency of these failures with Advanced Elements inflatable tubes has increased over the past several weeks. I've had two failures inside of 6 weeks this season. The failures always occur on the seam, and I can only conclude that their main tube supplier is producing an inferior product. In a recent conversation with Advanced Elements, they did not even have any replacement tubes in stock. I have applied Aquaseal to re-seal the failures, but from experience, the tubes often fail again in a different spot along the seam. So…these issues with my current kayak
Led me to search for a NEW kayak…
And I found one. My new kayak is another inflatable, made by Aquaglide, a company built by outdoors enthusiasts based in the Pacific Northwest (which is frankly a better paddling mecca than Vernal!) Before selecting an Aquaglide and then the right model for me, I did my research, read reviews, and compared different companies products.
Aquaglide came out on top as verified owners praised their inflatable kayaks on several levels: stability, ease of inflation, durability, comfort, lightweight and… truly SUPERIOR CUSTOMER SERVICE. After purchasing and enjoying my new kayak, I 100% concur!
I ordered my Deschutes 110 on October 9th. The kayak arrived just 3 days later and upon unboxing, I noted there had been some shipping damage to a clip for the seat. I immediately called the company, got voicemail and was asked to leave a message. I figured "here we go" with a situation that would drag out for days.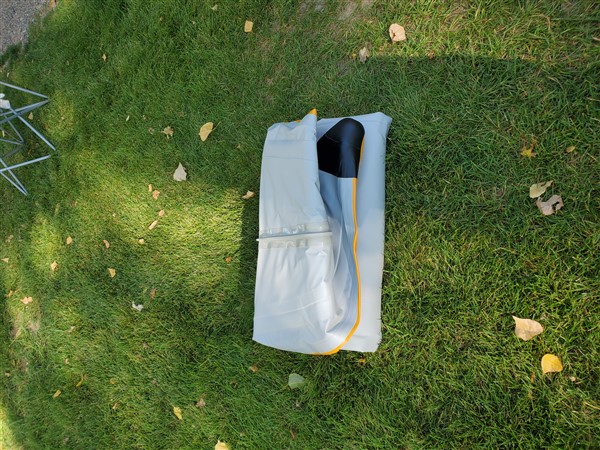 Aquaglide TRULY impressed me
I was pleasantly surprised to get a call MINUTES LATER from a representative (Ben) who introduced himself to me and told me (and this is RARE) that he was taking OWNERSHIP of the situation. He was true to his word, in short order I had an entire replacement seat enroute to me (even though it was only a metal clip that was damaged) along with advice on how to make the current seat work so I could put my new kayak in the water the next morning! KUDOS to Ben and AQUAGLIDE, job well done.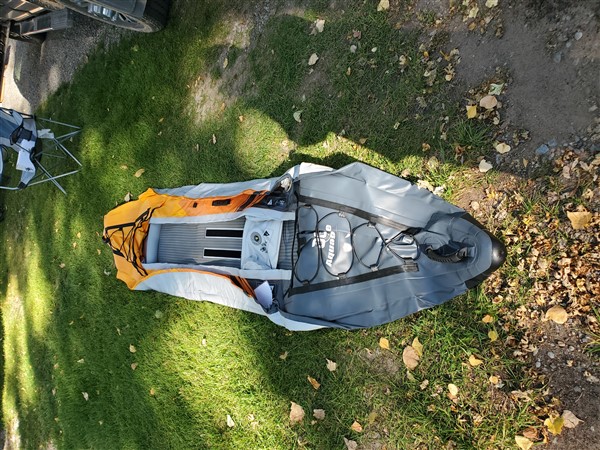 I'm writing this on October 30 and to date, I've put my new kayak
in the water at least 14 times in less than 3 weeks. (I told you I like kayaking!) Here's my assessment:
The Deschutes 110 Aquaglide IS stable, IS comfortable, IS easy to inflate, and IS made of very durable Dura-Tex material (looks like the same stuff as what you see on whitewater rafts), and IS easy to carry to the water. I find that paddling this kayak requires LESS effort than my prior kayak and it glides more quickly across the lake surface. (AND… it remains inflated!)
Quick Tip: Use a pump with a gauge when filling any inflatable kayak
When properly inflated, the Deschutes 110 IS quite rigid and tracks well. It has an attachable skeg which helps to increase its tracking ability. Further, because they do NOT use "inner bladders" (or main tubes as the "other guys" use), this kayak weighs in at just about 20 pounds – talk about easy to transport!
Quick Tip: Set the seat (which attaches with velcro) to a position just behind the kayak's center of mass. Take note of the ideal position for you once you decide upon it – a marking pen works great on the kayaks floor.
Inflatable Kayaks are GREAT for RV Travelers
This kayak is VERY compact when folded up. It comes with its own (surprisingly high quality) backpack. The backpack can be used to transport the kayak, a pump and all relevant accessories. AND, yes, you CAN get the kayak back in the backpack after the first time you unfold and inflate it!
You CAN use a 12 volt pump to inflate this kayak (with the manufacturers blessing), but using a "dual action" handpump does not require a super-human effort to inflate the Deschutes 110 either.
In general, inflatable kayaks are FAR more practical for a RV'er or really ANY traveler as they take up so little space when deflated. Performance as noted with my Deschutes 110 approaches that of a hard shell kayak without all the drawbacks of a hardshell. It is also VERY comfortable to paddle and sit in.
I reached out to Aquaglide and secured a special deal for you…
I was so impressed with how Ben handled the shipping issue and with the performance of this kayak (for an inflatable it can actually give a hard-shell kayak a run on the lake), I reached out to the company and secured a discount code for you to obtain any one of their kayaks – and they make several series. The coupon code is RVACROSSAMERICA15 and it will get you a 15% discount by linking to the AquaGlide website and entering this code where space is provided for a coupon code.
I chose the Deschutes 110 as it is a solo kayak (they also make tandems), it is LIGHTWEIGHT, and moderately priced (the retail as I write this is 649.99.) That said, I may splurge for a Chelan 120 in the future as it has a drop-stitch (really rigid, high pressure) floor and a few other great features that make it attractive to me.
Got questions? Feel free to call me to see how my "relationship" with my Aquaglide Deschutes 110 is going (or post a comment or question in the space provided below) and/or call Aquaglide's customer service team for more in-depth technical questions.
Last thought: Kayaking is GREAT exercise and is easy on the body
As I've aged, now 64 years young, I've become more dialed in on the importance of regular exercise. It is probably the reason I survived a heart attack in February 2019. That "event" revealed I had two blockages (95% and 100%) that stents "fixed."
Since then, I've become MUCH more attentive to BOTH daily exercise AND eating a healthy diet (more about this coming very soon.) Kayaking (along with biking, walking, swimming and skiing) has become a nearly year round activity for me.
Last year, even in Pinedale, Wyoming, my last "paddling session" was on December 3rd (yes, part of Boulder Lake was ice covered!) and my first paddling session this year was March 24th in Vernal, Utah (yes, MOST of the lake was ice covered.)
When I paddle, I typically do so for about an hour, I notice my heart rate increase, and can maintain an increased rate for as long as I like as I control the pace. The movement is very easy on my body, and it serves to stretch my muscles all through my back from the lumbar to those near the cervical vertebrae thus reducing my need for trips to the chiropractor!
In conclusion, during the warm weather months, part of my "key" to renewed health has been daily exercise with about an hour of paddling and/or bicycling and occasionally swimming each an every day. I will soon have a post out that details what I'm doing that has enabled me to RETURN my blood pressure to NORMAL levels and ditch the heart medications I was told I'd be on for LIFE!
**RV'ing Tip: Winter is coming! IF you camp in a cold region and need a GREAT heated water hose that won't fail… check this out.**
Like my content? Want to be notified of new posts as I produce them? Please consider joining my newsletter below. Additionally, I always respond to comments left in the space provided below.