Labor Day had just passed. My reason for visiting the Idaho Falls was accomplished (visiting my Cardiologist – and I have some BIG things to say about that soon!) I headed east, well, east to Pinedale, Wyoming. More specifically, Soda Lake, about 10 miles outside of town, and about 500 ft. above it. (Some great video below!)
Soda Lake
Typical of late summer, Soda Lake was warm, mornings were chilly, and afternoons were very warm. On September 10, I saw the seasons first frost as the temperature fell to 30F. Remember – I'm at 7700 ft. elevation. During the afternoon, temperatures still recovered to about 70F!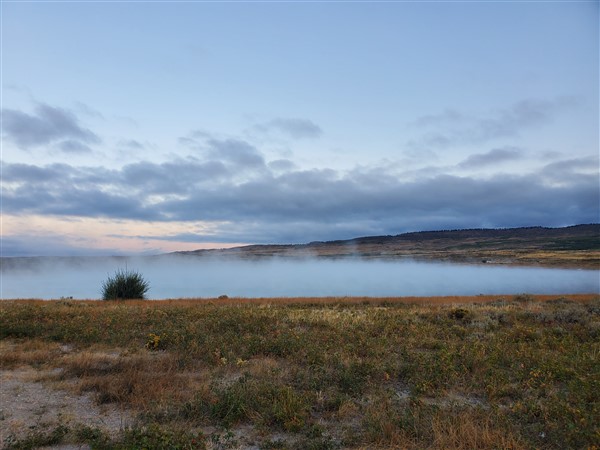 Soda Lake is a surrounded by camping "areas", they're not quite campsites, but its not exactly dispersed camping either. Wyoming Fish and Game provides fire pits and picnic tables, but their are no hookups of any kind. There are pit toilets scattered about the lake. There is no fee to camp around Soda Lake, and you can stay for up to about 2 weeks.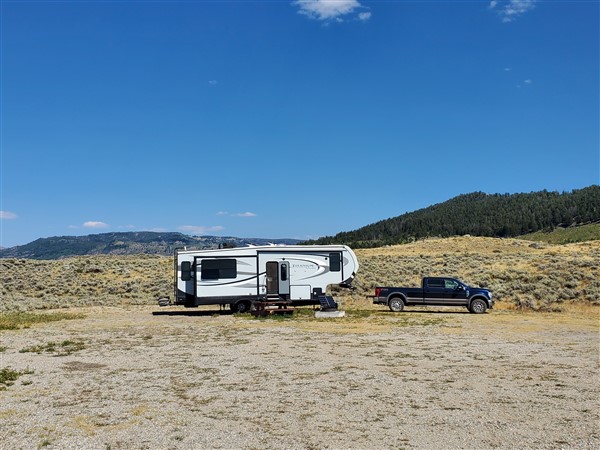 Access to Soda Lake is good, the roads are gravel, with some washboarding. While you're nearly 10 miles outside of town, you're close enough at most "campsites" to maintain cell service. I use Verizon and now with the help of my HiBoost Cell Signal gain system, I received 4 bars!
Pinedale and the Wind River Mountains
I love the Pinedale/Soda Lake/Wind River Mtn. region as you can workout, swim and shower at the "PAC" (Pinedale Aquatic Center) in the morning, get a healthy meal at Heart & Soul mid-day and head back to "the lake" for some afternoon kayaking. And so was my life for about a week, until… the remnants of a Pacific hurricane started working their way into the western states and headed for the Intermountain West where I'm "residing."
I knew this storm had some "teeth" to it as flood watches went up for eastern Nevada! Knowing the roads around Soda Lake tend to turn into a "mud-fest" with significant rains, I decided on the 13th, after being there for about a week, it was time to bail out. The RV park in Pinedale had space, but as they specialize in price gouging, I opted to move on.
A note on having a Plan B and What's involved in "Bugging Out" (or staying) at a Boondocking Location
When you dry camp (boondock) in the course of your RV travels, you have to keep your rv's batteries at healthy levels. In general, deep cycle marine batteries should never slip below 50% charge. I discuss this issue in a bit greater depth here where also I talk about solar panels and my generator of choice.
With bad weather heading towards my location at Soda Lake, I could have enlisted help from my Champion generator (see my solar panel post to learn more about it, but with the expectation of heavy rain and some wind, I knew it was questionable to take it out and run it in those conditions. Further, I knew with several days of heavy cloud cover, my solar panels would prove useless – and hence, the choice was made. Bug-out to a better location WITH "shore power" so I would not be relying upon either a generator or solar panels.
Destination: Lucerne Campground in Ashley National Forest in the Flaming Gorge (by RV)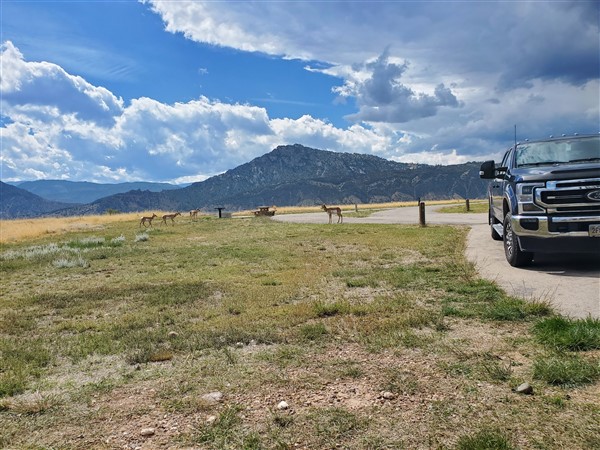 I'd been there before. I knew the layout. Lucerne Campground, operated by the National Forest Service is a great place for RV'ers visiting the Flaming Gorge region to spend some time. I believe you're allowed up to a two week stay and in season, reservations are highly recommended. At this time of year, mid-September, there's no problem getting a site at almost any time. The sites are near the water, I can drive to a local beach (and I found another great location as well) to put the kayak in water, and I had the shore power I would rely upon for the next few days.
Five nights with the longhorn's in my "front yard" (see photos), lots of kayaking, a few trips to Manila for provisions, and a hike on the Sheep Creek Nature Trail to see salmon swimming upstream and through a tunnel under a small bridge!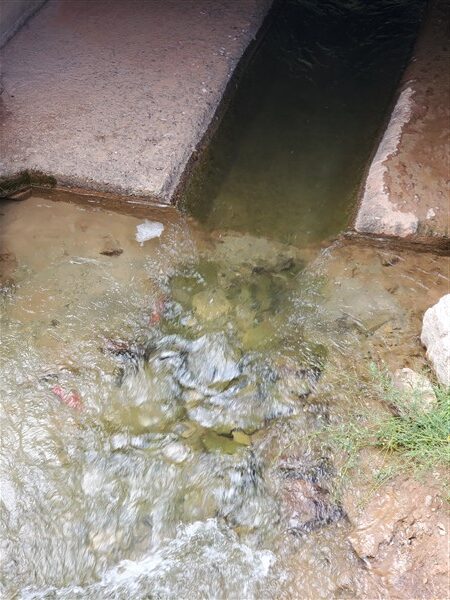 Rates are quite reasonable – especially for those on the Americas Pass – available for a lifetime fee of $80. to those 62 and older. Rates are normally $31/night, passholders pay $20/night and electric and water are provided. Water is not at your site, but there are hydrants scattered about the park. Cell service is good.
Even though I've been to this region before, each time I discover something new, and frankly, with just time in the kayak its worth the visit. The views (see photos) from the water to the cliffs are spectacular! I also discovered a new boondocking site near Lucerne CG. Up to 16 days – WATERFRONT – NO FEE!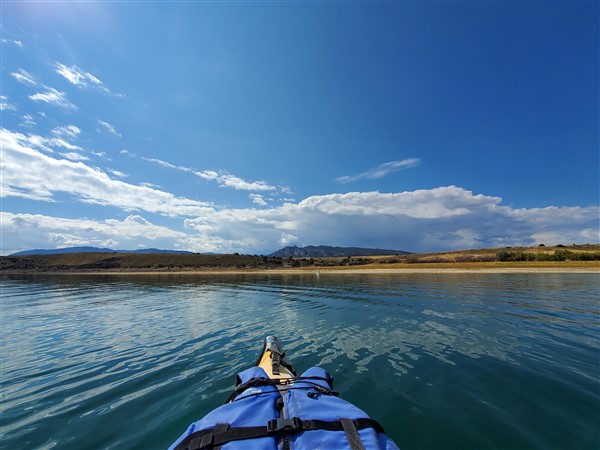 Autumn Is HERE…
Autumn is here, and with it, I've checked my readiness for winter. Among my "tools" to survive and THRIVE in winter, I count on my RV skirting and winter heated water hose.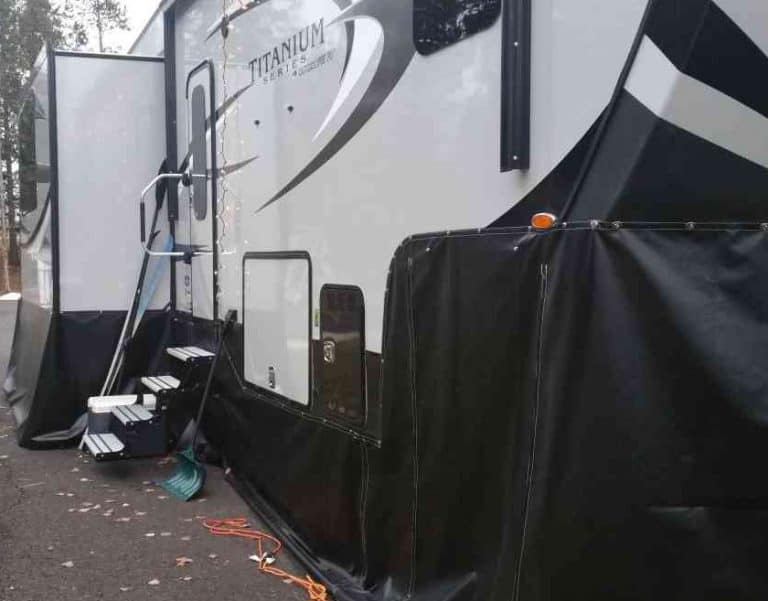 Snow this morning (10/23/22) in Vernal Utah just as I was in the final stages of creating this post & video…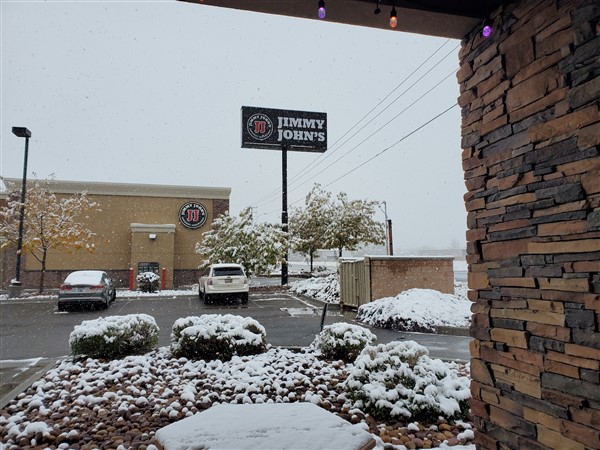 Like my content? Please consider joining my newsletter – enroll below. AND… I'd love to hear from you, leave a comment below –