rvtravel.com in their 10/23 issue has done excellent work obtaining permission to repost a very important investigative piece done by the Indianapolis Star newspaper. You can read the article by accessing rvtravel's website.
Here's the "executive summary"
To give you the "executive summary", a family lost their *brand new* Heartland toy hauler within days of picking it up due to faulty wiring that FORTUNATELY only destroyed their camper (by fire) and the truck they were towing it with. The family *fortunately* escaped unharmed – though from the Star's article, it was clearly a close call.
This incident has quickly become the "poster child" of the multitude of issues that are deeply rooted in the RV manufacturing industry today – and the problems have existed long before Covid!
Most of the problems largely stem from two mega-corporations – Forest River & Thor (as reported in the Indianapolis Star article.) Winnebago has also had its share of issues as well.
Thor and Forest River comprise MUCH of the RV industry as they each own (literally) dozens of companies who operate under their "umbrella" – some of whom they do their darndest to keep the buyer from knowing who the REAL ownership is behind the company name of the camper they're buying. In other words, sometimes you have to do some deep research to discover if the camper you're looking at, manufactured by "company XYZ" is owned by Forest River or Thor.
Evidence of issues can be found in data cited by the Star's investigative article: "Thor Industries recalled more than 156,000 RVs this year alone, while Forest River—a subsidiary of Berkshire Hathaway—recalled nearly 200,000, and Winnebago Industries recalled more than 125,000."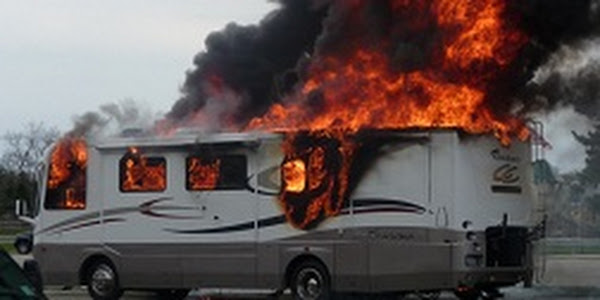 My Two Cents:
Please allow me to get on my soapbox for a moment as I've PERSONALLY SEEN evidence of shoddy workmanship and worse over nearly a decade of industry experience AND having owned 4 different RV's, and LIVED IN campers now for 11 years, I've seen the clear difference between quality and mediocrity (or worse.)
Folks, this next statement may sound "self-serving", but I believe it must be stated: The fact that unsuspecting consumers are being ripped off and put at risk of losing even their lives is WHOLLY unacceptable! Honestly, this is WHY I offer a Concierge RV Buying (and Selling) Service to help the buyer who cares about quality to navigate the shark infested waters associated with buying a RV Camper (of any type.)
The reality is that there ARE quality manufacturers who build solid, well constructed RV's who put quality of materials and construction techniques ahead of floor plan and color considerations. These are independent companies, not under the "umbrella" of the two giants.
I base my Concierge RV Service upon my integrity and honesty – and to be frank, I'm a pretty good negotiator as well! My goal with all my clients is to see them in the right camper for their needs that meets their budget and is obtained at the best possible price. You can learn more about my Concierge RV Service HERE.
A message we can send to the problem manufacturers
Speaking as a consumer myself, WE can send a message to the RV manufacturers that WE are no longer going to make floor plan and color our MOST important factors in deciding which camper to buy. Yes, these factors are important, but ahead of build quality and SAFETY?!
Clearly, the incident that happened to the family who purchased that Heartland (by Thor) shows us just what is at stake when we entrust our hard earned money (and lives) to live the dream of freedom and travel across our amazing nation. Incidentally, I could detail literally DOZENS of other incidents where I personally observed substandard work and unacceptable practices followed by the manufacturers named earlier.
What you SHOULD expect as a consumer
Looking at this from a different perspective, I purchased a Ford F350 truck in April 2022. It now has 6500 miles in just over 6 months of ownership. Care to guess how many issues I've had to return to Ford to have fixed or repaired? Answer: NONE! Yes, NOT ONE ISSUE. When I spend my hard earned money and frankly BIG money on a vehicle, that is not just what I EXPECT, its what I DEMAND, period.
A Personal Lament…
Why do RV'ers make excuses for the nonsense they encounter in new campers when they have to create a repair list of in some cases DOZENS of items in their first few months of ownership?! AND THEN wait weeks (or MONTHS) to travel while their RV sits in a RV repair shop?
Again – My years in the industry have shown me there ARE manufacturers who genuinely do a better job building a RV – and you don't have to buy one of theirs when its brand new. Often, I recommend buying a well built used camper to my clients for multiple reasons.
Care to make contact? Feel free to reach out to me – 307 269 2546 or traveler@rvacrossamerica.net and we can talk about what you want in an RV and in the RV'ing experience!
Like my content and want to be notified of new posts? Please consider joining my newsletter below. Also, I'd love to hear from YOU. Please use the space provided below to post a comment.