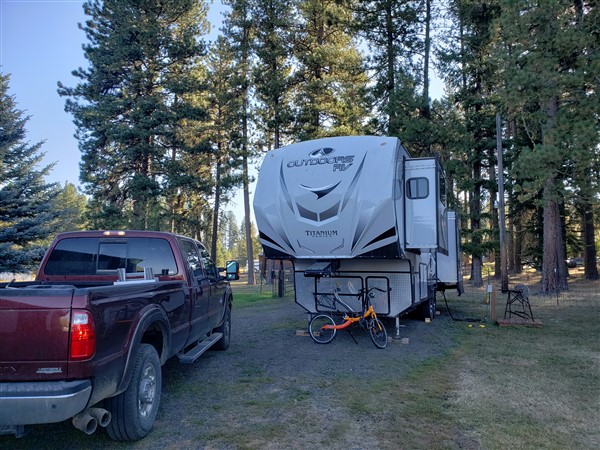 Here's what I learned –
I stayed at the property of a nice, quiet, older couple in McCall, Idaho. They are "empty nesters" but certainly have interests of their own. They welcomed me, showed me where I could access water on their property and asked if I knew the area. They were fully prepared to share "things to see and do" as they have lived in that region for most of their lives.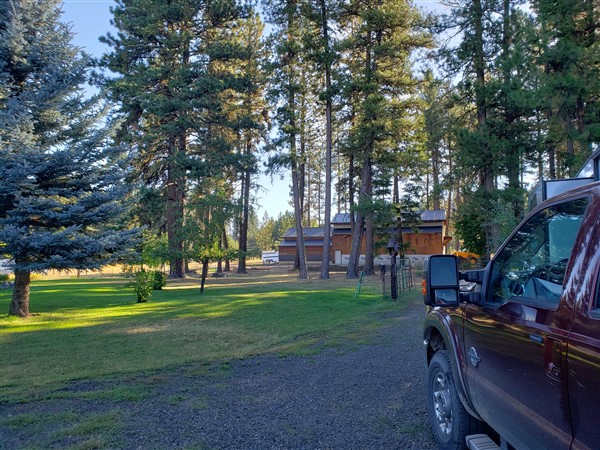 I chose to spend some time each of the 3 evenings I was there chatting and exchanging thoughts with my hosts. I was there over Labor Day weekend and welcomed the quiet and solitude in contrast to what was occurring in town all weekend!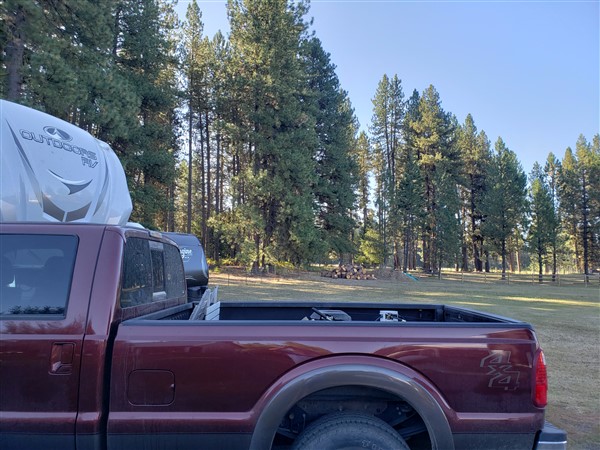 The process to arrange my stay was EASY. All I did was search the Boondockers Welcome website for a place to camp in McCall, identified the potential locations, saw which would fit my 35 ft 5er and read how to ask to stay. In the case of this family, they accept requests no more than 14 days prior to arrival and generally host only 1 visitor at a time.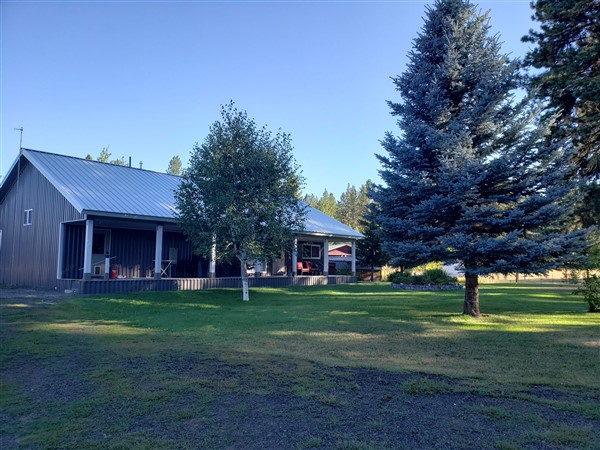 Finding these folks to stay with over Labor Day weekend was a God-send as the AVERAGE overnight fee is over $40 in McCall – not that any sites were available anyway at the local campgrounds. Even Ponderosa State Park, near Payette Lake charges OVER $40/night for a water/electric site (based upon a 1 night stay and paying the $10 reservation fee REQUIRED as you have to book online.) In fairness to the state parks, the fee to reserve is $10 regardless of whether you stay 1 night or two weeks.
Colder weather is coming! IF you camp where it gets cold… an RV SKIRT can be a GREAT investment. Learn about my experience with RV Skirting HERE.
My costs with Boondockers Welcome…
Annual membership cost with Boondockers Welcome is just $50. Discounts are available for multi-year memberships and as a reader of my blog, you can save 15% by using this LINK and using the code RVAcrossAmerica15 (for a limited time.)
The cost to stay with a Boondockers Welcome host? NOTHING – NADA – $0. – no kidding! Yep, the entire Labor Day weekend stay cost me NOTHING. Unlike with other programs, I was not "encouraged" to purchase a bottle of wine or as in HipCamp's business model, pay a nightly fee to stay "off the beaten path." (And some of those fees are actually quite high!)
It appears to me that the Boondockers Welcome network of hosts is growing – and frankly for what the company charges for a membership, stay a couple of nights a year with a host, and your membership is more than paid for!
Each host sets their own rules such as how many nights you can stay; what amenities (if any) are available, and more. During my stay, I was provided 15A electric, which I offered to pay for (its customary to pay $5-10/night if a host offers you electric.) My host simply said, no fee, "pay it forward." Nice, huh?
If you join and stay with a Boondockers Welcome host, I'd welcome hearing YOUR story! (Remember – use this LINK and apply RVAcrossAmerica15 for a 15% discount – valid as long as this offer remains in effect – and if it's still up here, it's still in effect!
FYI – I have a post HERE on Discount RV Membership programs. In addition to Boondockers Welcome, I address a few others, including Passport America – which I also highly recommend as it offers you 1/2 price at about 1800 campgrounds across the nation.
While you're here, there's LOTS of great articles covering a wealth of topics. Everything from my Concierge RV Buying (and Selling) Service (saves you time, money, AND aggravation!) to some great places to visit in Utah in the Summer (including the renewed town of Helper and the AMAZING San Rafael Swell) to RV Camping available near ski resorts in the winter.
I started a NEW Facebook group – "RV Across America" – click HERE to join into the discussion.
Like the content? Want to receive updates when I make a new post? Join my list below –