On The Road Again – and a brief taste of Autumn
Strong thunderstorms followed by a windy night that felt colder than it was. It was an autumnal wind. The first I've felt in months, and my first night "on the road" after leaving my RV consulting job at the now failing RV dealership in Casper, Wyoming, but that's a story for another day.
Tough Creek Campground
I'm at Tough Creek Campground in Boysen State Park near Shoshoni, Wyoming, a "metropolis" of about 600 people. I got here on August 18, it felt like summer when I arrived, but in short order, dark clouds rolled in, then wind, thunder, and some rain, and voila instant autumn!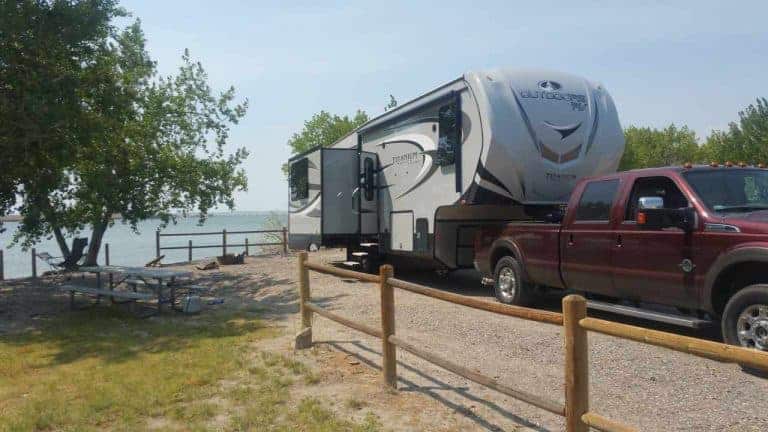 About Boysen State Park and Thermopolis, Wyoming
This morning, the 19th, I awoke, with no need for an alarm, early and well rested. Tough Creek Campground is essentially a peninsula that extends a couple of miles into the reservoir here at the entry to the Wind River Canyon. Its an area I've become familiar with as I've kayaked before up near the marina, about 7 miles north of here, and visited the "upper" and "lower" campgrounds just north of the dam where the calm waters here turn into a fast moving river that approaches the town of Thermopolis – a town best known for its hot water springs and parks.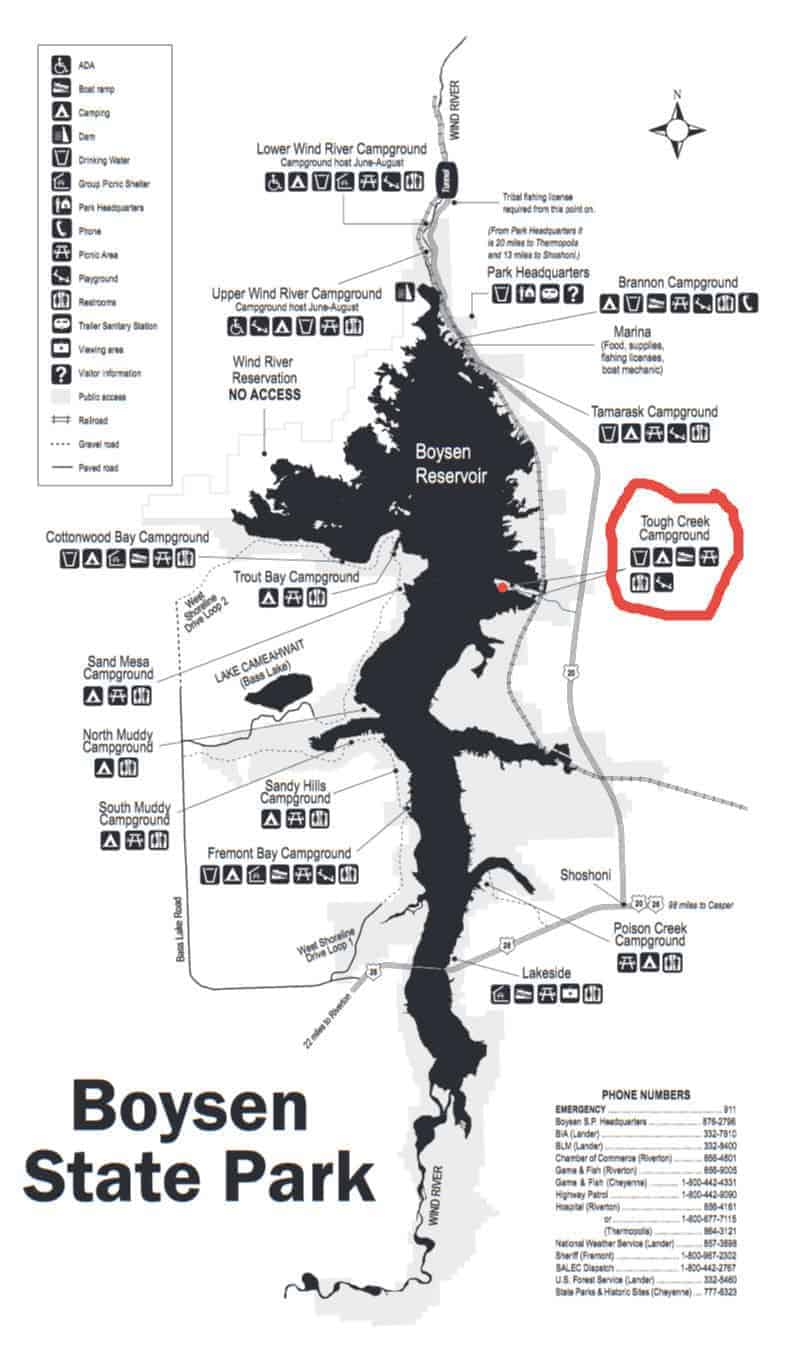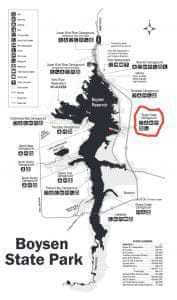 There is lots of RV camping from here to Thermopolis, including 2 campgrounds in the town of Thermopolis and one just north that has its own hot water spring on site. The campgrounds in Thermopolis all offer full hookups, while the campgrounds here in Boysen (all 5 areas, Tough Creek, the two near the marina, and the two north of the dam) are all primitive. There are water spigots around, but not at each site, and there is one central dump site near the marina. Otherwise, its dry camping.
Tips for Dry Camping
Naturally, I'm about to get a 200 watt "solar suitcase" (more on that soon) and some new batteries, but even with my basic Interstate battery and a 10 watt panel my trailer comes with (just one more thing to like about the Outdoors RV Glacier Peak), after about 30 hours here, I'm still at 2/3rds battery power.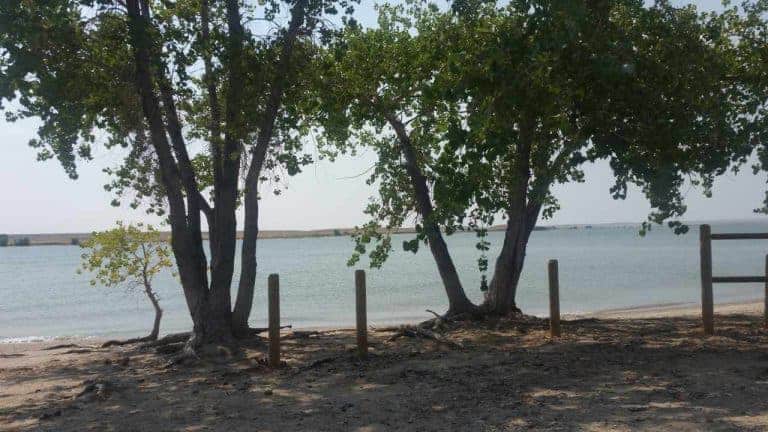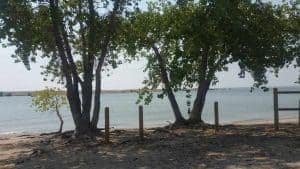 A few hours of Autumn…a certain taste of things to come
Ok, back to this morning. It truly felt autumnal, it was breezy, overcast and temperatures were near 60F. I actually made use of my flannel shirt and sweat pants (my Sunday best!) in place of my "summer uniform" of shorts and a short sleeve shirt (yep, even at work!) It kinda felt good to be in the heavier clothes as I watched the rough waters lap up at the edge of my waterfront site here at Tough Creek Campground.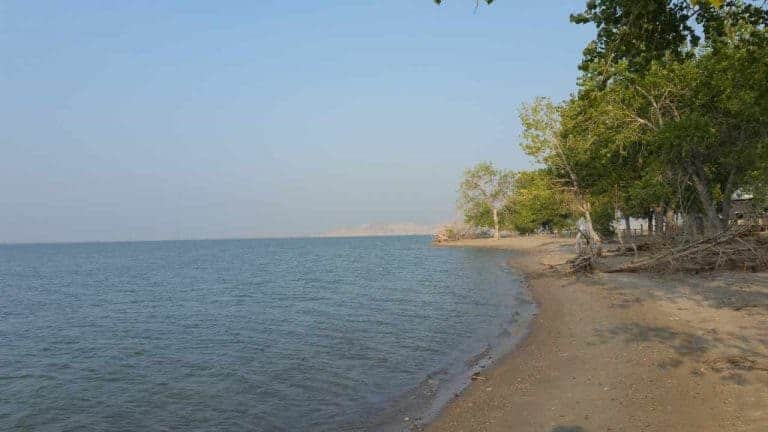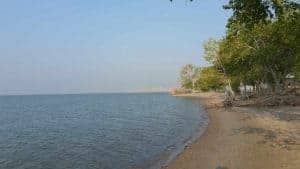 By mid-morning however, I knew it was still August and autumn isn't quite here yet, although, here at about 5000 ft. elevation, some of the trees are starting to turn colors… seems a bit early for that though. The afternoon warmed up into the 70's, it was a great day for some biking and some kayaking – two of my favorite leisure activities. I even vowed (recently) to eat better, so, lots of fruit and veggies for me, and limited "common" proteins like chicken and eggs. The only bread I've had is the "ezekiel bread" found in the frozen section at the market – its some kind of sprout thing that has no flour in it.
Tomorrow will see a return to the 80's here at Boysen State Park, but as I'm heading up about 2000 ft. higher, I will be lucky to see much over 70, before temperatures dip to near 40 tomorrow night (August 20th).
In the initial "shakedown" of my camper as it hasn't moved since April 1, all seems well. All systems are functioning and I didn't create any issues as I backed into my site here! I'm actually on the road early this year. In my previous summers, I stayed at my RV job until after Labor Day. Partially because there was business to be done, and partially to avoid the summer crowds that evaporate immediately following the Labor Day holiday weekend – the traditional "end of summer", at least in most folks minds.
I was pleasantly surprised when I arrived at Tough Creek yesterday, a Saturday afternoon in August and found the campground (literally) more than half empty. Today (Sunday), most of who was here has left and there are only about 5 campers here in a campground that could support 30 or more. This makes me feel optimistic that the places I plan to camp at in the coming days will have space for me and reservations will likely not be needed.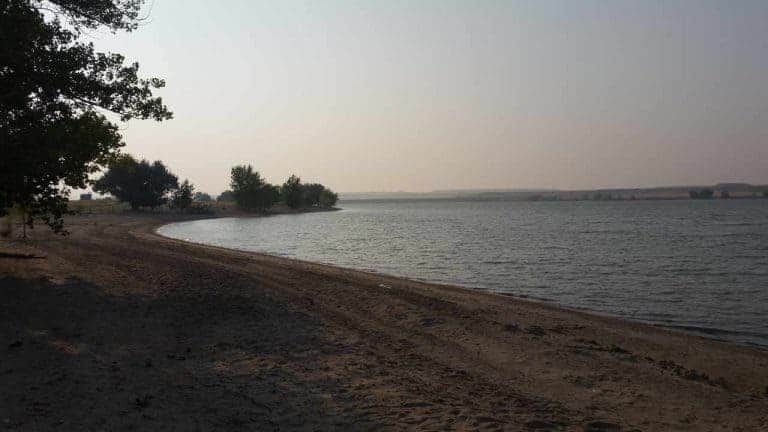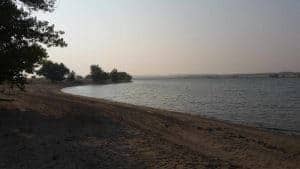 Heading to Dubois
Tomorrow I plan to "return to civilization" as I head to Dubois, Wyoming. A small town at about 7000 ft. (there are a few lakes nearby – great for kayaking!), some restaurants (yes, I will behave myself!), and a new campground I plan to visit (and I'm sure I'll tell you about.) It just opened last year and is right about in "downtown" Dubois.
Dubois is a "gateway" town to Jackson and Yellowstone. I have no plans to visit or spend much time in either as its still summer and there will be boco tourists everywhere! My goal after Dubois is a region called Island Park and a campground called Buttermilk. Its another primitive campground and by then I'll have my new solar panels, so even with my single battery, I'm confident I'll be fine. When I get to Missoula, I'm turning in my Interstate battery for two 6 volt Trojan's. At that point, I'll be equipped for extended periods of dry (primitive) camping, especially with a trailer with an 82 gallon fresh water tank!
Well, that's about it for now. I have lots to share, and will do so as time permits in my travels over the coming weeks. Until then thanks for reading, and while you're here, check out my site, you may find more RV related articles of interest!
Like the content? Want updates when new posts are completed? Then join me here…