Top RV Road Trips for Your Bucket List
Thanks to Jason for this guest post to RV Across America!
Whether it's due to a freelance job where you just need access to a
computer and a reliable internet connection
and power to do your work or maybe the fact that you can live a
nomadic lifestyle while still being able to venture back to a stable
home every so often, the RV life has become a popular lifestyle to
live. For many RV owners, the chance to travel may only come once or
twice a year, and if that is you, then there are several places you
add to your RV bucket list to check out this coming year.
Let's take a trip down the east coast and see what this great part of
America offers the RV traveler. The east coast has many areas that
are perfect for RV travel and there are so many sites to see that
it's difficult to narrow down to just a few. Since we'll
be traveling from one side of the U.S. to the other however, we'll
start in Washington, DC and go from there.
Washington,
DC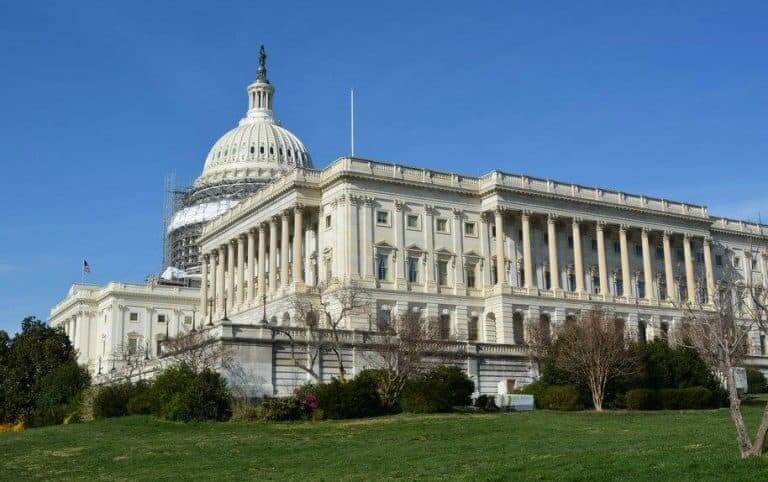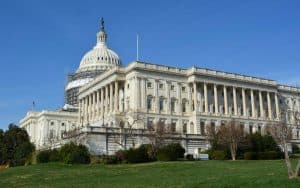 U.S.
Capitol in Washington, DC
Whether you own an RV or not, Washington, DC is a place that you should take
time to visit during your North American travels. While there are not
officially any RV parks to stop overnight in DC, there are several
nearby including Cherry Hill Park in College Park, MD and Lake Fairfax Park
and Campground in Reston, VA. These, and several others nearby, have
great access to the DC area and plenty of RV campsites available for travelers.
There are so many things to see and do when you arrive in DC that you
should plan to stay at least one week or longer. Aside from sites
like the U.S. Capitol, Smithsonian Museum and the White House, there
are many museums, art galleries, parks, restaurants and great places
to shop and pick up a few DC souvenirs during your stay.
You can also visit Arlington National Cemetery and other famous sites in
DC. Be sure to snap plenty of pictures during your stay so you can
share them with friends and family who don't get to tag along!
Colonial
Williamsburg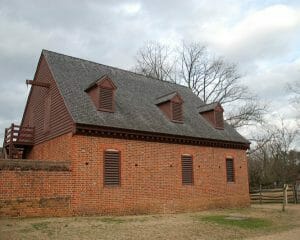 Colonial
Williamsburg
Heading out of DC and into the great state of Virginia, you will find that
Colonial Williamsburg in Williamsburg, VA is a beautiful area to
visit. With hundreds of historic homes as well as many locations for
people to shop and dine, you'll find plenty to do in the area.
Colonial Williamsburg sits on a span of more than 300 acres and dates to the
18th century. When you visit, you can explore homes, taverns and other
buildings and catch a glimpse of what life was like for those
settlers who lived in Williamsburg many years ago. With character
actors and a great collection of artifacts from the time, you will
feel swept away in history during your visit.
You will find several RV parks right inside Williamsburg where you can
stay for days, or weeks, at a time and enjoy the local community.
Blue Ridge Parkway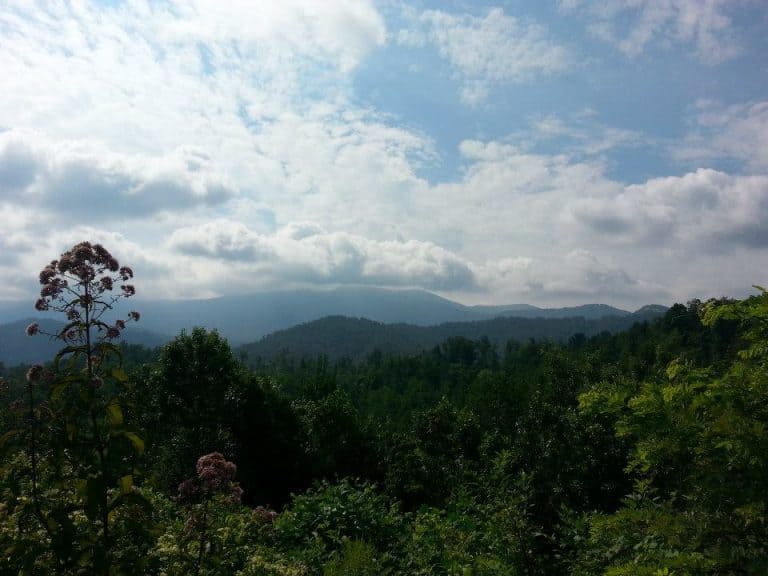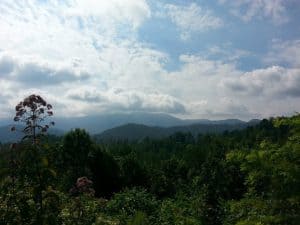 North Carolina Mountains
This 469-mile stretch of road running from Virginia to Asheville, North
Carolina will give you some of the most majestic views of the
mountains in the Appalachian area. You can spend days, or weeks even,
exploring the beautiful wilderness in all its glory along the Blue
Ridge Parkway.
Along the way, you'll find a few cozy RV parks where you can camp out
for the night, or take time to spend several days at a time nestled
in the mountainous areas of Virginia and North Carolina. You'll
have more than 300 miles of prime forest land to hike through, catch
a few glimpses of forest animals up close including squirrels,
rabbits and possibly even a bear or two along the way.
The Blue Ridge Parkway runs all the way from Shenandoah National Park in
Virginia all the way to the Great Smoky Mountains area near Cherokee,
North Carolina. There are some breathtaking views to catch along the
way as well as numerous areas for camping, trail hiking and quick
stops for picnics and snapping pictures to remember your trip.
Gatlinburg/Pigeon
Forge, Tennessee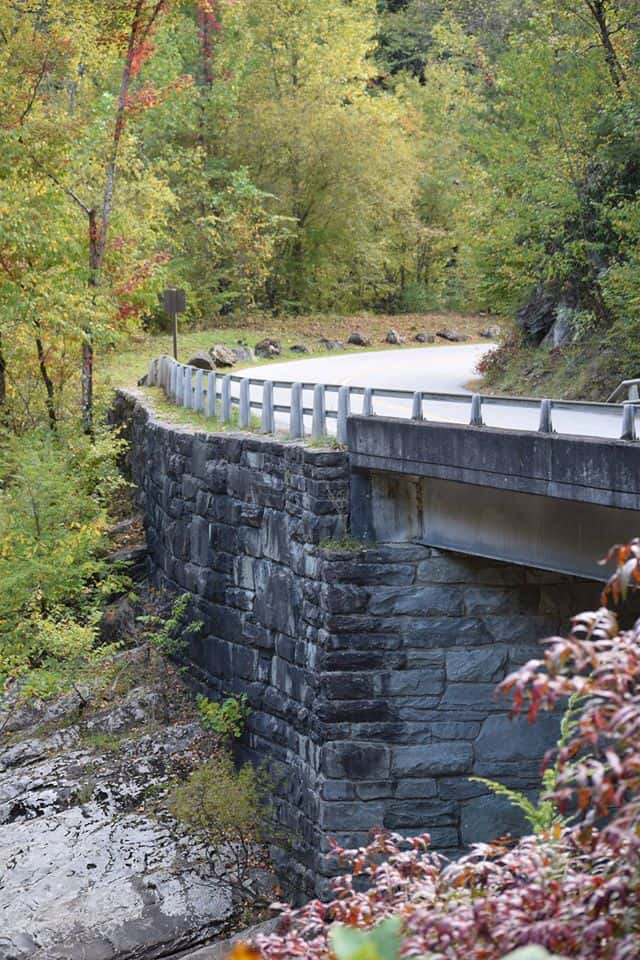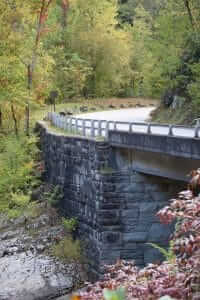 Gatlinburg,
Tennessee/Great Smoky Mountains
Once you leave from the Cherokee, North Carolina area, you will want to
take a drive down the highway to travel through the Great Smoky
Mountains and head into Gatlinburg and Pigeon Forge, Tennessee. It
doesn't matter what time of year you travel this section of the
country, you will always find things to do.
There's plenty of shopping in Gatlinburg as well as great places to dine and
grab a few funny Tennessee hillbilly mementos for your scrapbook or
keepsake box. Take a trip up the mountainous road in Gatlinburg to
visit to Ober Gatlinburg and take in some ice skating year-round or
take the scenic chair lift to the top of the mountain to enjoy some
snow skiing in the winter. There's even an amusement park at Ober Gatlinburg
that's just right for the young ones as well as the young at heart.
From Gatlinburg, you can head into Pigeon Forge where you'll find
plenty of go carts and arcades as well as shopping centers and
souvenir shops. You'll also see Dolly Parton's very own
Dollywood Amusement Park and Splash Mountain where you can spend a
day or three riding the rides, catching some great musical shows and
eating some home cooked food.
Both Gatlinburg and Pigeon Forge have numerous areas that cater to RV
owners and you'll find many places that you may just want to
stop and stay for a while as you take in the scenery and meet some of
the friendly locals.
Florida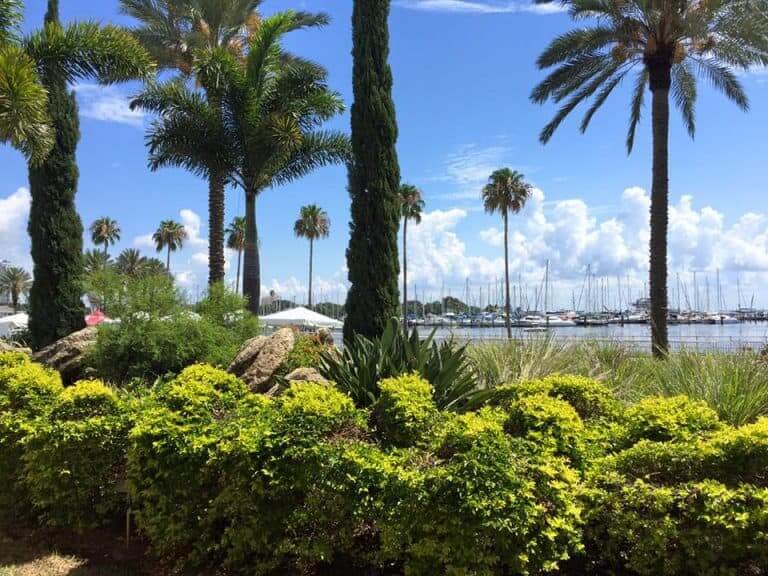 St.
Petersburg, Florida
We'll dip back to the east just a little to head to Florida. From top to
bottom, you'll find a wide array of things to do in this
panhandle state. The weather is mild year-round and whether you like
the beach or the city, there is always something to do.
Florida has hundreds of RV parks and campgrounds throughout the state and you
can visit great places like Disney, Busch Gardens, Universal Studios
or the Florida Keys. It's easy to get lost in the excitement of
the Miami nightlife or spending time sitting on the pier shark
fishing in Bradenton or Venice, Florida. If you enjoy sailing, or
have considered giving it a try, you'll find ample opportunity
to do so in places like St. Petersburg or Sarasota.
Siesta Key and Anna Marie Island have some of the best waves, and if you'd
like to try a little surfing, there is nothing better than hitting
the waves on the east coast in the morning in St. Augustine and
jetting back to the gulf side to hit them again before dark.
Winter, summer, spring or fall, Florida is the state that offers
entertainment and happy days every day and every season of the year.
Grab your swimsuit and don't forget your sunscreen when you
park at one of the coastal RV parks during your time in Florida.
If you live on the west coast or in the Midwest or even Alaska or Hawaii
or Canada and have considered taking a road trip down the east coast
of the U.S. but don't want to drive for three days to reach
your road trip destination, you can always have your RV transported
by a professional so you can fly in and pick it up when you arrive
and can calculate the cost of the shipment by visiting
https://www.a1autotransport.com/services/rv-transport.php.That
way, it arrives safely and you don't need to worry about the
excess wear and tear from traveling so many miles, but you'll
have it available to tackle the long and winding road where you'll
experience the flexibility to travel where you want and see the
country one mile at a time.
Hey thanks for visiting! While you're here, be sure to visit our 

HOME PAGE

and feel free to join in the conversation on

FACEBOOK
Lastly – HERE is where you can learn to get the most out of RV Across America (how to find articles, whats here, etc…)