Winter's Coming
And when you choose to live in a RV IN THE MOUNTAINS (in winter), certain steps are necessary to insure comfort and safety.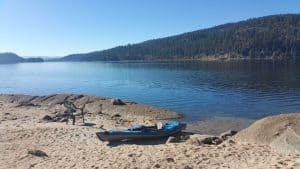 Five Years into my "On The Road" lifestyle and
I find I've settled into a bit of a pattern – at least over the past two years. Summers in Casper, Wyoming. Casper?! Well, yeah. Good folks, real western town and a good gig selling RV's with a dealer that carries good quality equipment. As autumn approaches, I get to "hit the road" in my fifth wheel enjoy 7 weeks of travel, kayaking, biking and relaxing. As winter takes hold, I'm now in McCall, Idaho, preparing for a winter of snow, skiing and ENJOYING the cold.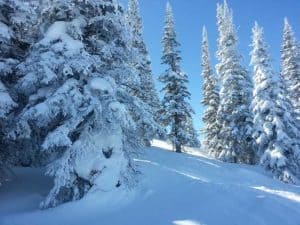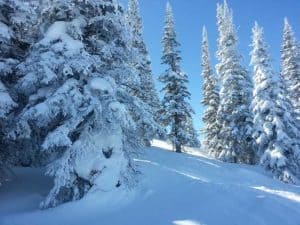 November in McCall in a RV
is often rainy and chilly. Winter is approaching and preparations are made for my RV to be ready. Last year the snow came early- by mid November we had over six inches on the ground and it was piling up gradually until over eight feet (!) fell in a two week period near Christmas.
This November – at least the first half was quite different from last year (hint – see my above photo, and more below!) I detail in my video below some of what's been happening, please join me there and I'll pick up with more after the video…
Autumn fades to Winter
It's been a GREAT autumn! But… as November draws on, the weather is catching up with the calendar. After two spectacular weeks of Indian Summer (can we still say that?), the clouds have gathered, the temperature is falling, and rain (and soon) snow is falling.
The first two weeks of November here in the Central Idaho Mountains were highlighted by chilly (frosty) mornings and mild afternoons with a few days approaching 70F! Believe it or not, I was able to paddle 8 of the first 12 days of the month!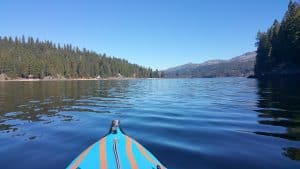 A few specific winter preparations for my RV
I mentioned in my video the need for a back up refrigerator – really for 2 reasons: First, if temperatures drop below (about -10F), in my experience the RV fridge begins to fail. The problem? The ammonia mixture gels (again, as I understand it.) This happens even with a "winter kit" installed on the fridge (thats something offered by the RV manufacturer) and a light bulb located inside the outer RV compartment (to heat the tubes on the back of the RV). This of course applies to "typical" RV fridges – the propane/electric type. If you have a residential fridge, that is not an issue, but "dry camping" with a electric only fridge can be problematic.
I use my 40 quart 12v/110v portable fridge for a second application as well – as a traveler now in some of the nations most remote locations, the "local" market can be quite distant from your campground. This portable fridge serves to keep my food cold in the summer before I return to my RV. If you decide to explore this option further, please click on the image above that leads you to an Amazon page that offers a great price on the same fridge I have owned and used for nearly 5 years now.
Water hoses are another BIG issue for winter camping. Camco (in my humble opinion) makes a solid product. This is the better of their (now) 2 offerings – and is the hose I've used for 3 years now (only during winter). It is billed to work to -40F – and I've tested that claim to within 5 degrees F! The image below will take you to where you can learn more about this great product and purchase one (it is available in multiple lengths – be sure to consider which you need.)
While I'm at it, while small town living has MANY advantages, it can be limiting when it comes to shopping options. For this reason, I maintain a Amazon Prime account and have recently started ordering (a few times now) from Boxed. Boxed is similar to Sams Club and Costco but WITHOUT the membership fees! If you click the image below, you can save $15. on your first order AND get free shipping – and then please do let me know how it all works out! My orders have arrived in just 2-3 days.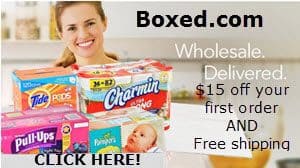 November 16, 2015
I'm nearly ready to press the "publish" button, but I wanted to share just a bit more with you before I do so. Yesterday was rainy and chilly and I honestly thought it would end with (at least) a coating of snow on the ground this morning – nope, I was wrong. And I was hoping to wake to a covering of white that would at least last a few hours! Instead the yesterdays rain froze in a thin layer over the pavement and walking around this morning was problematic. Regardless, the sun is coming out and temperatures will approach 40F later today.
Continued thoughts on Winter Preparation…
I'm still a fan of using bubble wrap to create a barrier between you and the cold by placing it between your windows and window shades inside your rig. This will still allow light in, but insulate your windows more than otherwise. I am foregoing the use of any heat lamps or heat source under my RV this winter as the lights have always failed in past winters, and with the insulation board and enough propane to maintain temperature at just over 60F inside, there is plenty of underbelly heat. Further, here in the mountains, there is (typically) enough snow that acts as additional insulation during the coldest part of the winter.
Anyway – all for now… if you found this information useful/helpful, please leave feedback below and feel free to subscribe to my site above! For now, have a great day and enjoy the approach of winter – especially if you decide to do so in a RV in the mountains! I have an entire section of RV Across America dedicated to winter camping and preparations – click HERE to access these posts.