Traveler information you NEED to know for an extremely picturesque yet rugged region…
Everything these days is a journey – and at times a trial. My latest trial has been Oregon. My latest journey was not without its challenges from the outset. After a month in Valley County (McCall/Cascade) Idaho, I headed over to Baker City, Oregon.
RV travel from Valley County, Idaho to Baker City, Oregon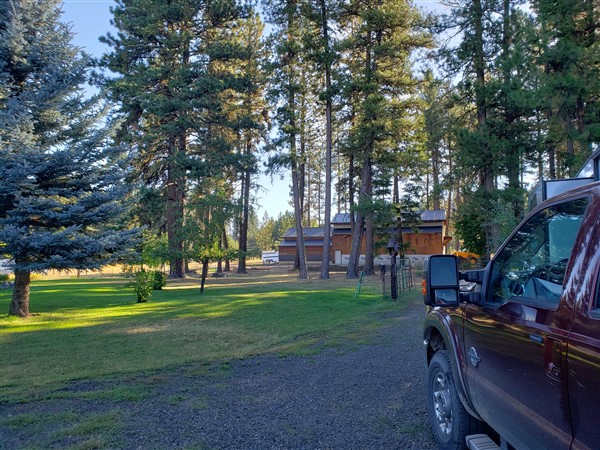 Its a relatively short journey, but Baker City was not my initial destination. Richland was – more specifically, the Brownlee Reservoir. Before I even arrived, my kayak decided to commit suicide as it jumped out of the bed of my truck and began to drag along the roadway – effectively destroying it before I noticed what had happened. You need to know this is an unusual occurrence as I've traveled many times with the kayak in the back of the truck bed and its never done this before. It was perhaps a harbinger of what was yet to come later that day – details will follow on this experience in my next post – this is where I'll share what I learned about the Brownlee Reservoir and Holcomb/Hewitt Parks.
My journey was only from the West-Central Mountains of western Idaho to the high desert of eastern Oregon. As the crow flies, I was traveling a very short distance, but the fact is the roads in this part of the nation do not remain straight for very long! And… your choice of road to travel can make a big difference in the success of your journey – read on for details.
Important note about Entering/Exiting Valley County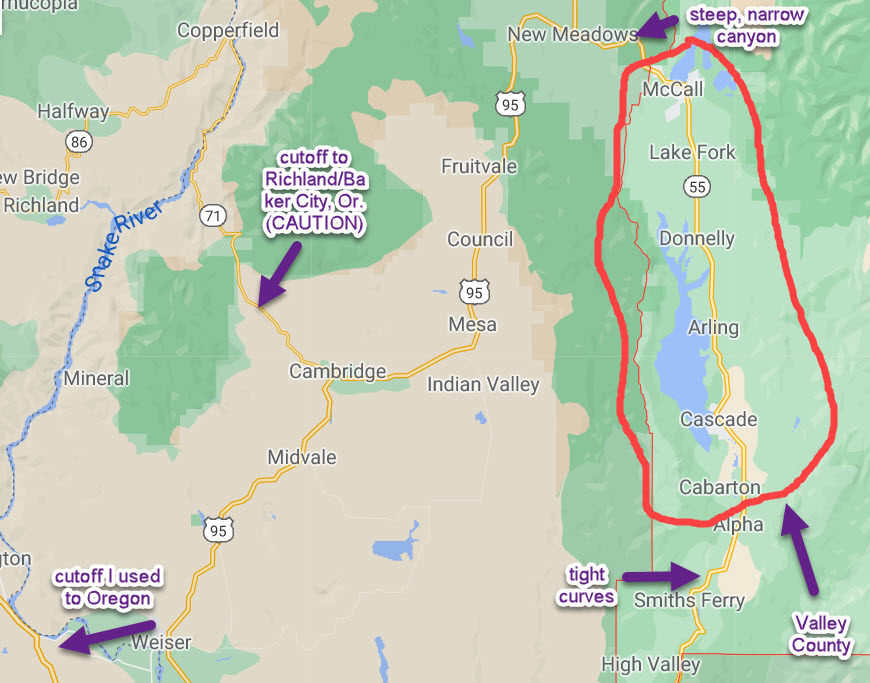 Valley County is in the heart of Idaho's West-Central Mountains. There's really only two roads in/out of the county (refer to map above.) When I left Emmett (and the friends in the Treasure Valley), I used the route from Boise (Rt. 55) to travel North into Valley County. This road travels through a tight valley and has many winding turns. Big rigs can definitely handle it (at least up to about 42 ft.), but you'll have to take your time going through there! The section just north of Smiths Ferry is probably the most challenging for a RV'er to successfully navigate. A few miles south of Cascade, the road straightens out and becomes an easy drive up to McCall.
While in Valley County, there is MUCH to do and I've made other posts highlighting this amazing "playground" just a couple of hours north of Boise.
While I entered Valley County from the south, I exited to the west. If you exit McCall to the west (the only other way in or out of McCall), you'll be on Rt. 55 heading for Rt. 95 (no relation to Interstate 95 on the eastern seaboard!) Just west of McCall, you'll cross a minor pass (5300 ft.) and then drop about 1500 ft. through a tight canyon (go slow!) that larger RV's may wish to avoid (over 40 ft.)
The first town you encounter is New Meadows where your options will be 95 North towards Lewiston (caution: steep grades ahead!) or 95 South (ultimately) towards Caldwell, with a gradual decline and some nice travel through the Payette Forest before reaching the high desert of western Idaho and eastern Oregon. This is the route many opt for in the winter when returning to the Treasure Valley (Boise metro) as the road after the canyon is an easier drive than Rt. 55 – which can get quite icy.
You'll note in my video there IS a cutoff (I won't call it a shortcut) in Cambridge, Id. that goes to Richland and Baker City, Oregon, but the road is EXTREMELY technical and any camper much over 25 ft. won't appreciate the first stretch (Rt. 71) in particular.
Naturally, with my 35 ft. 5er, I continued on 95 until I reached Weiser, Id., from there I used a shortcut to get into Oregon. This shortcut (see my video for more detail) is not for all rv'ers, some may prefer to continue south to Payette and Fruitland before crossing the Oregon border into Ontario, Oregon.
Eastern Oregon & I-84
If you use the same route I took, the first town you'll encounter in Oregon is Huntington. Huntington was one of the first towns in eastern (very conservative) Oregon to adopt marijuana dispensaries. In fact they have two and with a population of about 200 folks, that's about the same as the number of restaurants they have!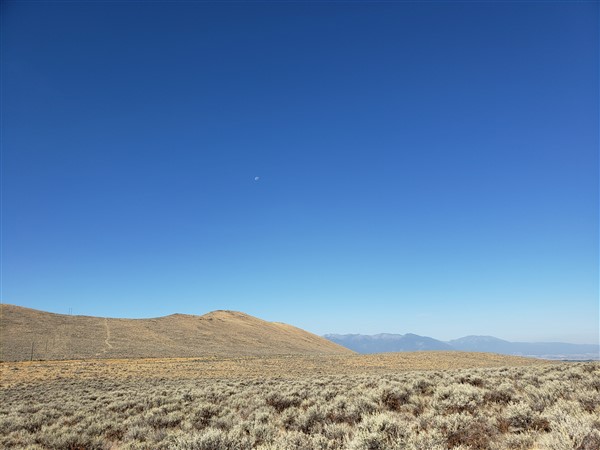 Huntington is just north of where 202 (the cutoff road from Weiser, Id) meets I-84. This interstate travels initially north to La Grande, Or. before turning west and ultimately heading for Portland, Or. (serious travel caution these days for Portland!!) You'll encounter many changes between Huntington and Portland on I-84.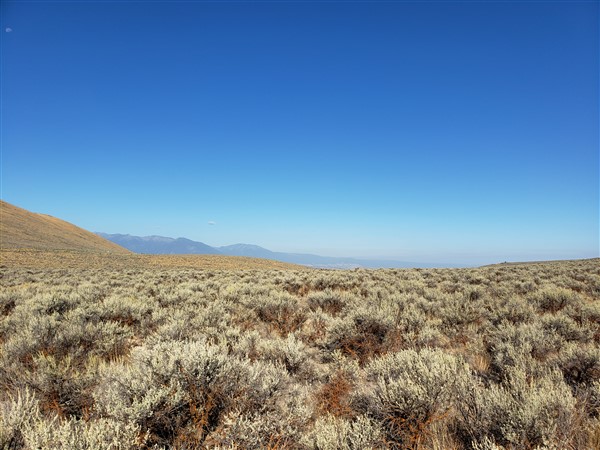 The road itself is much more technical than many interstates. As you travel along I-84, you'll go through canyons, valleys and cross mountain passes. At times you can travel at "typical" interstate speeds, while at others, you'll slow to as little as 45 mph due to the nature of the terrain you're passing through. This stretch of eastern Oregon is also one where I-84 is often your only choice as there aren't many alternatives!
A brief personal note I recently shared with friends and now with you my readers – Silver was $11.60 on March 18. Today as I write this, exactly 6 months later on Sept. 18, silver is about $27/ounce – that's an AMAZING move. Imagine if you held silver over the past 6 months. From my research, silver (and gold) are just getting started on a major bull run. If you want me to connect you with "my guy" to get some – let me know – use the "contact me" on this page to get in touch with me.
There's a rhythm when traveling along I-84 in eastern Oregon – the towns are about 40-60 miles apart (Huntington, Baker City, La Grande, Pendleton…), and in between, there's not much other than nature! Further, the towns are often in a valley, and with the recent fires, this presents its own issues as air quality has been terrible (and it didn't have to be this way.)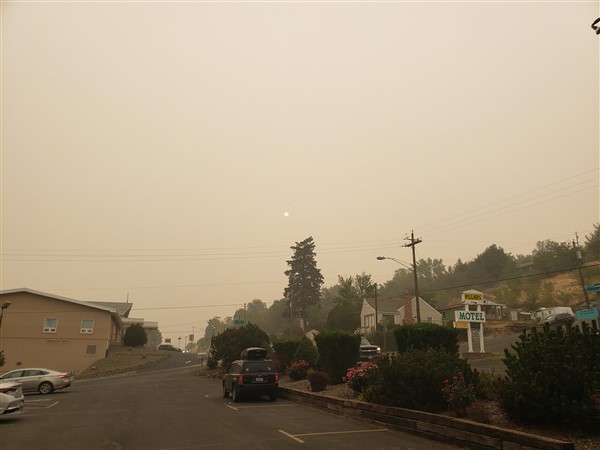 The story will continue in my next post when I reach Baker City after having planned to stay near Richland and the Brownlee Reservoir. Until then, have your own safe journey! If you like my content and wish to be notified of upcoming posts – please consider joining my newsletter below…