Tuesday evening Feb 21st and the storm begins here in the valley
It's about 7pm on 2/21/23 as I write this, and in skiing terms, its "nuking" outside – here in the valley! The Salt Lake Valley saw a rainy, seasonably mild day with mid-day temperatures reaching the mid-40's. It felt mild, because we've had a fairly cold stretch of weather here in the Salt Lake City region. This late in February however the normal high temperature is nearly 50F, but I've only noted 50F or better for a few hours since November 1st!
Update: Its now 10pm, I wrote this post in one sitting. There's now about 4 inches of snow outside my camper; Alta is reporting 9 inches – and as noted below (read on) – and… there is MUCH more to come!
Temperatures began falling this afternoon and by early evening the rain changed to snow. I'm writing that post and looking outside. Its snowing heavily. The cars in the RV park are already coated and we're approaching our first inch of accumulation. Upwards of 10 inches here in the valley is expected by morning with more tomorrow! MUCH more snow will pile up in the mountains. Accumulations in the Cottonwood Canyons, where the ski areas are located (Solitude, Brighton, Alta and Snowbird) are expecting upwards of 40 inches or more!
Late Winter Storms are difficult to predict
Many moons ago I majored in Meteorology while attending college. One of the lessons I've carried with me for my entire life (and as an RV'er and skier this has GREAT relevance) is this: As February begins to roll into March, the Sun becomes increasingly "stronger" here in the northern latitudes. This late winter increase in solar elevation can impact storm systems, both their strength and predictability.
A little science and nature first…
Days begin to lengthen shortly after the Winter Solstice, which occurs on or about December 21. The length of daylight and increasing solar elevation becomes much more apparent and significant after mid-February. These changes are so pronounced by March 1st, meteorologists regard this date as the end of "climatological winter" and the beginning of "climatological spring." For the record, the celestial spring equinox, when the Sun crosses the equator is on or about March 21. To a meteorologist and most skiers, spring begins around March 1st.
As the sun's energy increases in late winter, it "energizes" the atmosphere and can make storm systems stronger and more unpredictable. This is why many regions across the nation experience their most extreme snowstorms in March. There is even a chance for "thunder snow" in this region over the next few days – especially in the mountains. Understandably, thunderstorms on a ski hill can be a major (and unusual) hazard.
RV'ers who camp all winter
For an RV'er who camps all winter, this means by March 1st, the chance of freeze-ups in the camper is nearly gone and travel is far more likely to be on snow-free roads. Typically after each late season snowstorm, the roads clear quickly with the help of an increasingly stronger sun.
There CAN (of course) be exceptions to the norm
As we approach March 1st, speaking for myself, I'm ready for some "bluebird days" (sunny days) with moderating temperatures. This is particularly true as this season I started skiing on November 11th. It has been an EXCEPTIONAL ski season with well over 500 inches of snow recorded at Alta and over 430 inches at Solitude. This has resulted in more powder days than I have EVER enjoyed!
This current storm system is arriving with a STRONG arctic outbreak. The influx of arctic air MAY result in conditions that are actually TOO COLD and windy to ski comfortably on Thursday. Thursday is the next day I expect to have a chance to get up Big Cottonwood Canyon to Solitude as roads will be closed or treacherous tomorrow.
Looking forward, after a one day break on Saturday the 25th, virtually every day for the next 10 days or so will be COLD (10's in the mountains, 30's in the valley) and SNOWY! So much for Spring conditions and increasingly strong sunshine!
This past weekend was ALMOST springlike
Presidents weekend was a good time to AVOID the ski slopes due to crowds and a lack of fresh snow. In the valley, temperatures reached the upper 40's, people began to enjoy the outdoors. It was a taste of pre-spring. So, now the shock!
Computer models are predicting winter weather well into March – good news for the lakes
The latest computer weather models keep it snowy and cold well into March across Northern Utah. This is good news as the snowpack here continues to grow. Healthy lakes and reservoirs are likely for the summer. Great news for a region that has been drought-stricken for several years!
There have been serious concerns in recent years about the Great Salt Lake and Lake Powell. Lake Powell is a major water source for the cities in the entire Southwestern United States. This winters well above normal precipitation and snowpack will likely restore these water bodies – at least for a little while. It will take several wet winters to fully restore these important water bodies.
An update to my recent health update
I posted a health update a few days ago with information that frankly you do not want to miss. Today I made my 5th visit to Anytime Fitness to get my body stats on their Evolt machine. As an update to my recent health update, over the past 4 weeks, I've plateaued. I did lose another 1/2 pound this month, but my subcutaneous and visceral fat reduction has halted (for the time being.) I've done these checks every 4 weeks and believe I wandered a bit from the diet detailed in this recent report.
I am NOT deterred by this – in fact, I'm more determined than ever to get 'back on track' and ensure that the progress I've made since late Summer (2022) continues. Warmer weather should help if anything.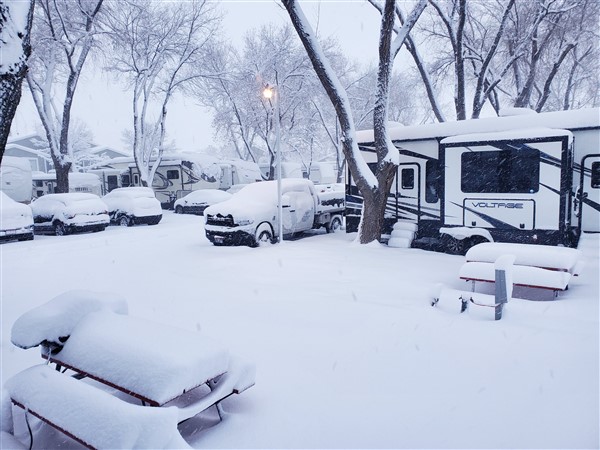 RV Travel Plans
As April approaches and the ski season (for me at least) draws to a close, I am formulating plans and SE Idaho. I have a rv park near Idaho Falls in mind. It is in a town where I can bike, kayak, and hike all in close proximity to the campground. More about that region in upcoming reports.
Speaking of coming upcoming posts and reports…
I recently attended an RV show in the area, I have a report coming on some thoughts and thought provoking photos that came out of it. My focus? Tell-tale signs that you're looking at a camper that is NOT worth buying!
I have also added a new piece of furniture to my camper – I'll show it off soon.
I'm also planning a review of my IKON (ski pass) experience as an RV'er in the Salt Lake Valley for the winter.
As we enter Spring, look for an update on my new kayak and a refresher and updated post on water filters – with increasing environmental concerns about clean water, filtration is MORE IMPORTANT than ever.
Look for all this and more – coming soon!
Care about your health? A MUST SEE interview…
Lastly – I watched this video interview the other day about a device that can improve your quality of your life to such a degree that I woke up the following morning and ordered one – use this link for the best price. Think of it as a "germ killer" and much more. Listen to this very important interview and then get one for yourself!
As RV Season approaches, you may need some great RV Accessories – here's what I've found to be the "best of the best"…
Like my content? Please consider signing up for my newsletter to be notified of upcoming posts…