Is the "on the road" RV Lifestyle and RV travel still a practical choice in our nation today?
Allow me to begin to answer these questions by sharing a quick story…
Lessons learned from the GREAT TEXAS FREEZEOUT in February 2021
It wasn't an ordinary wintertime "blue-norther" (a Texas style cold front.) Temperatures dropped – then kept dropping, well below the levels forecast by the weather service. The cold air's grip at its peak during this 6 day event was as strong as one would expect 1000 miles or more farther north in the central-northern Plains states.
Shortly after the cold air's arrival, with sleet AND accumulating snow; Know that this occurred in south – central Texas near Austin), the power went out, ultimately for 5 1/2 days! Further, the campground owner was forced to shut off his water to keep pipes from freezing – water pipes that were way too close to the surface for the conditions that had overtaken the region.
In short, this was at a minimum a once in a life-time event, and more realistically, a once in TEN life-time event!
This is where I learned during and from the Great Texas Freezeout…
There are definite advantages to living in a RV camper in an EMERGENCY (SHTF) Scenario. I already knew RV Life was great under normal circumstances!
When the power went out and the water was shut off, I still had heat, water and refrigeration. How? Most RV furnaces run on propane, as is also the case with refrigerators (or at least on 12v batteries), and all RV's have water tanks (some larger than others – a point to consider when making a RV purchase!) so, after almost 6 days with no power, I was in pretty good condition and I honestly felt minimally impacted.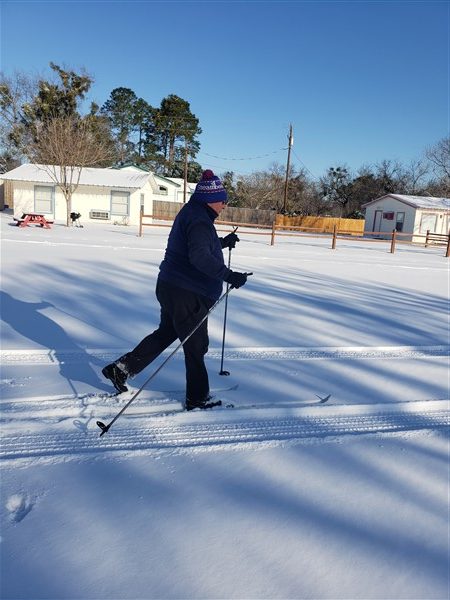 The key "take-away" here is with an RV (of any type), you have (or should have) backup systems, such as spare propane tanks, solar panels, stored water (and food) that can help you to ride out relatively short term (and perhaps longer term) disruptions. And of course, you could always "turn the key" (most of the time) and move to a different location if necessary!
My experience in Texas in February 2021, I believe has prepared me for the "take down" our nation is currently experiencing and I for one am glad I live in an RV and plan to ride out whatever comes our way in my camper. We all need to be able to generate at least some power, have water, and keep our refrigerated food from spoiling – living in an RV affords an ideal opportunity to do all three!
The true basics of RV travel
Choose your destinations and route wisely. Be aware of your immediate surroundings. Be prepared for the unexpected – including a "grid down" scenario (which seems increasingly possible these days in our troubled nation.) Look soon for a post on feeling SAFE in your RV.
With the above comments in mind…
What are the REAL COSTS you should expect to encounter to enjoy and thrive in the RV lifestyle?
How much does the RV Life REALLY cost?
Upfront purchase costs AND ongoing interest costs on your RV loan
First, if you can purchase an RV camper (of any type) without taking out a loan, its greatly to your advantage. I go into the actual costs of a RV loan in great detail in this post.
RV loans are recreational loans. This means interest rates are higher and terms are longer than auto and truck loans. They're also harder to qualify for. Any credit score under 750 means you'll be paying really high rates, and even with great credit, the best rates right now are around 6% (typically for a 10-15 year term.) There's one bonus – and check with your tax pro on this – you may be able to deduct the interest as a "2nd home loan."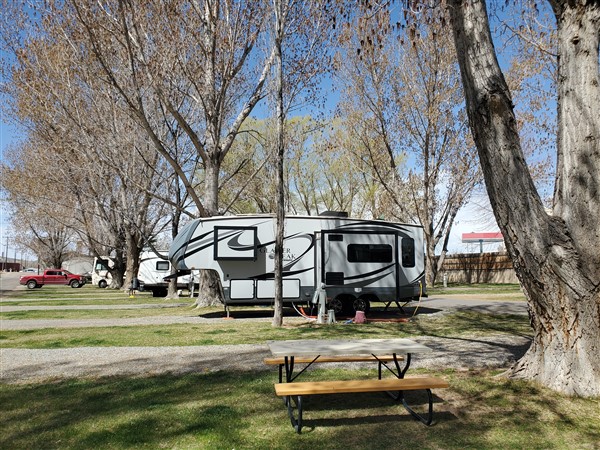 The bottom line here is loans however you slice them, are expensive! Its always best to buy within your means, and that doesn't mean buying "junk." My Concierge RV Buying Service helps buyers to ensure they're getting the most and best for their hard earned money and avoiding the many pitfalls associated with getting a RV camper.
Considering an RV at this time? Prices of campers are FALLING
Well, at least when it comes to the purchase of a camper, prices have fallen significantly from their peak values reached during the plandemic several months ago. I suppose we can thank the absurdly high fuel costs (and food costs) for this change in the RV industry from a sellers market to a buyers market. I recently wrote an article detailing which campers are falling fastest in price HERE.
Ok, so you now own a RV Camper – a trailer, a motorhome, a truck camper… What should you expect the RV Life to cost you on an annual basis?
RV'ers just like homeowners have expenses they can anticipate and budget for. These include insurance, registration fees, maintenance and upkeep, electric/propane, travel costs (fuel, etc.), rv park fees, etc. When looking at the cost of the RV lifestyle, know that RV'ers do not face certain costs that homeowners do, such as property taxes, trash removal fees, landscaping fees, etc.
RV Insurance
At the outset lets stipulate that RV insurance costs vary widely from state to state. This is why many RV'ers, including myself opt for a legal address in one of 3 states: South Dakota, Texas or Florida. Of the three, I opted for SD as fees are about as low as you'll find. Registration fees for vehicles are low, sales tax is 4% on vehicles, and residency is VERY easy to acquire. Residency HAS to be somewhere, but it does not have to be in a state you lived in much of your life. When you travel, YOU can pick your "home state."
Personally I use Americas Mailbox as my legal residence, mail forwarding company, insurance agent, and registration service – yes, they will register and renew your registration without you having to appear! I only visit SD when I WANT to – which is only required once every 5 years to renew my license! If you do opt to contact Americas Mailbox, please be kind and tell them "Box 3847 sent you!"
Since I travel with a fifth wheel trailer and a F350 truck, I pay insurance on both. I declare for my trailer that I'm "full timing" (never fudge on this question with your insurer IF you're a full timer!) I pay about $1200/year for the trailer (full coverage) and $2000 / year for the truck (clean driving record, SD residency.) If I was full timing in a motorhome, insurance is typically between $2000 – 3000 per year.
If you're part timing, the RV's insurance would be less than 50% of the rates mentioned here. The truck's rates or tow vehicle's rates would likely not change.
Registration fees
Again, quoting for SD, I pay about $350 – 400/year for BOTH my truck and trailer. Motorhomes are also quite affordable. These will vary wildly from state to state. SD incidentally makes it VERY easy to become a state resident. See my note above about Americas Mailbox to assist with this process.
Some states will be less than SD, most states cost more.
RV Maintenance and Upkeep
This is a category that will be highly variable. In 5 years of ownership of my camper, my maintenance and upkeep is barely over $2500. – over the entire 5 year period! This INCLUDES a new set of tires (about $1000. – done every 5 years) and three wheel bearing repacks (about $200. each – done every 12-18 months.)
Remember, I'm in a trailer. So, there's no "drivetrain" or engine maintenance or upkeep. I treat my truck separately. Of course, if I were not living in a RV camper, I'd still have a vehicle with all its associated costs. Those in a motorhome often have two motorized vehicles – and the associated costs with each.
I must point out that rv maintenance (repairs) are tied to the quality of the camper you purchase in the first place. If you buy a poorly constructed camper, expect to have problems – both with the camper and the components (fridge, furnace, hot water heater, etc.) installed in it due to inferior wiring and plumbing. You may save a few bucks up front, but in the long run, your repair costs will likely swamp those savings. I have many articles on this website that address the quality of campers, which companies to avoid, and who the 'good guys' are. You ARE, of course, welcome to contact me to discuss my Concierge RV Buying (and selling) Service!
A special note about RV Components and their costs
Most RV components fail – eventually. You may however get many years of good service from each. The good news is replacement components are generally $1000. or less. The most expensive components are:
RV refrigerator – these used to be a VERY expensive component, and SOME still are. Gas Absorption fridges can easily cost $3000+, but the good news is 12v compressor fridges can replace them, often for $1500. or less. I report on RV refrigerators HERE.
Air Conditioner – typically replacements are around $1000. (and there's new technology that enables them to "soft start" using less power for startup.
Hot Water Heater – to minimize trouble, change the anode periodically! Cost is under $1000. to replace
Furnace – most parts that can fail are very inexpensive. I wrote a report on furnace's HERE.
Bottom line: Repair and/or replacement of most components is not so overly expensive that it will break you. If you're on a tight budget, put some funds aside monthly for repairs. Perhaps $100 – 200 per month will create a "rainy day" fund for you. I now tend to recommend this approach in preference to purchasing an extended service contract (ESC) sometimes referred to as an extended warranty. Know that ESC's are almost never "bumper to bumper" coverage. They cover components – and only if they haven't been abused. Walls, roofs, etc. are typically not covered in an ESC.
Note: If you're in a motorhome, because the ESC covers the engine and drivetrain, you may wish to consider this coverage – but – you WILL pay for it!
RV Preventative Maintenance
Two areas to keep up on include the roof and any joints sealed by caulking. Roof maintenance is discussed HERE. Know this – water can and will destroy a camper – QUICKLY. You want to do whatever you can to prevent water from entering into the roof or walls of your camper.
RV Electric and Propane Costs
This is a category that could be well under $100 per month but for some will cost SEVERAL HUNDRED dollars per month. Lets take a look at when you pay for electric (you always pay for propane!) and what demands the MOST electric.
Electricity costs become an issue when you stay as a "long term" guest at most RV parks. Long term typically means staying 1 month or longer. Short term stays (daily, weekly) generally include electric usage in the quoted rate. On a longer term stay, you'll most often be connected to a meter that determines your individual campers electric usage. You'll pay whatever the going kilowatt rate is in that community. RV parks are NOT allowed to profit on your electric bill. Currently electric rates range from $0.10 to 0.25 per kilowatt hour across much of our nation. These rates can be expected to rise, perhaps significantly in the coming months/years.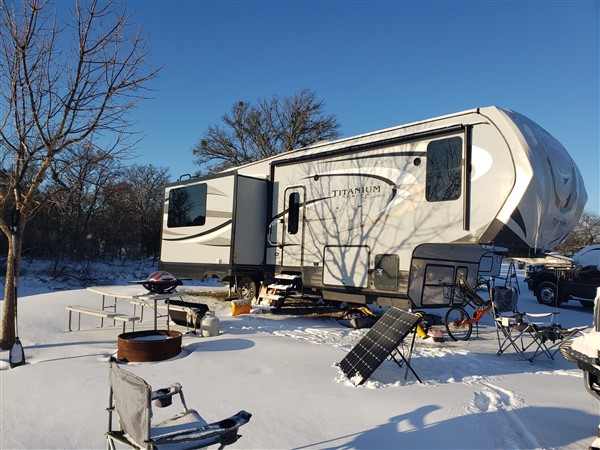 As a full timer who stays in hot places in the summer and cold locales in the winter, I can certify that your air conditioner and space heaters are by far your most expensive electric appliances. In a one week stay in Las Vegas in July 2019, I paid over $50. for a weeks electricity use! That's over $200. on a monthly basis, and it was the air conditioner responsible for 95% of that electric usage.
Likewise in the winter, reliance upon space heaters can be quite expensive and result in similar electric usage charges. Important: If you do winter camp, be sure to run your furnace at least enough to keep the underbelly from freezing up. This is assuming your furnace has a port that feeds warm air to the tanks and plumbing. Further, running your furnace will run up your propane usage.
Propane Usage
The furnace, hot water heater, oven, stove top, and refrigerator ALL use propane in most campers. Some campers have hot water heaters, ovens, stove tops, and fridges that run on electric only. Personally, I prefer campers that run these appliances/components on propane. Why? If you ever "dry camp", you'll find it far easier to get along with propane appliances rather than those that require 120v electric to run.
Of all the components listed in the prior paragraph, the furnace is the ONE that demands the most propane. In my camper, because it is a TRUE 4 season camper, I only run the furnace when the outside temperature is expected to drop below about 18F overnight. Remember – you need the furnace to keep your underbelly from freezing up. And… if the camper you're considering doesn't have a sealed AND heated underbelly, why are you considering buying it??
I've stayed in extreme cold, nights consistently below 0F, and occasionally -20F or lower. Under those circumstances, I have burned through about 100 gallons (at $2.75*/gallon currently) of propane in as little as 3 weeks. This is an EXTREME case and most will not face this high a usage!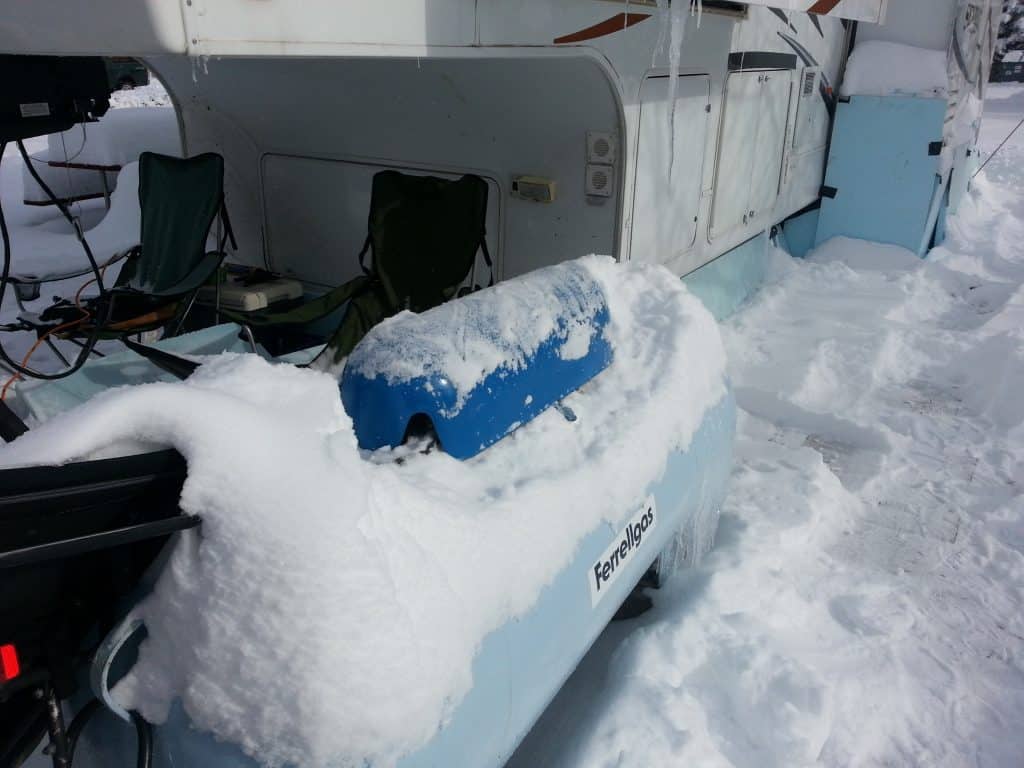 *This is a bulk rate you can expect when you have a 120 gallon tank sitting beside your camper, as I do in the winter. When you go to fill a 7 gallon (or 5 gallon) bottle – the kind that comes with most trailers, you'll pay closer to $4.00/gallon for propane.
During the summer, I can often go 3-4 months on ONE 30 pound (7 gallon) propane tank. At todays rates, thats about $25-30 in propane for the ENTIRE summer.
RV Travel Costs
Travel costs are going up, no doubt about it. It now costs me over 50 cents PER MILE to pull my trailer, and that's just for fuel. When traveling, you must consider vehicle maintenance (tires, bearings, etc.), depreciation, and more. In a recent article, I discussed my thoughts on the rising cost of travel and shared a couple of videos that address the issue and get to the core of it.
Food is one expense that RV'ers CAN keep in check when compared to folks who hit the road in their automobiles and stay in motels. Remember, most rv's have a fridge and a kitchen. With that you can eat better and pay less than stopping at "roadside joints."
You also know where your bed is and in a pinch, you can pull into the nearest rest stop, truck stop and more to do an overnight for $0.
RV Campground Fees
You know the old saying about the cost of real estate? Its based upon 3 things: location, location, location. The same is true for RV parks. Want to stay near a major tourist destination or city (why would ANYONE!), you'll pay and pay and pay. Monthly rates can be as much as $1500. per month and that may not even include electric. But you might get free wifi (that doesn't work well.)
In contrast, if you're in rural America, a non-tourist destination, you may pay as little as about $300. per month. Many of my preferred destinations are closer to this world than the world in the previous paragraph. Two great resources for finding campgrounds include campgroundreviews.com and allstays. The former is free, the latter provides a map interface to explore many different types of campgrounds. Both provide reviews of the campgrounds.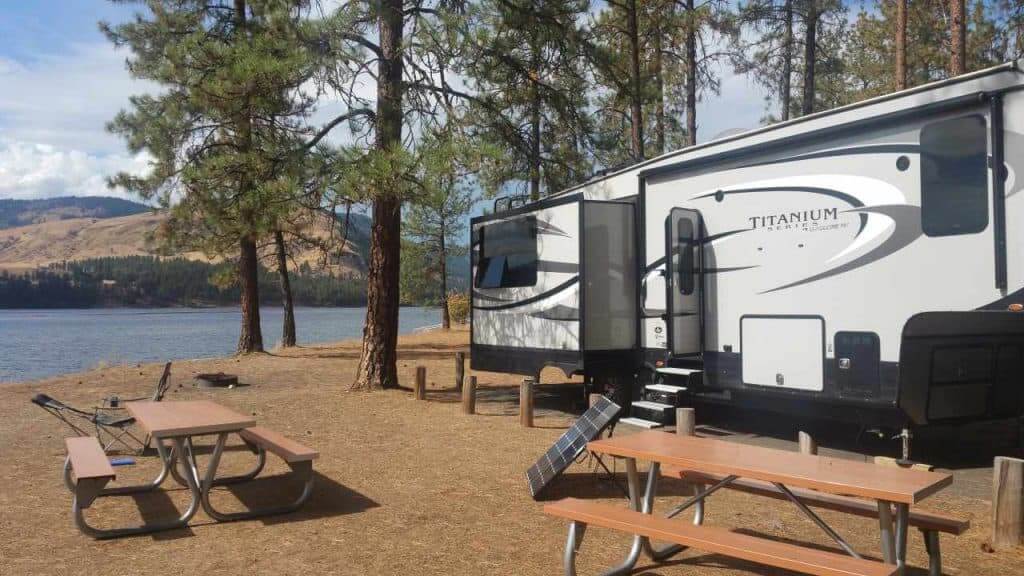 Note my comments are above are based upon monthly stays (or longer.) If you stay for a day or a week, you'll pay MUCH more than a long term visitor. Sometimes as much as 400% more than what a monthly visitor pays. You also get to pay lodging tax, whereas its often waived for long term stays. If you do wish to stay long term, you must call the RV park and discuss that with them in advance (in most cases) as they often have limits to how many long-termers they're allowed to avoid being classified as a "trailer park."
Additional expenses and concluding thoughts
If you can think of additional expenses that I missed, please use the space below to leave a comment. Also, please visit my video on youtube and leave a thumbs up and perhaps a comment there as well!
I guess my best advice for the cost of the RV lifestyle is this: YOU control (to a great degree) your costs. You can be as frugal or extravagant as you like. As you see, the cost of rv parks along can exceed $2000 per month if you stay on a nightly or weekly basis or as little as $300 per month if you stay monthly in a non-tourist area. You can trim that further if you build in lots of boondocking (dry camping) – which considering where society is heading, it would be a GREAT idea to learn how to do it!
Some of the things you'll need for RV'ing are found HERE. You can also learn about boondocking in posts like this one – where I discuss solar panels and generators. Water filtration is another hot topic.
Enjoy my content? Want to be notified of upcoming posts? Please join my newsletter below…