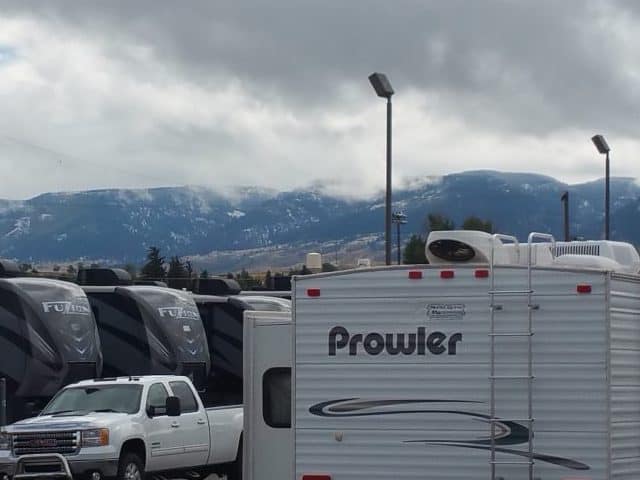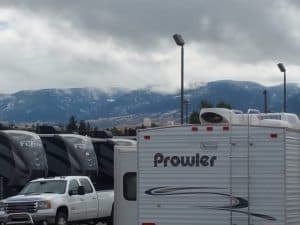 Yes, it really DID snow on Casper Mountain on 9/25/17. These photos were taken on the morning of 9/25 as the clouds began to break and we could see the fresh snow at about 7000 – 8000 ft. elevation. (And, yes, it did not last long as it IS still September!!) But, as I write this on the evening of 9/26, it does feel more like mid-late October. And it looks like we're going to have a true "Indian Summer" now as our first frost in town was this morning. But… you didn't come here to see my funky snow photos, you are here to see an analysis of RV loans so… read on!
PS – this is actually the 2nd post of a 3 part series. The first post can be viewed HERE.
ps – you can click the images to see full size photos!
RV Loans – no secrets – just a real (and kinda simple) analysis
Still working on this post, its 9/27, just got back from Alcova (Lake) where I did some morning Kayaking. Beautiful morning – mid 40's, little wind, nice canyon at the end of the marina road.
The following chart supports the video (where I discovered you can't really read what was on my phone!) Review this chart as you view from roughly the 1:55 mark to the 5 minute mark in my video above.
| | | | |
| --- | --- | --- | --- |
| | Case 1 | Case 2 | Case 3 |
| Amount Borrowed |  25000. | 25000. | 25000. |
| Interest Rate |  6% | 11.5% | 6% |
| Term | 12 years | 12 years |  8.25 years |
| Payment (monthly) |  243.96 |  320.83 |  320.83 |
| Total Interest Paid |  10131. |  21,199. |  6755. |
| Principle:Interest |  71:29% |  54:46% |  79:21% |
Source: calculator.net/payment-calculator.html
Lessons learned:
ALL loans cost lots of $ in interest, so if you don't have to borrow, don't!
Having good credit (750+) compared to fair credit (around 600) will save you THOUSANDS (10's of thousands?!) on the SAME loan
Paying over the minimum monthly can reduce your interest burden by THOUSANDS
Additional things to think about when buying a RV…
Insurance – a few tips: if you full time, tell the insurance company that! and DO get "full cost replacement" coverage
If you're looking to have an expert by your side – and on your side through the entire purchase process, check out my Concierge Buying Service
Road hazard/trip interruption protection – I highly recommend CoachNet
Extended Service Contracts – I wrote an article on this very topic, you can access it HERE
Join the discussion on Facebook