It's hot, kinda humid and smoky – really not too unusual for late July, although last week we hit 110 one afternoon – THAT is unusual! Its been an eventful month here in Rapid City, South Dakota – and – at the FreedomFest Conference (just ended.) My goal in this post is to share a bit about Rapid City and the surrounding region from an RV'ers perspective – and – about FreedomFest, what I experienced and discovered – again from an RV'ers and travelers perspective.
The 5 year "pilgrimage" to South Dakota
As a South Dakota resident, I need to return to SD at least once every 5 years. A 30 day stay allowed me to apply for a concealed carry license; renew my drivers license (which actually requires only 1 night's stay), and re-connect with my "home base" – Americas Mailbox – which in addition to being my mail forwarding service also runs a campground here. Most of the time, Americas Mailbox to me is a website I visit to arrange for delivery of my mail (they will forward all mail I receive to my postal mail box in Box Elder, SD) and to send me my vehicle registration info as well.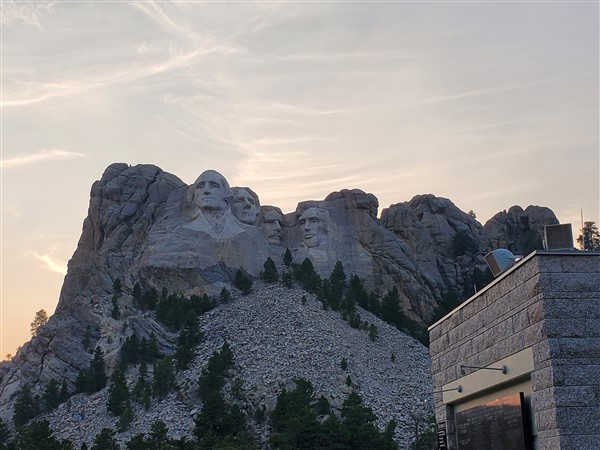 Life and RV Camping in Rapid City, SD
Rapid City is situated on the edge of the Black Hills. From the center of town, you can climb about 1500 ft. in a 30 minute drive and reach pristine Pactola Lake – a great spot for swimming, kayaking and boating. There are some amazing views as you drive around the lake!
In or very near town itself, there's a KOA (very overpriced!!), Americas Mailbox campground (FAR more reasonable), and there are many more campgrounds situated near I-90 as you head NW towards Wyoming (not far from Rapid) and scattered throughout the Black Hills. There is also a campground about 38 miles east of Rapid City (at exit 98) that charges $20/night for electric service.
Mobile RV Service
Rapid is a town of about 100,000 people – enough to provide lots of services which include SEVERAL mobile RV repair guys. Traveltyme is my top pick for the region – I had Doug come by to replace my water pump and while there, he repaired a minor leak near a skylight in my roof. Including the 'house call' fee, he was only $100. Doug was FAR more reasonable – and professional than Phils RV repair (near Hill City, SD) whom I hired to deal with my fridge issues in June in Edgemont. Phil is the ONLY mobile RV repair guy in the past several years I can not and will not recommend.
Incidentally, mobile RV service is an excellent way to get repairs done without waiting for months with a dealer! Even if you're under warranty, call the manufacturer – its likely they'll approve work by a mobile guy – especially now.
Lots of Food
There's a good natural food store down near the Roosevelt Swim Center (an excellent aquatic center) – Breadroot Natural Foods Coop has organic produce, fermented products, non-dairy yogurt and more.
A city of Rapid's size means RESTAURANTS. A few I can recommend include Que Pasa (at 5th and Main), also Harriet & Oak on Main St. just east of Que Pasa – excellent lunch (and healthy!)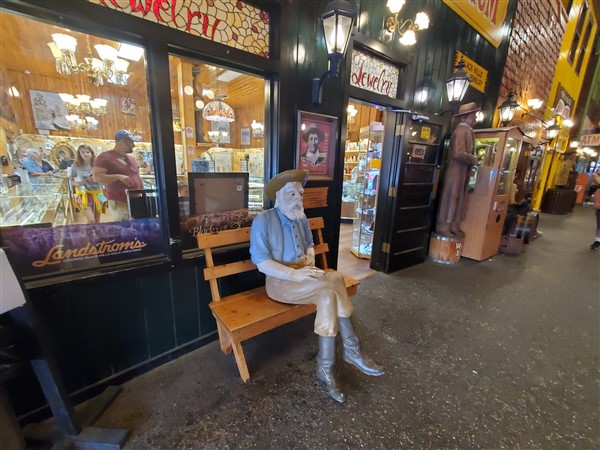 Eglin Street – Eats & More…
Eglin St., near I-90 is "strip mall row" and surprisingly has several very good (and reasonably healthy) fast food restaurants – Qdoba, The Gyro Hub (with a vegetarian gyro!), Panera (good salads, ice tea) all make for solid choices. Due to gross mismanagement I will NOT recommend Noodles and Company.
Eglin Street is also home to Scheels – a big box recreation oriented store with an unusual twist – they provide excellent service and even have a REAL bicycle repair shop inside which I HIGHLY recommend. From my RV site at Americas Mailbox, I was able to ride there (on my new trike) and they helped me make some fine adjustments. I have GREAT confidence in their head tech Kaleb. Ask for him if you visit. Tom works the sales floor, he's a straight shooter and a good guy to know as well.
Freedomfest – this years theme: healthy, wealthy, and wise
There's nothing like starting a conference with Ben Franklin as the first speaker! Well, Mark Skousen, the event organizer, which had nearly 3000 attendees this year, addressed the audience as Ben Franklin, and he does well in a 18th century outfit!
Following with FreedomFest's (#FFEST21) healthy, wealthy, and wise theme, I attended numerous sessions and conducted a few interviews – which I will be sharing with you in the coming days and weeks – including interviews with leaders on the cutting edge of regenerative medicine, early detection of cancer, and alternative currencies, including a "gold dollar bill" containing 1/1000th ounce of gold and an interview that may introduce you to or help clarify crypto in general and privacy crypto coins. These are crypto coins that 100% ensure your privacy.
One of my interviews involved a 73 year old CEO who is leading the research on regenerative medicine and fully expects to be the keynote speaker at FreedomFest in 60 years! When you see what they're up to, you'll understand why he may just achieve his goal!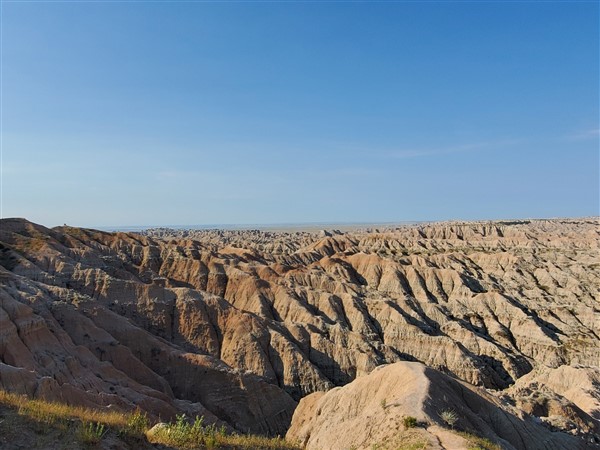 Stuff to See and Do near Rapid City…
There's ALOT to do in and near Rapid! The Black Hills are just to the west. Deadwood, Lead, Sturgis and Spearfish are all a short drive and offer a variety of experiences. Mt. Rushmore is a must (and will be the subject of an upcoming post) as is Badlands National Park (also in an upcoming post.) Let's not forget Devils Tower – just west of the Black Hills in eastern Wyoming.
If you have kids, U.S. 16 from Rapid to Rushmore is a treasure-trove of tourist roadside attractions. You can spend a couple of days (and plenty of bucks) at a drive-through wildlife park, a bear exhibit, a giant candy store, and even an alpine slide.
Closing thoughts…
As I write this, I'm preparing to leave Rapid City and travel to Casper – with a two night stopover to see new friends in Edgemont, SD. I will share my reports with you as quickly as I can mange the time to compile new posts. In the interim, I encourage you to review my recent reports on RV Refrigerators, Weird Places you encounter as a traveler, recent RV pricing trends, Edgemont and the lower Black Hills, and my latest toy – a trike! Also – look for an upcoming report on Devils Tower, Cook Lake, Wy., Badlands National Park, and a brief visit to Mt. Rushmore.
***It's August – but – cooler weather is just around the corner. Need an RV skirt? I do (and I did) – here's who I turned to AND WHY – My Search for a GREAT RV SKIRT
Lets keep in touch! Want to be notified of articles as they are posted? Please join my newsletter below (and if you visit my youtube site, I encourage you to "like and subscribe"