As I travel, I often find myself "reflecting back" upon my recent (and not so recent) destinations. In July, which now as I write this in late August 2021 seems like 1000 years ago, I was in Rapid City, SD. I was there in part to attend FreedomFest (#FFEST21) – and the first of my interviews from that highly worthwhile conference is posted HERE – it is an interview with the CEO of Zhittya Genesis, a Regenerative Medicine research company that is working on a molecule that may soon redefine how long you and I can enjoy our RV travels as we age!
As with everyplace I visit, I have multiple objectives. Rapid City offered me an "urban" environment where I could "shop till I dropped" and eat out (often!) Rapid City is also a town that is situated near some world-class places to visit.
Mt. Rushmore – an inspirational place
In the Black Hills, just to the west, there are a number of towns, state and national parks worth exploring. I discuss some of these here in my post about another town bordering on the Black Hills – Edgemont, SD. Another site VERY much worth visiting is Mt. Rushmore. For me, it was an opportunity to ponder upon what was as I studied the image of each of these great Americans (well, at least 3 of them!), and what we can yet achieve in our exceptional nation.
I chose to visit in the evening – in part to avoid the heat of the day (we were experiencing a heat wave at the time where daytime highs reached about 110F!) – and in part to see this national treasure at a unique time of day – sunset and just after.
For those traveling with kids, the road to Rushmore from Rapid City is filled with "roadside attractions" that can drain your wallet! Take advantage or beware according to your wishes. At you travel Rt. 16 from Rapid City, you'll encounter Reptile Gardens, Bear Country, a mini-golf operation, a cosmos mystery area, the "national presidential" wax museum, an alpine slide, a giant candy store, and more…
The Badlands – a VERY different experience (and Wall Drug)
Less than an hour east of Rapid City, you'll encounter a very strange region called the Badlands. Shaped by all kinds of unique geologic activity, it is a colorful, forbidding, oddity. Enjoy your drive through it, and be sure to stop at the roadside pullouts, but beware that a hike into the wilderness may bring you in contact with rattlesnakes and other undesirable forms of wildlife! It was viewed as so exceptional, it was designated as a National Park in 1978.
Geology of the Badlands
When you visit the Badlands, what grabs your eye is layers of rock – often colorful layers. Upwards of 100 million years ago there were shallow inland seas in this region. Sediment deposited over time created these layers. After the seas retreated, erosion took over and rivers, wind, and ice sculpted the features we see today – which are slowly eroding away as we speak. Don't worry – it will take over 1 million years to erode the current Badlands to a flat landscape!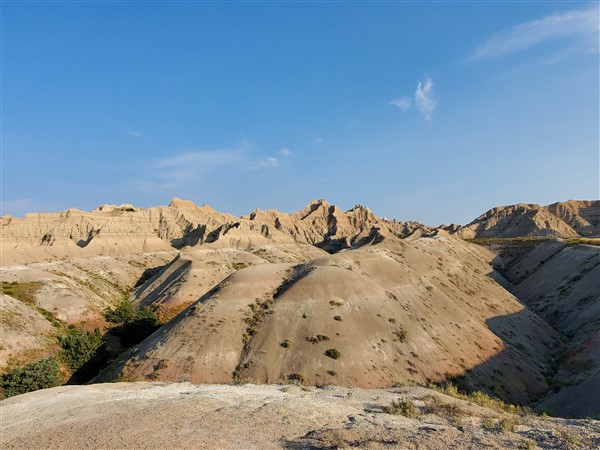 The town of Wall, SD
Just north of Badlands National Park is the town of Wall – and of course Wall Drug. It too is an oddity – a giant store, in part pharmacy, in part tourist trap, in part restaurant and definitely worth a little time to visit. Wall Drug started as a way-station for travelers to stop in for free or very cheap coffee and water.
I detail more about Rapid HERE and provide some insights and thoughts on where to stay, eat, get rv repairs done and more.
***As I prepare this post, the weather is *just* starting to turn cooler. If you're living in an RV camper like I am, you may need an RV skirt. That was ME 4 years ago when I first got my current fifth wheel trailer. Here's who I turned to AND WHY – My Search for a GREAT RV SKIRT***
Like my content? Lets keep in touch! Want to be notified of articles as they are posted? Please join my newsletter below (and if you visit my youtube site, I encourage you to "like and subscribe"