Greetings upon my return to Soda Lake at the foot of the Wind River Mountains, about 10 miles outside of Pinedale, Wy. – and literally on the edge of the wilderness. I've been here for a week already and plan to spend another week before moving on to Idaho. This is my second visit to Soda Lake and I was fortunate to garner the same camping spot as I had last June (2020.)
A few things have changed here in the Pinedale region over the past 15 months… The first thing I noted as I set up camp next to the lake was FEWER INSECTS! Late season (we've already had our first freeze here with 30F registered on Aug 29) is FAR preferable to early season when everything in the world is growing and hatching! Of interest, even with subfreezing morning lows, afternoon temperatures are still reaching nearly 80F!
As I write this, it is the last day of August (I often create a post over several days, so it may take a few more days before I press the "publish" button!), we are at the end of "meteorological summer" (at least in this part of the nation.)
As September begins, meteorologically we are entering autumn (yes, I know the equinox is not for about 3 weeks yet), but temperatures here in Wyoming (and much of the interior west) at this time of year begin a steady and noticeable drop. Already, overnight lows are now regularly in the 30's and daytime highs, well, today was about 80F, and frankly, this may have been the LAST 80 degree day! The sun has set as I am writing this and temperatures are already on a steep decline and won't stop until its near freezing by morning.
Additionally, what minimal "viral protections" that existed here (in town) last June are gone. There's NO sign of the virus outside of a few folks (mostly out of state tourists) wearing face masks so, life here is NORMAL!
Life on Soda Lake…
Soda Lake is just 20 minutes outside of town, close enough to still get a Verizon signal (but not one from ATT!) The roads are gravel, but good enough for most campers of all types to survive the drive out here and most of the sites to camp are large. I'm at the north end of the lake, farthest from town, but in a site with just about the best cell signal I can find. I'm not using a cell signal booster, but based upon where I am planning to be this winter, I just started looking into them.
Given the fact that I have several active Concierge RV Buying (and Selling) Clients, I need my access! Know also that my phone serves as my "hot spot" – providing internet access to my laptop "on demand." Combine that with 200 watt solar panels to charge the batteries – and – a 1000 watt inverter to power the laptop (or any other low wattage, 120v appliance), I'm just as functional with no "shore power" as I am at full hookups.
If you want to see the accessories that have made my "best accessories pages – ones I've personally used and found worthwhile, click HERE.
At Soda Lake, you're in a "dispersed camping" area on Wyoming Game & Fish Dept. land. This area has NO CHARGE for the camping and they even provide picnic tables and fire pits dispersed around the lake! You're welcome to stay for up to 14 days. The area seems to be crime free, frankly as does the town. I leave my camper most days to go to town (gotta hit the "PAC" – read on to discover what the PAC is.)
***As I prepare this post, the weather is *just* starting to turn cooler. If you're living in an RV camper like I am, you may need an RV skirt. That was ME 4 years ago when I first got my current fifth wheel trailer. Here's who I turned to AND WHY – My Search for a GREAT RV SKIRT***
Water Usage…
Water usage can be one of the limiting factors controlling how long you can stay "off grid." While here, my black tank is large enough, it won't fill for about a MONTH (remember – its just me); and my fresh water tank is still showing full bars after more than a week – but there's a catch… I joined the Pinedale Aquatic Center (also known as the PAC) for a month to make use of the showers and to swim and walk in the water channel (lazy river) daily – and of course relax in the hot tub!
The Pinedale Aquatic Center is an amazing facility and a true asset to the entire community. It has been vital to me – not only to help keep my water usage to a minimum, but to help me keep exercising as safe outdoor exercise has been curtailed due to periods of thick smoke (thanks to the west coast states!!) that has made air quality unhealthy more often than not during August.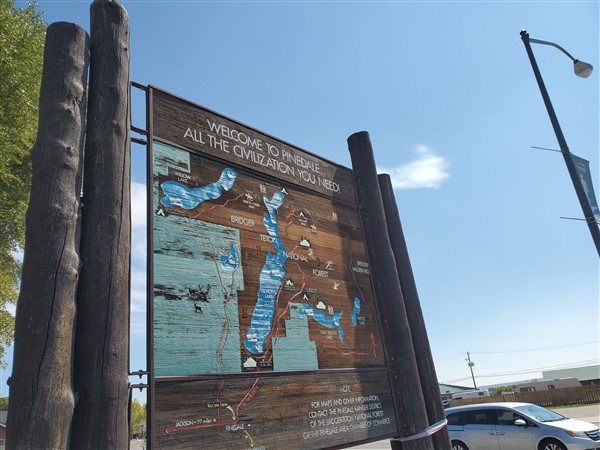 Pinedale – a town with "all the civilization you need"
As the sign at the entrance to town proclaims, Pinedale is a town with all the civilization you need! The Heart and Soul Cafe, coffee shop (Pine Coffee Supply), chinese restaurant, Ridleys and ACE Hardware (and a nod to Hank's Hardware as well) have been my mainstays upon my town visits.
The Heart and Soul Cafe has been particularly great as they serve breakfast all day, offer wifi, indoor/outdoor seating, and the food frankly is really good! The coffee shop is also very high quality coffee. Both are open into the mid-afternoon only. After 2 or 2:30, you'll have to look for other digs – which could include the library, the PAC – which has wifi and tables to work at, or even a seating area inside Ridleys. (Can you tell I'm a "road warrior"?)
My one regret is I have not used my trike in over a week as riding around Soda Lake is a bit rugged for it, and frankly between my daily aquatic exercise and the poor outdoor air quality, and an occasional kayak session on the lake, I've had more than enough exercise daily to keep reducing weight and improving my cardio conditioning.
Transporting the trike is something I'm still working on. While enroute from spot to spot, I have plenty of space in my 5th wheels storage bay, but once on-site, I do not have a trike rack to carry it – at least not yet.
Well, I just wanted to share! Its a great region, Soda Lake is just one of SEVERAL lakes you can access relatively easily with your RV camper. Willow Lake is just "up the road" from Soda, and while I've visited, as it is over a mountain ridge and down in its own valley, all cell service is gone. Fremont Lake is a paid campground with services (I believe elec. and water.) It is a spectacular setting, but few if any sites are "water front", most are situated above the water and separated by a steep drop and thick brush. Half-moon lake and Burnt Lake are less accessible – smaller campers ONLY! And – cell service in those regions is quite limited as well. Last year I created a post that goes into greater detail about each of these lakes and what I discovered as I "ground truthed" each.
Like my content? Lets keep in touch! Want to be notified of articles as they are posted? Please join my newsletter below (and if you visit my youtube site, I encourage you to "like and subscribe"