After 9 1/2 years "on the road", I still experience an occasional "first", and a dust storm was something I had not previously encountered.
Before I get started… if you haven't seen my report on my visit to our southern border – its a MUST see. I was there and video footage doesn't lie. Just this morning, I listened to an interview with Del Rio's Mayor – the situation is becoming desperate. Details HERE.
The weather forecast a day earlier was for relatively tranquil weather.
The morning of March 22 started off tame enough in Brownfield, Texas. I was spending a few days in their (free) community campground (that also offers electric and water!) I was actually at a RV repair shop talking about some roof damage on my camper when I checked the latest radar echoes and noticed a nasty line of potentially severe weather working its way towards Brownfield.
I headed back to my camper, checked to ensure that all was ready and soon after the winds picked up and it started thundering, lightning, and hailing with pea sized hail. The radar echoes showed (fortunately) the most severe part of the storm was going to stay JUST west of town – and it showed a pattern on radar suggestive of possible tornadic development!
The Severe Thunderstorm Passed By – but… there was MUCH more to come
After lunch, temperatures warmed to near 70F (normal for this time of year), I took a break from my work and decided to do a walk around the park I'm staying in. As I started my walk, my phone displayed a "dust storm warning." I looked around, noted dark brown sky (a sign of dust) just north of my location. As the winds were blowing (at about 30mph) from the south, I knew that potential hazard was headed away from my location.
To the south, I saw some building cumulus clouds, but nothing to be concerned about. About 20 minutes later, the southern horizon began to turn brown and over the next several minutes, it grew darker, and showed movement towards me.
By about 3:30pm it became obvious what was going to happen soon as the sky was now very dark (and brown) to the south and it was "rising" from the horizon. I was relatively near my camper when I decided to cut my walk short as I recalled from some nature video I'd seen that dust storms are often closer than they appear.
The Dust Storm Arrives
Literally with seconds remaining, I arrived at my camper, entered and immediately began closing vents and windows. The last was closed just about as a wall of wind and dust hit the camper. It grew dark – even though sunset was not for several hours.
The wind howled and blew for over an hour. I'd estimate gusts were 60-70mph. The camper was pelted with dust. Tumbleweed appeared from seemingly nowhere and skated across the ground past my camper. A little dust even worked its way into the camper (through the slide seals) – though far less than my neighbors Grand Design camper who had a real mess to cleanup after the storm.
Finally, after about an hour or more of this, the wind began to abate. The sun slowly returned and it became safe enough to exit the camper and inspect the situation. In my case, no damage, despite being rocked about just a bit. I did hear later that a tractor-trailer truck had been blown over and a couple of RV travelers who were foolish enough to try traveling in this storm had been toppled as well.
Best advice: if this kind of event ever hits you, don't try to travel during it!! Pull over wherever you can – ideally BEFORE it hits! If you're stationary, be sure that anything that could blow away (eg – camp chairs), is secured. Leave NOTHING open!! Otherwise, you'll have quite a mess to clean up after the event.
It's events like this dust storm that confirm the following:
SOLID ADVICE… IT MATTERS which RV camper you purchase! If you're "in the market" and would appreciate a "guide by your side, who has YOUR back" please do check out my Concierge RV Buying (and Selling) Service. I serve you as an advisor, consultant, negotiator and more during the course of your purchase experience.
Lastly, by all means, take these events that are NOT rare in the Great Plains (I'm now in the Southern Plains) seriously, and know that as they approach, they're closer than they appear to be, so whatever time you think you have – you have LESS!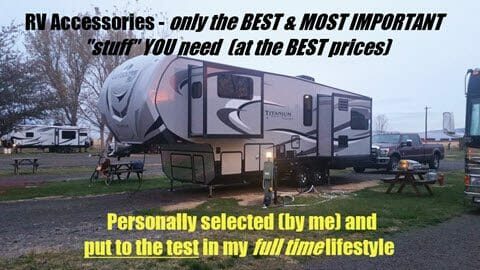 Enjoy my content? Please subscribe below to my newsletter to be advised of new posts as they are posted.