Spring was *just* around the corner when I left Tow (Texas) – and the Texas Hill Country was about to be awash with POLLEN – TEXAS POLLEN! So… I KNEW enough to "hit the road." I headed west to Sonora – a small dusty town on the edge of west Texas, and about 90 miles north of Del Rio – a border town.
Border Visit
I had flirted with the idea of camping closer to the border, particularly in Amistad National Recreation Area – just outside of Del Rio, but frankly due to the situation near the border, I was advised by "those in the know" to stay away. When I drove south through Amistad and saw the lay of the land, I had to agree with those who advised me. That's not to say that private campgrounds are dangerous – I'm sure that most are not. As the old saying goes – there's safety in numbers.
Special note: This is a much shorter post than my usual. Due to the nature of the issue I'm reporting on, I'm recording my thoughts into the video above – and NOT so much in writing here.
Del Rio, Texas
Upon my visit to Del Rio for a day (only with my truck), I began to understand why the advice I'd received from other RV'ers was wise counsel. I learned a few important things upon my visit to the United States southern border. Among them are the U.S. Border Patrol has their hands full (see my video for my story of a very disturbing encounter with some "travelers" fresh across the border) and the Rio Grande is NOT at all what I expected (again – see the video.)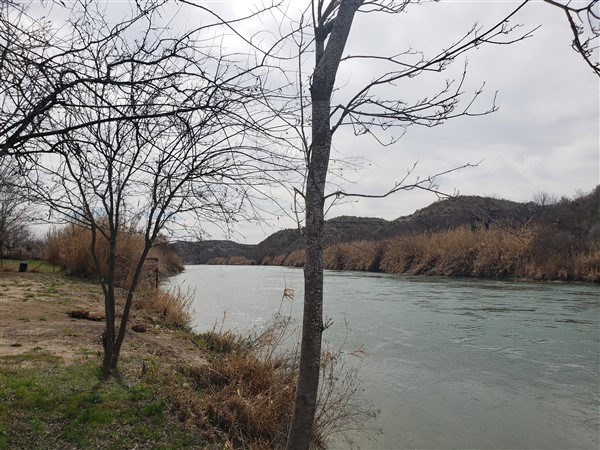 In our current culture, I'm choosing my written words in this post very carefully – and you'll note my video (unlike virtually all of my other videos here on RVAcrossAmerica.net) is NOT from YouTube – just a sign of what's happening to video creators like myself in 2021. So… suffice to say, I'd rather put my thoughts on my border visit into the video than record them here.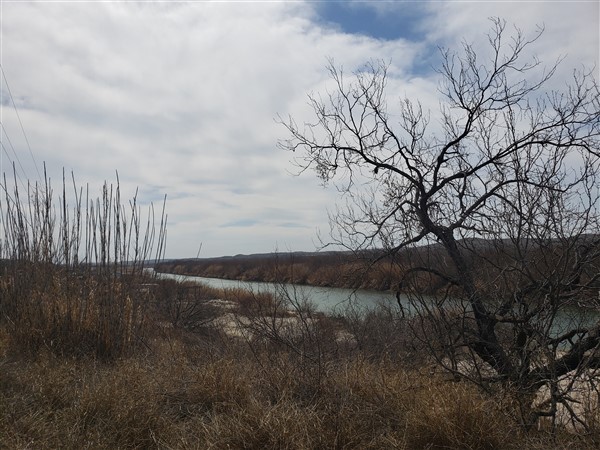 I visited with a homeowner named "Joe" who lives right on the Rio Grande. He knew about the individuals I had seen a few minutes earlier (who were corralled by the Border Patrol) and he shared some of his concerns and frustrations as a homeowner living on the border.
UPDATE!!! Del Rio is IN the news and the Mayor has spoken out about what is happening to his city. He tells a compelling story and shares how the mis-handling of this crisis is directly impacting his residents HERE.
Big Bend National Park
I'm including a few photos from a visit to the SW corner of Big Bend National Park (I highly recommend visiting this region.) I had an extended discussion with a law enforcement ranger while there and hiked a canyon along the Rio Grande. The water body was so small and calm, at first I just thought it was a creek – not a river serving as an international border.
Big Bend NP is located about 100 miles south of Alpine, a college town situated in west Texas – but still over 200 miles east of El Paso – Texas never ends! Incidentally, if you enter Texas on the Louisiana border to the east and drive to El Paso, you're looking at about a 900 mile drive!
I'm going to share more about Big Bend NP in another post, but for now, I'm including a few photos that illustrate what its like to be along the border. My visit to Big Bend was associated with a weeks stay in Alpine, Tx. – I highly recommend staying in the area as there is much to do and see – including a decommissioned United States fort named after a leading CONFEDERATE figure! When visiting Big Bend, be sure to visit Terlingua – more on that in an upcoming post!
If you enjoy the content in my posts, please feel free to subscribe to my newsletter to be notified of new posts.