In Search of… The PERFECT Campsite
Good to catch up with you again! So much has happened since I left Casper, Wyoming on September 8 after a very successful summer selling (and learning more about) RV's. In fact it went so well, I'm now heading a new initiative with Stalkups – an Internet Sales division! Yep, as I travel, I'm continuing to work with the good folks back there and help find the right RV for those who are interested in joining this grand lifestyle – or updating their current "rig".
My route from Casper took me north to Billings and then west to Red Lodge – and that is where things began to get interesting. Briefly, Sheridan (on the way to Billings) is a nice, quaint town and is definitely worth the visit. I stayed one night at Peter D's, a small park I highly recommend due to access and location. Sheridan has lots of small shops and great places to eat. In contrast, Billings is somewhat of an unwieldly beast with traffic and driving styles that are more reminiscent of Boston than anywhere else in the intermountain west!
The only reason I stopped in Billings was to pick up my new 6 volt Trojan batteries – but that's a story for another day as they are part of my strategy to be energy self-sufficient – a post on that topic is coming soon!
Red Lodge – the Gateway to the Beartooth Highway is the subject of another post HERE. After 3 nights of adventure in and around Red Lodge, I headed off to and explored Cooney Dam Reservoir for one night – and to test out my new solar panels. The initial one night test was a resounding success, details and more will be in my solar energy post – due out in early October.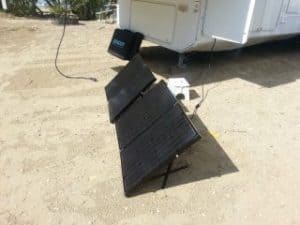 Cooney Dam Reservoir
Cooney Dam Reservoir is definitely a contender for the "perfect campsite" award! After leaving Red Lodge, I drove just a few miles north to this large reservoir which on weekends is a playground, mostly for folks from Bozeman. During the week – especially after Labor Day, it is virtually deserted.
Allow me to define what I'm looking for in the perfect campsite – 1) lake front with easy access to put my kayak in the water 2) access for my (oversized) 38 ft 5th wheel – both in the campground and on roads leading to that campground 3) remote location BUT still providing Verizon phone access (hey, I'm NOT on vacation – and I do need phone access to conduct business and access the Internet!)
Lets watch this video sharing my campsite at Cooney Dam Reservoir – Marshalls Cove Campground, and then we'll see "how it rates" on my scale…
[youtube]https://youtu.be/j854jhBSud4[/youtube]
Hey a quick note… if you are enjoying this post, please subscribe to my site (simply complete the "follow us" with your first name and email). Also, have you visited my RV Lifestyle Facebook group – now over 9000 members? AND… if you would like, leave me feedback in the space provided below!
As I describe these places, it occurred to me, you may wish to see where they are! Here is a map that details my travels from Sept 8 through Sept 27…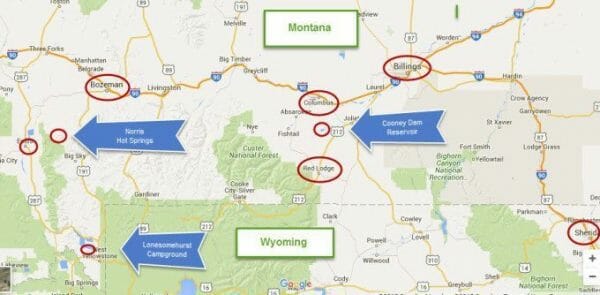 Ok, so, how did Cooney stack up? Well, phone service was spotty, the nearest I could gain any signal was 2 miles away. Not real convenient when it comes to working from your campsite! Access was good – except for the 1+ miles of washboarded roads leading to the campsite (I had to re-secure the lower skirting of my 5th wheel on one side as a result.) Being "beach-front" and near the water however was a BIG plus! So… I'm still in search of the PERFECT campsite!
The weather turned windy, rainy, and chilly and that caused me to depart from Cooney. The next two days were spent camping at Itch-Kep-Pe park in Columbus. A small town who's second highest rated restaurant is McDonalds! The good news is the McD's had electric outlets – I needed to recharge as I could not use solar in the park. It was mostly overcast while I was there and the park is well shaded from trees. Overall, for a few dollar donation each night, its a great place to stay!
Bozeman
Bozeman was next on my planned stops. Here is what the road looked like on the way in…
Bozeman is a nice college town and the university has a great museum (got some good photos and video I'll share soon) that is known for its dinosaur exhibits. I also took the initiative to stop into the National Forest Service (USDA) office that manages the nearby NFS campgrounds and spoke to a ranger. I told her of my interests in where I'd like to camp and she recommended Hood Creek along Hyalite Lake. I set out a couple of days later with high hopes – only to find when I got there the site that (supposedly) would accommodate up to 43 ft would (at best) handle a 25 ft trailer. Worse yet, the roads inside the campground were never designed for a "big rig" and I got hung up going around and down a curve. The end result? See below…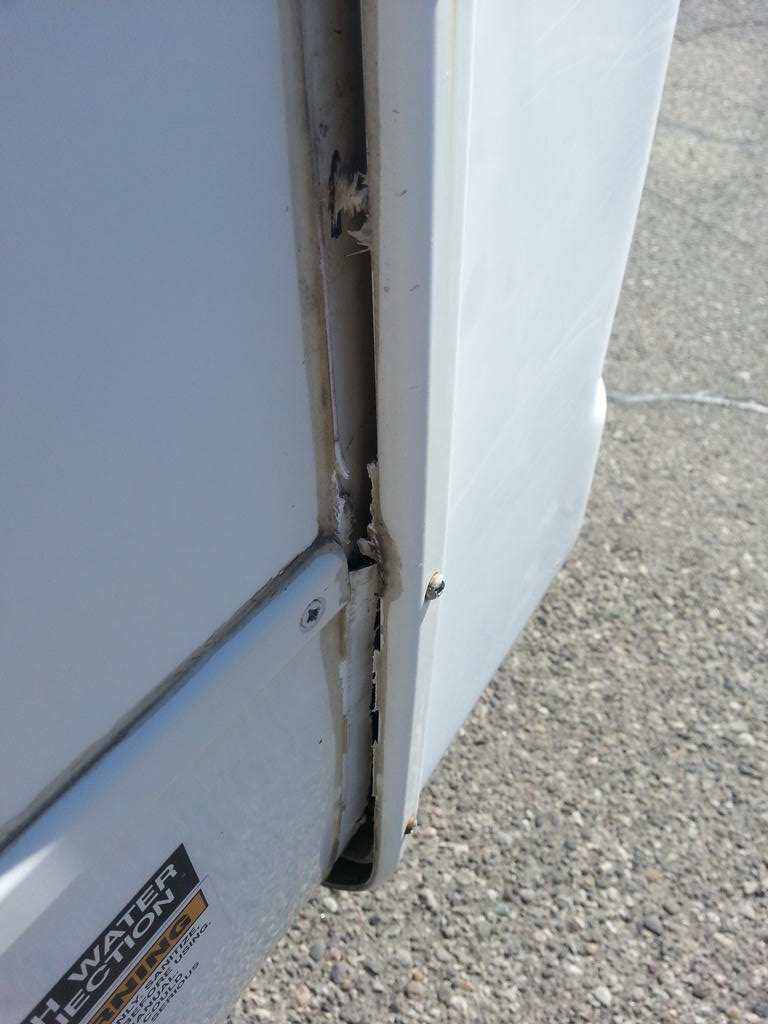 You're looking at the end-cap at the rear of my unit. I solved the issue by applying lots of silicone to cover it as it is still sealed and solid. Oh well – all part of "rv life". I left Hyalite Lake frustrated and a bit dejected (I need to move to a smaller 5th wheel!), but that's life. A few hours soaking in Norris Hot Springs helped. Then… off to a GREAT contender for the PERFECT campsite –
Lonesomehurst Campground
Located along Lake Hebgen, about 10 miles west of West Yellowstone… have a look –
Nice place, huh? Yep, I was pretty impressed with it! The campground was large enough to accommodate "big rigs", there are several sites that provide direct access to the water, and the ones not directly on the water also provide a great view and water access. The water is incredibly clean and the views incredible. I maintained (on Verizon) a 4g signal with 4 bars – my internet was fast and texting was fine. For some reason, voice calls were spotty to unreliable.
I spent 4 nights and gave my solar panels the "acid test". For those 4 days, I absorbed as much energy as I needed and used each day (and night). Again, I am creating a post where I plan to get into the entire solar issue. Allow me to share some more detailed thoughts on Lonesomehurst – and then a few photos under the next video.
As I prepared to depart from Lonesomehurst, I was presented with my next "on the road" challenge – yes, another system failure in my 5th wheel… frustrating but advance planning softens the blow. I departed – heading for Helena (after a few day stay in Ennis and seeing Virginia and Nevada "Cities") – more on whats in and near Ennis AND why Helena in my next post.
Thanks again for the support – hey, leave me feedback, and feel free to review my other posts and banners on my site while you're here! There is a search box up top and you can see if any of my posts address the topic of your choice.
Remember this – if not for good health, none of these travels and adventures are possible… be sure to visit my article on How to keep your heart healthy.
Wrapup…
Lonesomehurst was definitely the highlight in this journey thus far. I just got off the water after kayaking much of the morning in a NEW water body at my NEW "perfect campsite"… details on this site coming soon! Thanks for making it this far, and hey, give me some feedback – use the reply below.