The RV Industry is populated with numerous bad actors. Some (many) are RV manufacturers, and some are RV dealers. This story is about ONE buyer and ONE retailer in particular…
It was a Thursday morning, I was doing what I normally do in the summer – paddle in "my" local lake for an hour or so and then bike for 10-15 miles – before it gets too hot!! I use this time to catch up on reports from various media.
This particular morning, I opted to listen to a report from Alan Warren, the RV Wingman. In his YouTube post, he played a recording of a Camping World customer who had called him and left a message on his voicemail.
In the audio recording (which Alan the Wingman replays for us in his video below), the buyer shared her travel trailer purchasing experience from Camping World. She was, of course, reaching out to Alan for assistance as he offers on his RV Wingman channel.
Here is a link to the video post that contains her issues and Alan's insights and advice:
We can ALL learn from this buyers experience – and *most* of the RV Wingman's advice…
Allow me to begin sharing my thoughts by saying I agree with much Alan's (the RV Wingman) advice, but not all. I do respect his background and believe we would get along just fine were we ever to meet.
The Wingman starts his video with some pointed comments about Camping World. I agree with him 100% (and then some!) I also agree with Alan's statement regarding Heartland.
The caller details she purchased a Heartland Pioneer trailer. Heartland is a division of Thor. 'Nuf said? No? Ok, try Nancy Reagan's slogan… when it comes to Thor, "just say NO." Thor is one of the two big "umbrella" organizations that collectively (along with Forest River) control 80-85% of the RV industry. Most of the RV manufacturers you've heard of are owned by one or the other. Virtually all of the manufacturers build mediocre (AT BEST) RV's that are slapped together and (in my view) explain why many first time buyers do not continue to live the RV life – one that I've truly enjoyed for 12+ years now. So… we begin by my having concerns about WHICH camper she purchased.
Further, it appears they purchased a new camper – this is often a poor choice as you encounter the MASSIVE depreciation experienced by virtually all RV'ers in the first two years of the campers life.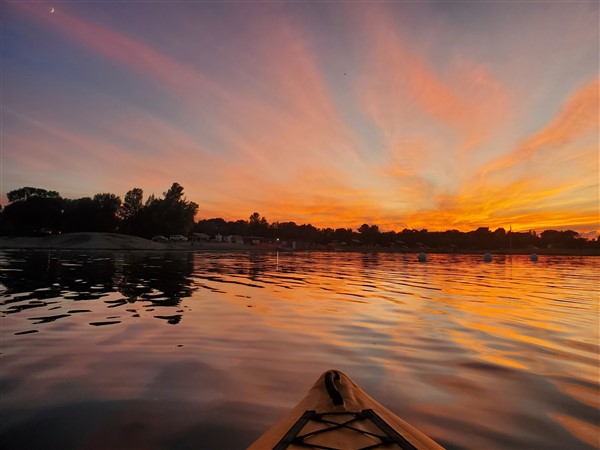 Learn more about my kayak – and get a discount code for it!
Extra Fees?!
Next, "we paid $7000. more than the agreed upon purchase cost." This is COMMON with SOME RV dealers – especially the ONE they bought from. In fact, Camping World is *legendary* in this area. Their fees take the form of additional charge for not financing with the dealer, delivery (to the dealership), trailer prep, trailer walk-through, dealer document fees, etc.
Some dealers do not reveal these charges until you're presented with a purchase order (sales order), and that may not be until you're in the business office. It's important to note that most of the above fees ARE real expenses to the dealer, many dealers build these costs into the selling price of the camper so they don't "nickel and dime" the buyer with fee on top of fee.
Let's break down the fees
Delivery normally refers to what the dealer pays to get the camper from where its built to where the dealership is located. When I worked in Wyoming, we paid $2500. (typically) per camper to get it transported from Indiana (where most are built) to Casper. We added that cost to the base cost of the camper. Our selling price was then a price that factored in the cost of getting it to us.
Prep and Walk-through: All dealers need to "PDI" each camper before selling it to the buyer. This involves shop time to check (and fix) all systems (water heater, air conditioning, furnace, slide operations, etc.) The sales department pays the service department to complete this service, and then (typically) a tech walks the buyer through their (soon to be) camper. The walk-through is your chance to both learn how to operate all systems AND to identify whether something is NOT working correctly. Again, since this is a necessary action with most camper purchases, I'm sure most consumers would simply prefer it be part of the stated cost of the camper to the end buyer.
Document fees create profit for the dealer and pay the "back office" such as the title clerk.
Financing: Most dealers make money when you finance through them. In other words, dealers LOVE it when you finance through them! Few however charge you (what amounts to a) penalty fee for NOT financing through them. Leave it to THIS dealer!
Some of the issues raised in the phone message fall upon the buyers responsibility when purchasing a RV camper
I've prepared a written post here on how to do a thorough and effective walk-through before closing on the camper purchase. I also prep my own Concierge RV Buying clients in great detail on what to watch for to minimize the chance of problems after purchase.
As I reviewed this buyers situation, its clear the buyer did a very superficial walk-through on the camper at the dealership on the day of purchase. As you can see from my post linked earlier, that's NOT ok and as Alan noted, in part they created their own problems by doing so.
After the closing, It's ok to have the camper delivered as they did (and for that there SHOULD be an extra fee.) Further, its ok if the delivery guy does ONLY just that – ie – deliver it, unless you cover IN ADVANCE that the deliverer will set up the camper. Most dealers will NOT send a tech to help with the setup, though more "mom and pop" type dealers will ask the driver/transport person to help the buyer with this task.
Most likely the air conditioning did not cut out by simply transporting it from the dealer to the buyers location, so, I suspect a thorough walk-through would have revealed a non-functioning a/c, and it could have been fixed then and there AT THE DEALERSHIP (before the buyer closes on the purchase.) The same is true of the additional issues (shower leak, stabilizing jack) they encountered after delivery.
Warped Wood and a $3000. Down Payment
Two key tips here:
Ensure that the camper you purchase has NO particle board (OSB board, particle board) – this type of artificial wood will easily warp with moisture – just one more reason I avoid most campers for my clients. It's also dangerous in many instances. I can recall walking into new campers on my sales lot that were loaded with particle board which is held together by formaldehyde! My eyes would water. Put simply, formaldehyde treated particle board "outgasses" and its no good for us!
When you place a deposit on a camper, use a CREDIT card (NOT DEBIT.) You have FAR more rights to challenge the payment if things go sour if you use a credit card
Wingman's Advice
I like Alan's thought to go back to Camping World while their camper in for service. And – for God only knows for how long!) He is right to suggest when they visit the service center, they need to do a thorough inspection. This will ensure that all issues (and any other "new" issues) are addressed!
I disagree with Alan's suggestion to look into RV lemon laws and consider legal action. It's an exercise in futility. Even if you win a legal case in court, it will take YEARS to do so. If you do win, expect more time in appeals before ANY compensation is received – if ever! While you're litigating if there's a loan on it, you'll be making monthly payments to the lender. In short, suggesting legal action is giving the buyer false hope.
Summary Thoughts on this RV Camper Purchase
This buyer purchased a poorly constructed camper from the WRONG DEALER and took few if any actions to protect themselves.
With my RV Clients, I work with them to select a well built (often) used camper instead of a cheap (poorly constructed) new camper. This is EXACTLY what happened here. And, since they bought a '22, they were likely attracted by a "come-on" deeply discounted price. Unfortunately they never asked what the OUT THE DOOR price would be! ('Nuf said on why I offer a Concierge RV Buying and Selling Service?)
About RV Accessories…
Like my content? Please leave a comment below and sign up for my newsletter below for immediate updates when I post new content…