Glacier Peak vs. Augusta RV
AND… I've made my decision on what my next 5th wheel will be!
I've been in the market for a new fifth wheel for about 18 months now. I've looked at MANY manufacturers models with a focus on design and engineering over "bells and whistles". Having lived in a reasonably good Crossroads Seville since 2011, and "tested" it in winter conditions where over 250 inches of snow fell in a winter and temperatures regularly fell WELL below Zero Fahrenheit, I know what to look for and have a good idea of what will "hold up" for the long run.
Two 5th wheel trailers have caught my eye in a true sea of mediocrity in the RV world – these are the Glacier Peak model 30's, brand new this year and the Augusta RV Ambition model 33. Both have many fine attributes and in many ways excel beyond their peers – but only one survived my head to head comparison.
Incidentally, both are at a length I consider optimal for full-timing. They are just under 35 feet (real length). Yes, I'd agree that longer fifth wheels are REALLY nice to live in, but they are equally as difficult to maneuver into the more remote (and best) camp sites. Thirty five feet represents a compromise – large enough to be comfortable and small enough to go (almost) anywhere.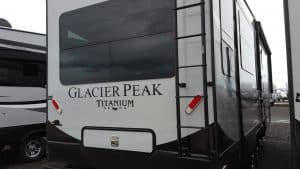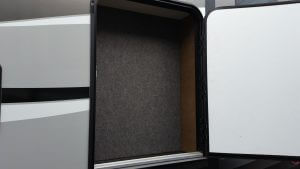 Glacier Peak is manufactured by Outdoors RV, a relatively small company located in eastern Oregon. They claim to know their buyers and make rigs (fifth wheels and travel trailers) designed for heavy duty, off-road use in all types of weather – including heavy snow and low temperatures.
Augusta RV is likewise a relatively small company – now owned by the RV Factory. Their claim to fame is to be factory direct and focused on doing custom modifications for their customers. That is, if you need significant changes in their existing floor plans, if it can reasonably be done, they'll do it. From my conversation with one of their sales reps, I found this claim to be questionable. I asked about simply switching out the residential fridge the Ambition comes with for a Norcold propane/electric, and the response was "probably not."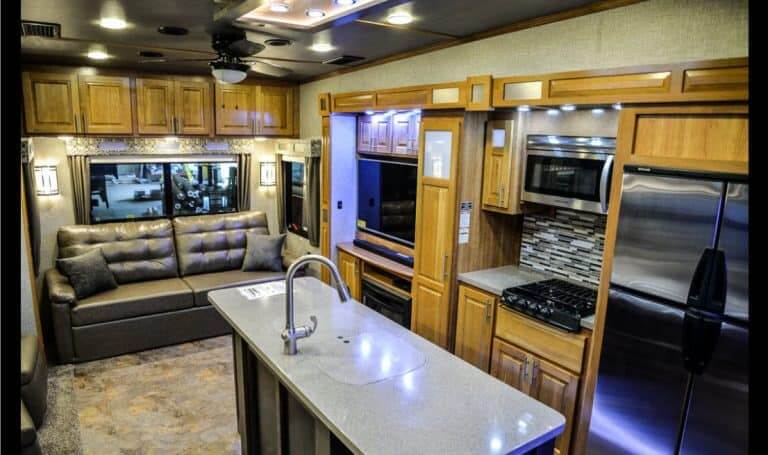 As I studied each fifth wheel, I have to admit the Augusta Ambition is GORGEOUS inside and frankly I like the layout better than any Glacier Peak – but – for me to spend my hard earned dollars with Augusta, it HAS to stand up to certain specific criteria before I can consider spending my hard earned bucks on it.
To settle the "face-off" between Ambition and Glacier Peak, I developed a comparison chart (below) that details specific issues I consider important in a fifth wheel and my findings with each trailer.


A side by side comparison of the Glacier Peak and Augusta RV – Ambition
| | | | |
| --- | --- | --- | --- |
| Design Feature | Glacier Peak | Augusta RV Ambition | Advantage |
|  Insulation | 2″ high density, solid foam in all walls including slide walls and top of slide | 1 layer fiberglass and 1 layer R14 foil including slide walls and top of slide | Glacier Peak – a clear advantage, important in winter AND summer. High density foam beats fiberglass/r-foil any day! |
|  Composition of the underside of the slide (the slide-ski) | High gloss fiberglass | High gloss fiberglass | TIE – both are excellent! It's amazing how many companies cut corners in this important area – one that will cost the owner down the road. |
|  suspension | MORryde 3000 + shock absorbers on both axles | MORryde 4000 | Glacier Peak – shocks make a BIG difference, amazing more companies don't provide shocks on their axles. |
|  refrigerator | 12 cu ft Norcold with winter kit and heat tape | 20 cu ft LG residential | Glacier Peak – residential fridges will drain your batteries in less than 24 hours if you dry-camp AND they have NOT stood the test of time. LG did not design their fridges to do 60mph down pot-holed highways! |
|  Insulation in roof | 2 layers fiberglass and 1 layer R14 foil | 1 layer fiberglass and 1 layer R14 foil | Glacier Peak |
|  Roof Truss | 5/8″ truss that does NOT pinch fiberglass towards edges | 5/8″ truss | Glacier Peak |
|  Insulation in chassis | 2 layers fiberglass, 1 layer R14 foil, tanks wrapped in R14 foil, 12v heater on fresh water tank. | 1 layer fiberglass, 1 layer R14 foil, 12v heaters on tanks | TIE. Fact is if you skirt your rig AND burn propane "as needed", you won't freeze up with either GP or Augusta |
|  Quality Control Issues | Every Glacier Peak is inspected before it leaves the Outdoors RV factory to minimize QC issues | A recent merger with the RV Factory was accompanied by a spate of QC related complaints, the sales rep I spoke with claims this has abated. | Glacier Peak |
|  Grey and Black Tank Pulls | NO cable system in use | Uses cables | Glacier Peak – cable systems are prone to fail. |
|  Weight |  12075 (dry), 2655 (hitch), 15000 (gvwr) (this is on the 30RDS model, the other 2 are very similar) |  14500 (dry), 4100 (hitch), 19180 (gvwr) |  Glacier Peak – The Augusta will require a 1 ton Dually (minimum) whereas the GP requires a 3/4 ton SRW. Diesel is recommended for both. |
|  Outside Storage | VERY innovative, with extra compartments in each model, the most is in the 30RDS, the front storage is broken up into 2 separate sections and one has shelving in it! | Standard – no additional outside storage areas |  Glacier Peak |
| | | | |
Summary on the Glacier Peak 30 vs. the Augusta RV Ambition 33
Glacier Peak has 3 models ranging from 33′ 9″ to 34′ 11″, the Ambition 33 is 34′ 6″. For a smaller trailer, it IS heavy and my concern is you need MORE truck than many folks own. Personally, I will NOT get a dually as I spend lots of time in the snow in the winter. I had also hoped to get photos of the storage bay in the Augusta as the sales rep Colin promised me, but he never followed through to send me photos or any additional information as I requested of him.
So…I'm done! Glacier Peak by Outdoors RV it is – this will be my next fifth wheel! All I need to decide is 30RDS or 30RLS – both of which are great (and frankly, for those who like a rear kitchen, the 30RKS is THE choice to make!) I took the time to make this detailed comparison as Augusta RV seems to make a solid fifth wheel and does offer *some level* of competition to Outdoors RV's Glacier Peaks. Had I chosen a different manufacturer – particularly ANY from Thor or Forest River, there would be virtually NO basis for comparison.
Special note… The RV Dream audio series for Living the RV Lifestyle begins May 8 – Click HERE to learn more and gain access to 20 Experienced RV'ers speaking on a number of topics (and I'm one of them!)
UPDATE… Here is my NEW 5th Wheel Purchased 10/16/2017… https://rvacrossamerica.net/outdoors-rv-glacier-peak-4season-5thwheel/