Ever Considered WINTER RV Camping?
In fact…
How about RV Camping ALL Winter in the Rocky Mountains?!
Spending a winter in an RV can be the experience of a lifetime…
Winter RV Camping – A Look Back, AND A Look Forward
This experience comes complete with multiple challenges (I originally posted this info in March 2013, now re-posting in August '22 as we approach another winter. This post now contains significant updates) – sometimes several at a time – often arising when the outside temperature falls to as LOW as -35F (and then barely crosses zero degrees in the "heat" of the day!)
**2022 Update:
Its hard to believe as we approach the Autumn of 2022, I've been on the road long enough to have a "retrospective", but that's kind of what this article is.
After 9 winters of Winter RV Camping in extreme cold, heavy snow and frankly everything else, I'd like to share this post, originally created in 2013 with you and now updated to reflect my 2022 "understandings." Please allow me to let my video below do the talking…
The conditions described in the paragraph above were experienced during my FIRST winter in Steamboat (2012-13). Since then, I've wintered in other mountain regions (McCall, Idaho, Jackson Hole, Wy, Pinedale, Wy) but have yet to see -35F, though I've come close to what I experienced during those 3 winters in Steamboat!
This post, originally published in 2013 has been SIGNIFICANTLY updated and I believe STILL has highly relevant information for anyone who intends to spend winter in an RV camper where nights (and often days) are below freezing.
If you find this post helpful, you'll find several others that detail how my approach to winter RV camping has changed since that first winter. I have an entire section of my website dedicated to winter camping HERE.
The key to surviving (and thriving) in winter RV camping is PREPARATION. Through my articles posted throughout rvAcrossAmerica.net, you'll find many that both track my journey into successful winter RV camping and "the magic formula" that is most likely to produce a GREAT experience. Hint: It STARTS with the choice of a camper that's built to do the job right. Read on for MUCH more…
Attention Skiers – This info is for YOU…
Are you both a Winter RV Camper AND a SKIER? I have a page that has received probably tens of thousands of visits that details ski areas and their accessibility to RV'ers and winter RV Camping. If you visit this page, please leave me a note and let me know if it provides value to you.
Thinking of purchasing or replacing an RV Camper?
I've also learned enough about the RV Industry (as a traveler and as an insider since 2015) to a point where I started my own Concierge RV Buying and Selling Service. Given the maze of decisions RV buyers (and sellers) have to make, I realized that serving as a "guide by your side, who also has your back" could be a valuable service to offer – and now well over 100 clients agree with my decision to start this service! Have a look at my reviews at the end of this page.
Back to 2013…
Yes, at times the cold was "biting", but the campground I spent last winter in – within the town of Steamboat Springs, Colorado is in the deepest part of the valley the town is located in and a "temperature inversion" insures cold, dense air collects for much of the "dead of winter" – which turned out to be for SEVERAL weeks.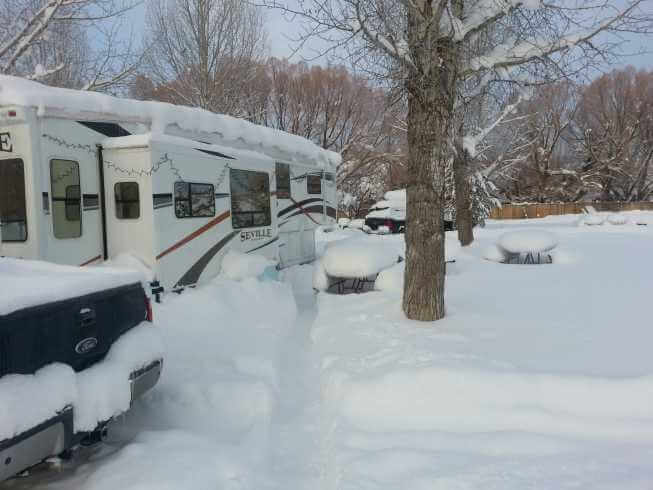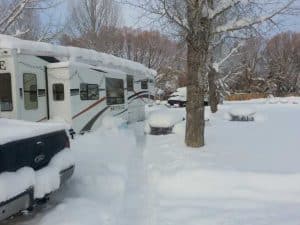 As you'll hear and then see in my video below, I had to make several modifications and preparations for the upcoming winter in October and November – but even with those preparations, challenges arose. Those challenges included water freezing (multiple times in multiple places), frozen grey and black tank levers (you can't "dump" when the levers won't move!), refrigerator failure, water pump freezing, slide outs requiring snow removal, and more. Even my truck needed a block heater!
**2022 Update – I've since bought trucks with block heaters! I'm on my 3rd Ford Super Duty diesel beast. I also replaced my camper to one FAR more suited to cold weather camping (yes, in 2013 I did not yet "have it all down."!) The number of "events" each winter (something failing) is now down to ONE or NONE!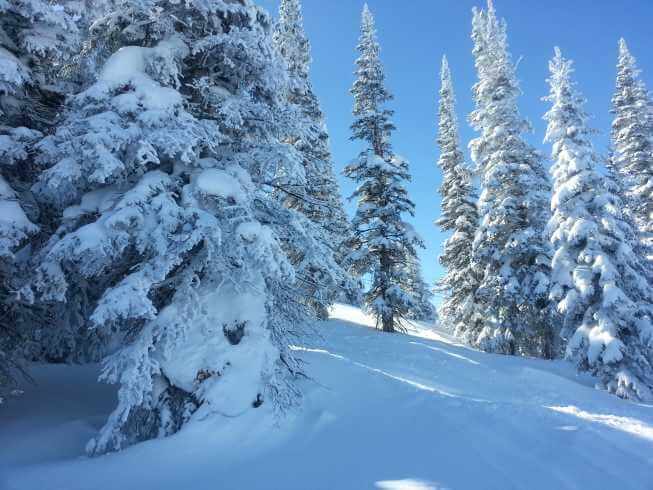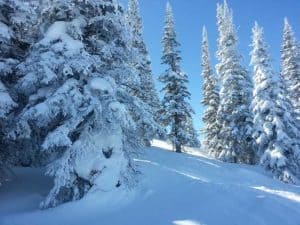 Back to 2013… Being familiar with gasoline engines my entire life, I NEVER knew about "glow plugs" and "gel'd diesel fuel" (try climbing a hill at 5mph at 8am when other skiers are ANXIOUS to hit the slopes! Problem solved, $480. later by installing a block heater, you get to plug in your truck at night – especially when the temperature drops below -15F. And, adding some additive to prevent gel from forming in the first place is a wise move as well!
Winter RV Camping
It is important to know that with a properly insulated RV, you can EASILY maintain a temperature of near 70 inside, even if the temperature outside is 100 degrees colder! (2022 note: That REALLY happened, it was -35F outside, and I had the thermostat at 65F inside!) And… often I kept the inside warmer than I needed for comfort – but – I knew it would help keep the underbelly from freezing up.
2022 Update: In my current camper, made by Outdoors RV, I can keep the furnace as low as about 56F and it generates enough heat to keep the underbelly from freezing up. Naturally, the higher the thermostat, the faster you burn through increasingly expensive propane.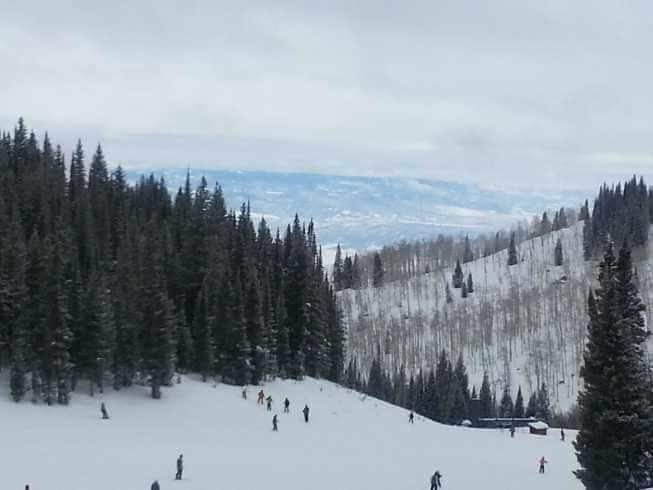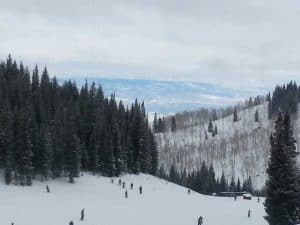 If you're ever thinking of such a lifestyle, watch this video, originally posted in 2013 and enjoy!
As you review my video, note the insulation I used to keep warm and minimize my use of propane.
2022 Notes:
I still ensure I've got a 120 gallon propane tank outside of my camper each winter to save on propane costs and reduce the chance of running out to near zero! The tank is always rented from a local propane provider. This upcoming winter ('22-23), I anticipate being in a location where that may not be needed as super cold weather is unusual – but – the skiing is still GREAT!
RV Skirting – a VITAL piece of your winter RV camping plans
Note 2: RV SKIRTING – instead of blueboard, my preferred approach for my first few winter seasons, when I purchased my Outdoors RV Glacier Peak 5th Wheel (still in it, now going on 5 years in it!), I invested in a RV Skirt. This article details what I chose and why you WANT ONE if you camp in winter as I do!
Back to 2013…
Note where I strategically placed "heat lamps" (150 watt bulbs) under the RV (inside the insulation) to keep levers from freezing; the insulating approach for my water hose and sewer line (using heating "tape") and the need to remain vigilant to keep the slideouts relatively snow free on their tops. It often meant about 45 minutes of "extra work" at the end of a ski day on days when it snowed to clear the slideouts and shovel around the RV. ('22 Update: My new camper does not require this approach and I ensure that my Concierge RV Clients who wish to experience this lifestyle, have a camper built in a similar fashion.)
Recommended RV "stuff" (accessories)
**2022 Update – I have now compiled a complete set of RV Accessories I recommend- click the image below to see what I have personally tested and has passed the test of time…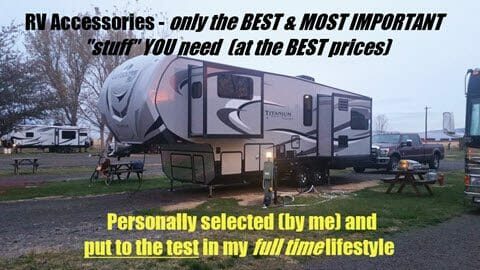 Those who know about being a part of "ski school" or really working for any seasonal resort, you know that you won't get rich doing it! Now, don't get me wrong, ski school was a GREAT way to spend the winter – after all, we DO get paid to ski and for me the added benefit is PHYSICAL CONDITIONING.
2022 update – After MANY years of ski instruction for various ski schools, I'm going to 'take a break' – keep skiing – but work more on my personal ski skills. I may work with some private clients to help their skiing, but I need this winter to re-think my role in the ski industry as an instructor for a mountain based ski school.
Like my content? Please consider joining my newsletter below – to be notified of upcoming posts as I write them. Incidentally… This post was written nearly 10 years ago, but I've recently (in 2022) updated it – with nearly 11 years of travel "in the books." I also welcome your thoughts & comments – space is provided below as well…