In light of (rapidly) rising fuel prices, is RV travel still a realistic option? How as an RV'er can you best control your costs and expenses?
Allow me to begin with this thought – things look bleak, REAL bleak across our nation (and the globe), BUT I remain OPTIMISTIC. Why? Simply put, I believe that peace and abundance will prevail across our nation… SOON. BUT – prior to the arrival of peace and abundance, we ARE going to go through a VERY rough patch, what follows is a recap of my winter and then some thoughts on "cost containment" while you enjoy the RV life.
I hope for this to be an ONGOING DIALOGUE about RV'ing and RV life
First, I think we're looking at a rough patch lasting months – not years and I'd be glad to hold individual discussions with folks as to why I see what's coming a "short lived." Please know that on my website you have my contact info AND every post on this website has a "leave a comment" box – at the end of the post.
Simply put, I'd WELCOME a dialogue with you rather than see this as a sterile post that people read but then there's no ongoing dialogue. ESPECIALLY as we find ourselves in a VERY volatile situation where predicting what's on tap for the coming weeks and months is nearly impossible. So, please… USE THE "leave a comment" box below – lets talk and have a civil exchange of ideas.
Realities that RV Travelers face in the coming weeks, months (and years?)
I listen to many different sources of information. Interestingly, what has been classified as "fringe information" has rapidly moved to "mainstream and accepted" by many. The realities we face include (rapidly) rising fuel costs – this morning (March 11) I paid 4.999 for diesel to top off my tank and considered myself LUCKY for buying in the morning as it appears fuel will be about 5.50 by this evening. How far will this go? No one knows, but I would NOT be surprised to see 7.00 or even 8.00 per gallon for diesel before we hit a "breaking point." Hmmm…and what will THAT look like?
Note: Its now 3/16 – it always takes me several days complete a post! Oil has retreated (temporarily) 30% and fuel has stopped rising (hasn't fallen any!!) – but – I stand by the prior paragraph, we're not done with rising costs as I see it.
Wait – there's more (as the infomercials say) – rising fuel costs impact FAR more than just you and I. Truckers costs are rising and guess who ultimately picks up the tab for these costs? AND… since oil is in almost everything we use today (from clothing to shampoo to plastic pill bottles, etc.) and since oil prices have risen 50+% in just a few months, the cost of manufacturing products will skyrocket (in addition to the cost to transport them) – again – who do you think will bear these increased costs?
If you're answer is you and I, you're spot-on.
So… WHY AM I OPTIMISTIC? AND… IS RV Travel & the RV Lifestyle still a realistic option for part-time and full-time travelers?
Bear with me, I'm getting there! First, please allow me to share my recent winter '21-22 "rv life experiences."
I am nearing the end of my winter at 7200 ft. experience near Pinedale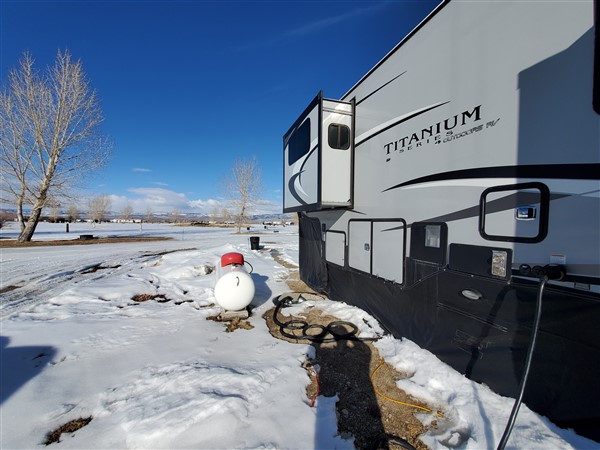 I've been near Pinedale, Wyoming since late October. In the next week or two I plan to move on to a lower elevation where I can start biking and kayaking earlier than I could ever hope to do here. In fact, as I write this. literally two mornings ago (March 9th) we had record cold with a morning low of -24F!
Summarizing this winter here, I'd say "bleh!" White Pine Ski Area turned out to be a bust. Between the fact that they don't make snow and we had 1 storm in early January of any great significance – and – I had issues with certain management (ski school) practices, I turned in my jacket in February.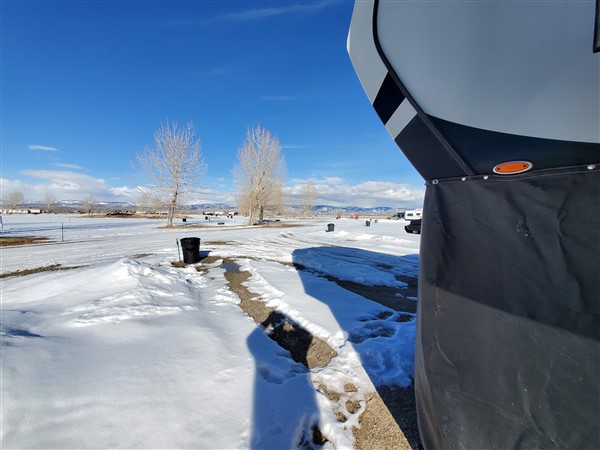 The town remains a place I like, Heart and Soul Cafe, the PAC (aquatic center), and the coffee shop are three of the towns highlights for me. The Ridleys here (the closest thing to a grocery store) is truly an embarrassment and the next town to which I head WILL have a real grocery store! Lately, I've taken to driving to Jackson or Rock Springs (about 85-90 miles in either direction) to get to a Krogers (Smiths) to get decent produce and meat, rather than shop here in town.
Getting to the point… Does the RV Life and RV Lifestyle REMAIN a VIABLE choice?
Short answer: YES. Now to elaborate…
The winter is ending – but I continue to wear my SCOTTeVEST almost every day! I'm on my second now and I think this new one is constructed even better than the Fireside Vest I purchased about 4 years ago. This is an incredibly versatile garment as SCOTTeVESTs "claim to fame" is providing great storage within each garment without making the garment wile still looking stylish.
RV Travel: Pacing Yourself to control your RV lifestyle expenses…
I've been on the road now for 10+ years. In that time, I've stayed in one location for as little as one night, or as long as about 6 months. When you stay a month or longer, in many (most) campgrounds you get the best rates. This is true mostly in private campgrounds as most National and State Parks along with county, BLM, Bureau of Reclamation, etc. do not permit stays over 14 nights (if that.)
Many private campgrounds have raised their rates during the past couple of years. Nightly stays are now OFTEN near or over $50., weekly over $300., but monthly (even including the electric which is often metered) remain at $500. – 650. at many campgrounds. So, staying "long term" (monthly or longer) is definitely your best value.
Further, once you're "camped" (parked) at a campground, ideally you have more fuel efficient ways to travel locally, or at least if you're in a 5th wheel (or any towable) like I am, your truck/vehicle gets better fuel economy when you're NOT towing!
So, for me, I plan to do more monthly stays between April and October than I have in the past. My winter stays have traditionally been in ski country, so, I've been stationary between November and March 31. In other words, during my "travel season", I'm trading in nightly and weekly stays for monthly stays to save both camping fees and travel (fuel) costs. My first stay will be in a small town in Northern Utah – and much of my travel in town will be with my trike. The town is about 1800 ft. lower elevation than where I am now, and I'll be trading afternoon's in the 30's and low 40's for the mid to upper 50's – with of course warmer weather to come!
IF you DO engage in "short term" RV travel, here's a MONEY SAVING deal I have personally used…
Boondockers Welcome is a program that offers FREE stays (many with electric hookups now – a nominal fee is encouraged for using the hosts electric!) for up to 3 days (and in some cases 5 days.) Use my code when enrolling "RVAcrossAmerica15" to save 15% AND know that they are having a significant membership rate increase on May 1 – so, take care of this soon! Boondockers Welcome recently merged with Harvest Hosts, so you'll have the option of adding the HH access once you join. Personally, I find BW to be plenty! Again – I LIKE this program and the entire philosophy behind it, and I've personally used it.
Additional RV'ing Tips: BE PREPARED! Yep, its the Boy Scout motto, its also important in surviving during the current times we live in.
I just had an oil, fuel filter, and air filter change on my 2015 F250 diesel truck. I learned a few things from the shop I visited that will help me to prepare –
First, I paid about $550. for the work, probably about $175. more than it cost just 6-12 months ago! Second, I shared I have a new truck on order and IF it shows up, would having spare parts "on hand" be a good idea? The shop diesel mechanic shared that fuel filters for the newer (at least) Ford truck are on back order and it would be wise to have some stored in my camper along with oil filters and air filters.
I've already adopted this approach with my camper as I have spare parts for my furnace (sail switch, limit switch, mother board), for my refrigerator (mother board, thermistor) and for my water pump (an extra one.) It is clear there ARE supply shortages and you'd be wise to have these spare but necessary parts 'on hand.'
Stock up – even full timers can do this
I'm always amazed at how much storage I have in my camper. Make room for extra food, first aid supplies, water/water filtration, protection (defense) and medicines. Ask yourself tough questions like, "what if?" the power gets shut off… the banks close for a period of time… the markets have no food… and then ask yourself, can you survive 2 weeks? 4 weeks? 6 months? without these services? Please do NOT be swayed by the "normalcy bias!"
In my camper, I have in some ways a leg up on "stix and bricks" dwellers as I have solar power, a generator, and a fridge that runs on electric or gas. The key is to remain nimble, ready to adapt to whatever comes our way! Not to sound cliche, but we're in this together and forming local alliances would be a wise move as well wherever you are.
If you're in the market to buy (or sell) an RV…
Many of my readers know that I offer a Concierge RV Buying and Selling Service. As you can imagine, the RV market is evolving rapidly as I write you. I currently have two active clients selling with me and several (5) who are buyers. The rapid move in fuel costs (and everything else) is changing the environment. Sellers are discovering that the very solid "sellers market" has slowed significantly. I'm seeing far less interest from buyers on these units and the sellers are being asked to drop asking prices quickly.
As to my buyers, some are putting their plans "on hold" and others are (with my guidance) seeing we can negotiate far more aggressively than just a few weeks ago. This trend is NOT universal yet, and I attribute some of this to the "normalcy bias" on the part of sellers, but if fuel prices continue to rocket upwards, buyers will be in a far better position to "make a great deal" than the could have last autumn (or for that matter for the past two years since May 2020.) I am continually in touch with "those in the know" and am following the situation closely.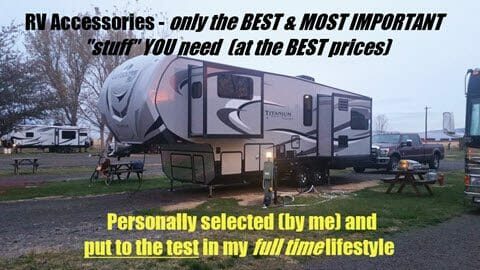 In closing I promise to soon…
Provide you with a review of the hiboost cell signal gain system I purchased in October. I've done extensive research and I think you'll be pleased with the detail I provide to show what it is and what it does. And, of course, there will be more to come!
If you like my content, please do subscribe below to be notified of future posts and updates.